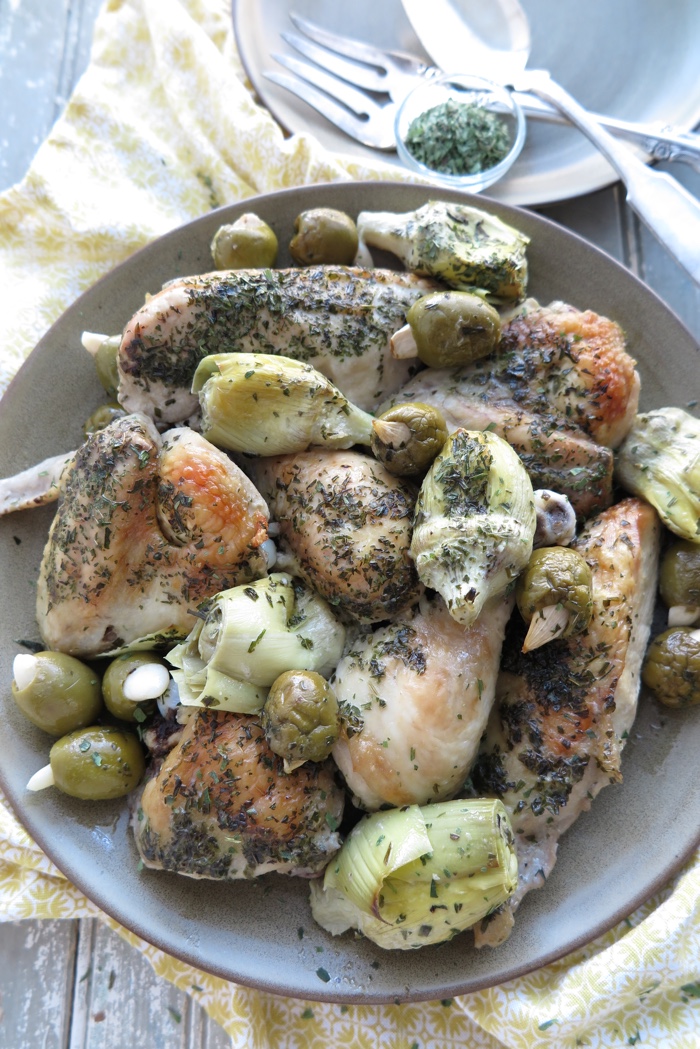 I was recently going through the special notebook I used to write down all the recipes for Simple French Paleo (imagine a kitchen diary with notes scribbled everywhere and dried bits of food smeared on the paper) and stumbled upon a recipe that didn't make it into the final cookbook! As often happens in the creative process of a cook, I create a dish and as I test the recipe again to make sure it turns out as it should, I may add or remove ingredients along the way. I end up with several versions of the same dish and have to choose the one that will be published.
This Chicken Bake with Artichokes and Green Olives is too good to be left out! This is definitely one of my favorites and I am excited to share it with you all. The combination of artichokes, green olives, and garlic infuse a fragrant and mouthwatering flavor to this simple dish, reminiscent of Mediterranean cuisine. Serve it with a simple side dish of cauliflower rice for a complete wholesome meal.
This Chicken Bake cooks in a single dish and is perfect for batch cooking in larger quantities.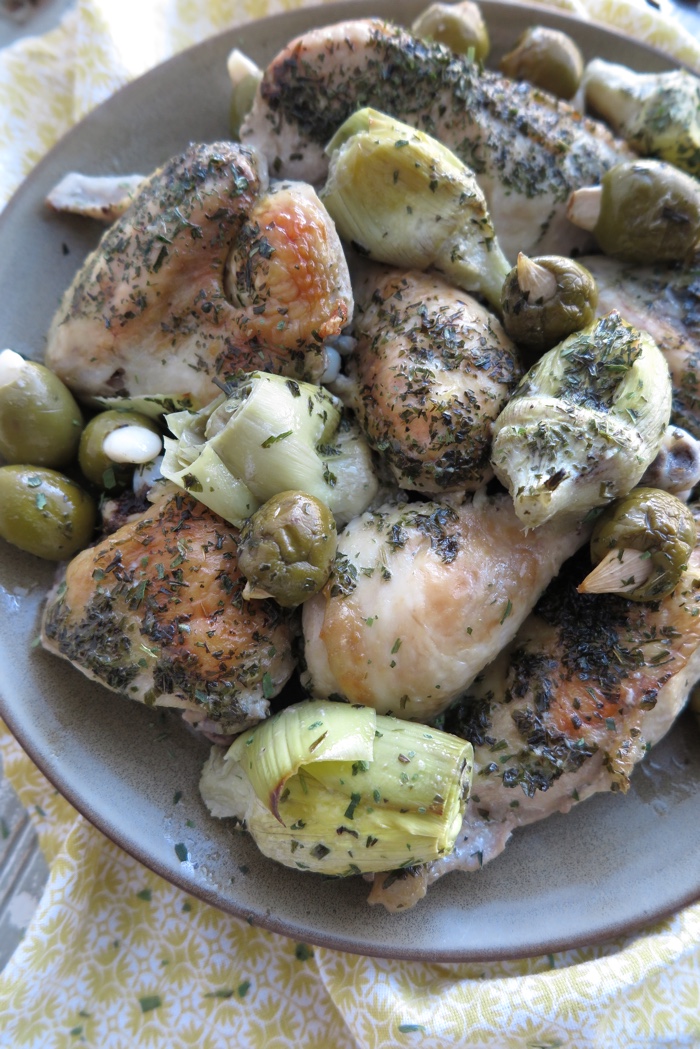 Chicken Bake with Artichokes and Green Olives [Paleo - AIP]
This recipe is 100% compliant with the strict elimination phase of the Paleo Autoimmune Protocol (AIP).
Author:
Sophie Van Tiggelen
Cuisine:
Paleo Autoimmune Protocol
Ingredients
1 tablespoon extra-virgin olive oil + extra for greasing the dish
1 whole chicken, cut up (or replace with 2½ pounds of chicken thighs and/or drumsticks)
3/4 teaspoon sea salt
1 (14-ounce) can artichoke hearts, drained (about ½ pound)
1½ cups garlic-stuffed green olives (or replace with green olives and add 4 cloves of garlic, minced)
1 can full fat coconut milk
2 teaspoons dried tarragon
Instructions
Heat oven to 350° F. Set the rack in the middle of the oven. Grease the bottom of a baking dish with olive oil.
Arrange chicken pieces in the bottom of the baking dish in a single layer. Drizzle with olive oil and season with salt.
Arrange artichokes and olives around chicken. Pour coconut milk over all ingredients and sprinkle with tarragon.
Bake, uncovered, until chicken is cooked through, about 60 to 75 minutes. Check seasoning and adjust salt to taste.
Bon appétit!
Click it to Pin it!

The recipe for thisChicken Bake with Artichokes and Green Olives has been shared on Paleo AIP Recipe Roundtable.