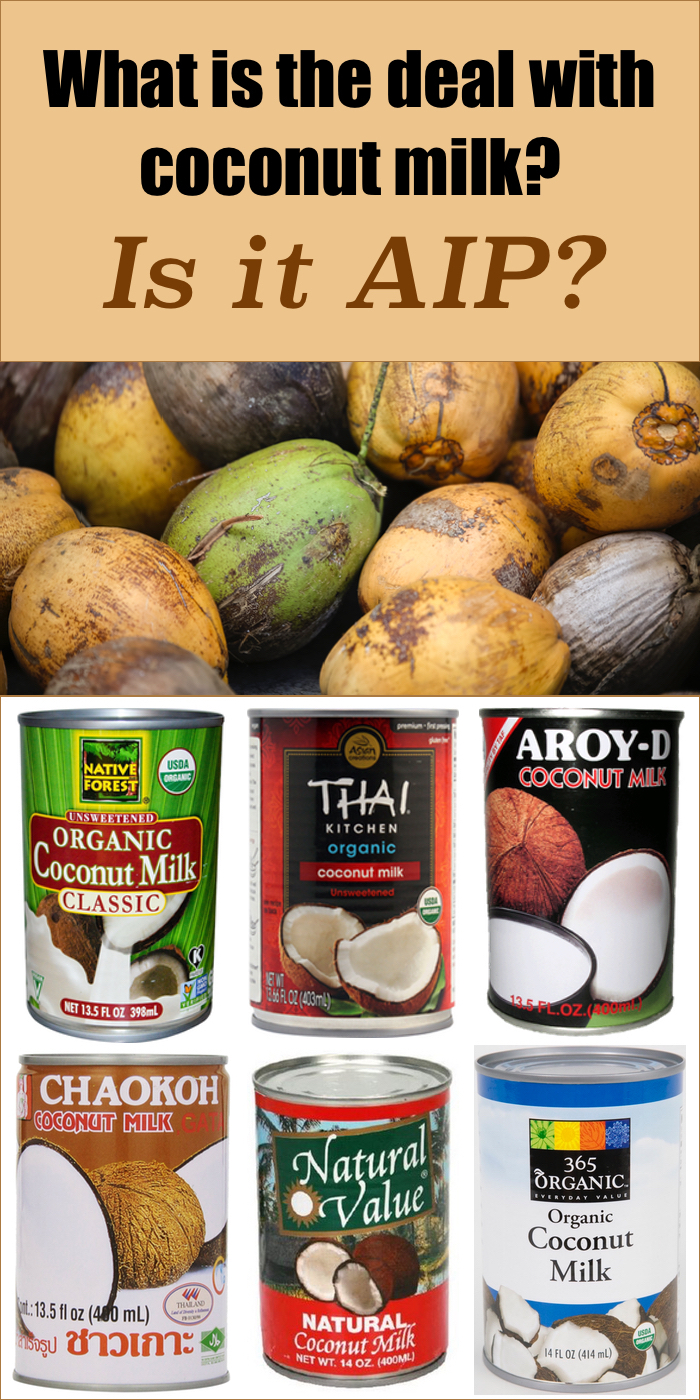 I love to use coconut milk
when cooking and baking; it is a wonderful and nutritious alternative to traditional cows' milk and heavy cream.  For example, I use it in this crockpot recipe and this one.   I use it in this broccoli mash to make it smooth and creamy.  I also often use it in my desserts and snacks (see, for example, these chocolate truffles or this vanilla ice-cream).
However, all coconut milks are not the same!  There are many different options available out there and some of them are just not compliant with the paleo autoimmune protocol.  I investigated the matter, opened many cans of coconut milk
, and I am sharing the results with you today!
» Is coconut a nut and is it AIP?
Let's get this out of the way: coconut is not a true nut! Coconut is a member of the palm family, which is not related to tree nuts or peanuts.  This explains why coconut and coconut products are allowed on the autoimmune protocol.
In botanical circles, coconut is in fact called a drupe, which is a fruit in which an outer fleshy part surrounds a pit of hardened endocarp with a seed inside.  The coconuts that you can find at your local grocery store have had their husk removed, which means that what you buy is in fact the seed, and the white flesh and water are the inside of the seed.  Other well-known AIP approved drupes are mangoes, olives, dates, apricots, cherries, nectarines, peaches, and plums.  
» Is coconut milk good for you?
Yes!  Coconut milk is an excellent source of vitamins, minerals, and antioxidants.  Coconut also contains very healthful fats like saturated fatty acids and medium-chain triglycerides (MCT), which are both easily burned as fuel by the body.  However, and this is where AIP folks need to be careful, coconut contains phytic acid and is high in inulin fiber (or high-fructose fiber).  This means that coconut products can be consumed on the paleo autoimmune protocol, but in moderation for the highest-fiber coconut products (big quantities of inulin fibers can cause bacterial overgrowth).
Here is the recommended AIP breakdown:
coconut flour and coconut sugar = consume rarely / 1-2 tablespoons maximum
fresh coconut, coconut flakes, shredded coconut, coconut butter = consume more frequently / 2-4 tablespoons maximum
coconut milk = fine to consume / up to 1 cup per day
coconut oil = fine to consume without restriction
The reason why coconut milk is fine to consume on a daily basis is because most of the fiber has been removed by the preparation process, resulting in a much much lower FODMAP and phytic acid content.  As for coconut oil, it is a pure fat and does not contain any inulin fiber or phytic acid at all.
» Homemade coconut milk is the best, if you have the time!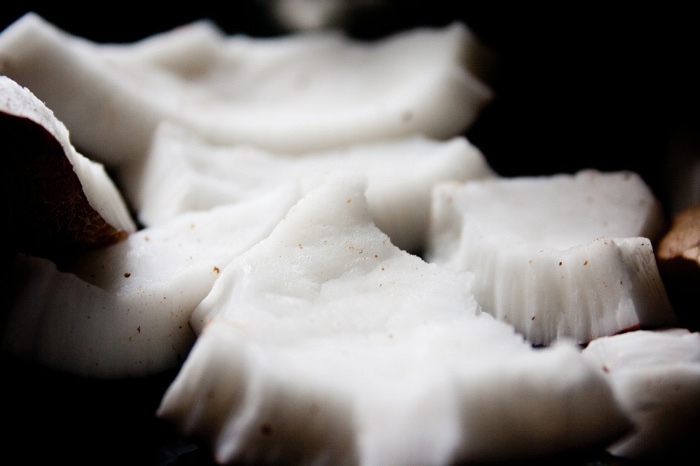 I have a confession to make: I have never made my own coconut milk!  I am already spending a great amount of time in my kitchen everyday, cooking breakfast, lunch, and dinner for the family or developing new recipes for the blog.  So if I can use a shortcut and buy quality coconut milk from the store, I go for it!  I know for a fact that making your own coconut milk is super easy, though. Here are a couple of recipes from AIP blogger friends who are making their own:
» Are all coconut milks for sale in grocery stores and online the same quality?
If, like me, you choose to use a shortcut and purchase your coconut milk from the store or online, here are a few points to consider before you start shopping.
Some coconut milks contain additives like guar gum or xanthan gum.  These additives are used as stabilizers and/or thickening agents.   Guar gum comes from the endosperm of the guar bean and xantham gum is secreted by a bacteria called Xanthomonas Camestris.  Both guar gum and xantham gum have a high propensity for altering the gut microbiome and should be avoided on the autoimmune protocol.
A vast majority of canned foods contain bisphenol-A (BPA) in their lining.  It has been established beyond a doubt that BPA can leach into the food, potentially causing neurobehavioral problems, especially in infants and young children.  While some companies make an effort to use BPA-free cans, they are still a minority today.
» Which brands of coconut milk are autoimmune protocol compliant?
If we take into account all that I have said previously, we have to eliminate all the brands of coconut milk containing additives like guar gum or xantham gum (because they are not AIP), which leaves us with a limited selection of products available in the United States.  I am sure there are some brands available at local Asian markets, but these would not be accessible to everyone.
Here are the AIP compliant brands I was able to find on Amazon (no additives):
I have come across several articles and forums online in which some individuals were skeptical of the claims made by Aroy-D that their coconut milk doesn't contain any additive (ie emulsifier).  To support their opinion, they state that the texture achieved by Aroy-D coconut milk
"looks and behaves like it contains an emulsifier" and "doesn't separate".  Normally, if you let real coconut milk rest undisturbed, a separation occurs between the fat and the coconut water (especially if you leave it in the refrigerator).  Many people reported that Aroy-D doesn't separate the way it should, and thus suspect that there is a hidden emulsifier.
I have no way of knowing for sure what's in a can of Aroy-D coconut milk
so I will leave it to you to decide.  The best course of action might be for you to give it a try and see if you experience any intestinal discomfort.
I tried myself the coconut milk from Aroy-D.  I left the can in the refrigerator for 36 hours and when I opened it, I noticed that no separation between the fat and the water had occurred.  The milk was still homogenous and smooth.  I didn't experience any noticeable digestive distress when I consumed it.
---
-The Paleo Approach – Reverse Autoimmune Disease and heal your Body by Sarah Ballantyne, PhD, (229-230)
–3 reasons why coconut milk may not be your friend by Chris Kresser
---
This post contains affiliate links.  Click here to read what it means.