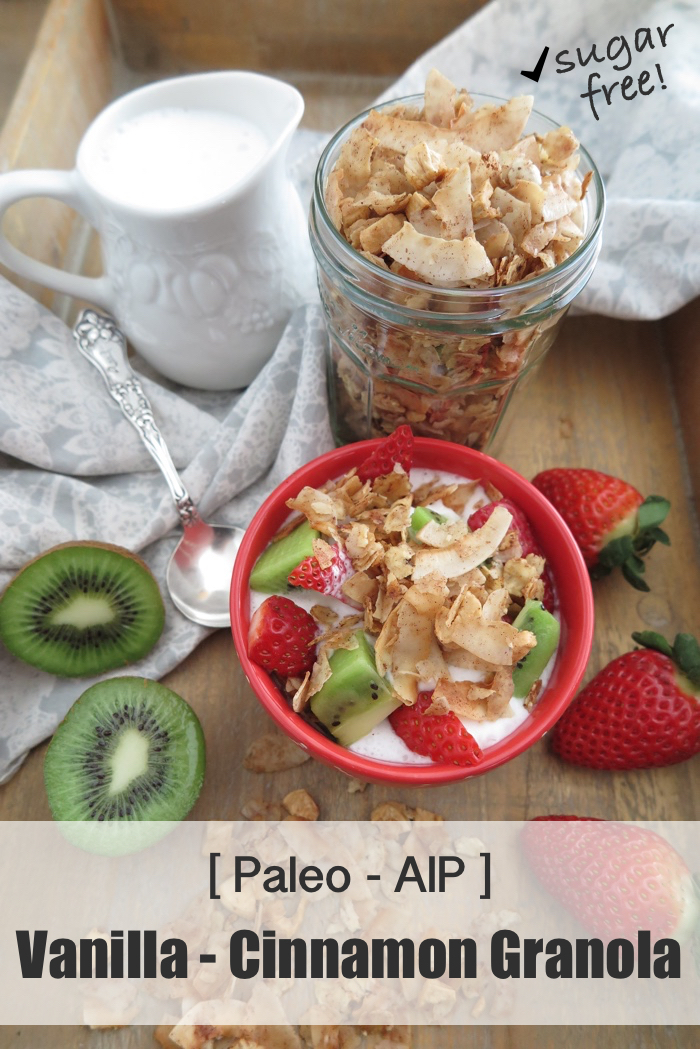 Mmmmhhh!  This AIP breakfast granola, naturally flavored with vanilla and cinnamon, is a delight!  There is no sugar added; only some dehydrated apples to impart a touch of sweetness without causing any sugar crash.  Perfect!
If you are just starting the autoimmune protocol, this convenient granola will help you transition from your old breakfast staples to a cleaner option to start your day.  It is also a great option as a mid-afternoon, pick-me-up, an I-need-some-sweeteness-but-not-too-much kind of snack!
Warning: your kitchen will smell amazing while you bake this breakfast granola in the oven, and you might attract hungry family members, eager to "test" your new recipe!  Also, keep watch when the granola is baking because it will turn brown on you very fast.  Now is not the time to go check your status on Facebook!
Scroll down to enter the giveaway for a chance to win 2 bags of Organic Gemini Sliced Tigernut Raw Snacks!
*****
Paleo – AIP – sugar free
Vanilla  and  Cinnamon
Breakfast Granola
*****
Serving suggestion: I like to add fresh fruits to accompany this breakfast granola!  Whatever you have available will work.  My personal favorites are fresh berries, kiwis, and peaches.  Instead of the more traditional cow's milk, I use canned coconut milk  that I dilute with water (50% coconut milk
– 50% water).
Substitution: if you don't have dehydrated apples on hand, you can replace them with freeze-dried apples.

Vanilla and Cinnamon Breakfast Granola (Paleo - AIP - Sugar Free)
This recipe is 100% compliant with the paleo autoimmune protocol (AIP).
Author:
Sophie Van Tiggelen
Cuisine:
Paleo Autoimmune Protocol
Instructions
Heat oven to 350° F. Place the rack in the top of the oven, about 6 inches below the broiler or heating element.
In a large bowl, combine coconut flakes, sliced tigernuts, coconut oil, vanilla, and cinnamon. Mix well.
Spread the coconut mixture evenly on a baking sheet and bake in the oven, stirring a couple of times, until coconut flakes are golden, about 10 to 12 minutes.
Take out of the oven and add dehydrated apples. Mix well.
Allow the granola to cool completely before storing in an airtight container.
Serve this granola with coconut milk and fresh fruits of choice.
Bon appétit!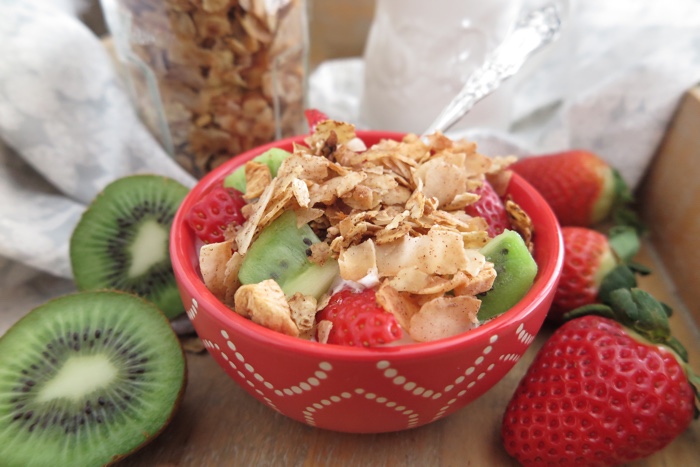 Enter the giveaway to win 2 bags of Organic Gemini Sliced Tigernut Raw Snacks!
This giveaway will run until Sunday January 17 at 12:00am Mountain Time (MST).  Open to US domestic participants only.  The winner will be announced here.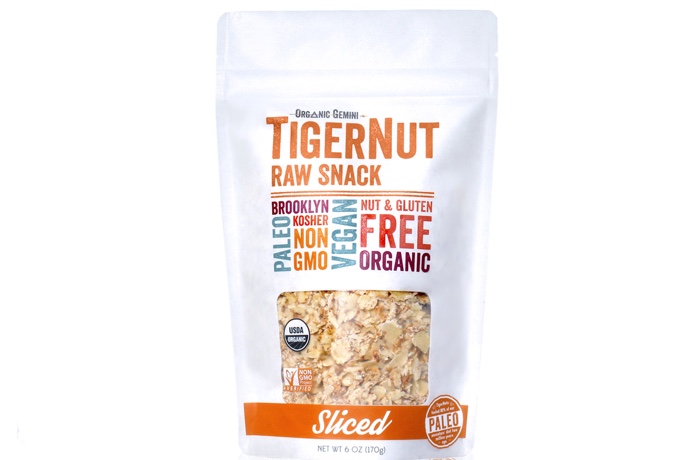 a Rafflecopter giveaway
The recipe for this vanilla and cinnamon breakfast granola has been shared on Paleo AIP Recipe Roundtable.