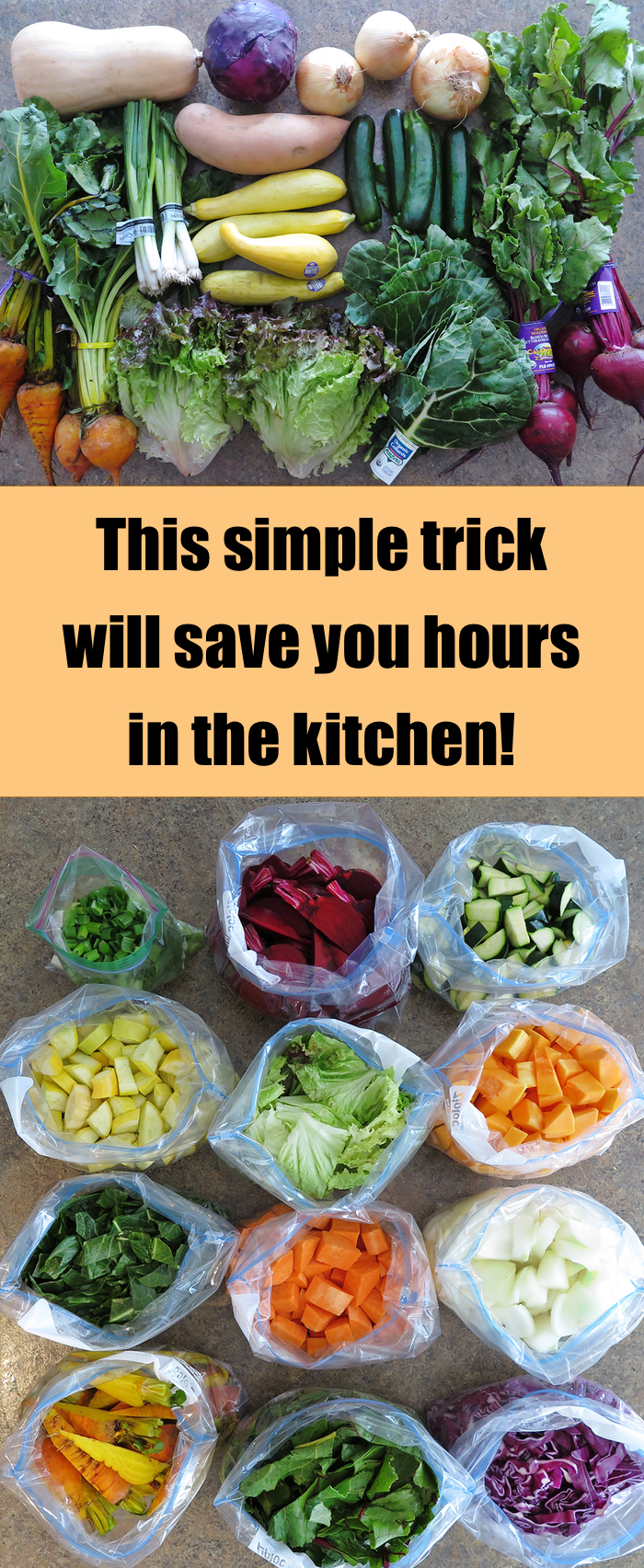 A while back, I asked on my Facebook page what was, in your opinion, the most important element to be successful on the Paleo Autoimmune Protocol (also known as AIP diet). Your answers were pretty unanimous: a positive attitude, patience, commitment. I also think that having your family on board is a big part of success. But what topped the list was definitely meal planning and food prepping. There is nothing worse than when you are hungry, opening the fridge and realizing that there is nothing quick and easy to prepare. That's when you might eat something less than optimal for your health, or worse, fall off the wagon!
I have been following the Paleo Autoimmune Protocol for years now, and still it is very important to have a supply of fresh vegetables, meat, fruits, and healthy snacks ready at all times. There is little by way of AIP convenience foods that we can buy in grocery stores, so the responsibility to plan ahead and prep your food falls to you.
Here is the trick I use to save time in the kitchen:
When I come back home from a trip to the grocery store, I unpack all my vegetables and immediately start chopping, cutting, and prepping. Then I store everything in resealable plastic bags in my refrigerator. When I have to cook later, all my veggies are ready. All I have to do is grab a few handful, mix them together, and pop them in the oven.
Why do I do this?
Because in my experience, the best way to quickly put a healthy meal together is to have all the ingredients ready! Especially if you are very busy! It is also easier to prep all your vegetables all at once, instead of having to do the job every day during the week. This will save you so much time in the kitchen and help you stay on track with your healthy diet!
Example of my shopping list:
1 cauliflower head
1 butternut squash
1 pound carrots
2 large leeks
3 medium zucchinis
1/2 white cabbage
1 bunch of kale
2 bunches of broccolini
2 bunches scallions
1 big sweet potato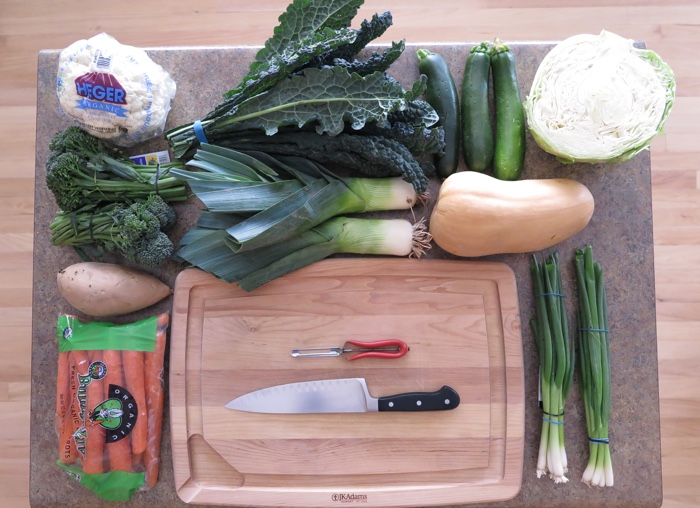 Equipment needed: wooden cutting board, chef's knife, vegetable peeler, containers (can be resealable plastic bags).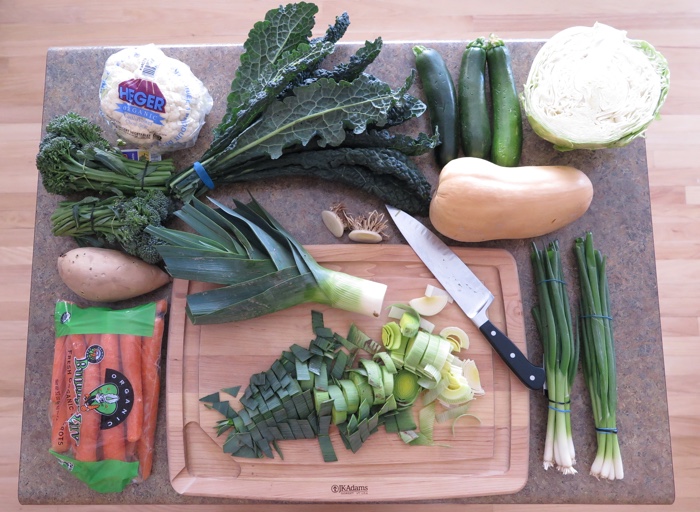 There is no specific technique to follow; just chop away! If you have children and they are old enough to handle a knife, recruit them for the job!
When I am finished chopping my vegetables, I store everything in resealable plastic bags that I keep in the lower part of my refrigerator (lower shelf or the bottom drawers). You can also store your vegetables in glass containers, but I personally don't own that many big glass containers! I even wash and reuse the plastic bags several times.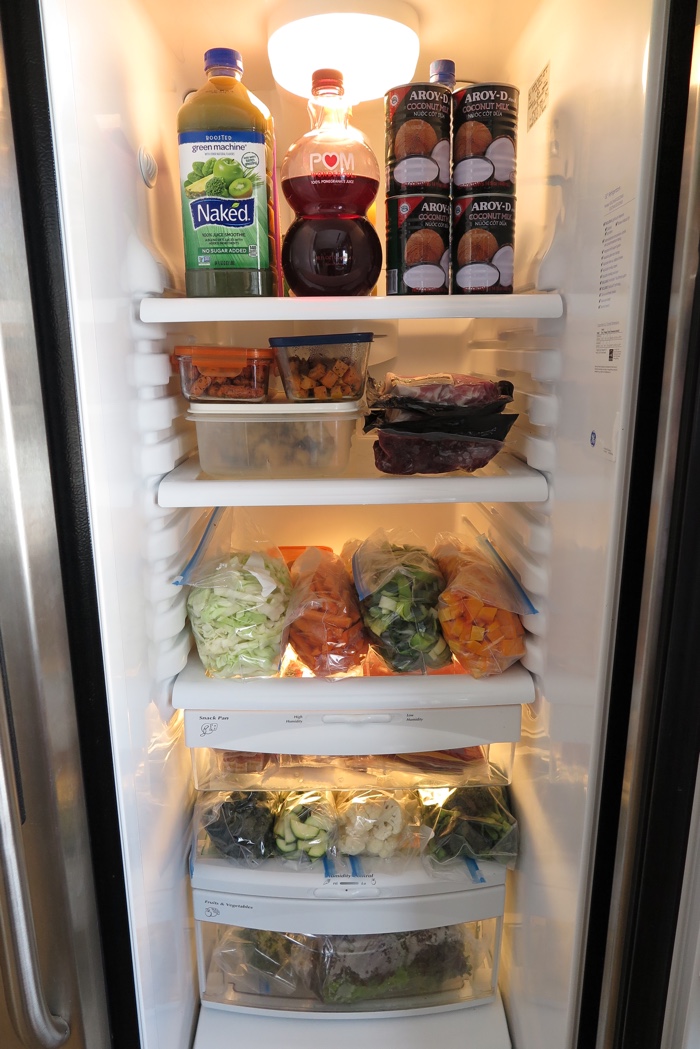 With this technique, I can just grab a few handful of vegetables, mix them together and roast them in the oven for a quick and easy side dish to go with a piece of meat or fish. I always add extra-virgin olive oil, sea salt, and some kind of dried herbs for the seasoning. Roast in the oven at 350° F until the vegetables are tender.
See in the pictures below some ideas on how to mix vegetables together for a tasty and healthy meal!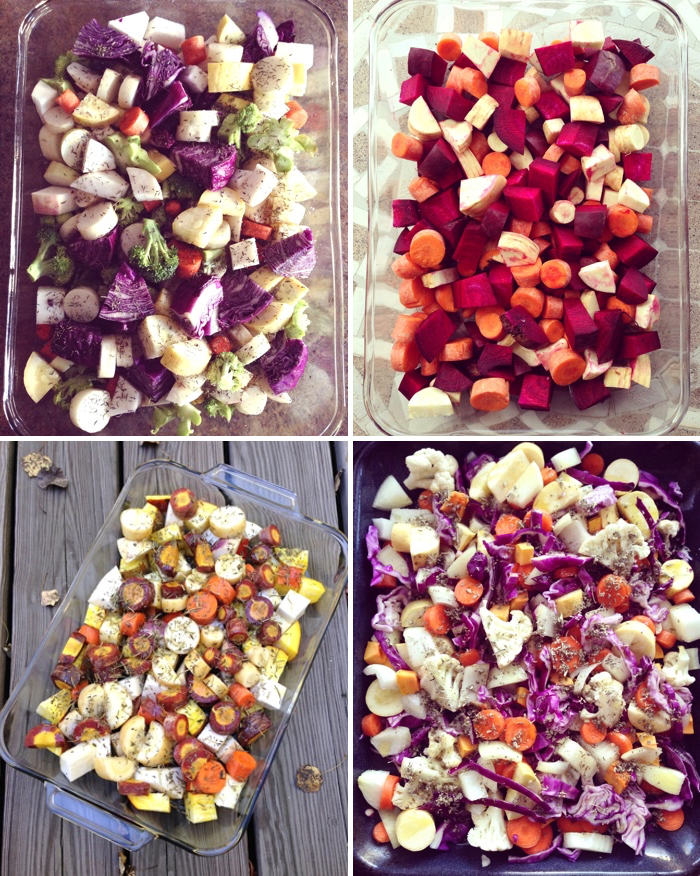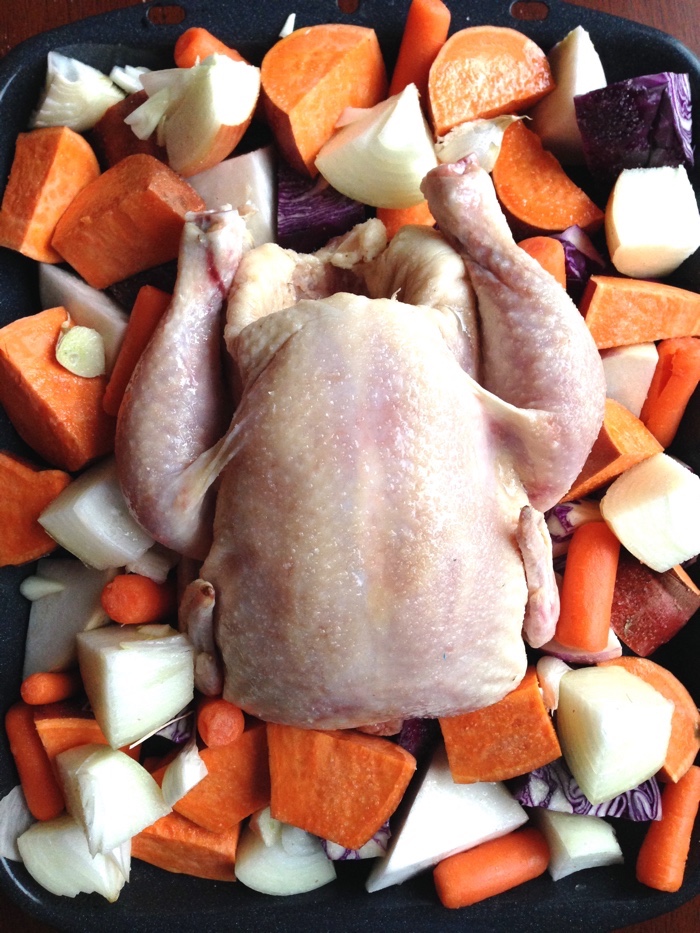 If you would like to learn more about batch cooking and meal planning, here are a few good resources from fellow AIP bloggers:
---