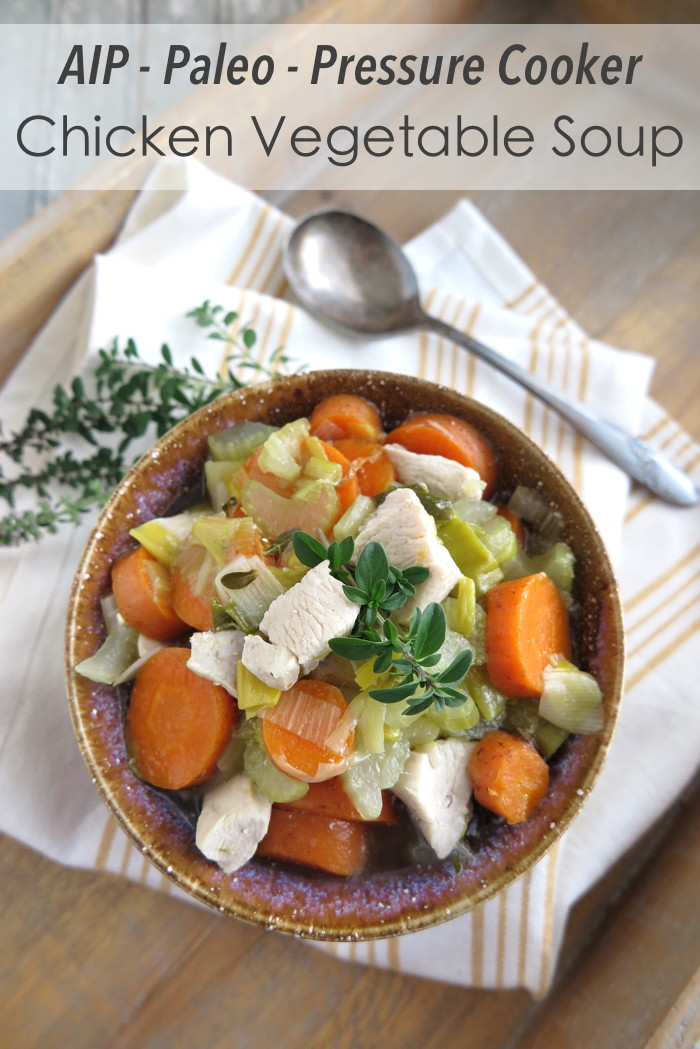 A good chicken vegetable soup is worth its weight in gold, and if you can make it happen in 20 minutes or less in your Instant Pot pressure cooker, it is priceless! As I was developing this recipe and tasting the result with my husband, we were remarking that nothing beats a warm, comforting soup when you are hungry, or feeling down, or cold (it's definitely getting chillier around here in Colorado at this time of the year).
I make it a habit to always have soup in the refrigerator and I batch cook it in large quantities. My favorites are this creamy butternut squash, carrot, and ginger soup, this healing breakfast chicken soup, and of course this insanely good chicken vegetable soup! These soups are suitable for freezing.
Paleo – AIP – Pressure Cooker
Chicken Vegetable Soup
Freezer-friendly
Great for leftovers!
The quantities given in the recipe below work for a 6-quart Instant Pot pressure cooker. If you have a pressure cooker, just not an Instant Pot, you might find some very useful tips on how to translate an Instant Pot recipe in this post.
I had two little helpers the last time I made this soup in my Instant Pot! We just got these two little kittens (they are brothers) and they are a hoot! So curious about everything! The delicious aroma of the chicken vegetable soup attracted them to the kitchen as I was taking pictures. This recipe is definitely kitty-approved!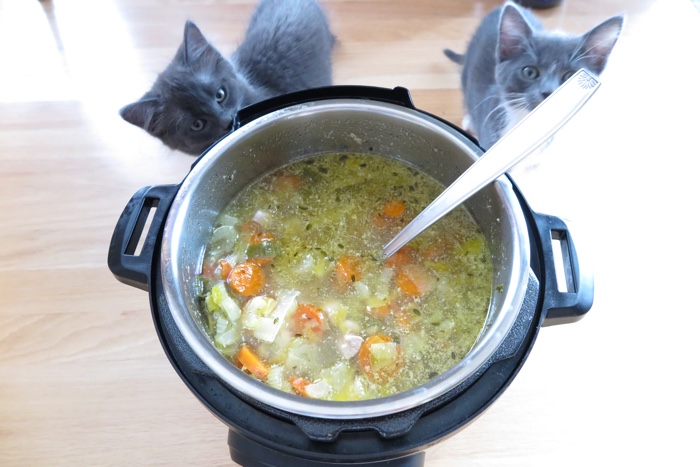 If you are looking for more delicious and flavorful Instant Pot recipes like this chicken vegetable soup, check out The Paleo AIP Instant Pot Cookbook (it's actually an ebook), as well as other Instant Pot recipes on the blog!
The Best Pressure Cooker Chicken Vegetable Soup! (Paleo, AIP, Instant Pot)
This recipe is 100% compliant with the strict elimination phase of the Paleo Autoimmune Protocol (AIP).
Author:
Sophie Van Tiggelen
Cuisine:
Paleo Autoimmune Protocol
Ingredients
1 ¼ pounds sliced carrots (about 6 large carrots)
1 pound sliced celery (about 1 large bunch)
1 pound sliced leeks (about 1 large leek), white and green parts
1 pound chicken breasts, cut into ½-inch pieces
3 tablespoons extra-virgin olive oil
2 teaspoons sea salt
A handful of fresh thyme
2 quarts chicken broth
Instructions
Press the Sauté button on the Instant Pot, bring it to High, and add olive oil. When the pan is hot, add chicken and sauté for 5 minutes, stirring frequently. Cancel the sauté function.
Add vegetables, sea salt, thyme, and broth.
Close and lock the lid. Press Manual for High pressure. Set the cooking time to 15 minutes. Once the time is up, quick release the pressure.
Open the lid and discard thyme.
Check seasoning and adjust salt to taste. Serve hot. Makes great leftovers!
Notes
This recipe was made using a 6-Quart Instant Pot pressure cooker.
This Pressure Cooker Chicken Vegetable Soup has been shared on:
Paleo AIP Recipe Roundtable
Click it to pin it!