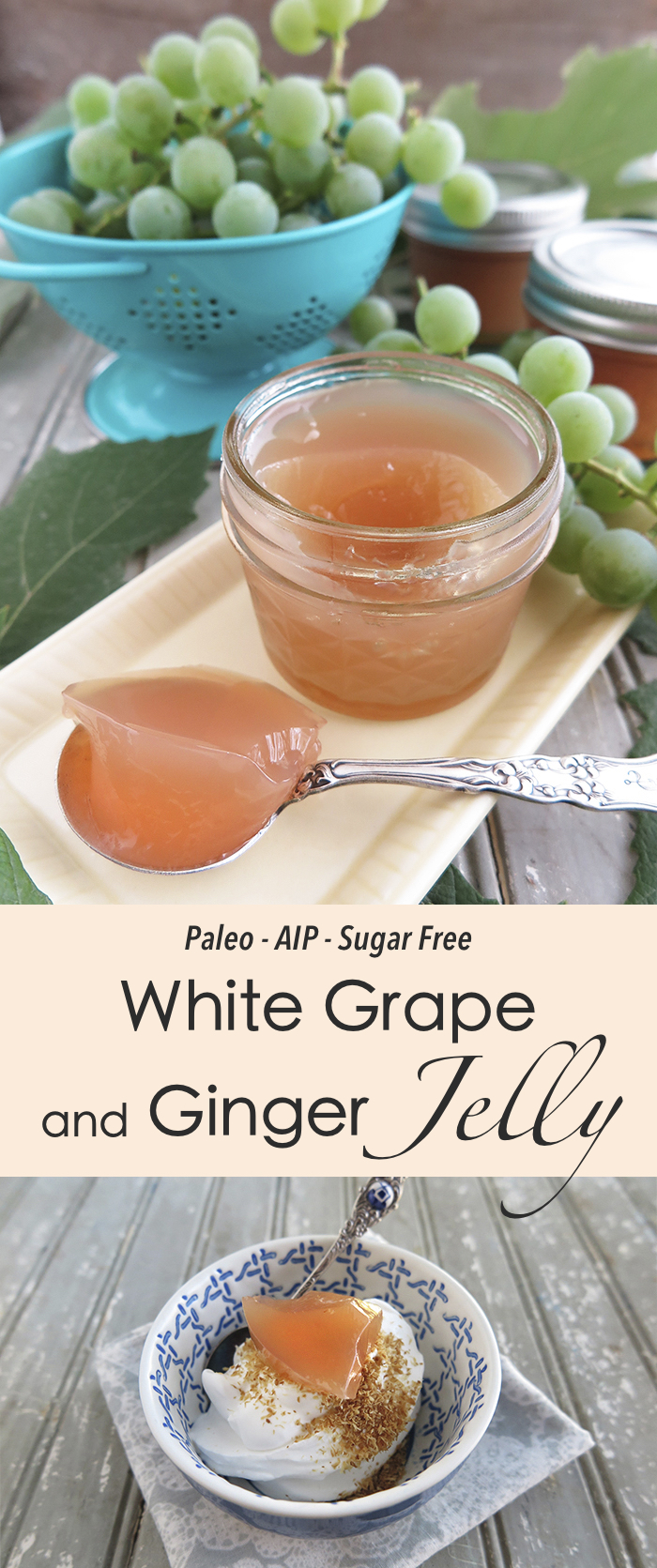 A few years back, we decided to plant some grape vines in our backyard to create a natural privacy screen. The first two years, we had lots of leaves, but no grapes at all. Since then, grapes have been growing aplenty! We have the white variety (don't ask me for the name, I totally forgot!). They are quite sweet, but with a thick skin and plenty of little seeds. They are all right to eat I guess, but I prefer to juice them. Pure grape juice is delicious on its own, but this year I decided to make jellies instead.
* * * * *
Sugar-Free – Paleo – AIP
White Grape and Ginger Jelly
* * * * *
Now, when one doesn't have fancy equipment and contraptions to press the fruit and collect the juice, you can do like me and use a potato masher! This technique is very "Little House on the Prairie", but it works well! The recipe calls for 4 cups of white grape juice. You will need about 4 to 4½ pounds of grapes to make 4 cups of juice.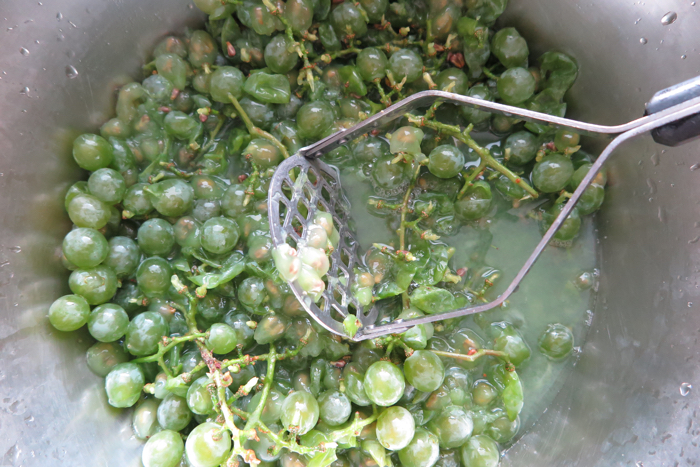 After pressing down on the grapes with the potato masher, transfer everything to a strainer and press gently down with a spoon to try and collect as much juice as you can. You can even use your hands to squeeze the fruit a little bit more. Discard the leftover fruit. Do you see that fresh green juice collecting at the bottom of the dish? That's what you want. The green stuff is in fact the pulp of the grapes. Very important: refrigerate the fresh grape juice overnight. The sediment will settle at the bottom of the container and the pure juice will rise to the top.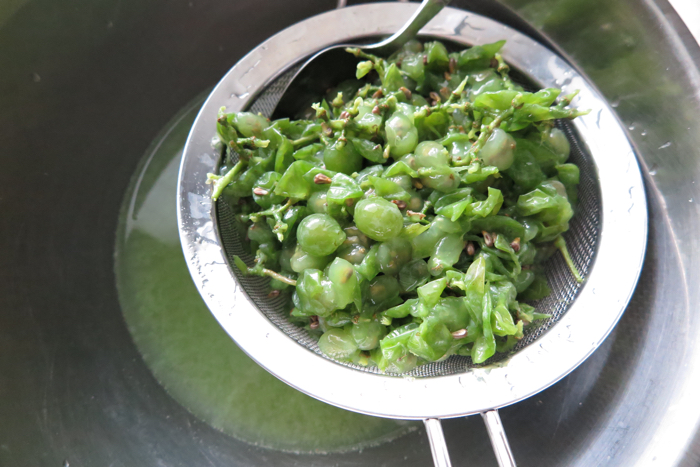 To make this sugar free grape and ginger jelly, I used the Pomona's Universal Pectin. What is special about this Pomona pectin? Besides the fact that it is a clean, organic product, devoid of any sugar or preservatives, this 100% pure citrus pectin is very reliable and will gel jams and jellies even without adding any sugar. Other types of pectins require a large amount of sugar for the preparation to harden. It is not the case here.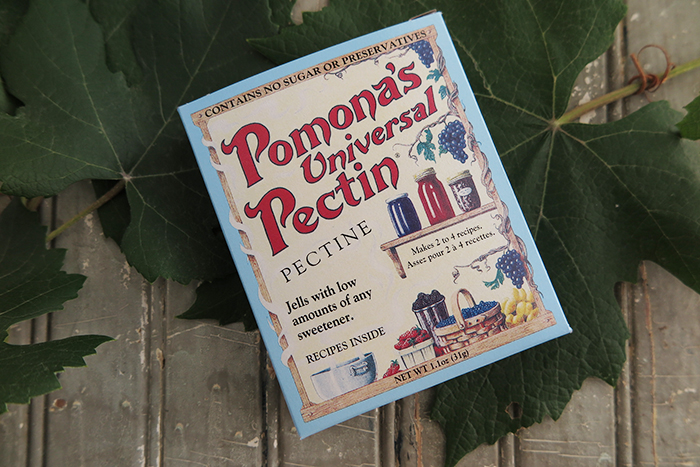 Plus, I love the retro-kitchen look of the box!
Now, if you are following the Paleo Autoimmune Protocol (also referred to as AIP) like me, you might wonder how you are going to eat this delicious jelly if you can't have bread, right? Well, as you can see in the picture below, I enjoy my grape and ginger jelly as a topping over some unsweetened coconut yogurt (coyo) and toasted shredded coconut. It is absolutely yummy!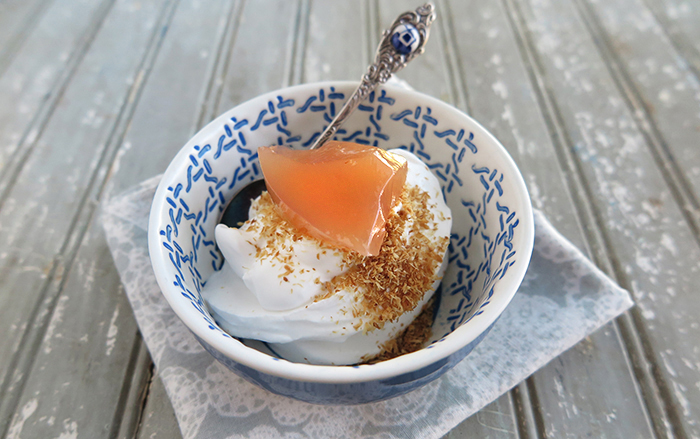 And if you can't do jelly without bread, here are several AIP recipes for breads, muffins, biscuits, crackers, teacakes, etc: Real Deal AIP / Paleo Biscuits – AIP Dinner Rolls – Plantain Crackers (Nut-free, Egg-Free) – AIP Chapati – Banana Bacon Muffins – Biscuits (AIP, Paleo, Sugar-Free) – Banana Cinnamon Teacake – Pear and Parsnip Teacake – Morning Glory Muffins – Pumpernickel Bread – Spinach Raspberry Pancakes – Spiced Carrot Muffins – Sweet Potato Flour Cinnamon Coffee Cake – Chunky Monkey Tigernut Flour Banana Bread – Blueberry Streusel Coffee Cake Muffins – AIP bagels – Plantain Buns – Autoimmune paleo Dinner Rolls.
---
Sugar Free White Grape and Ginger Jelly with Pomona Pectin (Paleo, AIP)
This recipe is 100% compliant with the Paleo Autoimmune Protocol (AIP).
Author:
Sophie Van Tiggelen
Cuisine:
Paleo Autoimmune Protocol
Ingredients
- 4 to 4½ pounds white grapes, washed (yielding 4 cups pure white grape juice)
- 1/4 cup lemon juice
- 1 tablespoon ginger juice * (see note below for homemade ginger juice)
- 4 teaspoons Pomona's calcium water (follow instructions inside the box of Pomona's pectin)
- 4 teaspoons Pomona's pectin powder
- 5 8-ounce glass jars with lids (or you can use 10 4-ounce jars instead)


* homemade ginger juice: in a high speed blender, combine ⅓ cup water with one 1-inch knob of peeled and sliced fresh ginger. Mix on high for 20 seconds. Strain the liquid. Store in refrigerator up to 7 days.
Instructions
The day before: In a large glass or stainless steel bowl, mash grapes (I don't remove the stems) with a potato masher.
Transfer to a strainer and collect grape juice. Pressing down lightly with a spoon or your fingers helps the process. Discard leftover fruit.
Transfer fresh grape juice into one or two tall glass containers and refrigerate overnight.
The next day: Wash, rinse, and dry jars for the jelly. In a pot filled with water, bring lids to simmer. Turn off the heat and let stand in hot water until you need them.
Prepare calcium water following Pomona's instructions.
Take grape juice carefully out of the refrigerator so as not to disturb the pulp at the bottom. Measure out 4 cups of grape juice (again don't disturb the sediment) into a pan. Add lemon juice and ginger juice.
Measure out 1 cup of this grape-lemon-ginger juice and transfer to a small pan. Stir in calcium water. Bring to a low boil.
Transfer boiling juice to a high speed blender, add pectin, and blend on high for 30 seconds, until all powder is dissolved.
Add pectin-juice mixture to the remaining 3 cups of fruit juice and bring to a full boil, stirring continuously. Remove from the heat.
Carefully ladle hot jelly into jars, filling up to ¼" from top. Screw on 2-piece lids.
Fill a large pot with water and bring to a boil. Put closed jars in boiling water (making sure the top of the jars are covered) and boil for 10 minutes (adding 1 minute more for every 1,000 feet above sea level).
Remove jars from water and let cool completely. Jelly will gel faster when refrigerated. Check the lids as they should be sucked down.
Eat within one year. Lasts three weeks once opened and refrigerated.