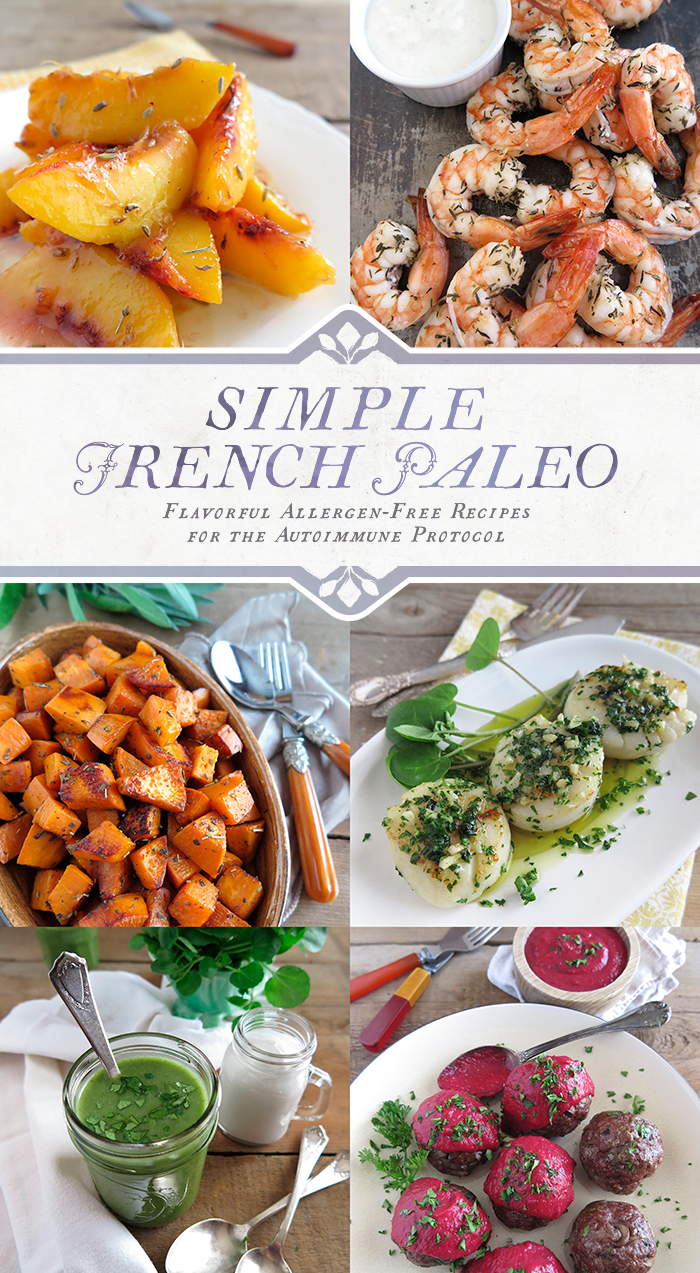 I am proud and excited to share with you my new cookbook "Simple French Paleo : Flavorful Allergen-Free Recipes for the Autoimmune Protocol". I poured my heart into this book and it is a testimonial to my own healing journey and the incredible therapeutic power of real, whole food. Deciding to take your health into your own hands is a momentous decision and it is not without its challenges. But eating for your health doesn't have to mean bland, tedious meals!
How the cookbook was born:
In 2009, I developed Hashimoto's disease. It was during this time of upheaval that I adopted the Paleo Autoimmune Protocol. I was desperate to feel healthy and get back to the business of living. And living well! I was not interested in half a life. I found myself making radical changes to the way I ate and to be honest, it was difficult. I could no longer just grab anything off a shelf and be safe. I read labels and thought very carefully about what I was putting into my body. Would it cause me pain? Would my inflammation sky- rocket because of one tiny little ingredient I could not pronounce? The world of eating was no longer simple, and I longed for simple.
My struggle led me back to the traditional French cooking of my youth and I rediscovered how simple and honest food could be. I was reminded that fresh, real food is at the heart of life and that even as I struggled with an autoimmune condition, I could still enjoy the pleasures life had to offer.
With this book, I hope to remind you of the same thing. These pages contain a wealth of soul-soothing food. Each and every recipe is compliant with the elimination phase of the Paleo Autoimmune Protocol as described by Sarah Ballantyne in her book, The Paleo Approach. In addition to the recipes, I have included details about my own story, about the Paleo Autoimmune Protocol (also referred to as AIP) and how to incorporate its tenants into your life, and tips on how to create an AIP kitchen.
It is my hope that this book will help you on your journey toward true health and a full, rich life.
Of course, I'm also very excited to share so many delicious French recipes with you.
I hope you find them as nourishing and enjoyable as I do.
This stunning book gives you a thorough introduction to the Paleo Autoimmune Protocol, including complete tables detailing which foods to eat, which foods to avoid, and which foods to consume in moderation. The book guides you through the four phases of food reintroductions and provides invaluable tips for home cooks, including how to set up your own AIP pantry!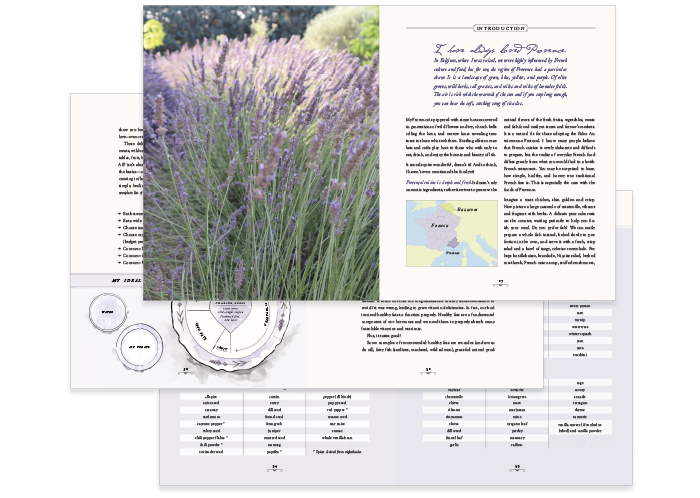 DISCOVER THE ART OF ENJOYING FOOD
ON THE PALEO AUTOIMMUNE PROTOCOL!

A comprehensive introduction to the Paleo Autoimmune Protocol (AIP)
Complete food lists detailing what to eat, what to avoid, and what to consume in moderation
Detailed explanations of the four phases of reintroductions
Essential lifestyle tips
A complete how-to guide for setting up an AIP pantry at home
Valuable extras: cooking timetables, conversion tables, and a handy steaming tutorial
90 mouthwatering, allergen-free recipes compliant with the elimination phase of AIP
Full color photography, including many gorgeous shots of the incomparable Provence countryside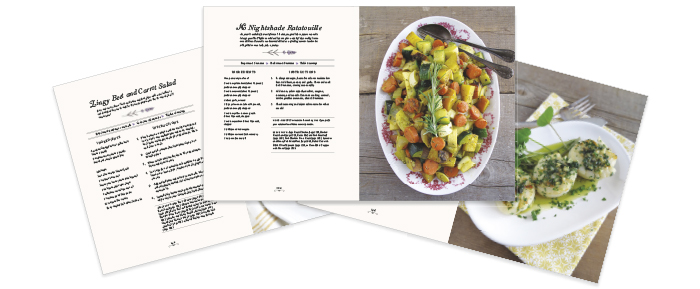 No Nightshade Ratatouille
This recipe is 100% compliant with the elimination phase of AIP.
Author:
Sophie Van Tiggelen
Cuisine:
Paleo Autoimmune Protocol
Ingredients
¼ cup extra-virgin olive oil
2 medium golden beets (about ½ pound), peeled and roughly chopped
3 medium carrots (about ½ pound), peeled and roughly chopped
4 cloves garlic, minced
1 large yellow onion (about ¾ pound), peeled and roughly chopped
1 medium yellow summer squash (about ½ pound), chopped
1 medium zucchini (about ½ pound), chopped
1 tablespoon dried oregano
1 tablespoon minced fresh rosemary
1 teaspoon fine sea salt
Instructions
In a large saucepan, heat olive oil over medium-low heat. Add beets, carrots, and garlic. Cover and cook for 20 minutes, stirring occasionally.
Add onion, yellow squash, zucchini, oregano, rosemary, and sea salt. Continue cooking, covered, until vegetables are tender, about 20 minutes.
Check seasoning and adjust salt to taste. Serve hot or cold.
Notes
Add 10-15 minutes to the cooking time if you prefer your ratatouille well-done over crisp-tender.
The giveaway is over. The winners are: Stephanie B., Teresa W., Katie J., Marta, and Punica.
I am giving away one copy of  Simple French Paleo to five lucky readers! (If you live in the US, you will receive a print copy. If you live outside of the US, you will receive a PDF version).  Please note that you have to confirm your subscription in order to enter the giveaway.  You can either enter the Rafflecopter contest or leave a comment below  to participate in the giveaway. That's it!  This contest is open worldwide.  The winners will be chosen randomly and will be announced here on Thursday June 9th, 2016. Good luck everyone!
a Rafflecopter giveaway
If you don't want to wait, you can purchase your own copy here!
---