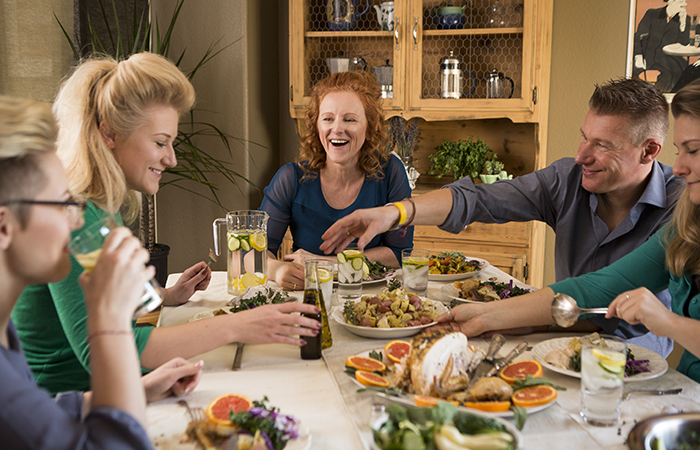 The first symptoms of my autoimmune disease were rather brutal. After a minor outpatient surgery in early 2009, I woke up in the middle of the night in the grip of a full-blown panic attack. Fully alert and totally disoriented, my heart was pounding out of my chest, my breathing was shallow and fast, and my hands and legs were alive with a terrible tingling sensation. I thought I was having a heart attack. I came to understand that I was not, but the experience was frightening to say the least.
After that first episode, I suffered from anxiety and panic attacks on a daily basis for months. I never knew when an attack would strike and soon even the idea of having to face one at all became worse than the attack itself. I developed severe insomnia and if you have ever had insomnia, you know what a torment it is to lie awake hour after hour, utterly exhausted, yet unable to fall asleep. Several times, my panic attacks landed me in the local emergency room. Ultimately, I was prescribed anti-anxiety medication. Desperate, I took them grudgingly, and in truth, the medication did help reduce my anxiety, but it didn't treat the cause of my panic disorder.
A Downward Spiral
Months into my ordeal, I noticed that my thyroid (a butterfly-shaped gland at the base of the throat that regulates metabolism, among other things) was swollen and painful. It felt like a tennis ball was stuck in my throat, which, as you can imagine, was very uncomfortable and made it difficult to swallow. I was also experiencing a string of unsettling symptoms: anxiety, insomnia, heart palpitations, dizziness, brain fog, cognitive impairment, aches and pains all over my body, bloating, constipation, hair loss, dry and itchy skin, and mucus over-production. The medications prescribed to me seemed to have no effect and no one could say what was wrong with me.
I Could No Longer Function
At my lowest point, and still suffering from incapacitating insomnia, I was unable to work. Basic household tasks—grocery shopping, preparing meals, caring for my children—all became impossible. I was exhausted all the time. What little energy I had left was dedicated to consulting with doctors and subjecting myself to an ongoing battery of laboratory tests. I kept changing doctors hoping the next one might finally figure out what ailed me. Needless to say, this put an enormous strain on my family, both financially and emotionally.
Surely, This Can't Be It
I asked myself that question everyday. "Surely, this can't be how I am going to spend the rest of my life. Surely not." That's when I started working with a functional medicine practitioner and true healing began. He helped me look at the bigger picture and implement changes that would ultimately bring me back to health. I stopped taking all my anti-anxiety medications and approached my healing in a more natural and holistic way. In-depth testing of my thyroid revealed the presence of antibodies attacking the gland. I was diagnosed with Hashimoto's Thyroiditis, was prescribed natural thyroid hormone replacement, and adopted a gluten-free diet. Finally, with a firm diagnosis and a plan, I looked forward to being healthy once again.
Not Quite Enough
With the help of my new thyroid medication, I was able to slowly overcome my panic attacks. The relief I felt was tremendous, however, the rest of my symptoms lingered and my overall health continued to deteriorate until, in 2012, I began experiencing excruciating joint pain. The pain was so intense that I couldn't walk. I was desperate to find a way to"fix" myself. I began spending a lot of time conducting online research and stumbled upon the Paleo Autoimmune Protocol (also referred to as AIP). I read stories from people who had successfully reversed their autoimmune disease through diet and lifestyle modification and so, with absolutely nothing to lose, I decided to give AIP a go! I dove headfirst into the elimination phase of the Paleo Autoimmune Protocol and eliminated all listed trigger foods at once. Going cold turkey worked for me—severe pain is a great motivator!
Once I began AIP, I experienced rapid improvement of my worst symptoms, specifically the joint pain and anxiety, however, I didn't feel the legendary "energy boost" so many people report when starting this diet. Even though I was following AIP to the letter, I continued to struggle for several months with intense fatigue and sluggishness. With time and patience however, my autoimmune flares became less frequent, less intense, and I recovered from them more quickly. My head cleared, I began sleeping better, and I slowly regained my energy.
The Importance of Support
Since the very beginning of my healing journey, I have been very fortunate to have the unconditional love and support of my husband and children. Their open-minded attitudes and encouragement have been instrumental in my continued faithfulness to the Paleo Autoimmune Protocol. After a short transition period, during which time I found my bearings with my new lifestyle, my family began following the protocol with me. What a tremendous gift that was! I began developing tasty AIP-based meals that were nutritious and satisfying enough even for those not suffering from an autoimmune disorder. I have even been able to convert some of my children's favorite meals into AIP-friendly versions built around a wide variety of vegetables, meats, and seafood. You can find these recipes on my blog or in my cookbook Simple French Paleo. It is my hope that sharing these recipes might aid in your recovery and also delight you and your family, as they have mine.
Commitment Matters
My commitment to the Paleo Autoimmune Protocol allowed me to put my autoimmune disease into remission. This doesn't mean that once I started feeling better I began eating the way I used to! I still have to watch what I eat and avoid inflammatory foods, but I have been able to relax a little and reintroduce a few foods I had eliminated at the beginning. The anti-inflammatory benefits of the Paleo Autoimmune Protocol have had far reaching and positive influences in my life. I am healthy again. I am stronger and fitter than I was ten years ago. Most importantly, I now have a positive outlook on life and look forward to the future with joy and anticipation.
I wish this for you, too.