The Autoimmune Protocol (AIP) is a powerful dietary tool that has the potential (when done properly) to reverse autoimmune disease by lowering systemic inflammation in the body and setting the stage for healing to happen.
To better understand the way the autoimmune protocol works, one can divide it into 3 phases: the initial elimination phase, the reintroduction phase, and the final stage where your find your specific food intolerances.
Elimination Phase
The initial elimination phase is temporary.  During that time, you need to remove a series of foods that are potential triggers for an autoimmune response.
"The Autoimmune protocol is
a temporary elimination diet"
On the list of foods to eliminate are grains (including corn), legumes (including soy and peanuts), dairy products, eggs, nightshades (including spices derived from nightshades), seeds and nuts, alcohol, chocolate, coffee, refined sugars, refined oils, processed foods and food additives.
While this list may seem pretty long, there are still a wide variety of healthy foods you can enjoy like all meats, seafood, all vegetables, and fruits.  Check out my recipe page for a gallery of mouthwatering dishes you can prepare for yourself and your family!
A nice tool to have on hand to help you navigate this elimination phase is this complete list of yes and no foods on AIP written by The Paleo Mom.  And here is a list of all the herbs and spices allowed on the AIP as well.
Reintroduction Phase
After a certain period of time, which varies from people to people, you can start reintroducing foods you had to eliminate before.
But let me give you this piece of advice I learned the hard way: patience and method are the keywords for a successful reintroduction.  You don't want to rush things and reintroduce different foods at the same time!  Why?  Because you won't be able to listen to the signals the body is sending you.  It is crucial to reintroduce foods one at a time, following a specific step-by-step process, in order to detect potential symptoms of food intolerance.
"Slow and steady wins the race!"
I have made several mistakes trying to rush my reintroductions, and as a result I had to take a step back and wait even longer.  It wasn't until I followed the clear instructions in this Reintroduction Guide on the Paleo Autoimmune Protocol that I was able to tackle my reintroductions with success.  This guide has been written by the very knowledgeable Eileen Laird from Phoenix Helix.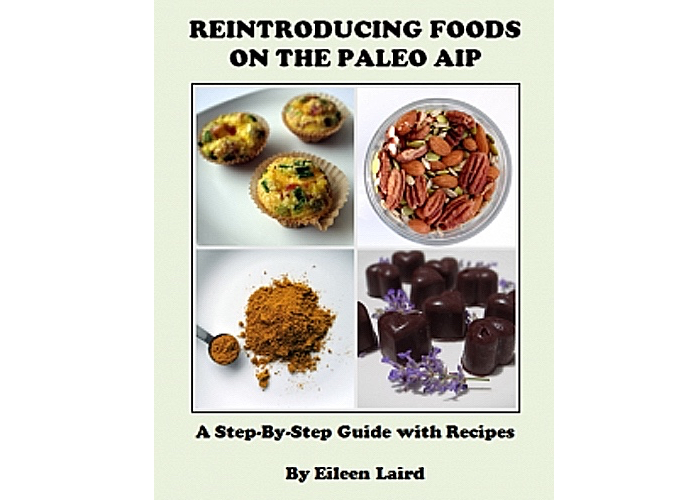 In her Reintroduction Guide, Eileen explains in simple terms how to reintroduce foods on the autoimmune protocol, when to do it, and which foods you should reintroduce first.
She also shows you how to keep a symptom journal, how to deal with an autoimmune flare, and which mistakes to avoid.
As a bonus, the Reintroduction Guide contains a wide variety of delicious recipes designed to help you reintroduce one food or one ingredient at a time.
So far, I have been able to reintroduce chocolate in small amounts, seeds and nuts, some spices like mustard and paprika, and eggs.  I have not been successful with coffee so far!  Each time I try to drink coffee, I develop joint pain within 24 hours, as well as a swelling in my throat and mucus over-production.  Talk about a food reaction!  Hopefully, when my body has healed more, I will be able to tolerate coffee in small amounts.
Final phase: the best diet to help you heal!
At the end of the reintroduction process, you will have discovered your specific food intolerances and established which diet is the best for you to help you heal.
This phase is different for everyone, because we all react differently to foods.  While I may never be able to tolerate coffee, others have reintroduced it successfully.  This is why the Autoimmune Protocol is more a template than a one-size-fits-all approach.  It is impossible to predict which foods you will tolerate well, and which foods will cause your symptoms to flare up.
"AIP is a template, not a one-size-fits-all diet!"
It is only through patient and careful experimentation that you will be able to pinpoint your own food intolerances.
Question: Have you been able to reintroduce foods yet on the paleo autoimmune protocol?  If the reintroduction failed, which symptoms did you experience?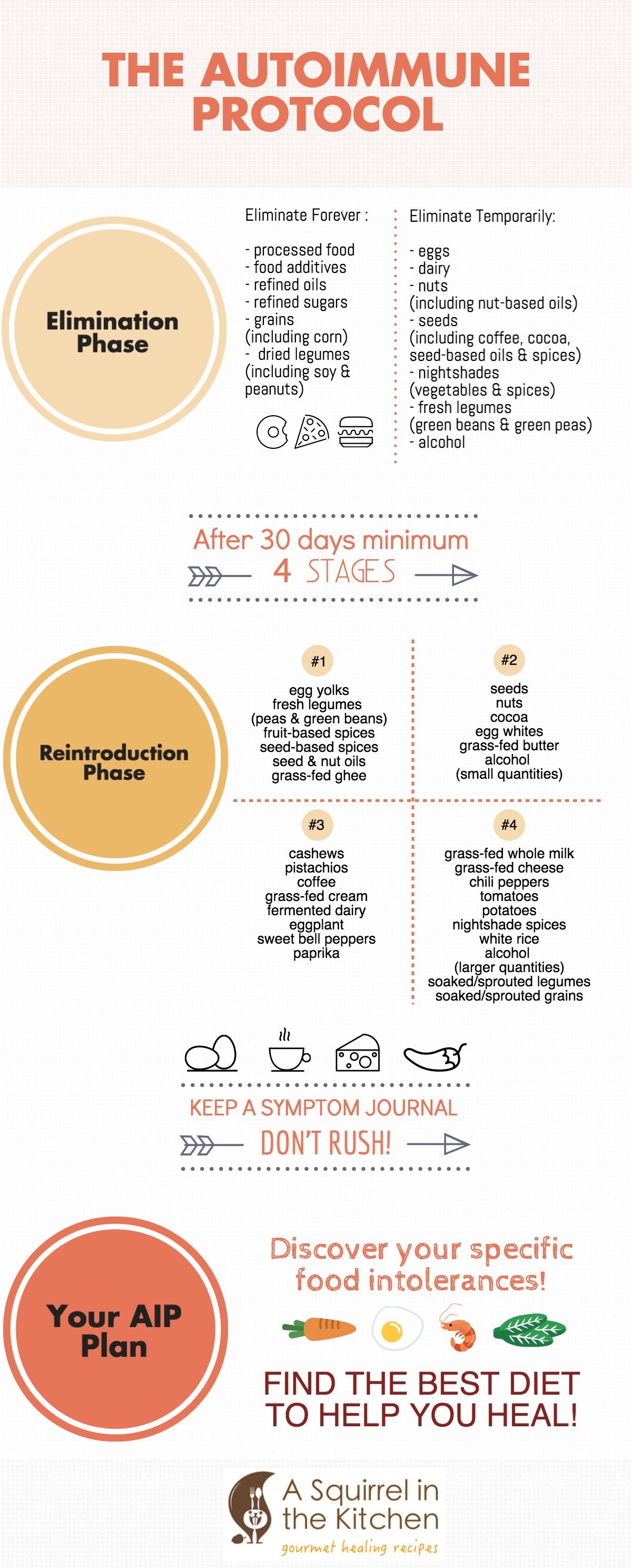 ---
This post contains affiliate links.  Click here to read what it means.