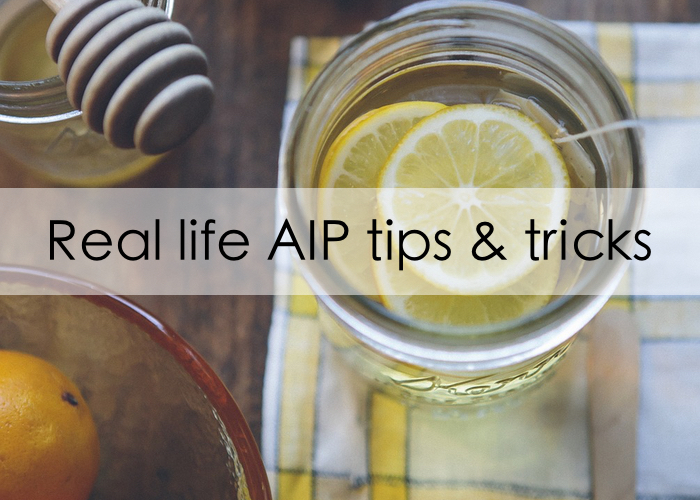 Real life AIP tips and tricks features stories from people like you who are using the Paleo Autoimmune Protocol to manage an autoimmune condition and live well in spite of the obstacles they may encounter. Healing from an autoimmune disease is not just about the food though. While the food you eat (and don't eat) is extremely important, other lifestyle factors are at play, such as reducing emotional stress, cultivating quality sleep, practicing regular exercise, or keeping a positive outlook on life. My wish for you is to draw strength and inspiration from these real life stories from all over the world. To contribute your own story of recovery on the blog, click here to download the submission form. To read more real life AIP tips and tricks, click here.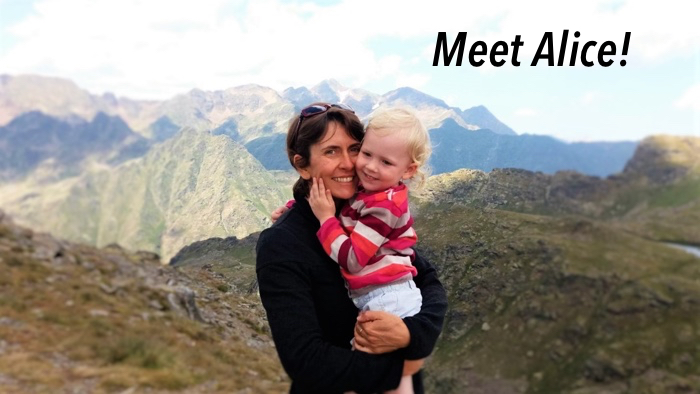 Name: Alice Dénoyers
Location: Principality of Andorra. (I spent the first half of my life in France, the second half in Spain, and now I live in Andorra, which is a sovereign microstate located in the southwestern part of Europe, bordered by Spain and France.)
Diagnosis: Hashimoto's Thyroiditis, Chronic Fatigue Syndrome, and Hepatomegaly (liver enlargement).
When did you start AIP? I started AIP in December 2015. I like to think that I was born twice. Once in 1974, and the second time last December, when I started the AIP and became me again, after years of suffering without finding explanations or solutions.
Have you reintroduced any non-AIP foods yet? I have reintroduced black pepper, green beans, egg yolks, dark chocolate, hazelnuts, and ghee.
I followed Sarah Ballantyne's and Eileen Laird's reintroductions instructions and all of my attempted reintroductions have been successful. I was ready to take this new step after 9 months on the strict elimination phase. I recently read Dr Terry Wahls's book and I'm slowly transitioning to a personalized version of the AIP-Keto diet.
During the last 3 months of the strict elimination phase, I suffered from bloating. At first I thought I was reacting to high-histamine and FODMAP foods, so I restricted my diet even further, but it didn't work and I was very frustrated. My recent diagnosis of liver enlargement also led me to the conclusion that one of the possible causes could be fructose and glucose intolerance. I now eat fewer starchy vegetables than before, but I still eat plenty of green vegetables at each meal.
I have generously increased my fat intake from bacon, animal fats, coconut oil, coconut milk, egg yolks (a reintroduction), olive oil, and olives. I have maintained the same amount of proteins. I still do 99% AIP, but I have modified the macronutrients distribution. I still get as many micronutrients as I can (from lamb liver, heart, brain, sweetbreads, seafood, fatty fish, kale,etc.). I have learned that nutrient density as well as an optimal macronutrients balance are key factors for healing.
I feel much better now that I eat more healthy fats and fewer carbohydrates. My bloating and bad digestion are gone! I feel energetic and focused during the day and I sleep well at night. 
Which tips or tricks made your life easier in the kitchen and helped you stick with the AIP diet?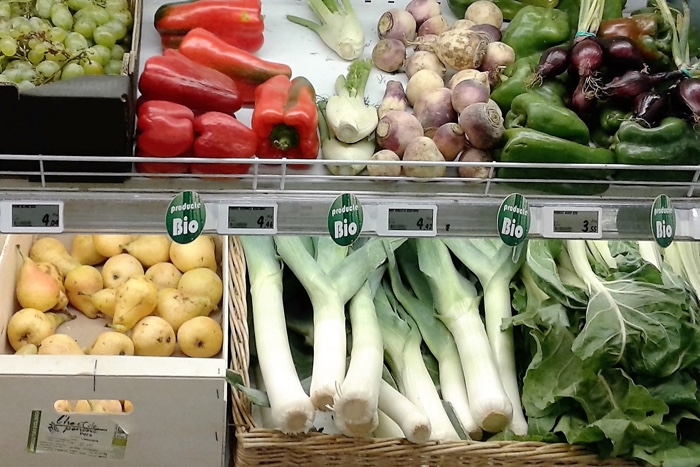 What are your top three AIP go-to meals that are easy and quick to prepare?
I always keep it very simple because my family doesn't eat AIP and sometimes I have to prepare three different meals, three times a day! I usually eat steamed vegetables (such as carrots, zucchini, cabbage, broccoli, beetroots, parsnip, leafy greens, winter squash, sweet potatoes, and artichokes) with liver, chicken, lamb, beef, or fish. I drink one cup of bone broth daily and use a good amount of coconut oil, olive oil, bacon fat, or tallow at every meal. I also make sure to drink plenty of water throughout the day.
One of my go-to breakfasts (left plate) is lamb liver with avocado, olives, chicory, egg yolk (a reintroduction), olive oil, turmeric, ginger, and fresh herbs. Another go-to breakfast (right plate) is grass-fed ground beef with an egg yolk (a reintroduction), zucchini, olives, carrots, seaweed, chicory, and lots of healthy fats! (Note: For the strict elimination phase of AIP, skip the egg yolk.)

After such a big and nutritious breakfast, I am not hungry for the next 5-6 hours. My lunches are similarly highly nutritious.
One of my go-to lunches (left plate) consists of avocado, olives, an egg yolk (a reintroduction), steamed carrots and sweet potatoes, foie gras, seaweed, turmeric, ginger, sea salt, and lots of coconut milk and olive oil. (Note: For the strict elimination phase of AIP, skip the egg yolk.)
I've struggled a lot to get used to eating liver, fatty fish, and seafood. I had a very hard time with these foods, but now I am used to it. As I eat them, I remind myself that they are full of omega-3 fatty acids and they contain so many nutrients and vitamins my body and brain need. So here, on the right plate, we have fresh anchovies, asparagus, parsley, Brussels sprouts, carrots, and lots of extra-virgin olive oil of course.

At night, I'm generally not hungry at all, so often I don't eat anything, or sometimes I may have a salad containing: lettuce, radishes, olives, coconut oil, avocado, seaweed, egg yolk (a reintroduction), ginger, and turmeric.

What are your favorite AIP snacks?
I usually don't eat snacks as I am not really hungry in between meals. But when I do eat a snack, my favorites are: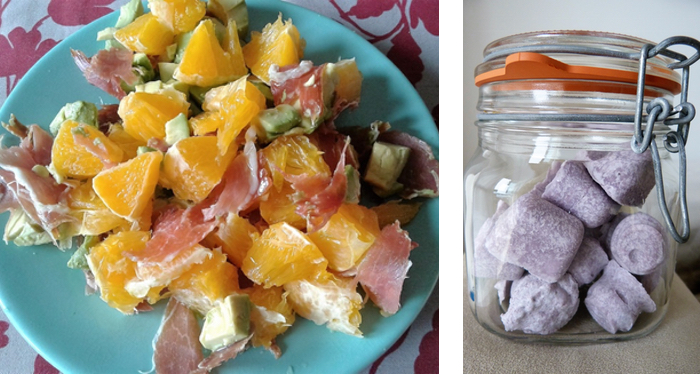 How do you manage to stay AIP outside of the house (at work, restaurants, travel, etc)?
What other lifestyle components have you implemented in your healing routine (sleep, stress management, exercise, etc)?
When I got so sick in June 2015 (I had a thyroid storm), I had no choice but to prioritize my health and rest: I wasn't able to get off the couch most of the day! I wasn't able to work anymore, so I went on sick leave for 7 months. I used this time to rest and recover, but also to research as much information as I could about my disease, online and through books, in order to become self-educated in spite of intense brain fog, constant joint and muscle pain, and overwhelming fatigue. At that time, my priority was to try and understand what was happening to me. So I learned to say no to mostly everything else. I could hardly manage to look after my daughter in the afternoons, I wasn't able to walk more than 100 meters (~328 feet), and I couldn't drive my car. I had terrible panic attacks, anxiety, memory loss, cognitive impairment, mental confusion, palpitations, insomnia… My health crisis forced me to take care of myself.
After only a few weeks on the AIP, I recovered energy, I lost 20 pounds in two months, I slept better at night, I was able to play and have fun with my daughter, and I could make plans for the following days.
It took me many months to recover, but now I can say my symptoms have reduced by 90 or even 95%. I just get a bit tired when I try to do too many things and sometimes I still struggle with insomnia.
Now I am happy, energetic, fit, relaxed, and optimistic about the future. I have recovered my sense of humor, which I had lost years ago. I'm now able to smile and make jokes! 
When I feel I'm getting tired or stressed, I say "no" (to my clients, my daughter, my husband, and to myself as well), I take a rest or a walk, and I come back refreshed. That's how I manage stress now. But I would say stress doesn't impact me as much as before, when my body and mind were so inflamed and irritated. I didn't realize that the food I had eaten throughout my life had been adding more fuel to the fire every day. Now, I don't feel the fire anymore. I feel like myself, but better than ever: optimized, and more peaceful, serene, and happy than I have ever felt before.
What advice would you give to a beginner just starting the AIP diet and lifestyle?
I would tell them to believe in themselves, in their ability to heal. You're not in a war against your disease or yourself. This process might be your best opportunity to learn about yourself and to learn to love yourself. Be kind, loving, and understanding to yourself. Don't worry about what happened in the past. Learn every day from your mistakes. Trust in a better future.
The AIP will certainly help you feel much better than before.
Don't get overwhelmed and obsessive about your condition, about what you can or can't eat, your food sensitivities, etc. Be inspired by the other AIPers' experiences, but remember that AIP is a template which you have to adapt to your personal needs. What works for others might not necessarily work for you. Don't force things!
If it doesn't seem to work, don't restrict your diet further. You won't heal and feel better sooner because you've been on a strict AIP diet for many months and eat only 15 different foods (that's what happened to me). Your aim should be to eat as many different food as possible. Experiment with foods, macro- and micronutrients, supplements, lifestyle modifications, read a lot, and get inspired by experts and other patients, until you find the perfect combination for you.
What are your favorite AIP resources?
I discovered the AIP through Sarah Ballantyne's The Paleo Mom website. It was a life-changer! I also follow many blogs, videos, podcasts, and Facebook pages by health and nutrition experts like Datis Kharrazian, Eileen Laird, Mickey Trescott and Angie Alt, Izabella Wentz, Terry Wahls, Chris Kresser, David Perlmutter, Kelly Brogan, Paul Jaminet, Jessica Flanagan, Mark Hyman, Mark Sisson, Robb Wolf, Tom O'Bryan, Josh Axe, Daniel Amen, etc.
I also get inspiration from AIP cookbooks like The Healing Kitchen, Simple French Paleo (this one is special for me as I'm French), The Autoimmune Paleo Cookbook, He Won't Know It's Paleo, The Alternative Autoimmune Cookbook, etc.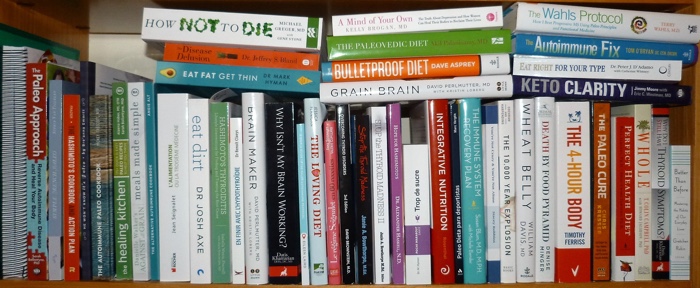 Listening to podcasts while walking or resting has played a huge role in my education about health and nutrition. I've listened to the most passionate biohackers of the planet! My favorite AIP/Paleo podcasts are: The Paleo View with Sarah Ballantyne and Stacey Toth, Eileen Laird's Phoenix Helix podcast, The Autoimmune Wellness Podcast by Mickey Trescott and Angie Alt, Chris Kresser's Revolution Health Radio, Robb Wolf's Paleo Solution.
I've recently listened to more podcasts about ketogenic diets, like Christopher Kelly's Nourish Balance Thrive and Jimmy Moore's Livin' La Vida Low Carb podcasts, among others.
All of the hours I spent listening to the best experts in nutrition and health worldwide while walking in the Pyrenees mountains have definitely helped me understand why I had such a big health crisis and how I can find solutions to live a much better life. I still haven't found a functional medicine practitioner near me, but my primary care physician helps me a lot with blood tests and she support my dietary choices as she sees my lab test results are good.
The online community resources on Facebook like the AIP support Group or the Elimination/Provocation Diet group have also been a huge help in my journey.
Alice is co-admin of the French-speaking AIP Facebook group. She also contributes to the Spanish-speaking Hashimoto's group and the Spanish-speaking AIP group. She works as a freelance translator.