Paleo On The Go (POTG) is a meal delivery service providing chef-prepared frozen Paleo meals across the entire United Sates. Even better, they have an entire menu offering AIP-friendly meals for everyone following the strict elimination phase of the Paleo Autoimmune Protocol! I know! This is quite amazing considering the fact that it is practically impossible to find AIP-approved convenience food in regular grocery stores. That is why I was immediately interested in this service when I came across their website.
I placed an order for the AIP Variety Pack (which includes the company's top 10 AIP menu items at a lower price). I was so impressed with what I received that I got in contact with the company and they sent me more goodies so I could write a review for you guys. (I was not paid to write this review – this post reflects my personal opinions of the products.)
"When I placed my order, I had no way of knowing that these AIP meals were going to be a lifesaver for me. Shortly after I received my shipment, a member of my family was hospitalized for several weeks. Our lives became chaotic. Between all the appointments, daily hospital visits, and the anxiety of having a loved one going through a health crisis, I had no time to cook for myself. It was such a relief for me to be able to come back home at night and warm up a comforting, 100% AIP meal. This allowed me to stay on track with my diet and stay strong to face what needed to be done."

How does it work? Once your order is placed, you will receive a tracking number. The number will allow you to follow your shipment and know exactly when it will show up at your door. The food arrives frozen, carefully wrapped in a sealed cooler with dry ice to keep everything super cold. Upon arrival, place your items directly in the refrigerator until needed.
How to reheat? POTG does not recommend boiling the package to reheat. As a general rule, it is better to thaw items slowly in the refrigerator and reheat (out of the plastic pouch) in a microwave, toaster oven, or conventional. Each meal comes with its own thawing and reheating instructions to ensure the best result.
Scroll down to see more pictures and discover what I think of each meal!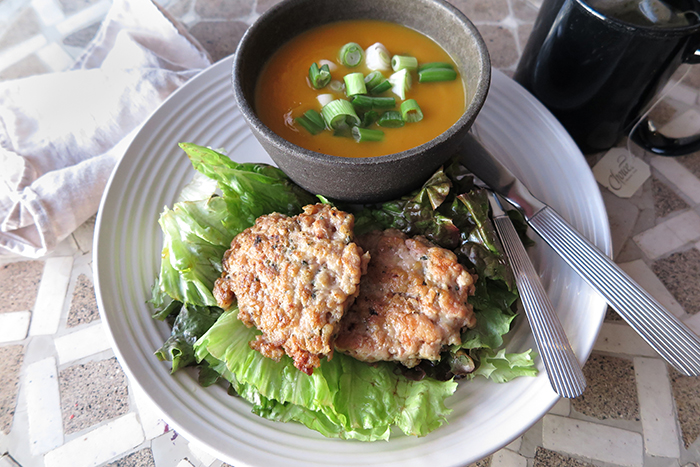 Chicken Breakfast Sausage (two patties)
Ingredients: certified organic free range chicken, sage, thyme, sea salt, mace, garlic, onion, bacon fat (cooked in)
Yummy factor: For some reason, I rarely eat ground chicken. No particular reason. I am simply not used to it. So these chicken sausages were a first for me and they convinced me that chicken patties are really, really good! With the perfect blend of spices and herbs, these were the perfect accompaniment for a crisp salad and a thick bowl of soup!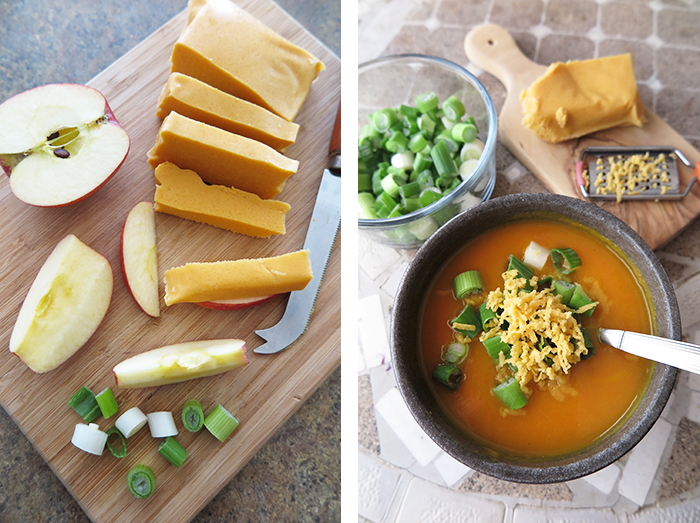 Straight From The Farm Cheddar "Cheese"
Ingredients: butternut squash, coconut oil, grass fed gelatin, nutritional yeast, lemon juice, sea salt
Yummy factor: Keep an open mind as you taste this dairy free cheddar "cheese" because it won't taste like the regular cheddar you used to eat. I have made AIP "cheese" myself in the past (find the recipe here) using zucchini and fresh herbs. I really liked this version, especially on a slice of apple or simply grated as a topping for soup! The possibilities are endless and you could very well spread this "cheese" on vegetables, pizza, or grilled meat. The nutritional yeast gives it a little "nutty" flavor in my opinion, which is quite pleasant.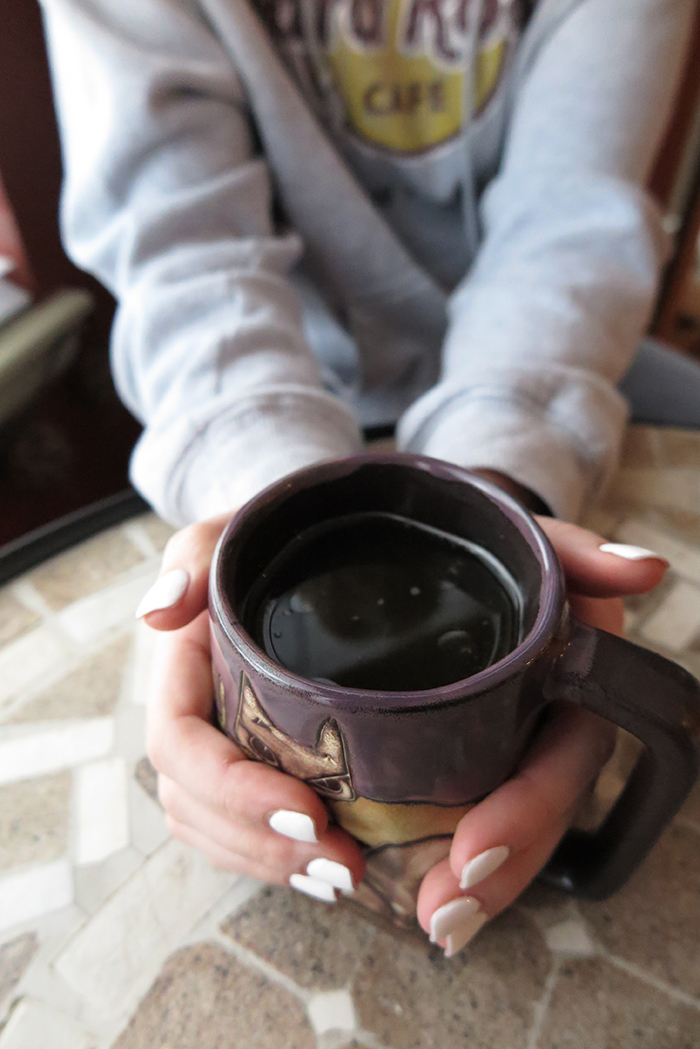 48 Hour Grass Fed Beef Bone Broth
Ingredients: grass fed beef bones and knuckles, grass fed Piedmontese beef oxtail, carrots, celery, onion, parsley, sea salt, apple cider vinegar
Yummy factor: This was my least favorite of all, but it is all a matter of taste. I personally prefer chicken broth to beef broth. Bone broth is considered a super healing food on the Paleo Autoimmune Protocol, especially for it's ability to repair the gut. So if you can't make your own bone broth at home, this is a good option. I would purchase the chicken broth instead of the beef broth though.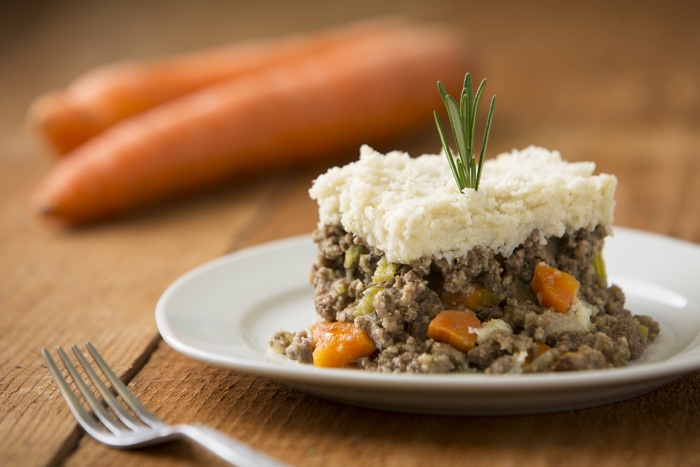 Shepherd's Pie
Ingredients: grass fed ground beef, grass fed beef heart, celery, carrot, onion, garlic, garlic powder, onion powder, grass fed beef bone broth, rosemary, molasses, Balsamic vinegar, sea salt, arrowroot, cauliflower, grass fed bone fat, nutritional yeast
Yummy factor: This shepherd's pie was really appetizing. I was looking forward to tasting this dish and the day I did, I was in fact feeling quite sick. Other member of my family ordered take-out from Chipotle, but I was happy with my shepherd's pie! Very comforting, with a harmonious blend of flavors, although a touch too salty for my taste. The portion was big, but I would love to see more vegetables and a little less meat.
Homemade AIP Chicken Pot Pie (18.5 oz portion)
Ingredients: certified organic free range chicken, celery, carrots, onions, parsley, bay leaves, arrowroot, thyme, certified organic free range chicken stock, pork fat (lard), cassava flour, sea salt, water
Yummy factor: This was my number one! My favorite from all the meals I tested. I was so looking forward to eating it! I was expecting "grandma-style" comfort food and that's exactly what it was. It was moist with a lot of veggies and meat inside. My husband, who graciously volunteered to taste it with me, really liked the dough. Chicken pot pie is not something we get to eat often, quite the contrary in fact, so this was very special. I would serve it with a little green salad on the side if you have some on hand.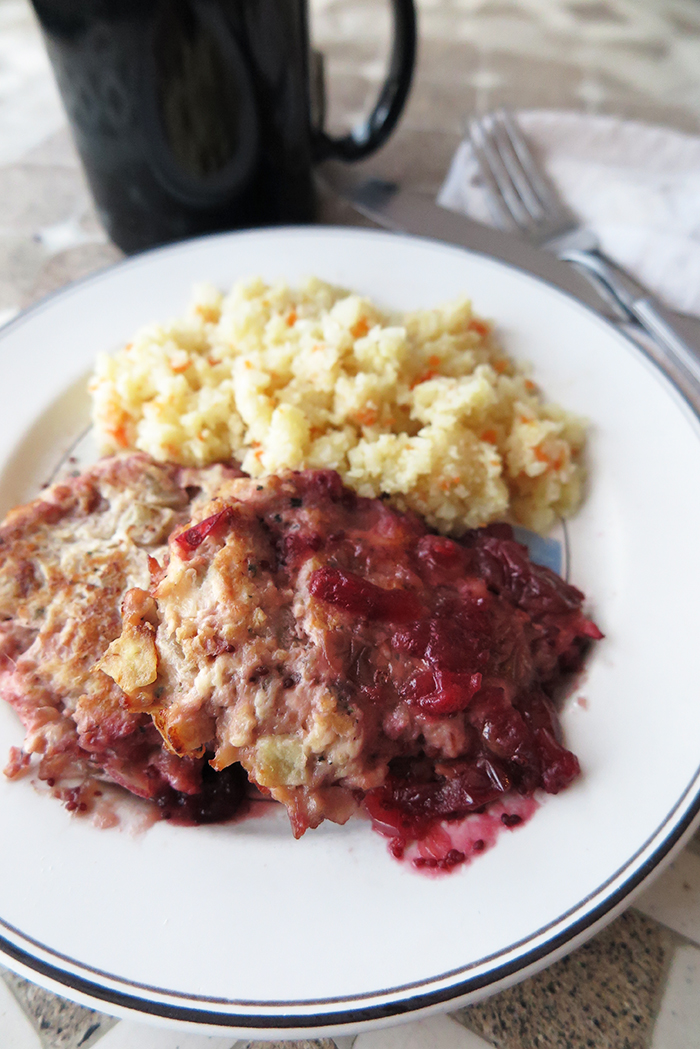 Bacon Apple Chicken Burger with Maple Cranberry Sauce / Riced Cauliflower
Ingredients: Burger: ground chicken, bacon, onion, apple, rosemary, sea salt, bacon fat – Sauce: frozen cranberries, maple syrup, water – Cauliflower: cauliflower, onions, carrots, garlic, sea salt, lard or tallow
Yummy factor: These bacon and apple chicken burgers are excellent! There is just the right amount of sweetness with the cranberry sauce. Absolutely yummy! Now, I served these burgers with the company's riced cauliflower. The perfect combination in theory, however it turned out not so good because the cauliflower rice had garlic in it. But that was my fault for not reading the ingredients throroughly in advance. The cauliflower rice was good in itself, just not the best pairing with the cranberry sauce!
---
So, is Paleo On The Go really worth the money?
Yes!
Meals from the AIP menu are compliant with the
strict elimination phase of the Autoimmune Protocol
High-quality ingredients
Homemade-style meals
Great flavors and texture
Ease of use
Always have AIP meals on hand!
I am 100% behind Paleo On The Go. I love their products, I personally use their products, and I recommend them to all my readers.
These AIP meals are not something I would be able to purchase on a regular basis, nor would I want to, but they are fantastic when you are in a pickle and can't cook for yourself. As I explained at the beginning of this post, I recently went through one of the worst periods of stress in my life as a parent and these AIP meals were a lifesaver. Before writing this review, I never thought that I would come to depend some much on meals from Paleo On The Go.
My strategies to get the best deal: 
Choose the "Phoenix Helix Variety Pack" (10 best selling AIP menu items at reduced price).
Check out AIP items on sale (they change regularly so check back often).

Use code SQUIRREL to get $15.00 OFF your entire order!

---