I came up with this delicious paleo "Nuttola" recipe as a healthy breakfast alternative to store bought granola's high in sugars and grains.  My husband, who is a paleo athlete, loves to mix his Nuttola with some goat yogurt and chia seeds in the morning  to fuel up before his cycling workouts.  If you are a paleo athlete like him, make sure you eat a good meal made up of carbohydrates and proteins at least 2 hours before your exercise session.  This will help you replenish your muscle stores of glycogen, which are essential for high-level athletic performances.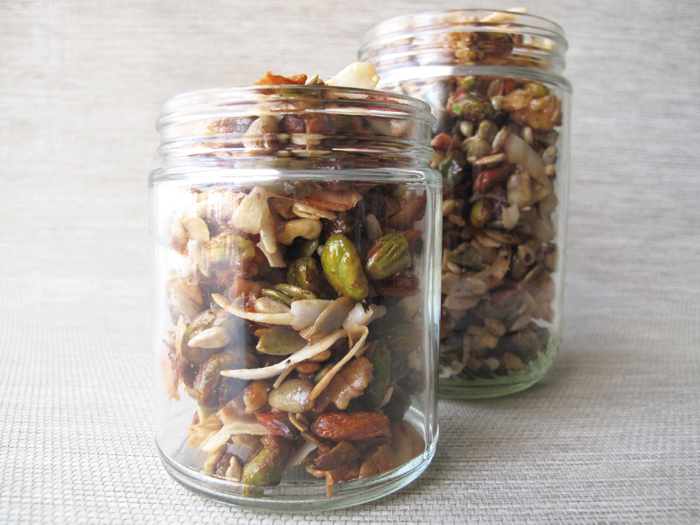 As I am on the autoimmune protocol, I don't get to enjoy this breakfast wonder.  And that's ok.  Just because I need to be super extra careful with my diet right now doesn't mean that my family can't enjoy some paleo treats that are off limits for me at this time.  In any case, the autoimmune protocol is a temporary diet, until your guts have had the time to heal and you are able to reintroduce the foods you had to eliminate.
If you are wondering how and when to start the reintroduction of  food on your paleo autoimmune diet, check out this article by Eileen from Phoenix Helix. She has written a very helpful step-by-step guide to reintroducing food after an elimination diet.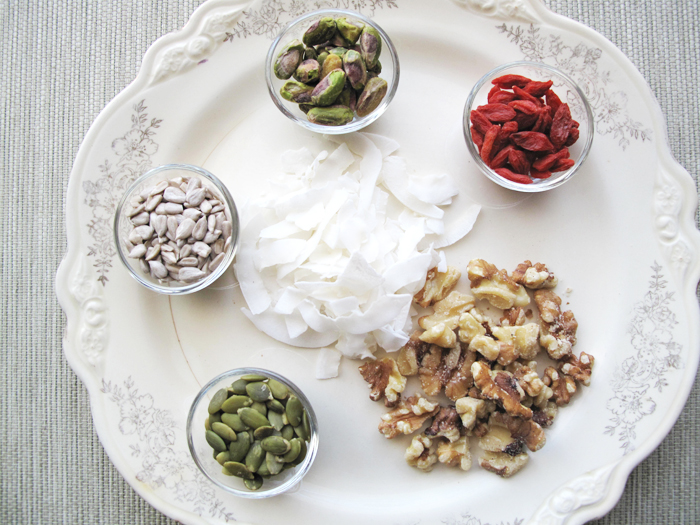 Here is the insider scoop, right on this plate!  The secret formula for the Nuttola is an elaborate mix of seeds and nuts.  You will recognize pumpkin seeds, sunflower seeds, pistachios, goji berries, walnuts and coconut flakes.  Of course, you can always add or subtract an ingredient according to your personal preferences.  Sometimes, I will also add some cacao nibs at the last minute for a little extra crunch.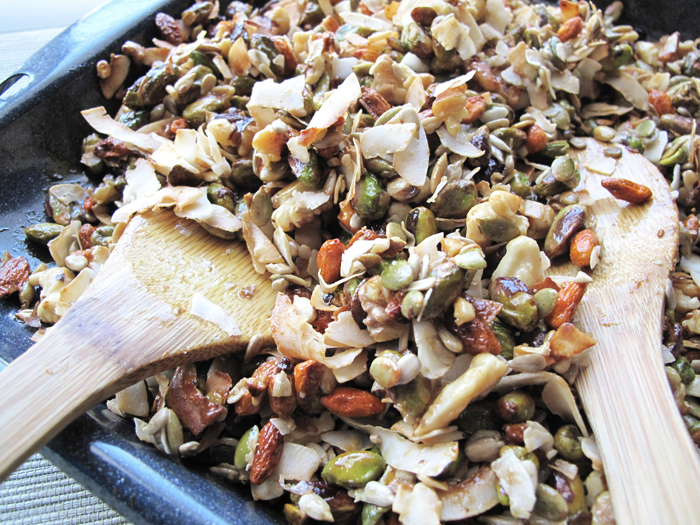 Look at this yumminess!  I wish I could add a scratch and sniff button to this picture!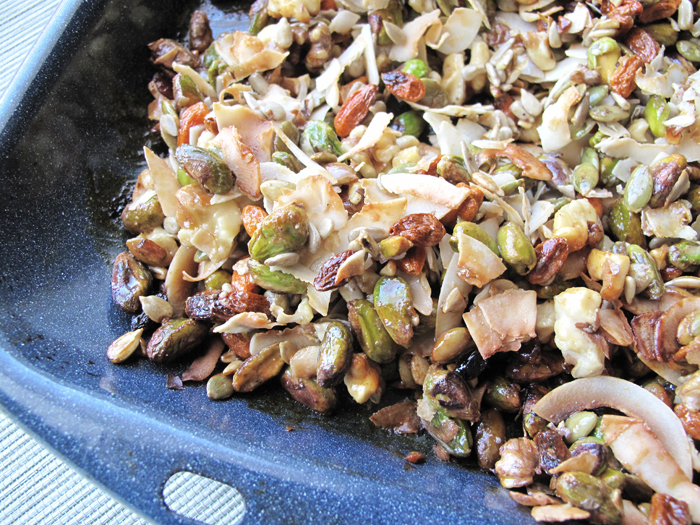 As you take the Nuttola out of the oven, make sure you mix it well several times as it cools down to keep the nuts separated.  If not, you might end up with big blocks of nuts and seeds fused together.  In that case, just use a kitchen knife to separate the portion you need.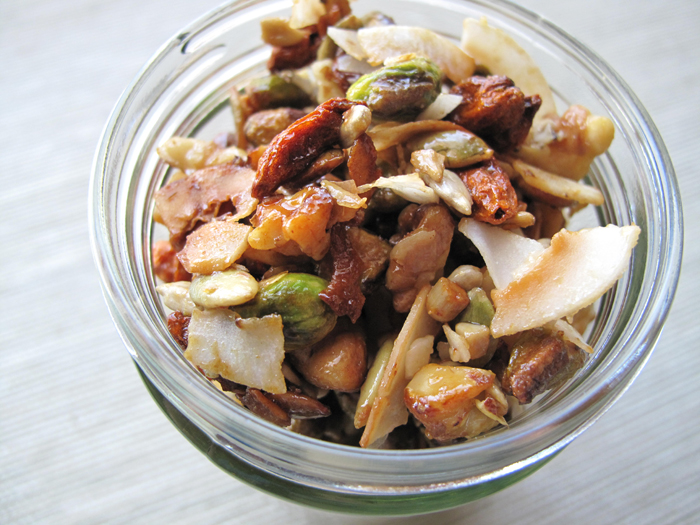 Paleo / Nuttola: Grain Free Granola
Delicious paleo breakfast: grain free granola (gluten free and dairy free as well).
Ingredients
2 cups pistachios
1/2 cup goji berries
1/2 cup sunflower seeds
1/2 cup pumpkin seeds
1 cup 1/2 walnuts
1/2 cup honey
2 cups coconut flakes
Instructions
Preheat the oven at 350F.
Mix the pistachios, goji berries, sunflower seeds, pumpkin seeds and walnuts together.
Spread out the mix on a baking sheet and drizzle the honey on top.
Place in the oven on the middle rack.
After 3 minutes, take the baking sheet out of the oven and mix the nuts & seeds with the honey that is now nice and warm.
Put the baking sheet back in the oven.
After 10 minutes, add the coconut flakes and mix well.
After 15 minutes, mix again the nuts, seeds and coconut flakes.
After 20 minutes, the grain free granola should be nicely toasted and brown.
Notes
As you take the Nuttola out of the oven, make sure you mix it well several times as it cools down. This will keep the nuts and seeds from fusing together in big blocks.
---
[wysija_form id="1″]