Are you looking for something different for the holidays?  Something less mainstream than turkey or lamb, but still festive and special?  Look no further!  This oven baked salmon with papaya-mango salsa is just the ticket.  Colorful, grand, and a crowd pleaser for sure.  Plus it will be ready with a minimum of preparation in the kitchen, leaving you more time to spend with your guests!
* * *
OVEN BAKED SALMON
WITH PAPAYA-MANGO SALSA
* * *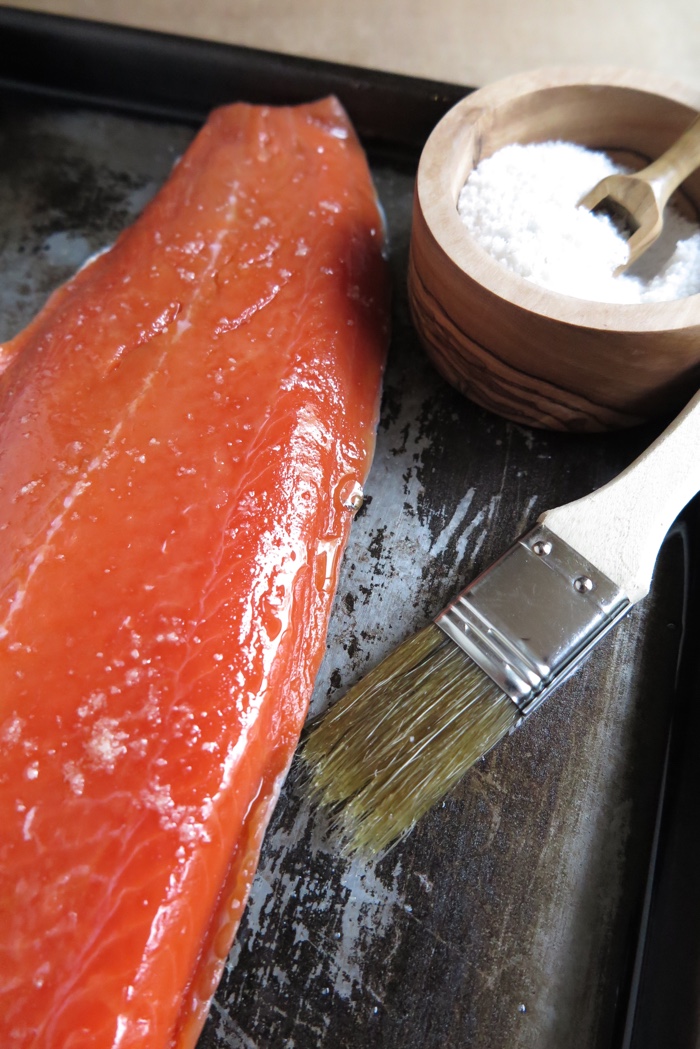 Start with a slab of fresh salmon, preferably wild caught.  The usual serving is between 4 to 6 ounces per person.  Apply a generous coating of extra virgin olive oil
, sprinkle with sea salt
, and it is ready to go in the oven.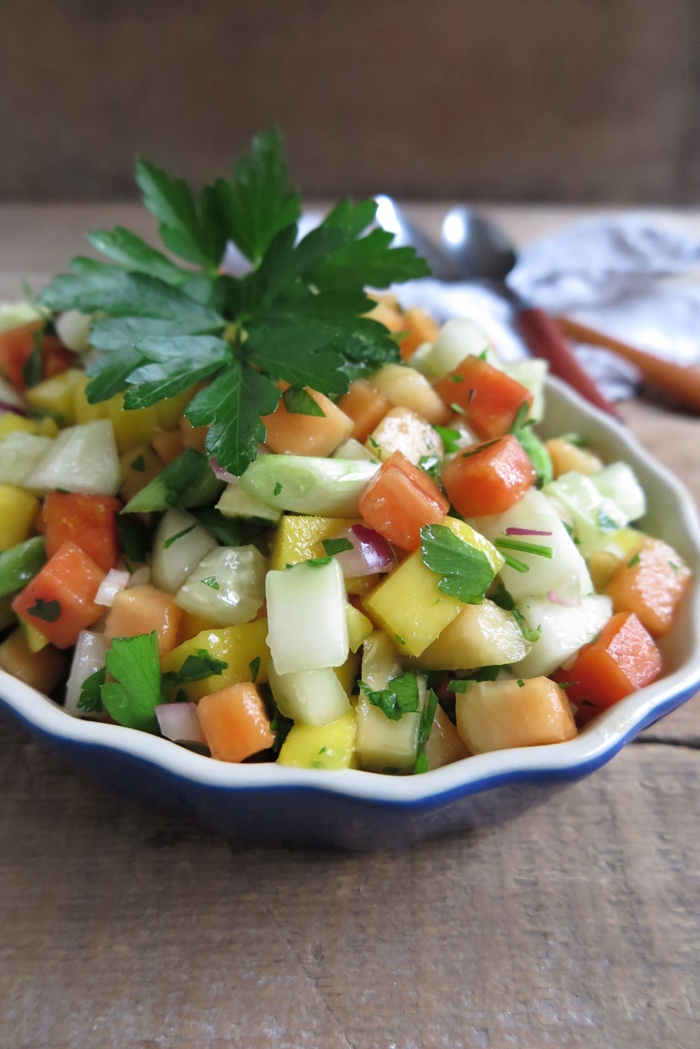 This splendid papaya-mango salsa is the perfect companion for an oven baked salmon! Refreshing, bursting with flavors, and loaded with beneficial vitamins!  The sweet and sour bite of the salsa pairs so well with the earthy notes (or should I say oceanic!) of baked salmon.  This combination is just delectable!  The salsa will keep well in the refrigerator for a few days if you end up with too much for one meal.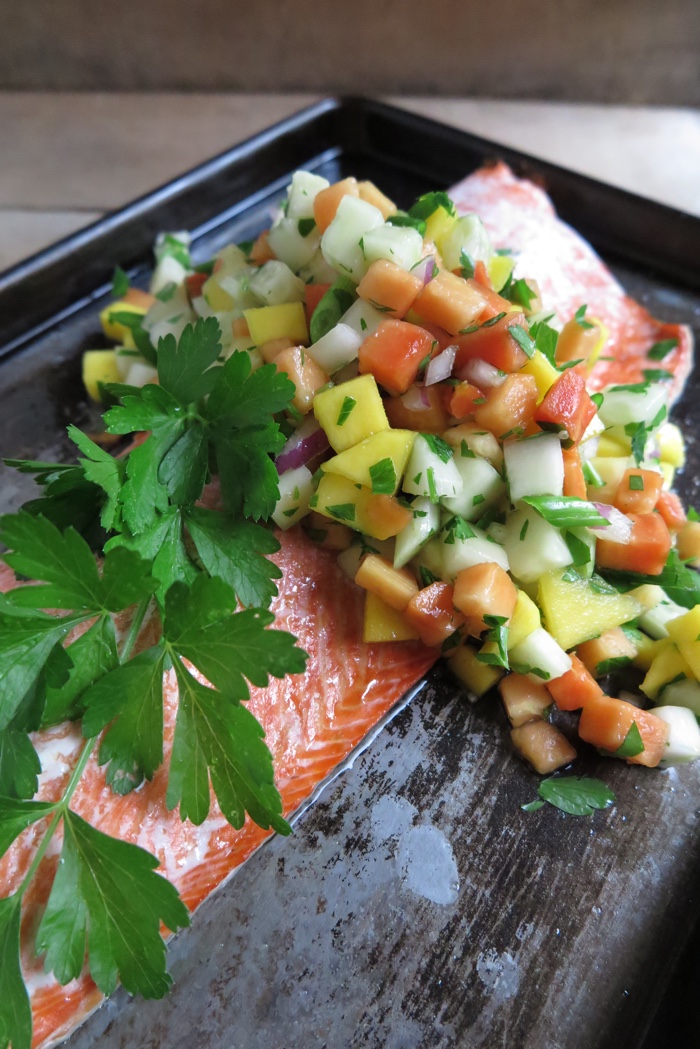 Oven Baked Salmon with Papaya-Mango Salsa (Paleo - AIP)
This recipe is 100% paleo autoimmune protocol compliant.
Author:
Sophie Van Tiggelen
Cuisine:
Paleo Autoimmune Protocol
Ingredients
1 1/2 pound wild Sockeye salmon fillet (4 to 6 ounces per person)
2 tablespoons extra virgin olive oil
1/4 teaspoon sea salt, or more to taste


Mango-Papaya Salsa:
1/2 papaya, peeled, seeded, and chopped
1 mango, peeled and chopped
1 small cucumber, peeled and chopped
1/4 cup chopped red onion
4 scallions, chopped
1/3 cup chopped fresh cilantro


Lime vinaigrette:
Juice of one lime
3 tablespoons extra virgin olive oil
1 teaspoon honey
Pinch of sea salt
Instructions
First prepare the salsa. In a large bowl, combine the papaya, mango, cucumber, onions, scallions, and cilantro.
In a small dish, combine the lime juice, olive oil, honey, and salt. Mix well and pour over the salsa. Keep the salsa in the refrigerator until ready to serve.
Heat up the oven to 350° F.
Grease a baking sheet with 1 tablespoon of olive oil. Place the salmon skin down on the baking sheet and rub the remaining tablespoon of olive oil on the fish.
Bake in the oven for about 12 minutes. You may have to adjust the cooking time (see note below). The fish is done when the meat barely starts to flake when tested with a fork.
Serve the salmon hot out of the oven with a generous portion of papaya-mango salsa, and a salad on the side.
Bon appétit!
Notes
The cooking time of the salmon will depend on the thickness of the fillet. Please refer to
this cooking time table
to adjust your cooking time.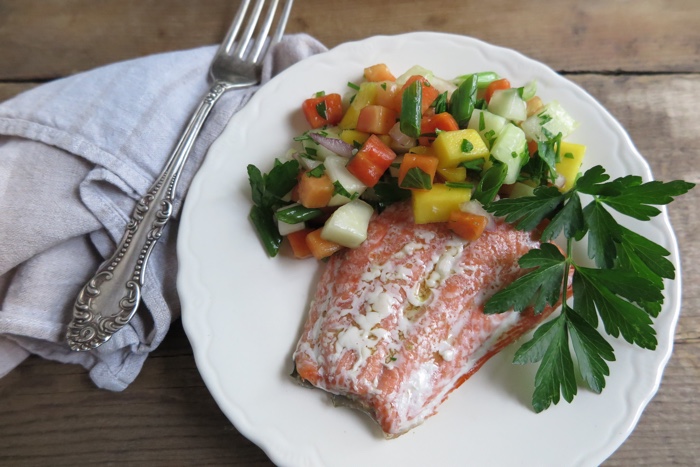 The recipe for this Oven Baked Salmon with Papaya-Mango Salsa has been shared on: Paleo AIP Recipe Roundtable