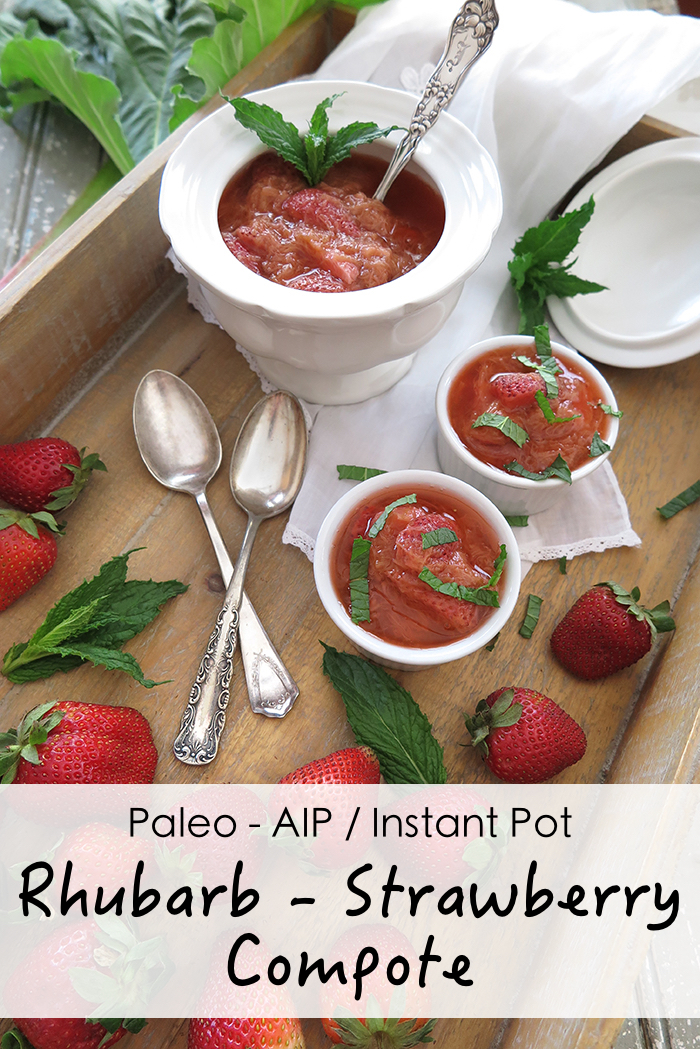 Pamper your taste buds with this tasty and refreshing rhubarb-strawberry compote! This recipe is very easy to prepare and with an Instant Pot
, super fast, too!
Paleo – AIP
Rhubarb-Strawberry Compote
Instant Pot Recipe
Every spring, one of the first things to grow back in my garden is the rhubarb. As the bitter cold leaves Colorado and is replaced with the gentleness that is springtime air, that rhubarb starts growing fast! I used to wait before harvesting it, thinking that bigger and taller stalks would be better. I was wrong. In fact, the more you wait, the harder and more porous the stalks become. It is so much better to harvest your rhubarb early, when it is still tender and juicy!
I also happened to buy an Instant Pot
recently (yes, I joined the bandwagon!) and started experimenting with it in the kitchen. I used to make my rhubarb compote in a regular pot on the stovetop. Not anymore! Now, I use my Instant Pot
and it is so much faster and simpler! With an Instant Pot, this once time-consuming compote has become the kind of recipe that is easy enough for a weeknight, but special enough to delight everyone at home. It will keep up to seven days in your refrigerator and is perfect served hot or cold, though it is especially perfect served over vanilla ice cream!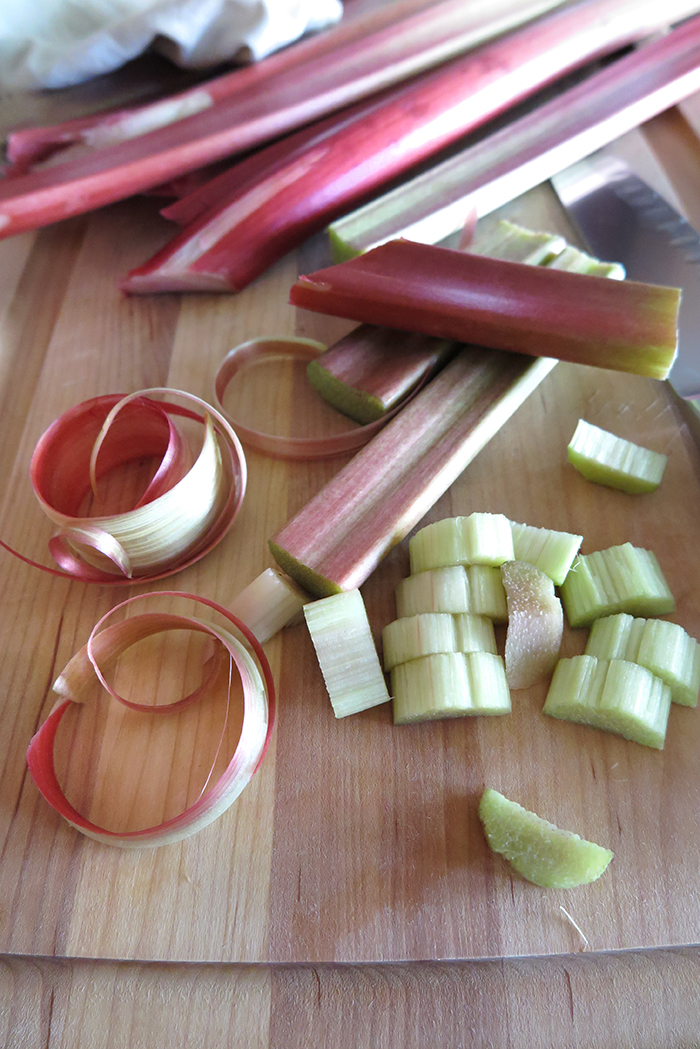 Start by peeling the rhubarb stalks with a pairing knife, then chop into 1/2 inch pieces. I haven't found any use yet for rhubarb peels! If you know how to reuse these, let me know in the comments.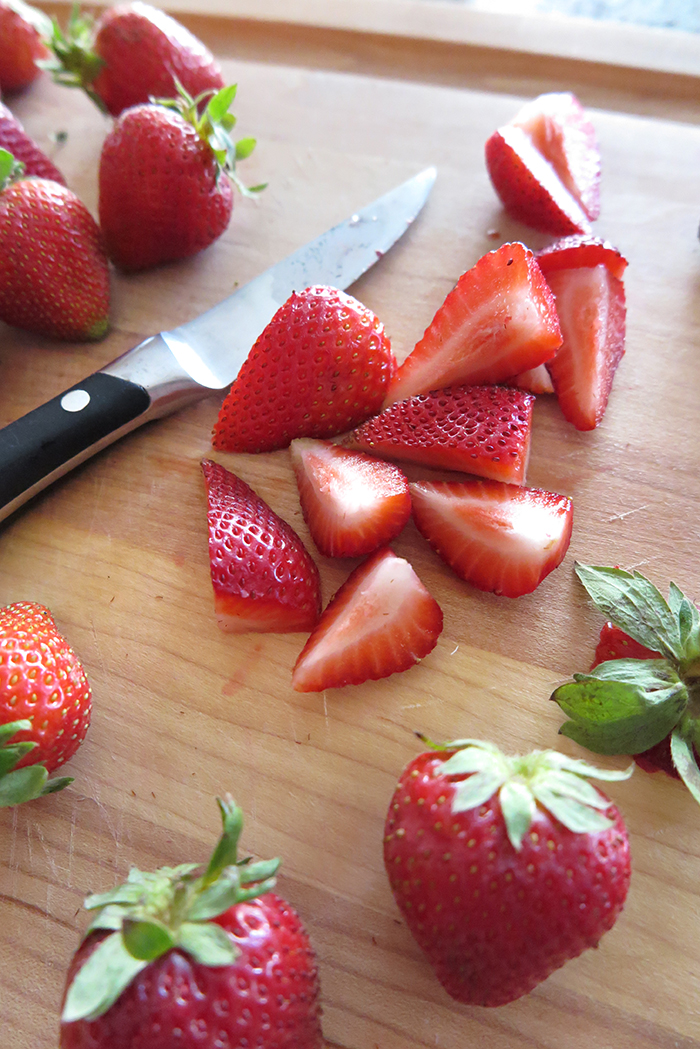 Then continue with the strawberries. They need to be stemmed and quartered.
Keep them at room temperature while the rhubarb is cooking in the Instant Pot. You will need to add them to the pot at the very end of the recipe.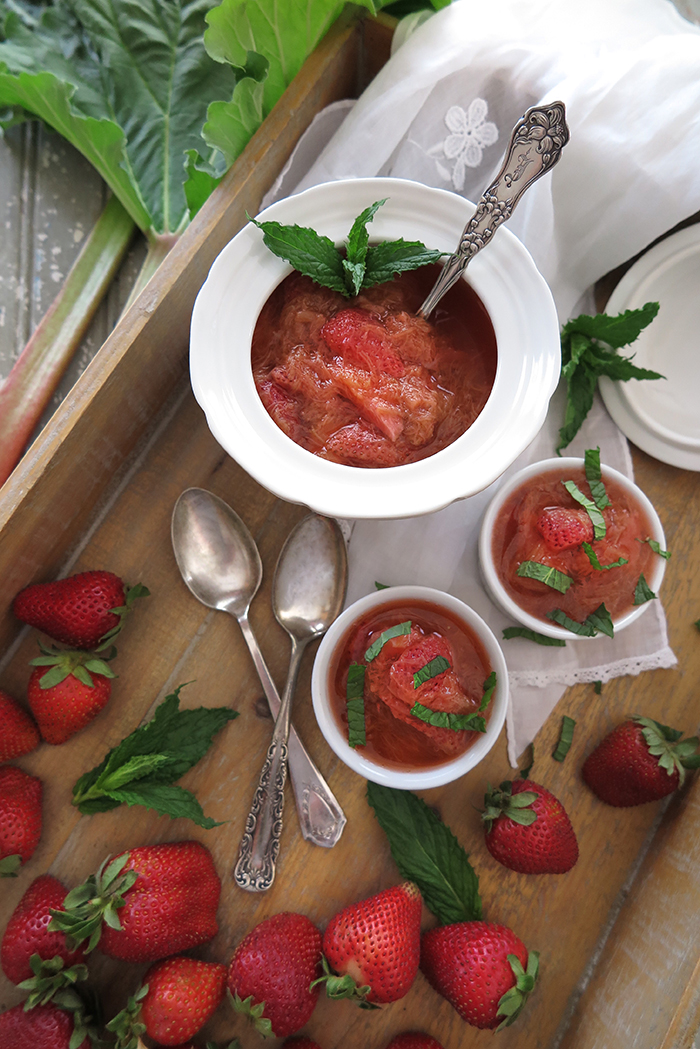 For more AIP Instant Pot recipes, check out The Paleo AIP Instant Pot Cookbook!
Instant Pot Rhubarb-Strawberry Compote with Fresh Mint
This recipe is 100% compliant with the strict elimination phase of the Paleo Autoimmune Protocol. Will keep in the refrigerator up to 7 days.
Author:
Sophie Van Tiggelen
Cuisine:
Paleo Autoimmune Protocol
Ingredients
2 pounds rhubarb (about 8 stalks)
⅓ cup water
1 pound strawberries, kept at room temperature
3 tablespoons honey (or other sweetener of choice)
Fresh mint, minced, for garnish
Instructions
Peel rhubarb stalks with a pairing knife, as you would celery, then chop into ½ inch pieces.
Add chopped rhubarb and water to your Instant Pot. Close the lid, push manual, and set the timer to 10 minutes.
Stem and quarter strawberries. Set aside and keep at room temperature.
When the timer dings, allow the pressure in the Instant Pot to release naturally before opening the lid.
Add strawberries and honey. Stir.
Close the lid and let strawberries simmer in hot rhubarb until soft, about 20 minutes.
Serve hot or cold with a garnish of fresh mint. Bon appétit!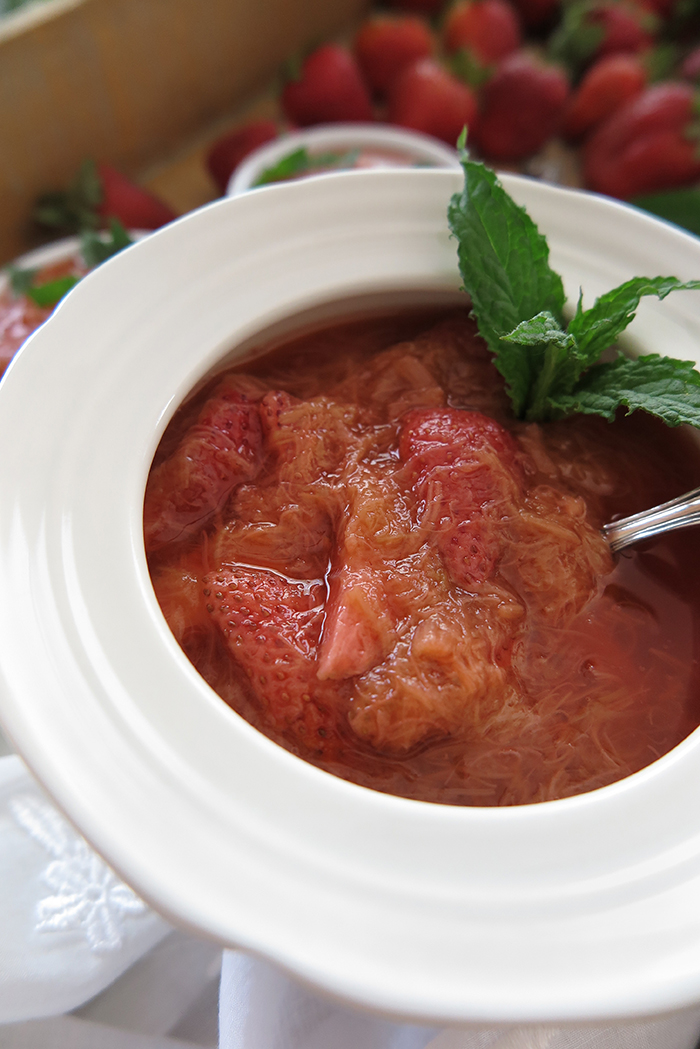 The recipe for this Instant Pot Rhubarb Strawberry Compote has been shared on:
Paleo AIP Recipe Roundtable