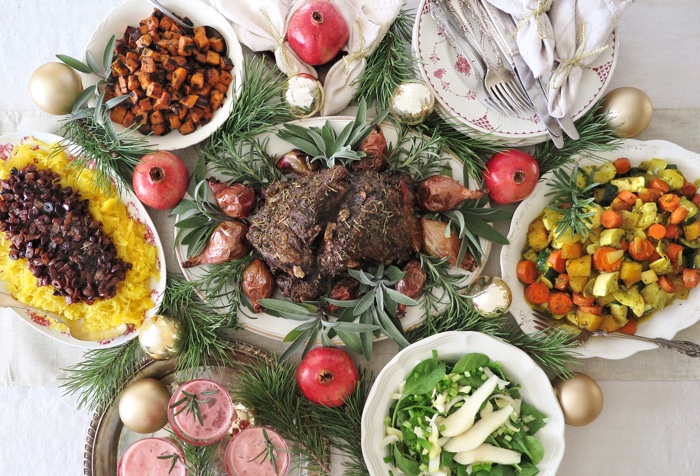 If you enjoy hosting dinner parties for your family and friends, why not surprise everyone this year with an unforgettable French-style Christmas Eve dinner?
Christmas Eve dinner in French speaking countries is known as the "réveillon" and it is an occasion for the family to sit down together and enjoy a variety of the most delicious dishes. The meal can last for several hours, and one can consume a huge amount of food (think of eating a week's-worth amount of calories in one evening!).
A traditional French Christmas dinner usually involves pricier ingredients and dishes such as oysters, foie gras, and truffle pâtés. But these I figured are rather hard to find in the U.S., plus you might want to aim for something simpler and homier: easy to prepare yet festive enough to be served on Christmas Eve.
What I would like to propose to you is a French-style Christmas menu, based on recipes you can find in my cookbook, Simple French Paleo . This will create a beautiful spread, suitable for those following the Paleo Autoimmune Protocol, and enticing enough that your family and friends will beg for seconds!
You can download the menu here in PDF format.
Start the evening with a festive Raspberry-Cherry Kombucha Mocktail. This two-layer spritzer will wake up your taste buds with its sweet and tangy burst of flavor! The Melon and Prosciutto appetizer makes for a light and elegant opening to this grand dinner.
For the main course, I chose an Herbed Roast Lamb coated with fragrant herbes de Provence, accompanied by tender shallots. Don't forget to deglaze the roasting pan for an easy sauce!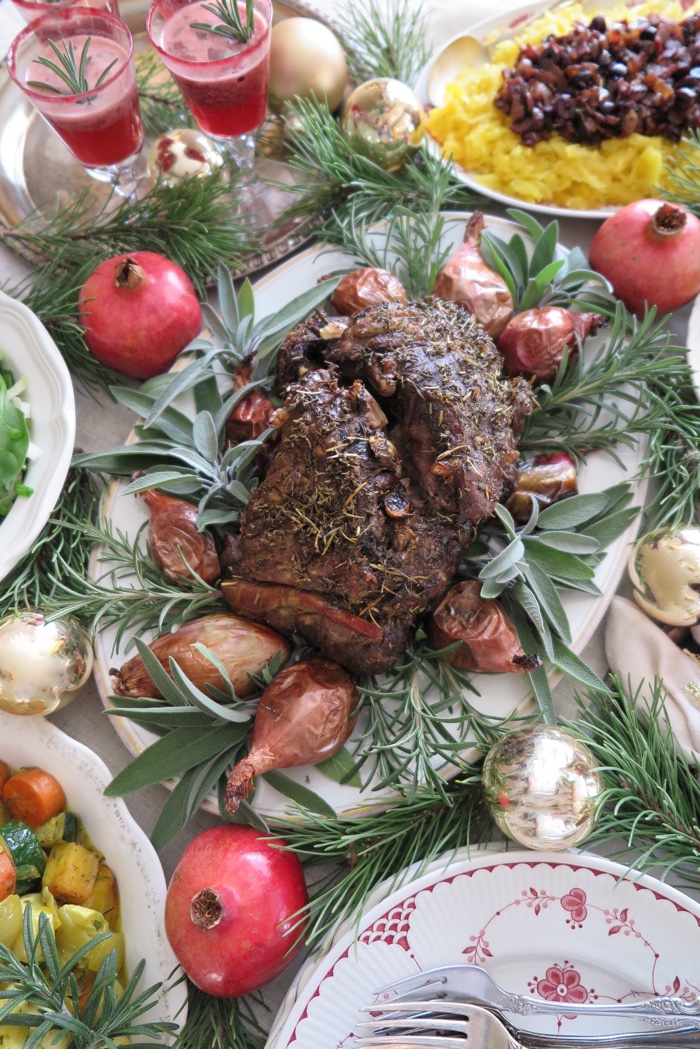 As always, I like to serve plenty of vegetable dishes. The No Nightshade Ratatouille showcases homey root vegetables and squash, seasoned with oregano and rosemary.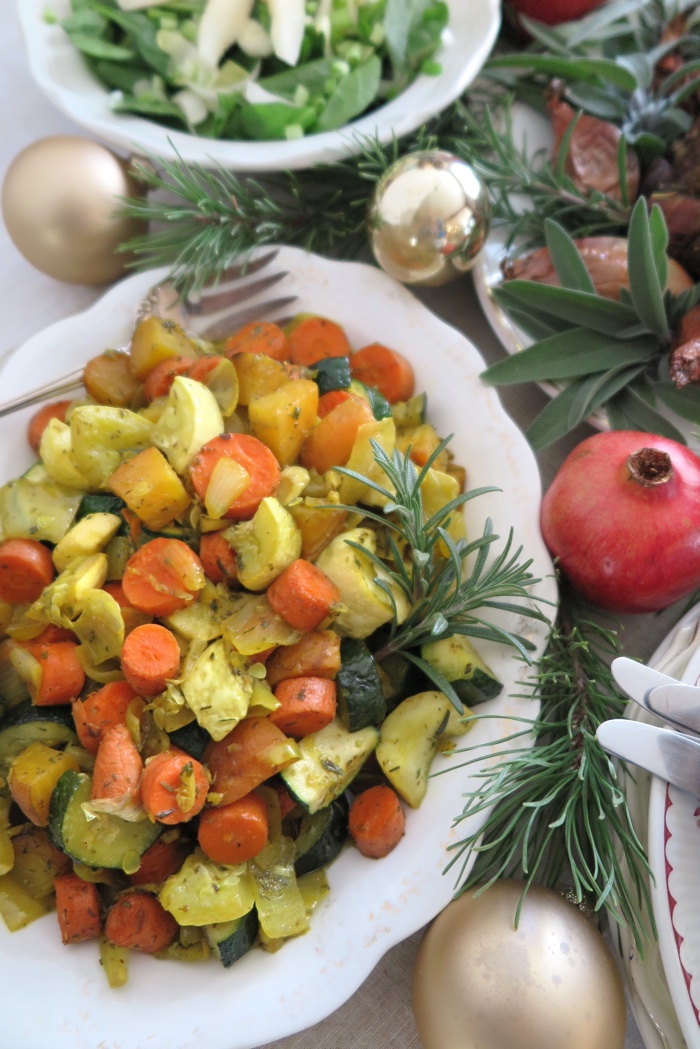 The focal point of the Balsamic Spaghetti Squash is without a doubt the aromatic bacon-onion-olives skillet preparation, flavored with a fruity balsamic vinegar.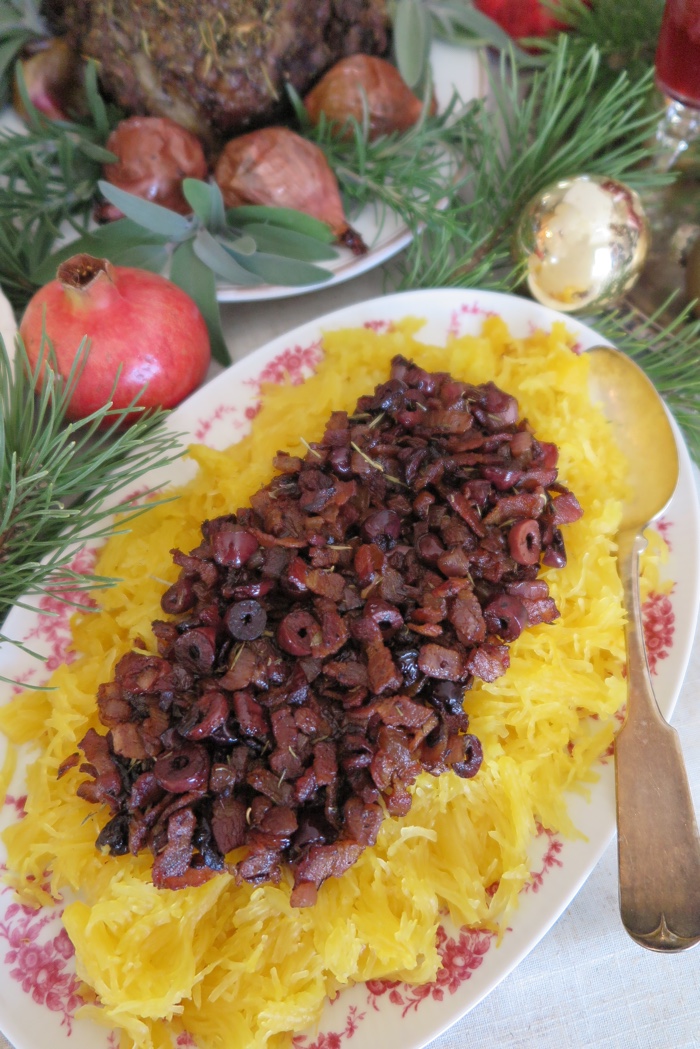 A classic dish of Pan-Fried Sweet Potatoes with Sage offers a colorful option for the pickiest eaters (small kids will love this one!).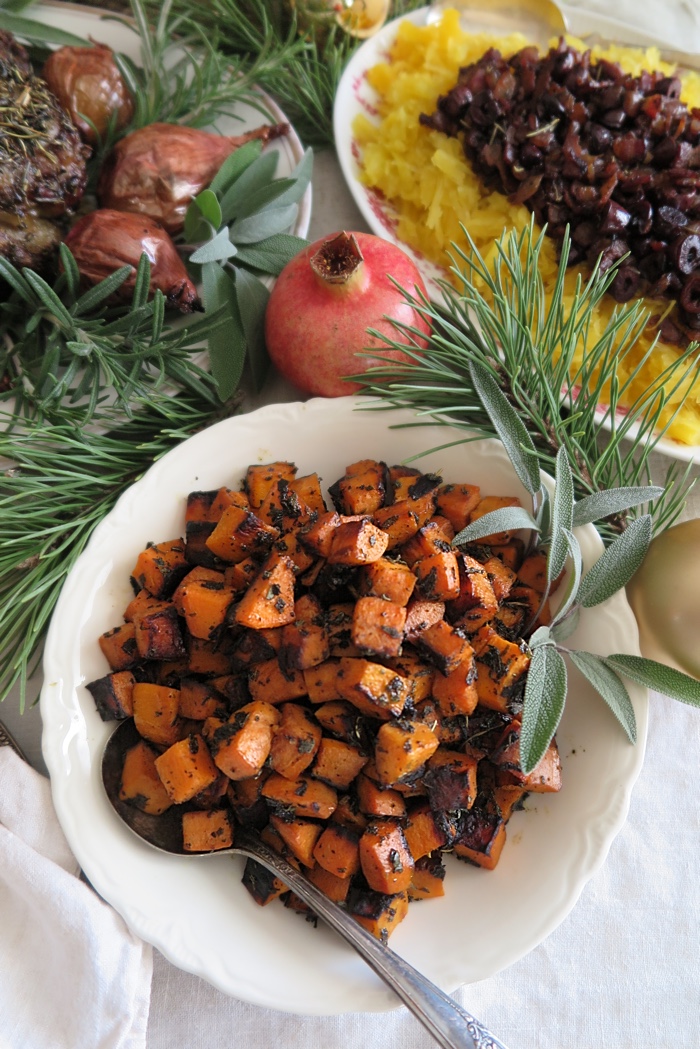 Let's not forget the leafy greens! The Endive, Pear, and Spinach Salad offers a refreshing blend of contrasting textures and sweet, fresh pears, drizzled with a vinaigrette.
For the grand finale, serve Sophie's Signature Pear Cake (with a scoop of vanilla coconut ice cream if you still have room or a dollop of coconut whipped cream!) and a "Chocolate" Mousse. Later in the evening, finish off this French-style Christmas feast with a warm cup of Lavender-Rose Tea, enlivened by a deliciously crispy Tea Time Cookie!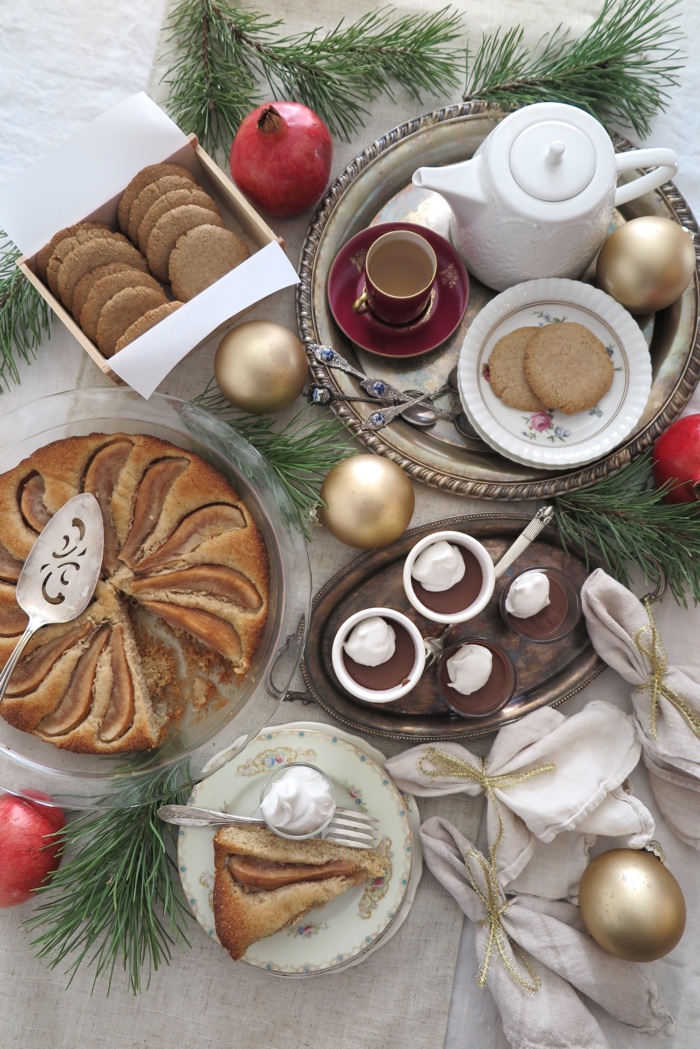 Did I mention that all of these dishes make wonderful leftovers? Store them separately in airtight containers and refrigerate. To warm up, either reheat in the oven slowly at a low temperature or on a plate in the microwave (don't let it heat up for too long or the meat will be overcooked).
That's it! I will wrap this post by wishing you happy holidays. May you enjoy this special time with your loved ones around you.