Healing Eats by Kate Jay (from the blog Healing Family Eats) is one of the most anticipated e-cookbooks this year! I, for one, am really excited to finally work my way through this beautiful e-book! Everything that comes out of Kate's kitchen is magical!
Kate originally hails from England but now lives in Canada with her husband and their two children. If you could hear her talk, you would fall in love with her lovely British accent! She is a regular recipe contributor over at Autoimmune Wellness and was the host of several instructional videos in the Autoimmune Connection series.
Healing Eats is a collection of family-favorite recipes created around anti-inflammatory and healing foods. As you embark on a healing protocol such as the Autoimmune Protocol (AIP), this e-book offers you the guidance you need in order to:
Remove food stressors from your diet,
Build a new tasty menu with dishes designed to deliver maximum nutrition and maximum flavor.
What I like about Healing Eats:
Kate has a true talent to create simple and elegant recipes that will make you forget you are following a restricted healing diet! She cooks from the heart and artfully combines authenticity and practicality into every dish.
Kate's recipes appeal to every palate, from picky eaters to seasoned foodies.
Kate strives to cram as many nutrients as possible in every dish, making every recipe not only delicious but highly nutritious as well!
All of the recipes in Healing Eats are compliant with the Autoimmune Protocol (AIP) and the Wahls Paleo diet. Kate also labeled her recipes for GAPS, SCD, Whole30, Low-FODMAP, and Low-Histamine. There is truly something for everyone in this cookbook!
Here are my favorite recipes!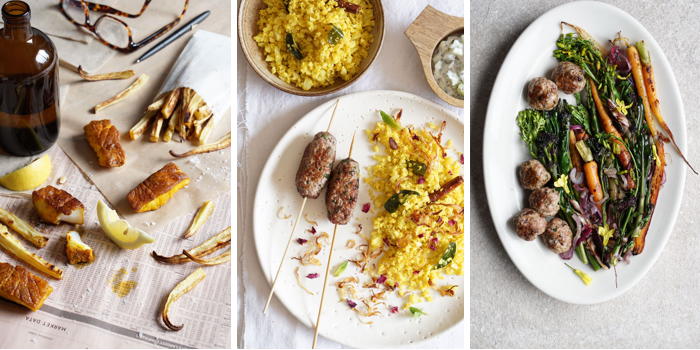 (From left to right) Turmeric dusted fish and chips - Lamb koftas with golden rice and cucumber raita - Pork polpette with pan fried vegetables and a warm balsamic vinaigrette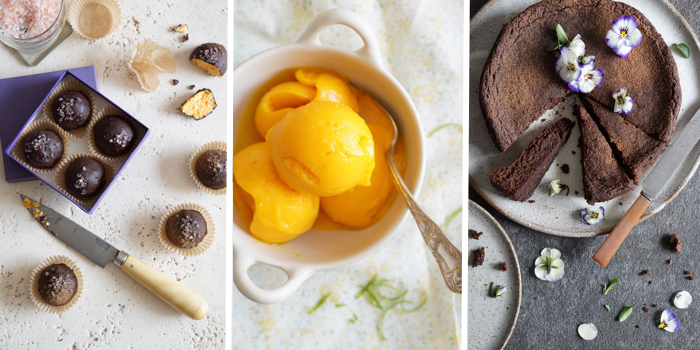 (From left to right) Sweet potato-ginger coconut bliss balls - Mango lemongrass and lime sorbet - Fudge cake
This 76-page e-book consists of 25 recipes, divided into five chapters: Healing Bowls, Healing Dishes, Healing Plates, Healing Treats, and Healing Cups. Each recipe is focused on adding nutrients to the diet to aid the healing process.
Start healing your gut today with beautiful, delicious, and nutritious recipes from Kate Jay!
Enter the giveaway! This giveaway is closed. Congratulations Chelsey, you are the winner 🙂
Kate has graciously agreed to give away a copy of Healing Eats to one lucky winner. All you have to do is leave a comment below! This giveaway is open worldwide and the winner will be randomly chosen on Thursday June 15 - 8PM MT. You have 48 hours to claim your prize. If I don't hear back from you, another winner will be randomly chosen.