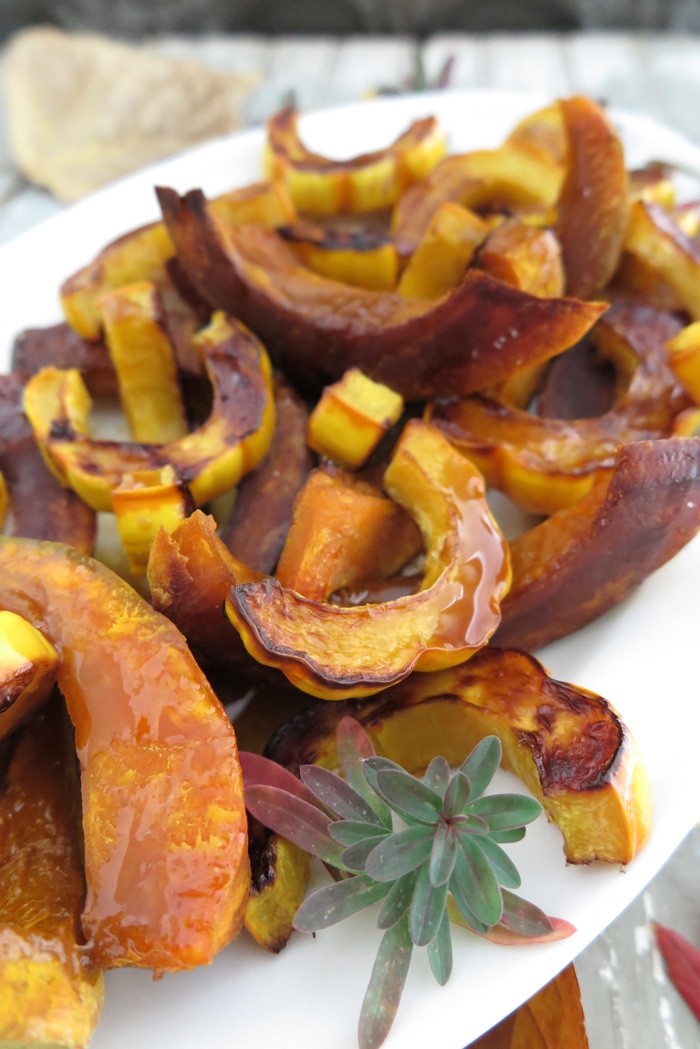 This Fall Harvest Salad is beautiful enough to complement your table for a Thanksgiving or a Christmas meal, yet simple enough to prepare on any weeknight. Kabocha squash and delicata squash share the spotlight in this highly nutritious side dish. Finished off with a delightful balsamic and orange glaze, the sweet and sour flavors of this dish pair well with pretty much any meat, and a big leafy green salad will go perfectly on the side.
Fall Harvest Salad
Kabocha squash & delicata squash
Balsamic-Orange Glaze
Perfect fall side dish!
Kitchen tip: Make sure you spread the pieces of squash in a single layer on a baking sheet so they will roast evenly and brown nicely!

To prepare this dish in advance, store the glaze separately in the refrigerator. Remove the squash from the refrigerator one hour before serving and reheat the glaze until warm. Dress the roasted squash with the warmed glaze immediately before serving.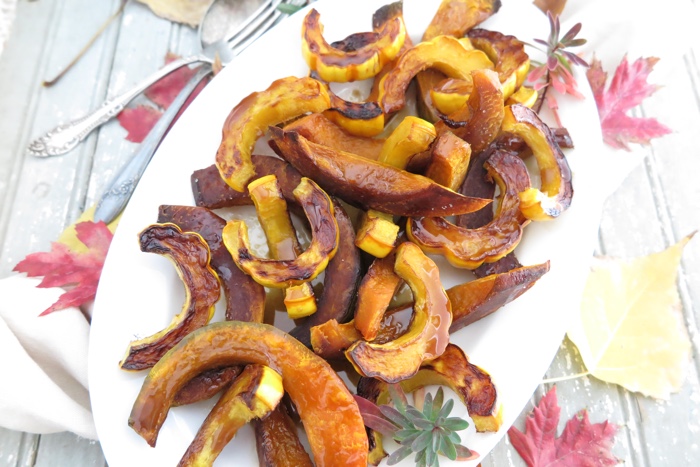 Fall Harvest Salad with Balsamic-Orange Glaze [Paleo - AIP]
This recipe is 100% compliant with the strict elimination phase of the Paleo Autoimmune Protocol (AIP).
Author:
Sophie Van Tiggelen
Cuisine:
Paleo Autoimmune Protocol
Ingredients
1 small kabocha squash (about 1¾ to 2 pounds), peeled, seeded, and cut into ½-inch wedges
1 large delicata squash (about 1½ pounds), seeded, and cut into ½-inch slices
Extra-virgin olive oil or avocado oil, for drizzling
½ teaspoon sea salt, or more to taste


Glaze:
Juice of 2 small oranges (about ½ cup)
1 tablespoon balsamic vinegar
1 tablespoon honey
Pinch sea salt
Instructions
Heat oven to 400° F. Set the rack in the middle of the oven.
Spread kabocha and delicata squash in a single layer on 2 separate rimmed baking sheets.
Drizzle generously with oil and season with sea salt.
Roast in the oven, tossing occasionally, until squash is golden brown and tender, about 30 minutes.
Meanwhile, in a small saucepan, combine orange juice, balsamic vinegar, honey, and sea salt.
Bring to a boil, then reduce the heat to medium and simmer until syrupy, about 10 minutes.
Transfer squash to a serving platter and spoon glaze over vegetables right before serving. Check seasoning and adjust salt to taste.
Bon appétit!
This Fall Harvest Salad with Balsamic-Orange Glaze recipe has been shared on:
Click it to pin it!
This recipe has been shared on Paleo AIP Recipe Roundtable.