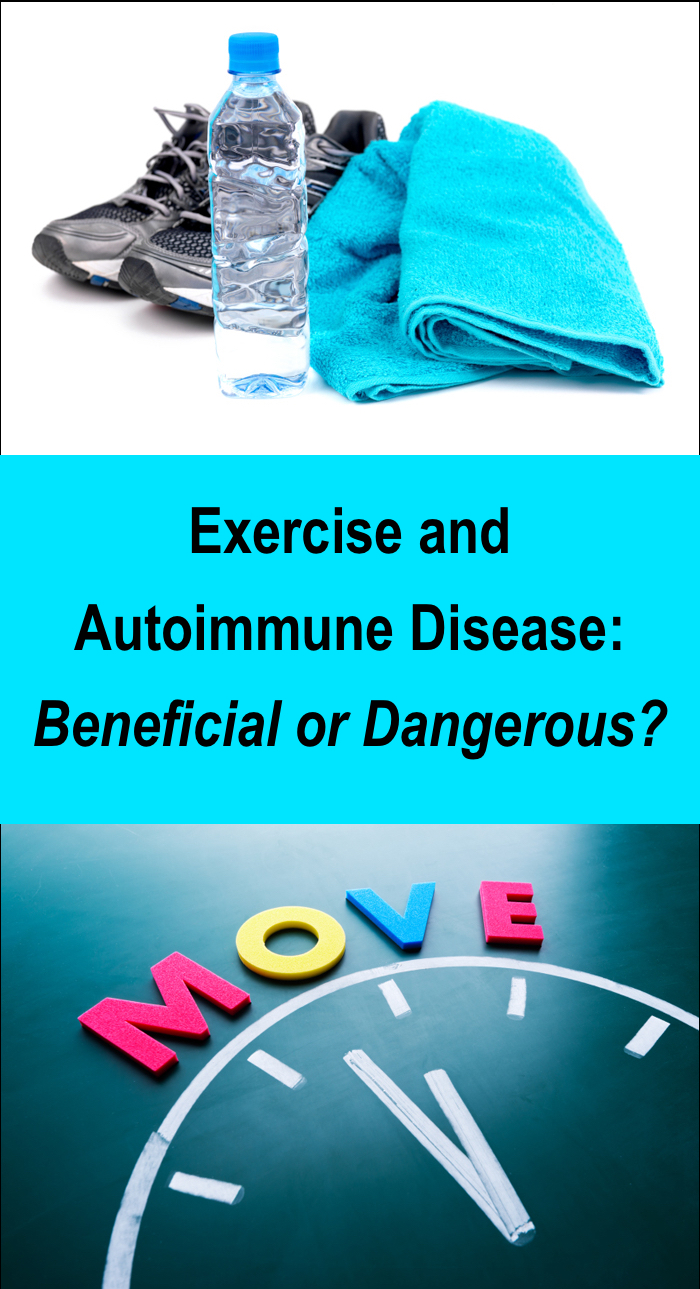 To exercise or not to exercise when you have an autoimmune disease is a dilemma that can't be resolved with a simple, one-size-fits-all answer.  Like many aspects relating to the Paleo Autoimmune Protocol diet and lifestyle, you will need to experiment a little and find what works best for you.  And I would go even further, what works best for you today might not be what will work best for you in six months or one year.
A while back, I wrote a blog post giving you 9 tips to exercising safely with an autoimmune disease.  While these tips are very much still on point, today I wish to share with you my personal experience and how I got back to exercising with an autoimmune disease.
1 – The pros and cons of exercise:
It is common knowledge that exercise is beneficial for our health.  Exercise boosts the immune system, improves your mood, and helps you sleep better.  Keeping up your workout routine when suffering from an autoimmune disease is a vital part of your self-care and healing process.  The long-term benefits of exercising far outweigh the temporary discomfort of a regular and moderate exercise routine.  Do whatever you can to keep moving, even if you are tired and don't feel like doing anything.
Exercise is very therapeutic
in most cases of autoimmune conditions
when done gently and gradually
The only limits to exercising with an autoimmune disease will depend on your own abilities at any given time.  For example, if you are suffering from joint pain, choose low-impact activities.  If you are having a bad day and feel too tired to exercise, take a break and let your body recover.
There is no deadline on your healing journey:
go at your own pace and learn to recognize your limits.
Be aware that too strenuous exercise can trigger autoimmune flares.  You will know pretty quickly if you overdo it.  Here is a list of signs to monitor:
you have a hard time recovering after a workout
you feel unusually tired throughout the day
you feel like fainting during or after exercising
you suffer from persistent joint and muscle aches
you have trouble sleeping at night
you feel "wired-up" and weak at the same time
If you experience any of these symptoms, back off immediately and rest until your body has had a chance to fully recover.  If you miss several days or weeks because of a flare, don't beat yourself up about it.  Just wait for the symptoms to subside and get back to your exercise routine as soon as you are feeling better.
2 – How I got back into exercise:
I received my autoimmune disease diagnosis in 2009 (Hashimoto's Thyroiditis) and for the first few months, I was in a very bad place.  I was suffering from severe anxiety and panic attacks on a daily basis (you can read about my experience here and here), as well as a string of other symptoms like a painful and swollen thyroid, brain fog, insomnia, joint and muscle pain.  I was no longer able to function as a "normal" person.  During that time, all I could do at best was move about the house trying to accomplish a few chores, and prepare meals.
After a few months on the Paleo Autoimmune Protocol, my intense fatigue improved and I slowly regained some energy and vitality.  That is when I tried to follow my doctor's advice to exercise.
I clearly remember my fist attempt.  I was still weak, but somehow I thought that if I could push through and pretend I had a normal life that things would get better.  So I went out and started running in the little neighborhood park close by.  Very. Bad. Idea.  I didn't last even five minutes.  Came back home and totally crashed.  It took me several days to recover from that.  After that first brush with exercise, I understood that I would have to start really slow and put my ego on the back burner.  I began going on daily walks with my husband around the block.  Slowly, we went further and further and my strength came back progressively.
Start slow and build up your stamina progressively
After walking, I started to attend yoga classes.  It is a gentle form of exercise and also a great way to practice some relaxation.  I remember barely making it through my first class.  My muscles were weak and trembling by the time I rolled up my mat.  But I was also so happy to be able to get out of the house, mix with other people and have a social life!  Suffering from an autoimmune disease is traumatic and very isolating.  Any connection you can make with friends and family will go a long way to lift your mood and bring back some normalcy into your life.
Gentle exercise brings back a sense of
normalcy into your life
After yoga, I ventured into activities a little bit more strenuous, but still gentle on the joints.   I was going to the swimming pool to do laps and riding my bike.  Such low impact workouts will get your heart rate up while being safe for painful joints.  I even tried low impact, high intensity workouts to get the blood pumping.
Recently, after almost four year on the Paleo Autoimmune Protocol, I was finally able to really up my game and start exercising regularly with a personal trainer.  My current routine consists of interval training, steady state cardio, resistance training, core training, and stretches.  Read about what happened it in this post!
---
If you enjoyed this post and are looking for more information on exercise with an autoimmune disease, read these as well: