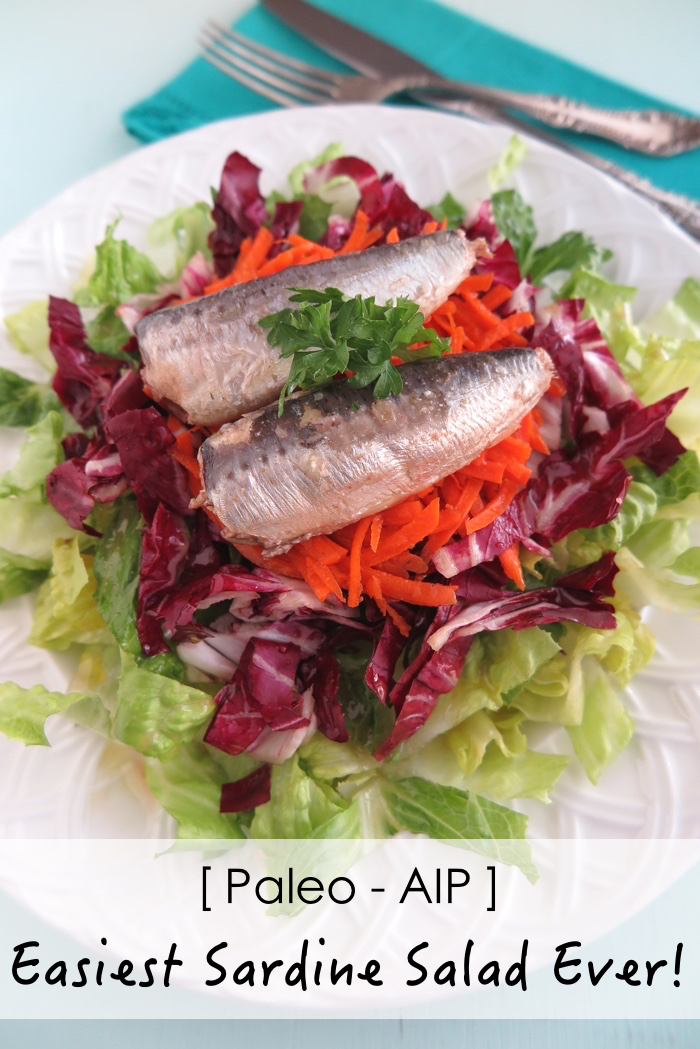 More often than not, I don't have the time to cook a hot meal for lunch.  Yes, I work from home but I am very busy during the day with lots of tasks to accomplish.  So I usually have a big salad full of stuff, or "goodies" (as I like to call them), on it. sardines
are a great source of protein for me. The protein in fish is very easy to digest (easier than in meat), and is packed with beneficial omega-3 fatty acids as well as a wide range of minerals and vitamins.  And it is also a welcome change from chicken!
Sardine Salad
Quick, easy, and healthy!
Doesn't fish contain mercury? After reading what The Paleo Mom has to say on the subject in her book The Paleo Approach (page 193), I am not concerned about eating sardines a few times per month.  You see, fish at the lower end of the food chain tend to contain lower levels of mercury than bigger fish like sharks or swordfish.  Seafood also contains a lot of selenium, which binds to the mercury and makes it harder for our bodies to absorb it.  All things considered, the health benefits of eating fish far outweigh the risks.  So I've decided that it is safe for me to eat canned sardines once a week.
What if you are histamine intolerant?  Yes, canned fish is definitely on the list of foods high in histamine.  Some people will experience the full spectrum of histamine intolerance symptoms when eating canned sardines, while others won't.  Individual sensitivities vary greatly, and just because you react to, say fermented foods, doesn't mean that you will react to canned fish as well. Or you might be able to do it in small doses.  The best way to know is to try. Go slow at the beginning, maybe once a month, and then increase progressively.  If you still experience symptoms, talk about this to your medical practitioner as there are several steps that you can take to improve your gut health and tolerate foods higher in histamine.
"For anyone experiencing histamine intolerance,
strict adherence to a low-histamine diet is necessary for a period of time.
After that, smaller amounts of histamine may be tolerated depending on the person."
Chriss Kresser
Now, all cans of sardines are not alike.  Here is a list of criteria that are important for me when buying canned sardines.
Read the label and make sure there aren't any non-AIP ingredient like spices, tomato sauce, soy oil, or canola oil.
I like sardines with the bone-in and skin on, and I eat everything!  Why?  Eating the skin and bones is the equivalent of eating the organs of the fish, which have an incredibly high nutritional value.  I wouldn't want to miss out on all that goodness!  So choose a can of whole sardines instead of sardine fillets!
Choose wild caught over farmed sardines.  Besides the fact that wild seafood is more nutritious than farm raised, I have had bad autoimmune flares when eating farmed fish in the past.  Since there is no way to track what exactly enters into the feed given to farmed fish (chemicals, antibiotics, hormones, gluten), I prefer to stick with wild caught.
If possible, choose sardines in extra virgin olive oil, and pour the oil over your sardine salad!  Everything is good to eat in a can of sardines, to the last drop!
Here are my personal favorites:
My first choice: Vital Choice

My second choice: Wild Planet

My third choice: Season Brand

Now let's get on to the fun part!
The Easiest Sardine Salad Ever!
This recipe is 100% autoimmune paleo protocol compliant.
Cuisine:
Paleo Autoimmune Protocol
Instructions
Place all the ingredients on your plate in the order they are listed above and enjoy!
Now that wasn't so bad!
Bon appétit!
This Easiest Ever Sardine Salad has been shared on:
---
This post contains affiliate links.  Click here to learn what it means.