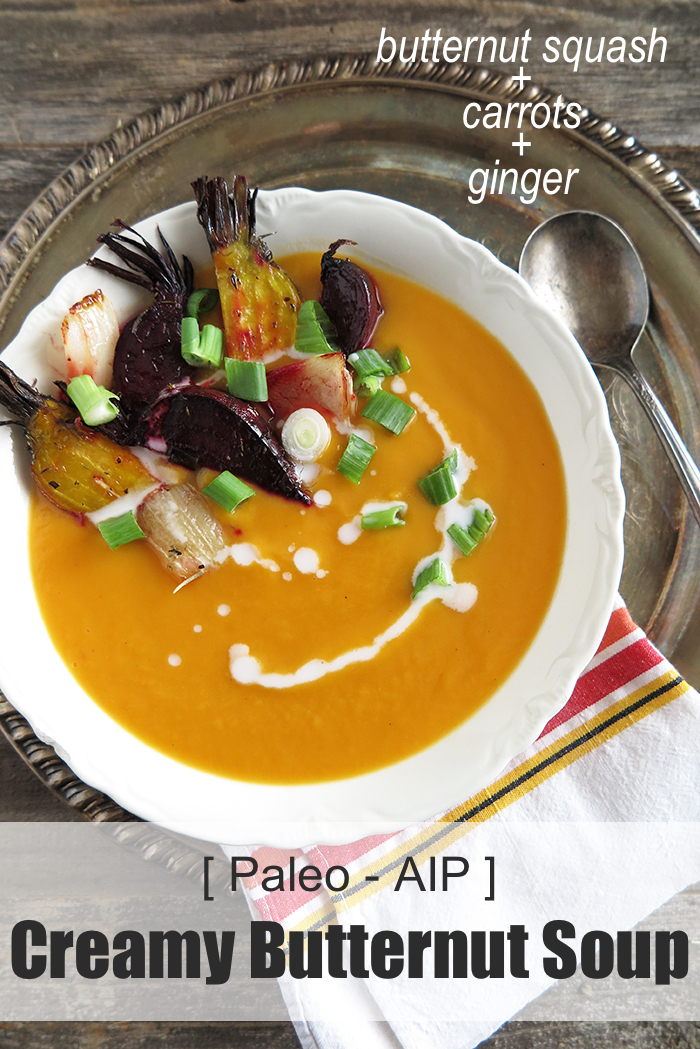 Butternut squash, carrots, and fresh ginger come together in this soup to form a wonderful and fragrant blend that will warm your tummy and tickle your tastebuds any time of the day! You might be familiar with butternut squash soup, but have you ever added fresh ginger? Ginger is well known for alleviating gastro-intestinal distress. But that isn't the only benefit of this mighty little spicy root. Ginger is also a natural anti-inflammatory, just like turmeric. And I love adding anti-inflammatory food to my diet. It is especially important if you are healing from an autoimmune disease, just like me.
The recipe calls for fresh ginger, peeled and thinly sliced. Here is a quick tip on how to peel ginger effortlessly. You can simply scrape the edge of a spoon or a small paring knife against the piece of ginger to peel off the skin. Then proceed to sliced the root thinly using a paring knife and a wooden board. You can store the extra ginger you may have in a sealed container in the refrigerator up to 2 weeks if the peel is still on.
To transform this soup into a hearty meal, I like to add oven roasted beets. This step is optional though and you can skip it altogether or add any other roasted vegetables you like. I just love the beautiful and vibrant colors in this dish!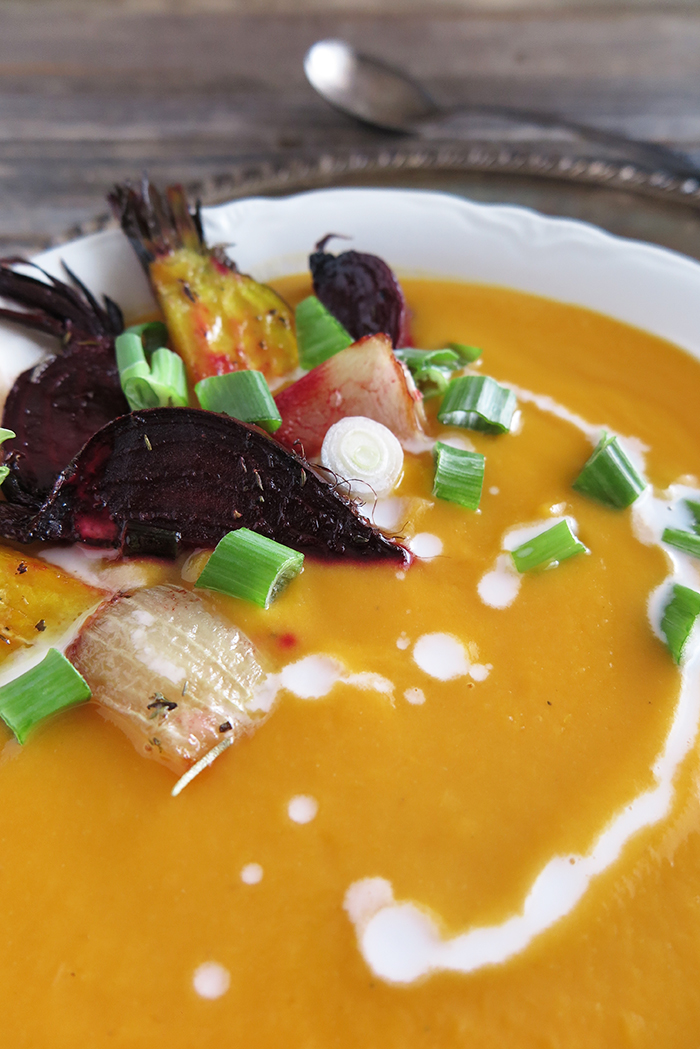 Creamy Butternut Squash, Carrot and Ginger Soup (Paleo, AIP)
This recipe is 100% compliant with the Paleo Autoimmune Protocol.
Author:
Sophie Van Tiggelen
Cuisine:
Paleo Autoimmune Protocol
Ingredients
2 ½ pounds chopped butternut squash (about 1 small squash)
1 pound chopped carrots (about 6 large carrots)
¾-inch knob fresh ginger, peeled and thinly sliced
2 quarts chicken bone broth
⅓ cup full fat coconut milk + extra for garnish
Fine sea salt
Oven roasted beets, for garnish (optional)
Chopped fresh scallions, for garnish
Instructions
In a large stock pot, add butternut squash, carrots, ginger, and chicken broth.
Bring to a boil, then reduce heat to medium and cook, covered, until vegetables are tender, about 20 minutes.
Remove from heat and mix thoroughly with an immersion blender until smooth.
Stir in coconut milk and season to taste with salt.
Serve with a garnish of roasted beets, scallions, and a drizzle of coconut milk.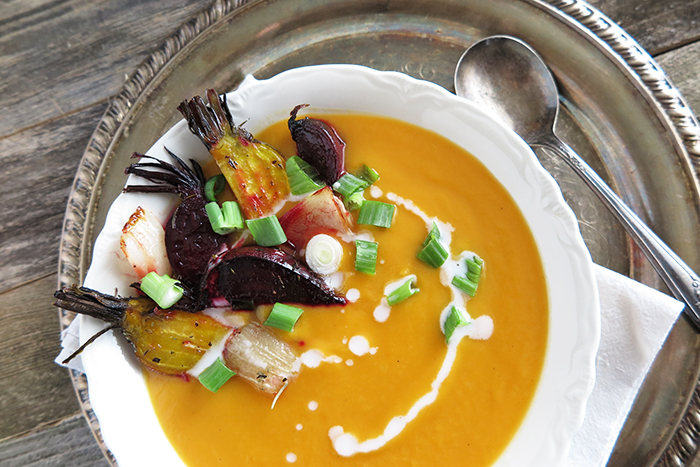 ---
This recipe for creamy butternut squash, carrot and ginger soup has been shared on: Paleo AIP Recipe Roundtable
This post contains affiliate links. Click here to read what it means.