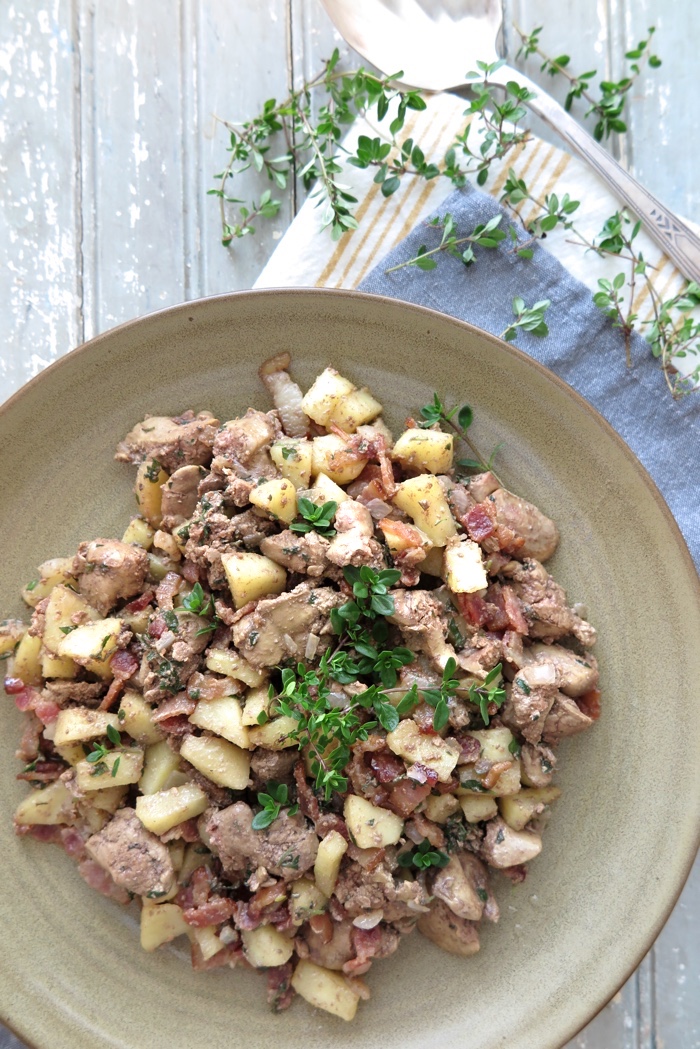 I recently posted a picture of raw chicken liver on Instagram and the reactions I got were incredible! I had no idea people felt so passionately about organ meat. Passionately for it and passionately against it. Some of you can't even stand the sight of raw organ meat, which was made pretty clear by the abundance of hilarious emoticons! Others of you seem to love it for its unique taste, texture, and numerous nutritional benefits.
A comment from a follower asking for more recipes incorporating chicken liver stuck with me. I immediately set to work creating a new and tasty dish to share with you all. It's easy to prepare and decidedly beginner friendly! I find that adding fruit and lots of fresh herbs to chicken liver makes it so much more appetizing to even those diametrically opposed to giving organ meat a shot.
Before we dive into the recipe, let's chat a bit about organ meat in general (also called "offal").
What are the advantages of eating chicken liver?
1 – Organ meat is a nutritional powerhouse! High in nutrients (such as vitamins, minerals, healthy fats, and essential amino acids) and with unsurpassed nutritional benefits, offal is not just meat, it's supercharged meat! Check out this article from The Paleo Mom to learn the details. She recommends eating organ meat on a weekly basis and cleverly suggests beginners combine offal with other meats (such as ground meat) to "break the ice."
2 – Organ meat is a healing food! If you can get past the weird factor, eating liver will provide your body with the nutrients and building blocks necessary to repair and heal from autoimmune disease and chronic illness. Our bodies have the natural ability to heal, but we have to give it the opportunity and the means to do so. Organ meats are just one more way to do that.
3 – Organ meat is really cheap! Compared to other meat, even when it is from a grass-fed source, organ meat is incredibly affordable. Budget-friendly, healthy, and tasty? It's true!
If you are looking for some inspiration, I have a few organ meat recipes on the blog. Check them out as well as this organ meat and offal recipe roundup. I urge you to be adventurous! Your health is worth it!
Chicken liver =
Nutritional powerhouse
Healing food
Budget friendly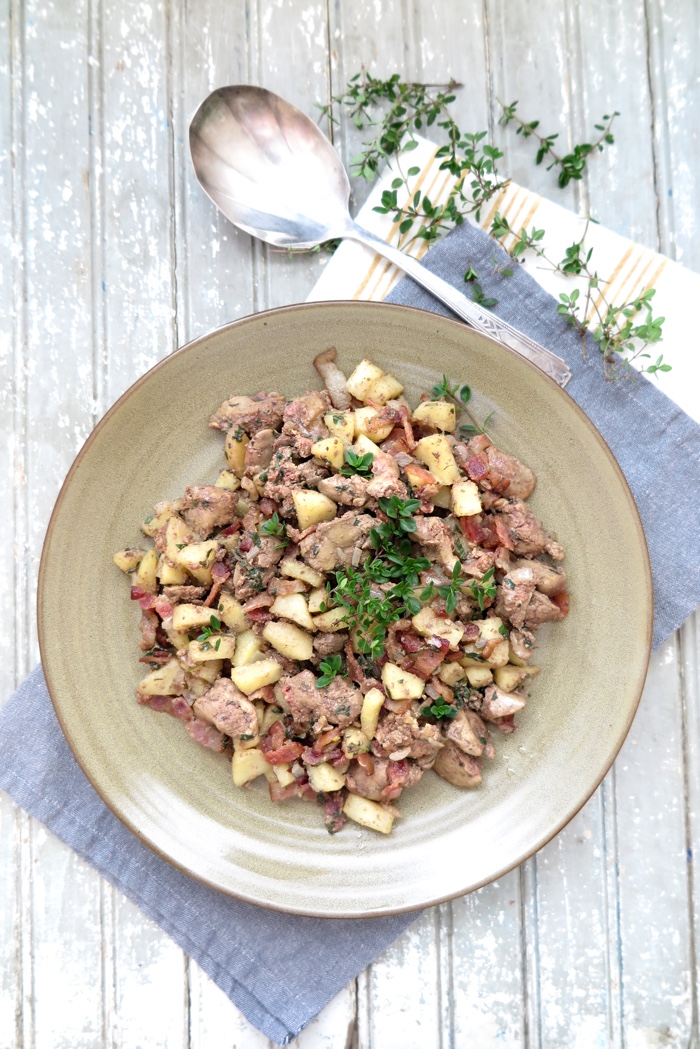 Bacon, Apple, and Chicken Liver Skillet [ AIP - Paleo ]
This recipe is 100% compliant with the strict elimination phase of the Autoimmune Protocol (AIP). This dish is not suitable for freezing or leftovers.
Author:
Sophie Van Tiggelen
Recipe type:
Meat (organ meat)
Cuisine:
Paleo Autoimmune Protocol
Ingredients
1/2 pound bacon, thinly sliced
3 apples, peeled and chopped
1/3 cup minced shallots
3/4 pound chicken liver
Fine sea salt, to taste
Handful fresh thyme, minced, plus extra for garnish
Instructions
Rinse liver and pat dry. With a paring knife, trim away white sinew and chop liver into ½-inch pieces.
In a large skillet, cook bacon over medium heat until golden (but not crispy), about 10 minutes.
Transfer bacon to a paper-towel lined plate with a slotted spoon, reserving bacon fat. Keep warm.
Add apples and shallots to the skillet, cover and cook until tender, about 7 to 8 minutes. Transfer apples and shallots to a plate with a slotted spoon.
Add liver and thyme to the skillet. Continue to cook, uncovered, until liver is cooked through but still slightly pink inside, about 6 to 8 minutes.
Add bacon, apples, and shallots back to the skillet. Mix well and season with salt to taste.
Serve immediately with a garnish of minced thyme.
This
Apple, Bacon, and Chicken Liver Skillet
recipe has been shared on
Paleo AIP Recipe Roundtable
.