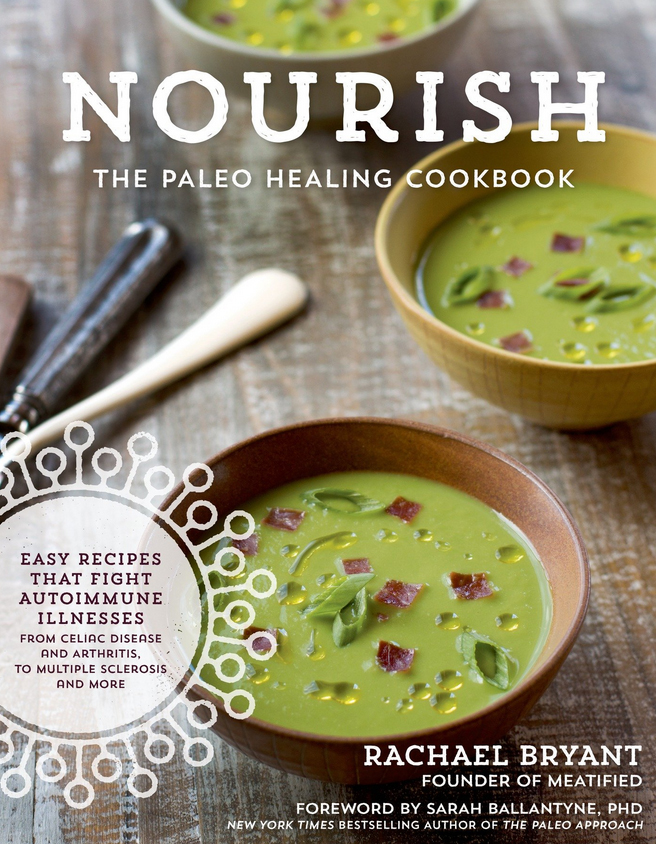 Have you met Rachael Bryant?  She is the blogger behind Meatified and the author of this beautiful new Paleo and AIP cookbook called Nourish: The Paleo Healing Cookbook
.  Former vegetarian, Rachael found profound healing from Hashimoto's disease when she switched to the paleo autoimmune protocol.  She first started blogging and then wrote her cookbook to share paleo recipes with a focus on simple, tasty, and easy to find ingredients.
What do I like the most about Nourish?
Nourish is all about flavor.
Indeed following the paleo autoimmune protocol doesn't have to mean you're stuck eating boring, bland food! It's still possible to make boldly seasoned flavorful dishes. The recipes in this book will show you how, using interesting food pairings and twists on classic dishes.  See for yourself in the pictures below!
You can get all the details about Nourish here,
Before writing this review, I cooked at home for a whole week out of Nourish and my entire family got to taste and give their feedback on Rachael's recipes.  I posted the picture on my Instagram account.
The reviews from my family were all unanimous:
It's good, it's tasty, and the recipes are unique!
Plus all the pictures are totally gorgeous (but that's the food blogger in me talking here!) and all the ingredients are easy to find.  I would definitely recommend Rachael Bryant"s new cookbook Nourish as a must have in your Paleo and AIP kitchen library!
Fun facts about Rachael:
Rachael set her oven on fire while testing recipes for Nourish!

Her current favorite sport is sneaking as much nutritious food into Mr. Meatified's diet as possible… without him noticing!

Speaking of Mr. Meatified, Rachael's husband knows better than taking food out of the fridge without asking first if it is for a special recipe or a photo shoot!
As a kid, Rachael's favorite vegetables were peas and corn!
Rachael is an old-fashioned pen and paper lover!
Rachael's #1 kitchen tip for starting AIP :
Don't focus on all the "can't have" foods or the idea that certain foods are for certain meals. Treat it like a fun challenge that allows you to discover new foods, flavors and favorite meals! It would never have occurred to me before I started the AIP, but now one of my favorite breakfasts is actually soup, even in the summer.
* * * * * *
Free recipe from Nourish:
Warm Chicken "Grain" Salad

with roasted butternut squash and greens!
Serves 4
Ingredients:
4 cups (560 g) butternut squash

2 tsp + 1 tbsp (10 ml + 15 ml) coconut oil or avocado oil, divided
1 tsp (5 g) salt, divided

1 lb (454 g) ground chicken

1 tsp (4 g) garlic powder

1 tsp (2 g) ground sage

1 tsp (1 g) dried rosemary leaves

½ cup (70 g) diced onion

8 oz (225 g) Swiss chard

4 oz (115 g) spinach

Squeeze of lemon juice
ROAST: Preheat the oven to 425°F (220°C). Cut the butternut squash into ½ inch (13 mm) cubes and toss with 2 teaspoons (10 ml) of the oil and ½ teaspoon of salt. Line a baking tray with parchment paper and spread the squash out in a single layer. Roast the squash until it is tender and beginning to brown and caramelize at the edges, about 15 – 20 minutes. Reserve the cooked squash for later.
COOK: Add the remaining 1 tablespoon (15 ml) of oil to a skillet over low-medium heat. When the pan is hot, add the ground chicken, breaking it into a few large pieces with your hands before dropping it into the pan. Don't break up the chicken in the pan any further or it will overcook and become very dry. Sprinkle the remaining ½ teaspoon of salt, garlic powder, sage and rosemary over the chicken and cover the pan with a lid. Cook the chicken, covered, until it is cooked through and there is no pink inside, about 5 – 6 minutes, turning the chicken over halfway through. Do not overcook the chicken – it should release juices into the pan and still be tender when cooked through. Use a slotted spoon to transfer the cooked chicken to a paper towel-lined plate. Add the diced onion to the pan and cook until softened, about 5 minutes, then remove the pan from the heat.
The giveaway is now over.
The winner of the giveaway is comment #40 – congratulations Monica!
It will be very easy for you to enter this giveaway!  Subscribe to my newsletter and leave a comment down below that you have done so.  And if you have the time, let me know if you liked this book review!  That's it!  The winner will be chosen randomly and will be announced on Monday, August 17.  The winner will receive a paper copy of the cookbook Nourish by Rachael Bryant.  Contest only open to domestic US.  Good luck everyone!
Disclaimer: I was given a review copy of this book as well as a copy to give away on Instagram, with no obligation. I'm 100% honest in my opinions. If I didn't love it, I wouldn't have written the review, nor hosted the giveaway.
This book review has been shared on Fat Tuesday.
---
This post contains affiliate links.  Click here to read what it means.