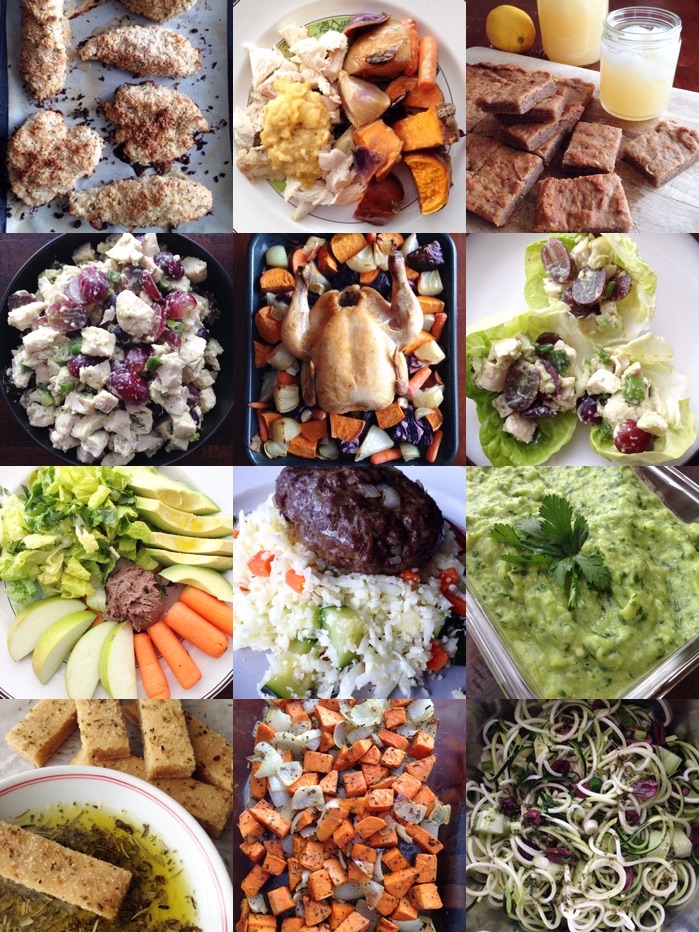 I have made the acquaintance of Bre'anna Emmit through social medias and I was immediately drawn by her luminous smile and her overflowing positive energy.  Bre'anna is an autoimmune warrior. She has been diagnosed with Hashimoto's and celiac diseases.  Within weeks of following the paleo autoimmune protocol (AIP diet), her debilitating symptoms went away.
Bre'anna is blogging at He Won't Know It's Paleo, and has a Facebook page you can follow. I was really stoked when I got the chance to review her new cookbook, He Won't Know It's Paleo.  You see, I love doing cookbook reviews because I get a glimpse into the author's life.  By exploring the selection of recipes, I get a sense of what the author likes and how she/he lives.
"A recipe has no soul.  You, as the cook, must bring soul to the recipe." Julia Child. 
Bre'anna has instilled  in her new cookbook her love for her family, her joy of life, and the comfort of Southern food.  It won't take long for you to notice that her husband, Chris, and her three children are a big part of her life.  She has developed all her recipes with them in mind.  In fact, every single recipe I tried from her cookbook was a big hit with my own children, which is always nice, especially when you are following the autoimmune protocol diet.
In order to give you an honest and detailed review of Bre'anna's cookbook, I decided to cook our meals out of He Won't Know It's Paleo for an entire week.  I posted pictures of what we ate daily on my Instagram page.  Scroll down to see which were my favorites!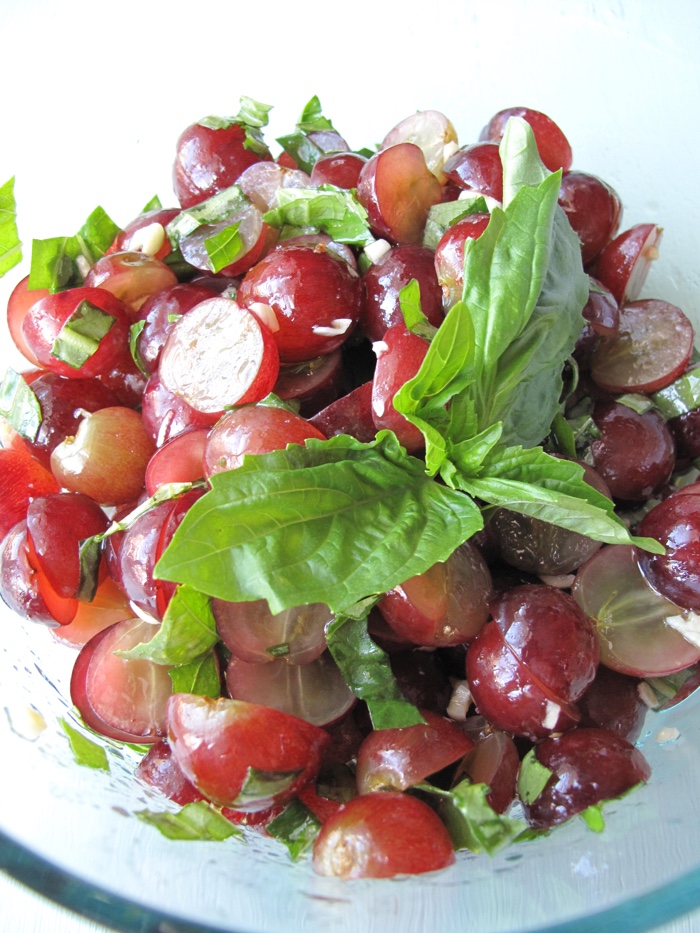 Grape Bruschetta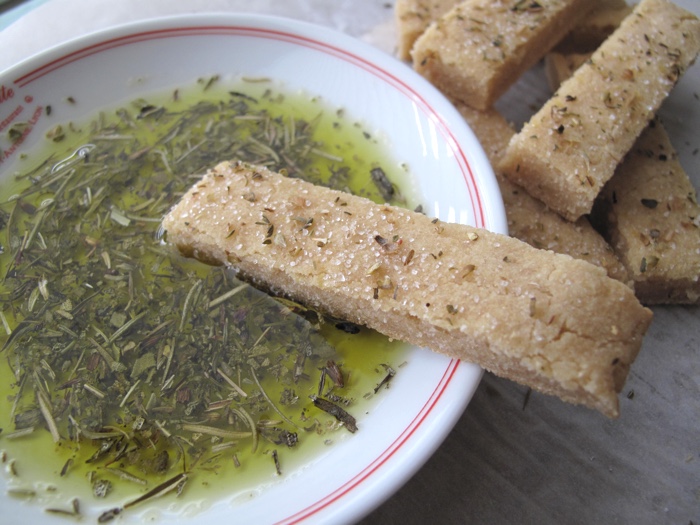 Garlic Breadsticks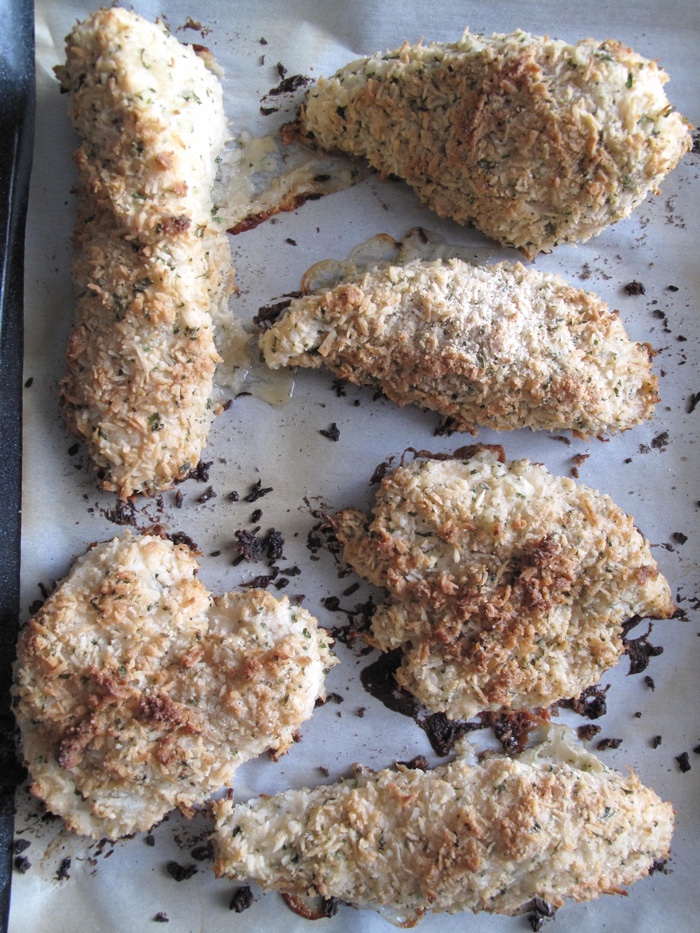 Oven-Fried Chicken Breasts (Sophie's note: the recipe calls for 2 tsp of sea salt, but I think 1 tsp is plenty enough)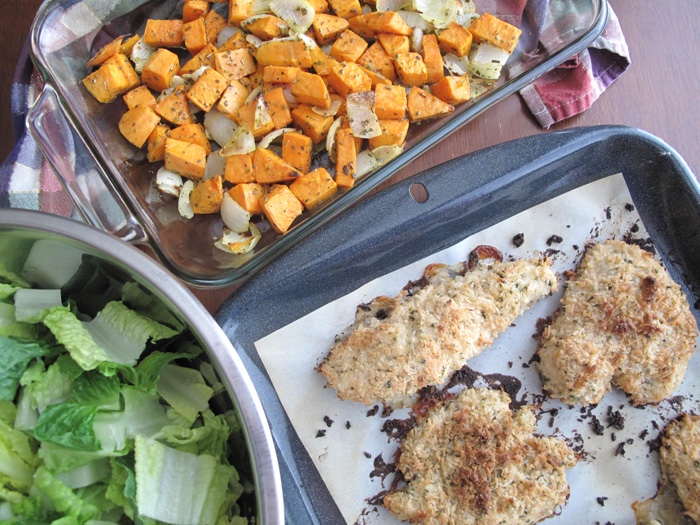 Oven-Fried Chicken Breasts with Roasted Sweet Potatoes (served here with a simple romaine lettuce salad)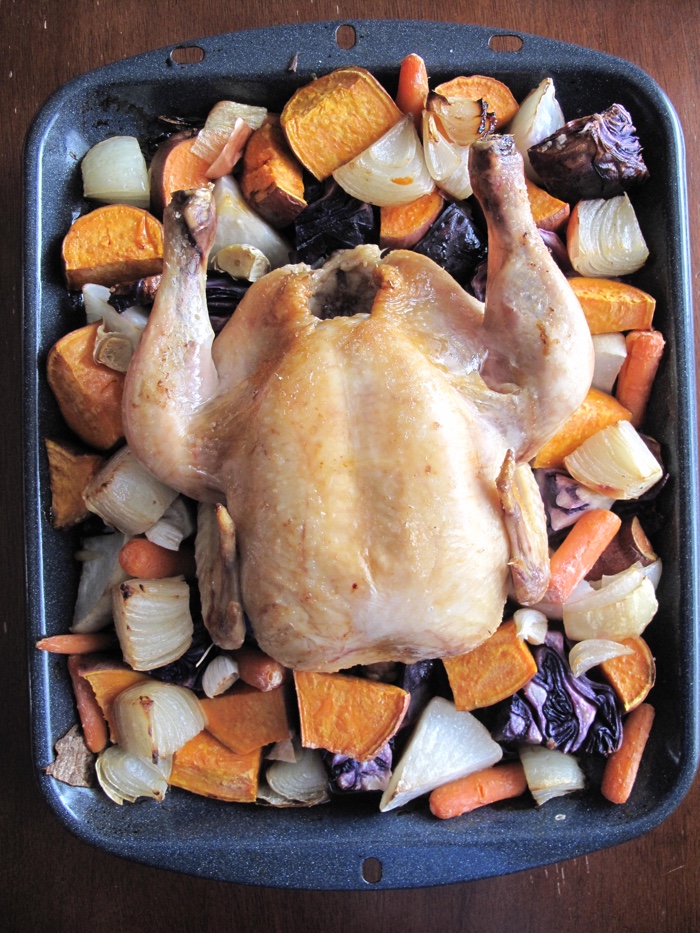 Roasted Chicken over Hearty Vegetables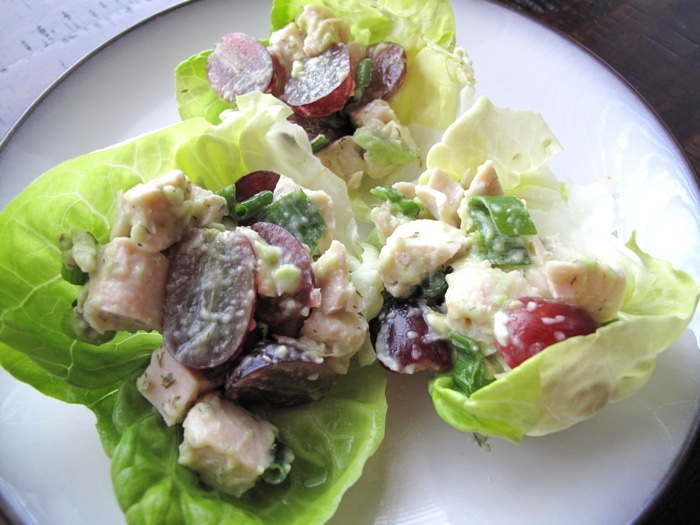 Chicken Salad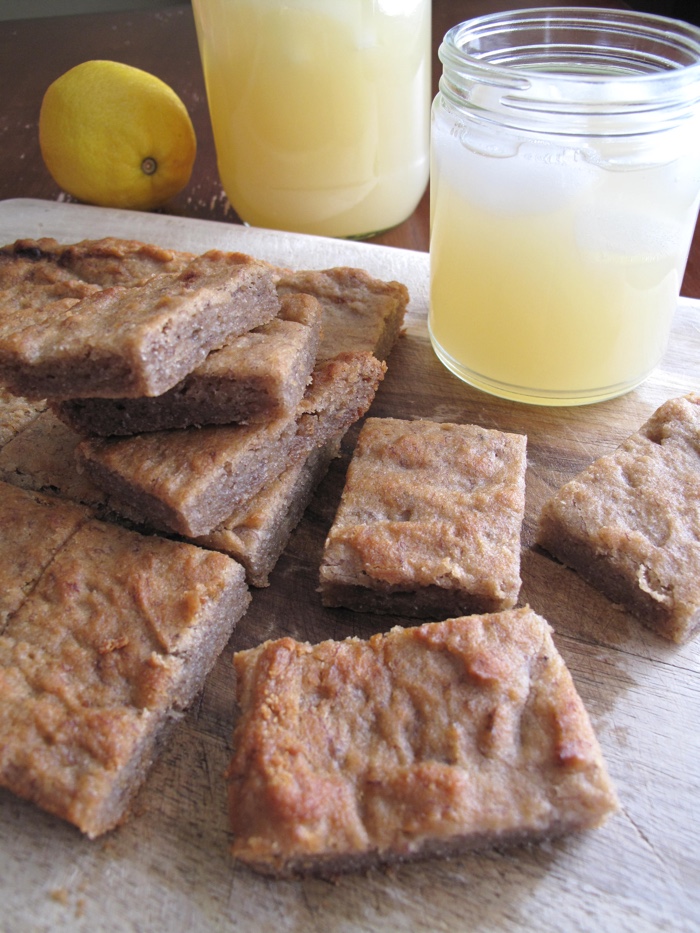 Banana Bread Bars with Lemonade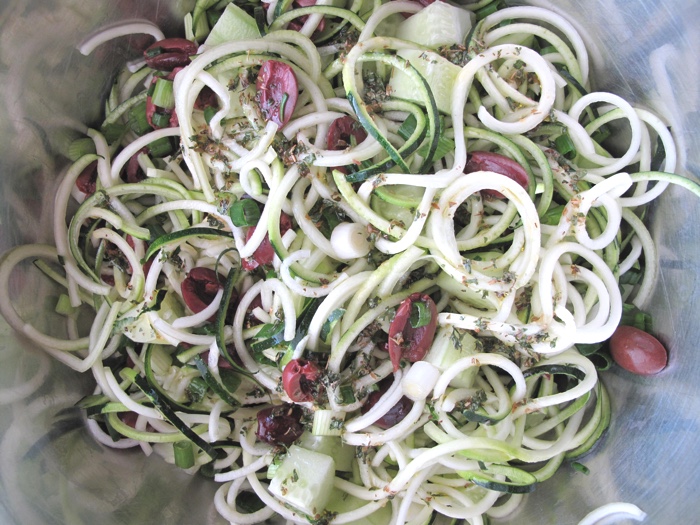 Italian Pastaless Salad
These were my favorites from He Won't Know It's Paleo, but they are many more wholesome and delicious recipes in the cookbook!  A great thing also that I would like to mention is that all the ingredients are fairly common and easy to find at your local grocery store.
 Bre'anna has agreed to share with you the recipe for the scalloped sweet potatoes I liked so much!  It is easy to prepare and you can serve it with pretty much anything!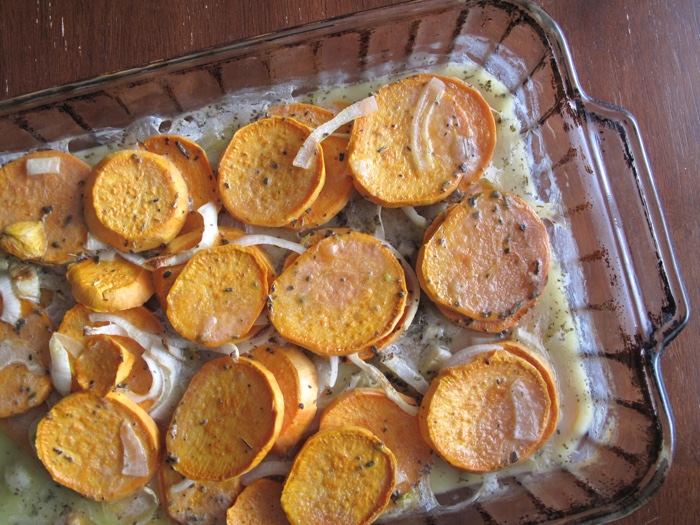 Scalloped Sweet Potatoes
Recipe by Bre'anna Emmit
Re-published, with permission, from the cookbook He Won't Know It's paleo.
Prep time: 15 minutes
Cooking time: 40 minutes
Yield: 8 servings
Ingredients:
2 pounds sweet potatoes, sliced 1/4-inch thick (about 3 medium potatoes)
1 medium yellow onion, sliced 1/8-inch thick
1 (13.5-ounce) can coconut milk
1/2 teaspoon garlic powder
1 teaspoon sea salt
1/2 teaspoon dried rosemary
Directions:
Preheat the oven to 350 degrees F.
Layer the sweet potatoes and onion in an ungreased 3-quart pan.
Whisk the remaining ingredients together and pour over the sweet potatoes and onions.
Bake uncovered for 40 minutes.  If desired, finish by turning the broiler on for the last 3 to 5 minutes, until the top is browned.
Enter the giveaway
The winner of the giveaway is Marguerite!
It will be very easy for you to enter this giveaway!  Subscribe to my newsletter and leave a comment down below that you have done so.  And if you have the time, let me know if you liked this book review!  That's it!  The winner will be chosen randomly and will be announced on Tuesday, April 14.  The winner will receive a copy the cookbook He Won't Know It's Paleo in PDF format.  This giveaway is open to anyone in the world.  If you don't want to wait, you can purchase a copy of this e-book in PDF format here.  Good luck everyone!
Disclaimer: I was given a review copy of this book as well as a copy to give away, with no obligation. I'm 100% honest in my opinions. If I didn't love it, I wouldn't have written the review, nor hosted the giveaway.
This post has been shared on Fat Tuesday.
---
This post contains affiliate links.  Click here to read what it means.