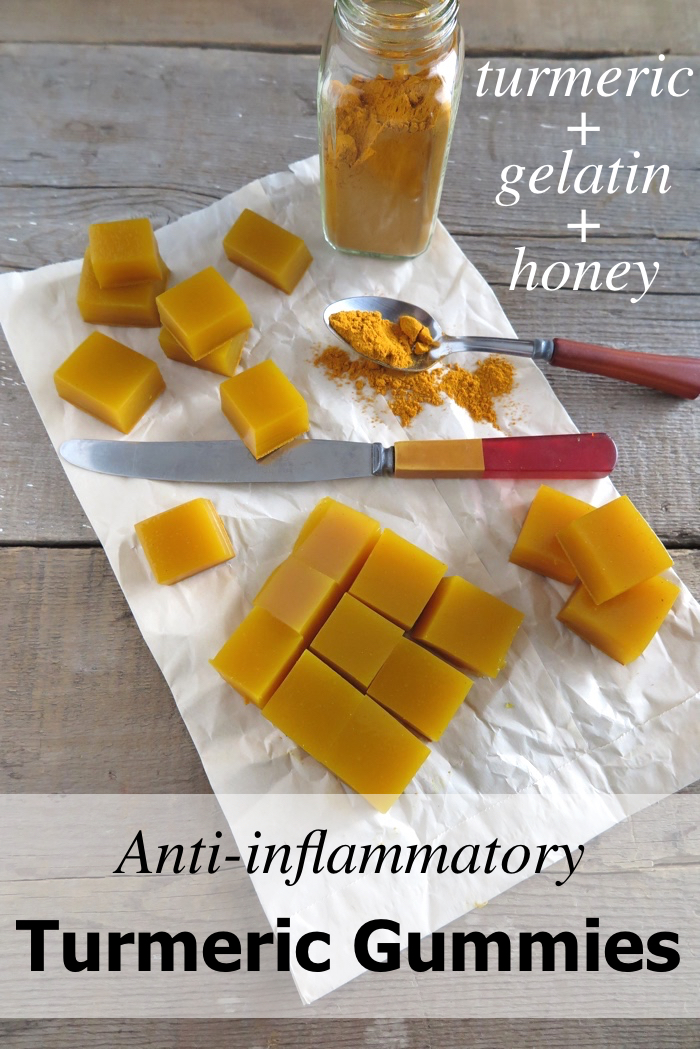 It all started with terrible lower back pain.  You see I have been following the Paleo Autoimmune Protocol since 2012.  After a year on strict AIP, I felt ready to start the reintroductions (yes, 1 year – I am a slow healer). Coffee was one of the first reintroductions I made, and it was successful.  As long as I kept my consumption of coffee low, say a maximum of one cup per week, I was fine.  But then I slowly started drinking more and more of it without even noticing.  It just kind of happened.
And that's when symptoms started creeping back in.  I tried to ignore them at first (ahem, like that's ever been a sound healing practice!).  It was mostly mild joint pain and itchy, watery eyes. Then I started to suffer from persistent and severe lower back pain that was shooting down my legs.  Long story short, one day, I ended up completely stuck because the lower back pain was so severe. Not good!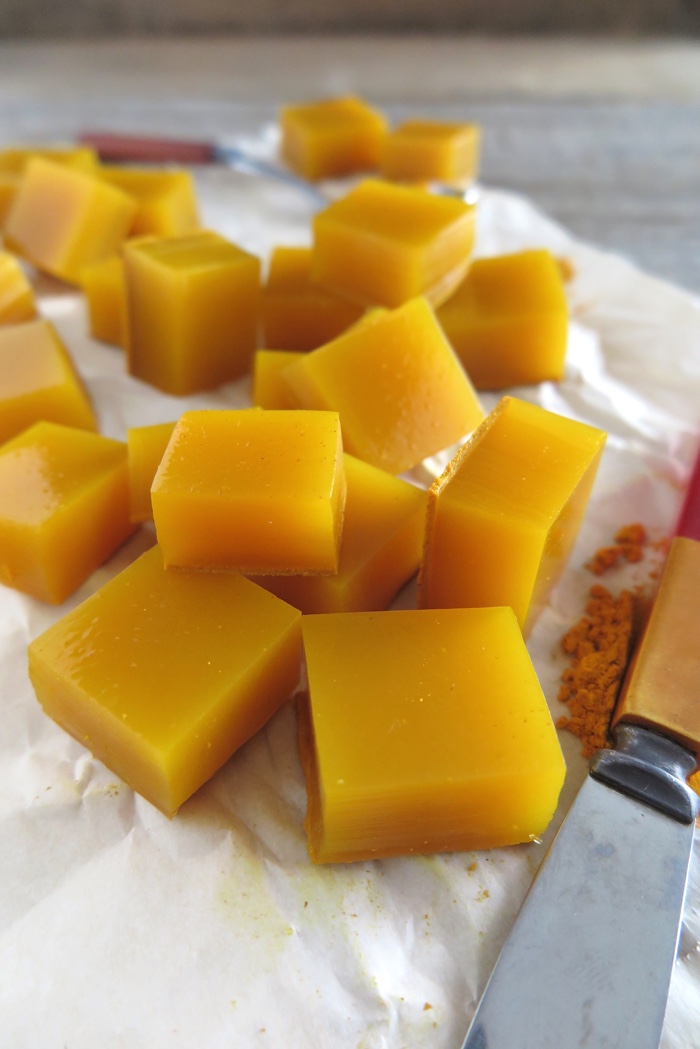 I went to see my chiropractor, but that didn't bring me instant relief of course.  That first night, I barely slept because of the pain.  I gave in and took ibuprofen.  Now this is big for me because I never take pain killers.  I know they are not good for me, especially with an autoimmune disease. NSAID medications are a well known trigger for damaging the gut.  And the whole point of the Paleo Autoimmune Protocol is to repair the gut! So you see, taking pain medication isn't a good idea.  I searched for a natural way to reduce inflammation, and thus pain.  Turmeric was the answer. It is especially recommended for joint pain as it can help to quickly reduce the pain.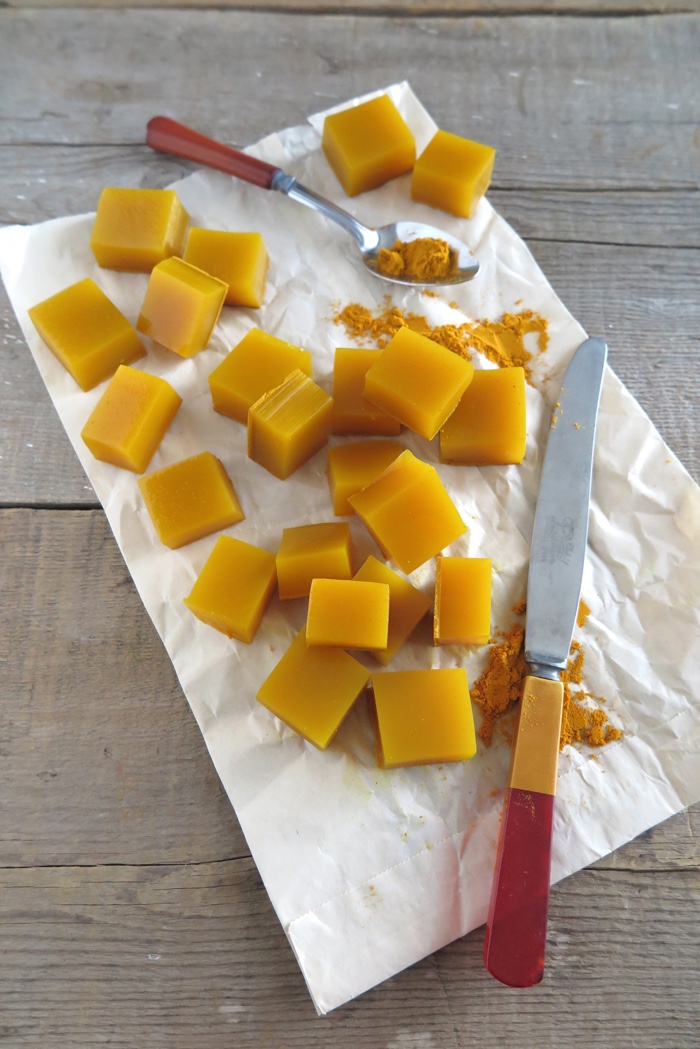 Turmeric is a powerful antioxidant, potent anti-inflammatory, and a osteoarthritis pain reliever.  This orange colored spice, related to the ginger family, has been used for centuries by Ayurvedic and Chinese medicine to clear infections and inflammations on the inside and outside of the body. It is a powerful root with numerous health benefits.  Try to include it into your diet as much as you can!
You can find it in its natural form, as a root, or ground. Both are easy to source in health food stores like Wholefoods and Vitamin Cottage. I used ground turmeric for this recipe, here
is my favorite brand.
Anti-inflammatory
Healing
Turmeric Gummies
Final Notes: these gummies are not meant to be a dessert, but rather a healing food.  Before adding the gelatin powder, check the liquid and adjust the amount of honey to your taste.  I personally like them with only 3 tablespoons of honey, but the taste of turmeric is still present, although quite palatable.  You will be the judge of what is best for you!
Also, some turmeric powder may accumulate at the bottom of the gummies and form a thin layer. I don't mind it, but if you prefer you can cut that out before eating the gummies.
* * * * *
Anti-inflammatory and Healing Turmeric Gummies (Paleo, AIP)
This recipe is 100% compliant with the Paleo Autoimmune Protocol.
Author:
Sophie Van Tiggelen
Recipe type:
Healing food
Cuisine:
Paleo Autoimmune Protocol
Instructions
In a saucepan, combine water, turmeric, honey, and coconut oil. Heat on medium-high heat for about 5 minutes, stirring constantly.
Check sweetness and adjust to taste.
Remove from the heat and sprinkle gelatin powder over warm liquid.
Whisk vigorously for about 1 minute, ensuring gelatin powder is completely dissolved.
Pour into a dish and refrigerate for 2 hours, or until gelatin is firm and you can cut it into small portions with a knife.
Store in an airtight container. Will keep up to 7 days in the refrigerator.
Notes
The coconut oil is optional in this recipe. It is used to enhance the absorption of the turmeric powder but may create a thin white layer on the surface of the gummies. Skip the coconut oil if you prefer your gummies as shown in the picture!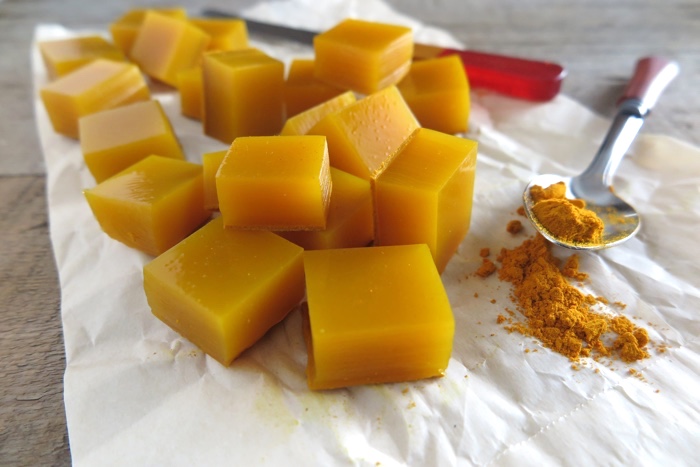 This recipe for
Anti-inflammatory and Healing Turmeric Gummies
has been shared on:
Paleo AIP Recipe Roundtable
---
This post contains affiliate links.  Click here to read what it means.