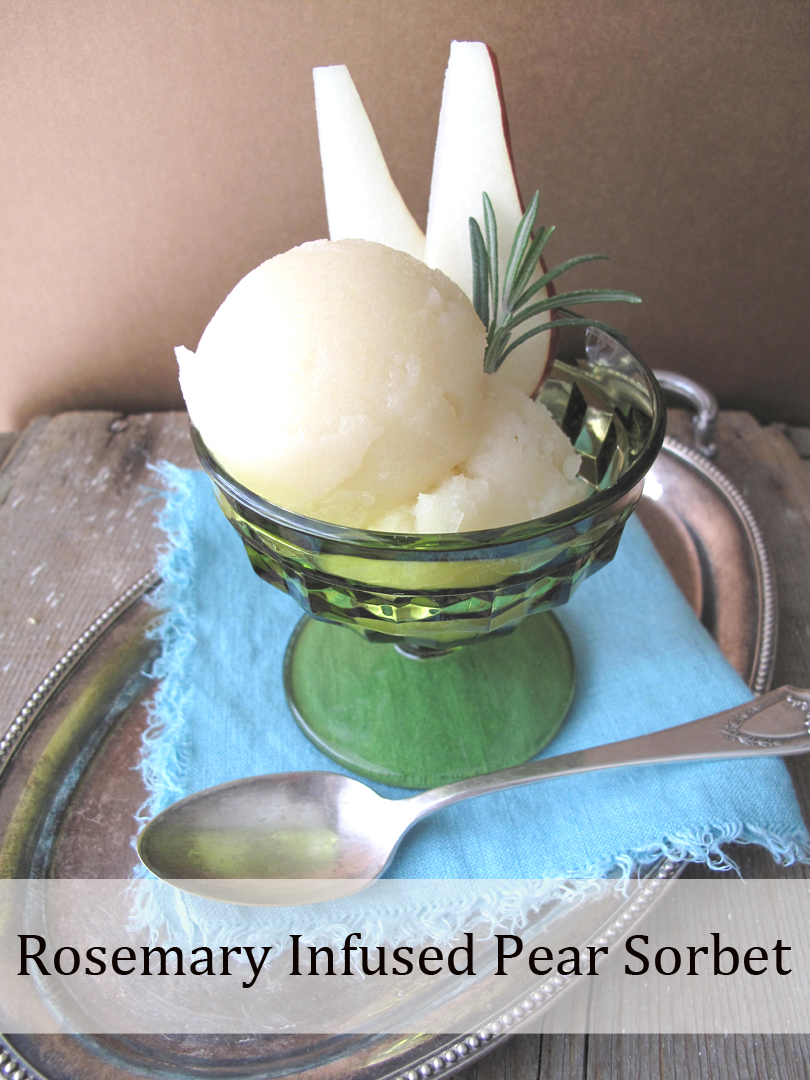 The inspiration to create this rosemary pear sorbet came from a wonderful experience I had in Belgium, years ago, in a fancy restaurant called "The Prince of Liege".  My husband's grand-father liked to spoil us from time to time and that day he was treating us to a special lunch.  It was one of those establishments with smart waiters gliding around us in black suits, artistically folded linen napkins, and subdued ambiance.
I don't remember the dishes we ordered, but I do remember the little entremets we got to savor in between courses.  Something small, elegant, with a mild flavor to reset your palate.  One of them was a refreshing fruit sorbet, served in a dainty little dish with a Polly Pocket size spoon!
I love creating fruit-based paleo desserts.  They require very few steps to make, they are minimally processed, and they certainly have their place in a balanced healing diet like the paleo autoimmune protocol.  Plus, this pear sorbet is easy to make and super healthy!
The delicate flavor of the pears is enhanced by a subtle hint of rosemary, making this rosemary pear sorbet the perfect dessert for your festive meals!
No ice-cream maker?   No problem!  You can make this recipe as a granita, following the 3 last steps laid out in this tutorial.
This post was originally written and posted on the blog
Empowered Sustenance
.  
AIP / Rosemary Pear Sorbet - Easy Paleo Dessert Recipe with Fruits
This recipe is 100% compliant with the elimination phase of the paleo Autoimmune Protocol.
Author:
Sophie Van Tiggelen
Cuisine:
Paleo Autoimmune Protocol
Ingredients
4 big Bartlett pears (or 5 small)
1/2 cup water
1/2 tablespoon honey
1 sprig of fresh rosemary (3-4 inches)
Instructions
Peel and cut pears into small pieces.
In a pot over medium-low heat, add pears, water, honey, and rosemary (push the rosemary at the bottom of the pan and cover with water and pears).
Boil for 10 minutes, or until the pears are soft.
Remove from the heat, cover, and let cool down.
Remove the sprig of rosemary before transferring the fruit mixture to your Vitamix or high speed blender. Blend on high for 20 seconds.
Transfer to a bowl and place in the fridge to chill.
Now follow the manufacturer's instructions to process the fruit sorbet through your ice-cream maker.
This sorbet can be served immediately as a soft serve. Place in the freezer 1 hour for a firmer texture.

The recipe for this Rosemary Pear Sorbet was shared on: Paleo AIP Recipe Roundtable
---
This post contains affiliate links. Click here to read what it means.