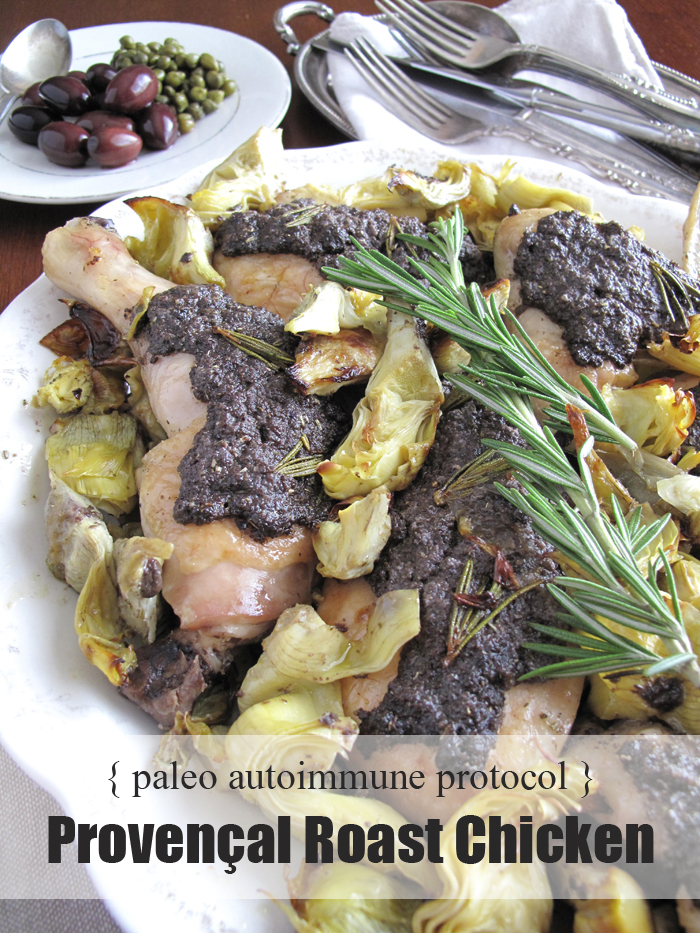 This Provençal roast chicken with olive tapenade will bring a little taste of France to your table!  One of the reasons I like Provençal cuisine so much is because it is really simple, healthy, and so flavorful.  With just a few herbs, some garlic, and olives, you can totally transform an ordinary chicken dish into something truly special.
The star of the show today is this luxurious black olive tapenade.  Tapenade, also called the butter of Provence, is classically a mix of black olives, capers, and herbs, blended in a food processor to a rough puree.  I added a generous dose of extra virgin olive oil to the mix since the tapenade doubles up as a marinade sauce for the chicken.
For the chicken I would suggest that you buy it whole and cut it up yourself at home.  Whole chicken cost at least a dollar less than precut chicken!  You won't need a lot of muscle, just a good, sharp kitchen knife.  Here is a tutorial on how to cut up a whole chicken by Martha Stewart.  Follow her advice and don't throw away the neck or any other leftover piece you won't use immediately.  Instead, store them in the freezer to make bone broth later.
Provençal roast chicken with olive tapenade
Did you know?
"The Greeks, who attributed a divine origin to olives, venerated them so much that for a long time the only people who were employed in the cultivation of this small tree were virgin women and pure men. An oath of chastity was required by those who were charged with harvesting the crop."
– Alexandre Dumas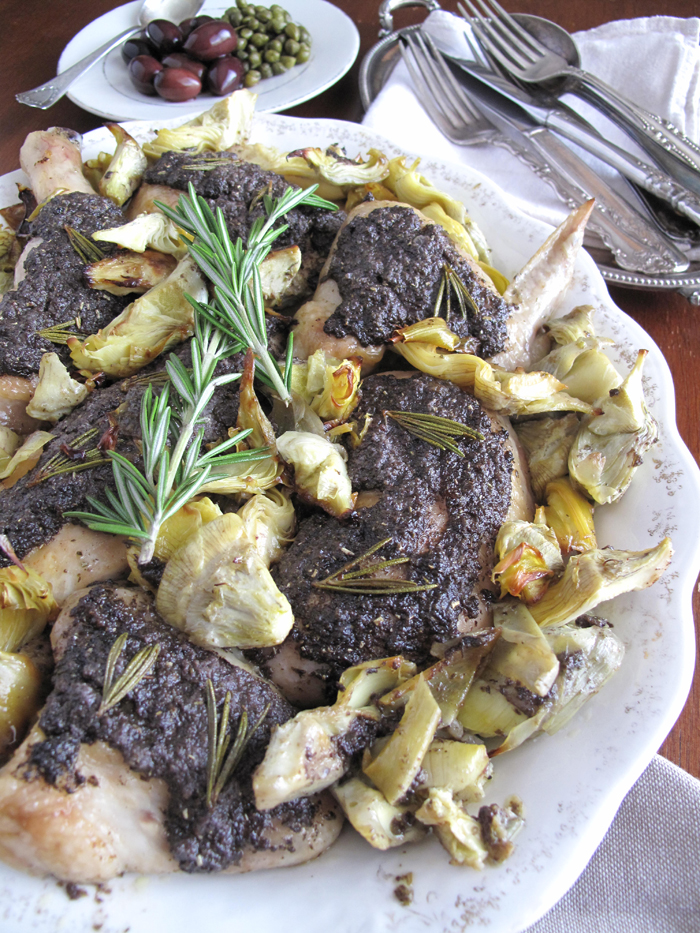 AIP / Provençal Roast Chicken with Olive Tapenade - French Paleo Recipe
This recipe is 100% autoimmune protocol compliant.
Cuisine:
Paleo Autoimmune Protocol
Instructions
To prepare the olive tapenade, place all the ingredients in your high speed blender and blend for a few seconds to obtain a coarse consistency. Set aside for now.
Preheat the oven to 350 degrees F.
Rub the bottom of a baking dish with olive oil. (I prefer to use an oven broiler pan)
Arrange the chicken and artichokes so they don't overlap. Sprinkle with salt. Spread the tapenade over the chicken. Garnish with fresh rosemary.
Place in the oven, on the middle rack, and bake for 1 hour.
Baste the chicken occasionally with the cooking juices.
Serve hot with a little garnish of fresh rosemary and a green salad on the side.
Bon appétit!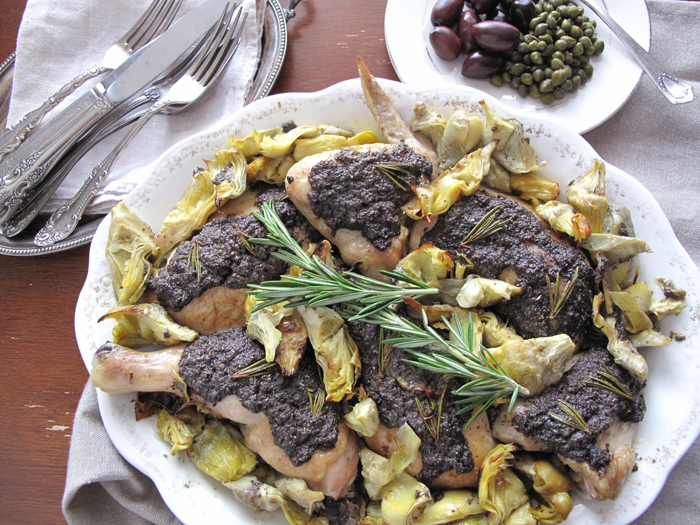 This Provençal roast chicken with olive tapenade has been shared on the following link parties:
Fat Tuesday
–
Real Food Wednesday
–
Allergy Free Wednesday
–
Phoenix Helix AIP Recipe Roundtable
–
Natural Family Friday
–
---
This post contains affiliate links.  Click here to read what it means.