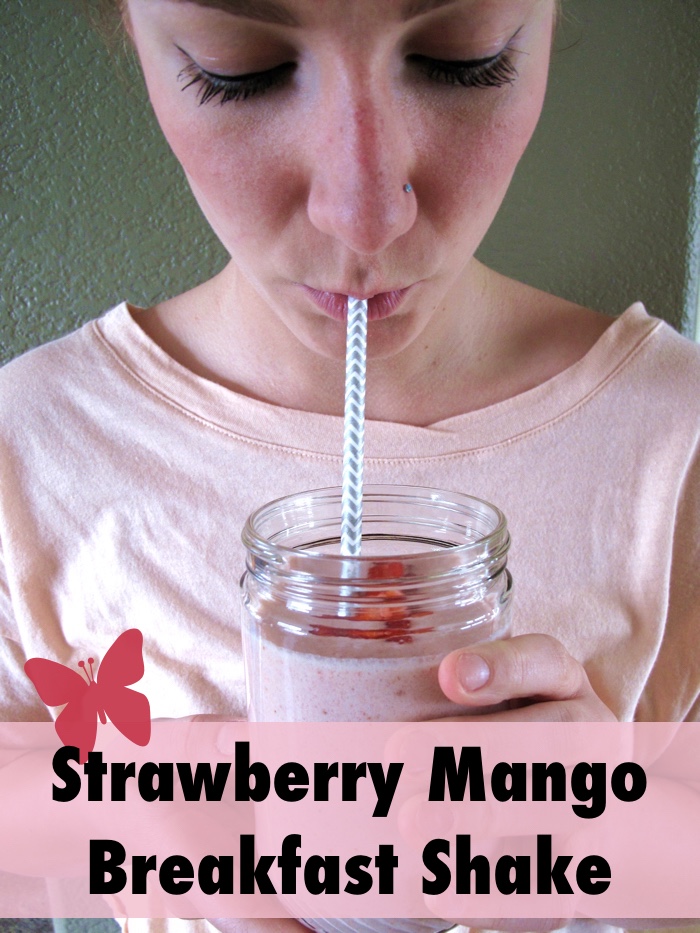 The young lady modeling in the picture today is my youngest daughter Rosalie.  It was fun for me to shoot this delicious strawberry mango breakfast shake with her.  After several takes and giggles, we got it right!  You see I am following the strict phase of the AIP – elimination diet, but I am not alone in my journey.  I have a husband and three daughters on board as well, supporting me.  After a rocky start, when I was experimenting with this new way of cooking, they settled in this new paleo lifestyle, for the most part.
While I do enjoy eating a breakfast consisting of meat and vegetables, the kids don't really like it that much.  Plus they are always in a rush in the morning before school.  So making them a shake for breakfast is really a good option.  You can whip it up in five minutes and the flavor combinations are endless.  The current favorite at our house is the combo strawberry mango.
STRAWBERRY – MANGO
BREAKFAST SHAKE
WITH

COCONUT

MILK
& collagen
With coconut milk, fruits, and gelatin powder, this strawberry mango breakfast shake is a great option if you are short on time, or just craving a little something different to start your day!  If you want to add even more protein, you can certainly add a scoop or two of your favorite protein powder into the mix.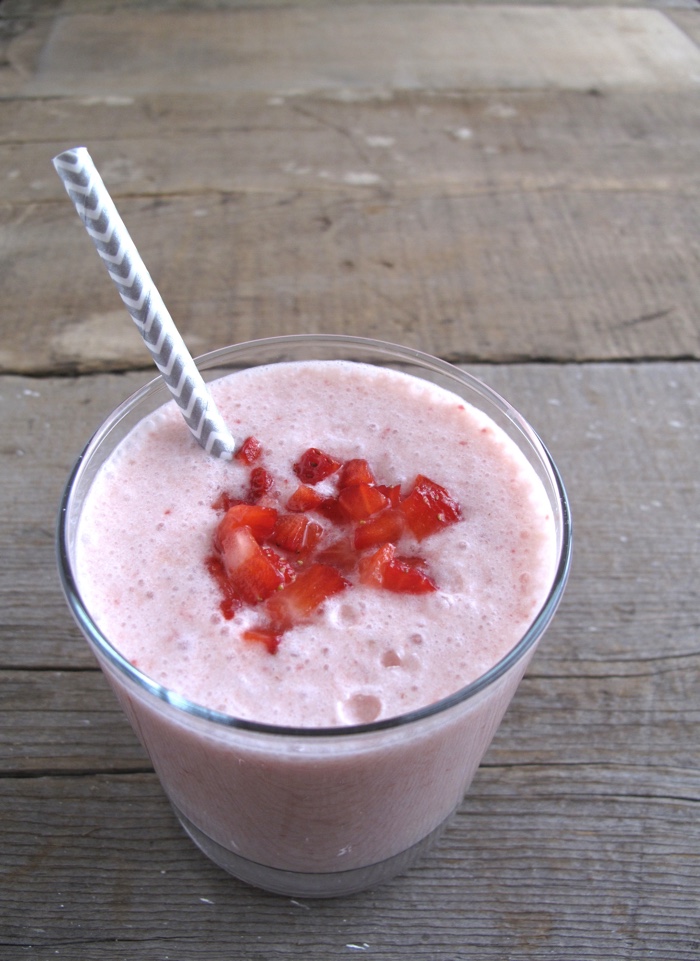 AIP / Paleo Strawberry Mango Breakfast Shake
This recipe is 100% paleo autoimmune protocol compliant.
Cuisine:
Paleo Autoimmune Protocol
Ingredients
1/3 cup coconut milk (from a 13.5 fl oz can of coconut milk)
1/2 cup frozen mango
1 1/2 cup fresh strawberries, stemmed and quartered
1/2 cup coconut water
1 TBSP gelatin powder (Great lakes, red can)
4 ice cubes
Instructions
Mix all the ingredients in a high speed blender for 30 seconds.
Serve immediately.
The recipe will yield 1 big shake or 2 small ones.
Bon appétit!
The recipe for this Strawberry Mango Breakfast Shake has been shared on the following blog carnivals:
Paleo AIP Recipe Roundtable
–
Allergy Free Wednesday
–
---
This recipe contains affiliate links.  Click here to see what it means.