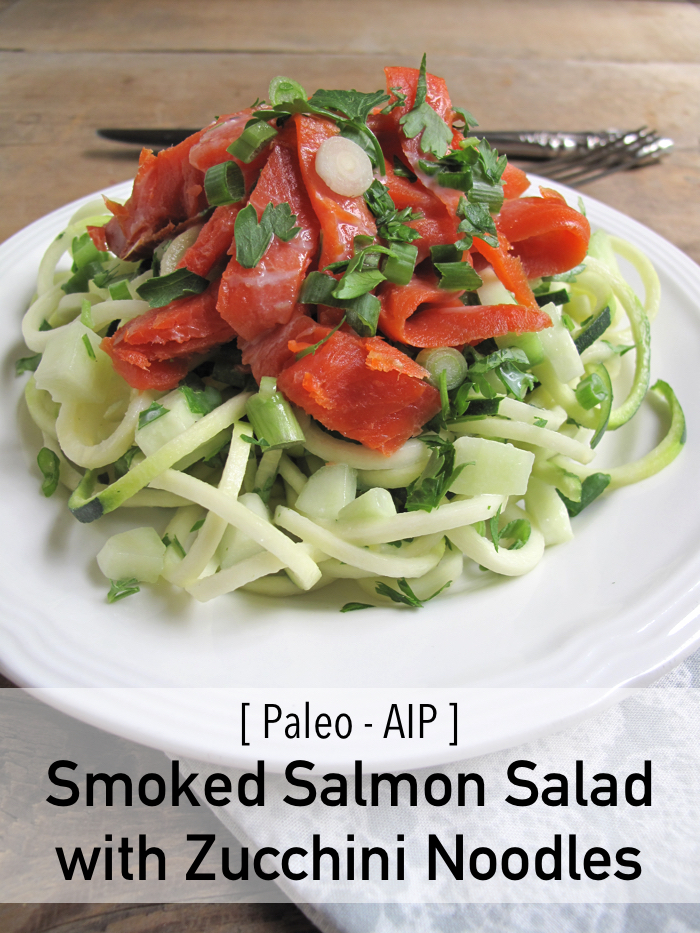 This smoked salmon salad with zucchini noodles is really a favorite at our house.  Because they grow in such abundance, zucchinis are fairly affordable and make up a big part of our summer menu.  My kids however don't particularly like baked zucchini.  They find it mushy and unappetizing (insert here some gargling sounds!)  So instead I make tons of zoodles, aka zucchini noodles.  Some people will lightly steam their zoodles, but I prefer to eat them raw.
Zucchini noodles are a great way to add bulk and texture to your summer salads.  Because their taste is rather neutral, you can pair them with a lot of other ingredients and your favorite dressing. In this particular recipe, I used wild caught smoked salmon and a bunch of fresh herbs.
If you are following a low-FODMAP diet, hold off on the scallions.
Substitutions: if you don't have zucchini on hand, you can make zoodles with cucumbers as well! You can also replace the cilantro with any other fresh herb you desire, like parsley, for example.
Kitchen tip: you can prepare this salad in advance and keep it in the refrigerator for a few days. Add the smoked salmon right before serving.
Paleo – AIP
Smoked salmon salad with zucchini noodles
Quick & easy
Great for picnics!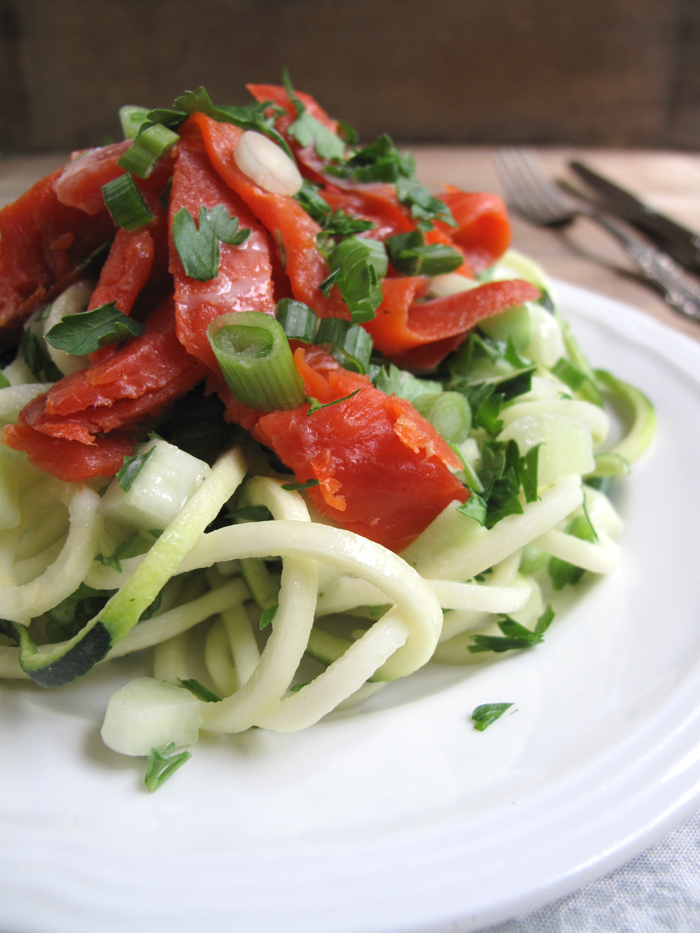 AIP / Paleo Smoked Salmon Salad with Zucchini Noodles
This recipe is 100% autoimmune protocol compliant.
Cuisine:
Paleo Autoimmune Protocol
Ingredients
8 oz (226 gr) smoked salmon
6 cups zucchini noodles
1 cup seeded and diced cucumber
1/2 cup chopped scallions
1/2 cup chopped cilantro
1/2 cup full fat coconut milk (from a can of 13.5 fl oz - 398 ml)
8 tsp lemon juice
1/2 tsp fine sea salt, or more to taste
Instructions
With a sharp kitchen knife, cut the smoked salmon crosswise into thin strips of 1/4 inch. Set aside.
In a big bowl, toss the zucchini noodles, cucumber, scallions, cilantro, coconut milk, lemon juice, and salt. Mix well together.
To serve, place a portion of zucchini noodles on a plate and top with smoked salmon.
Bon appétit!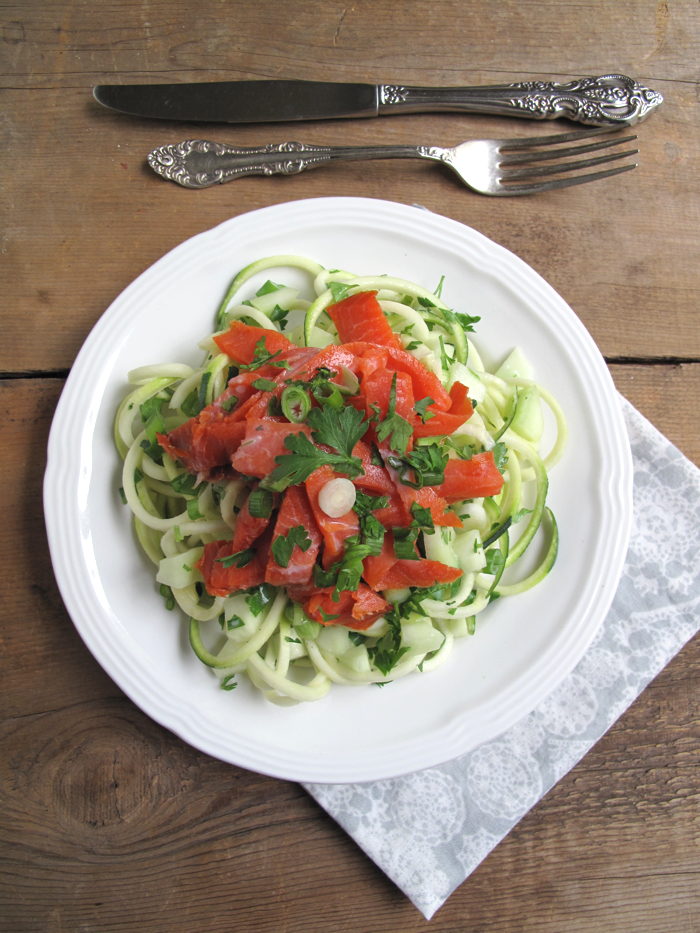 This Smoked Salmon Salad with Zucchini Noodles has been shared on the following blog carnivals: Fat Tuesday – Paleo AIP Recipe Roundtable –
---
This post contains affiliate links.  Click here to read what it means.