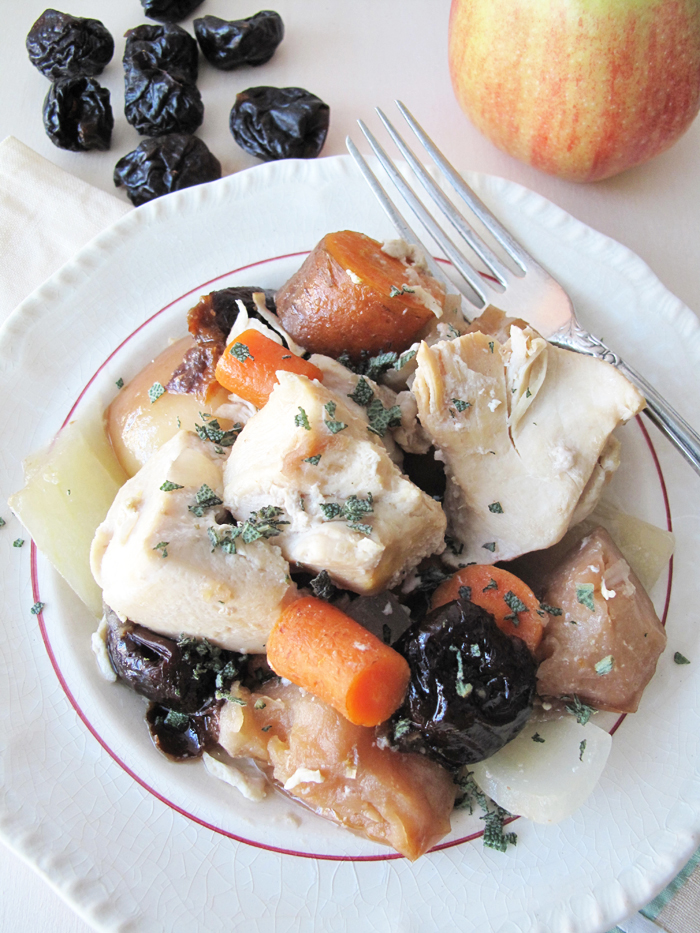 I love waking-up to the delicious aromas of a good crock-pot simmering in my kitchen; the slightly sweet flavor of chicken, plums, and apples is particularly satisfying in the morning.  It has just the right amount of sweetness, counterbalanced by the savory tones of carrots and onions.  If you are not in too much of a hurry, sit down and enjoy this wholesome meal with your favorite breakfast brew (mine would be a good Earl Grey tea!).  Mmmh!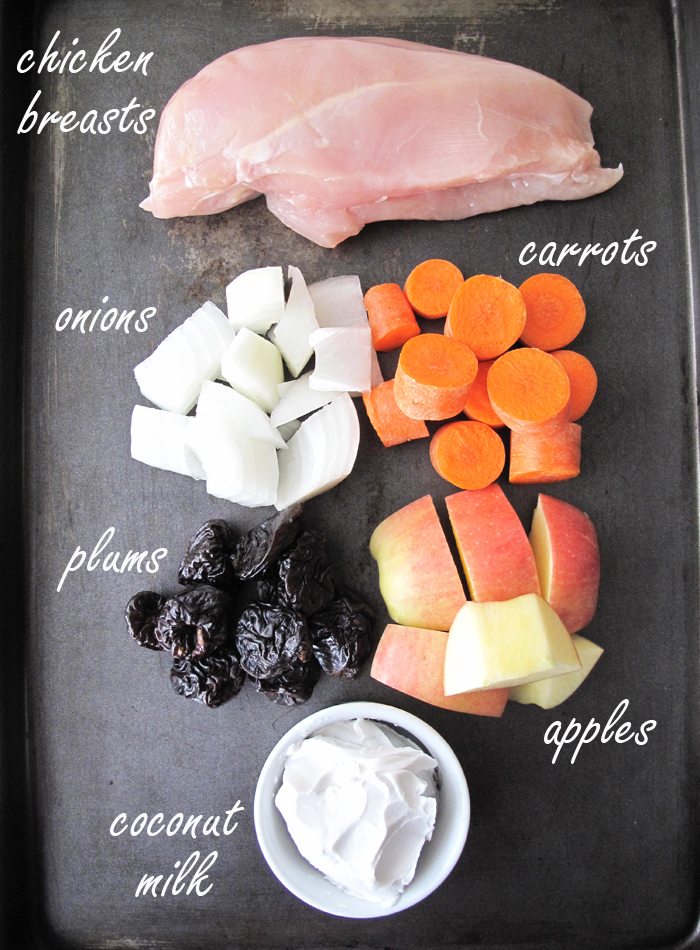 In my opinion, a crock-pot is one of the best small appliances to have in the kitchen.  Can you believe that I had no idea what a crock-pot was until we moved the the United-States in 2000?  I did a quick little Google search and discovered that the slow cooker was invented by Mr. Irving Naxon and became popular in the US in the 1970s when many women began to work outside of their homes.  This guy was a genius!
Slow cookers are really a great help in the kitchen.   They basically cook for you and there isn't a pile of pans to wash afterwards.  They are also indispensable if you wish to make bone broth.  I was a little bit worried at first that cooking food, even on low temperature, for such a long time would mean a loss of nutrients.  However it turns out that almost all slow cookers have a setting that keeps the food under the boiling point of 212°F/100°C, usually around 200°F/93°C.  According to Sarah Ballantyne, Ph.D., aka the Paleo Mom, cooking foods for a long time at a low temperature improves the digestibility of the food, while preserving the most nutrients.  It is even highly recommended for those with severe gastrointestinal problems.  So, all is well!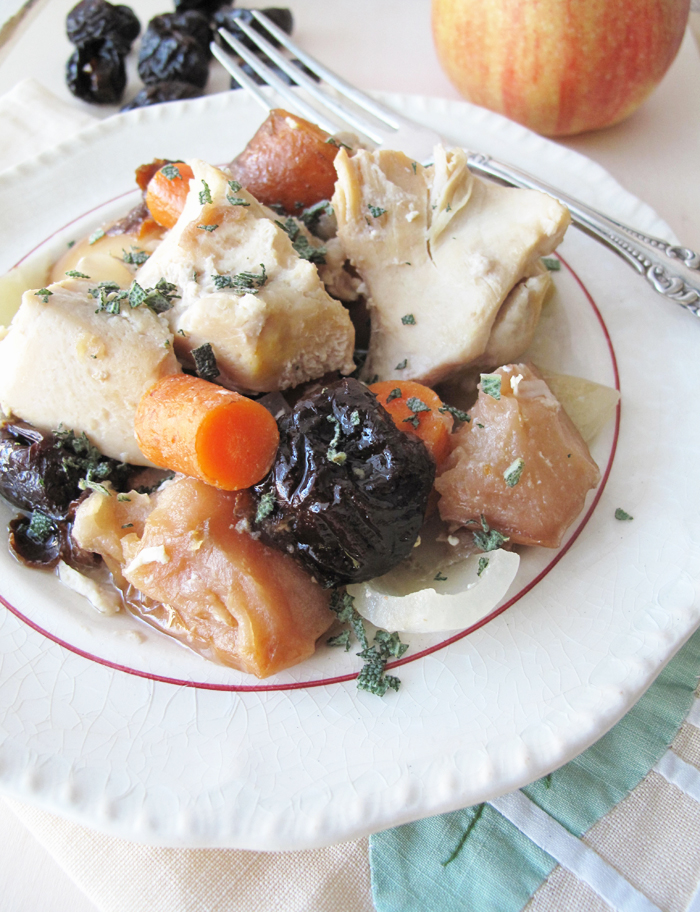 AIP / Paleo Crockpot Chicken with Plums, Carrots and Apples.
Cuisine:
Autoimmune Protocol - AIP
Ingredients
2 lbs chicken breasts
5 big carrots, chopped (approx. 1 lb or 3 3/4 cups)
1 1/2 big onion, roughly chopped (approx. 1 lb or 4 cups)
2 1/2 apples, roughly chopped - skin on (approx. 3/4 lb or 3 cups)
10 pitted plums
1 can of full fat coconut milk (13.5 FL OZ or 398 ml)
2 TSP salt or more to taste
Some fresh sage, chopped, for the final garnish
Instructions
Cut up the chicken into big chunks and place it at the bottom of your slow cooker.
Add the carrots, the onions and then the apples (the apples must be on top).
Drop in 10 plums (don't go crazy with the plums or the final result will be way too sweet).
Pour the coconut milk all over the ingredients.
Cook for 8 hours in your slow cooker (on low temperature).
Salt to taste when the crock-pot is almost done, mixing all the ingredients together with 2 big wooden spoons.
Serve with a sprinkle of fresh sage.
Bon appétit!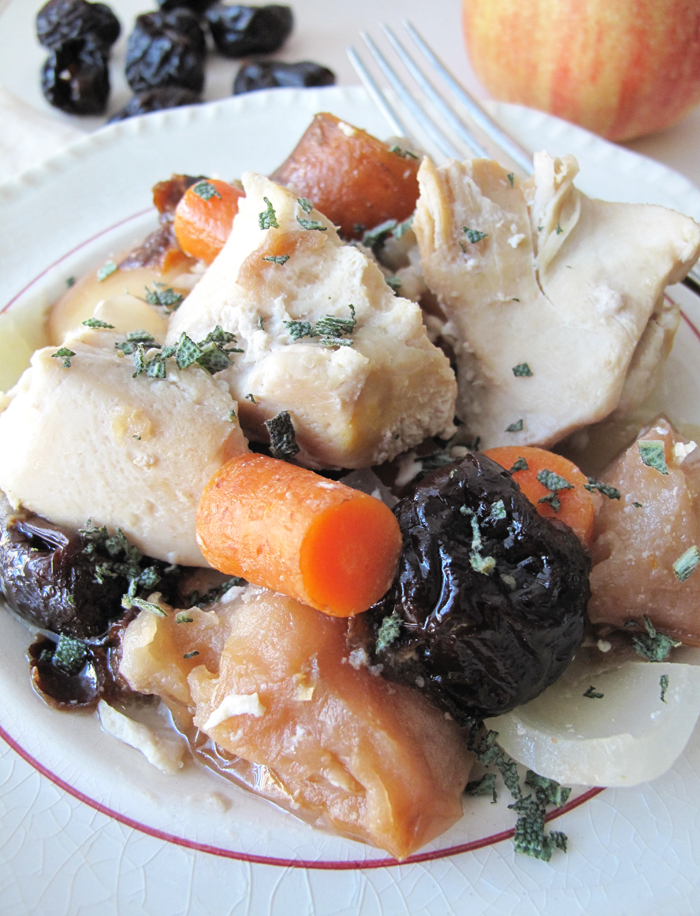 This recipe has been shared on
Natural Living Monday
–
Fat Tuesday
–
Real Food Wednesday
–
Allergy Free Wednesdays
–
Phoenix Helix AIP roundtable
.