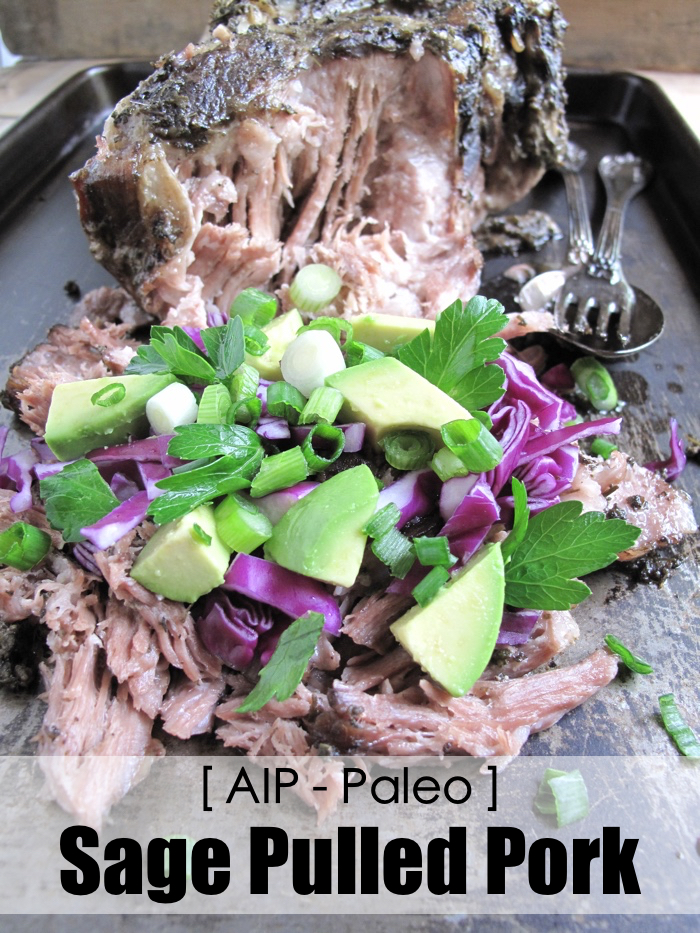 There are very few meats that look as appetizing to me as a hot-out-of-the-slow-cooker pork shoulder.  This sage pulled pork is not an exception!  The taste is incredible and I never tire of the soft, melt in your mouth texture.  A good pulled pork is like the little black dress of the kitchen, you can eat it with pretty much anything!
Cooking tips: You might have to adjust the cooking time in accordance with the weight of the pork shoulder you use.  For approximately 4 pounds, the cooking time was 10 hours on low heat in my slow cooker.  I don't know if the heat varies that much between different slow cookers, but in any case the meat is done cooking when you can easily pull the meat apart with a fork.
Substitutions: Sage is one of my favorite dried herbs of the moment, but you can easily replace it with herbes de Provence, oregano, parsley, or rosemary.
Serving suggestions: you can top the sage pulled pork with chopped red cabbage, avocado, scallions, and cilantro.  The taste is delicious and the effect is striking!  Pulled pork goes very well also with a side of cauliflower rice and a salad mix.
AIP and Paleo
Sage Pulled Pork
Slow cooker recipe
Great for leftovers!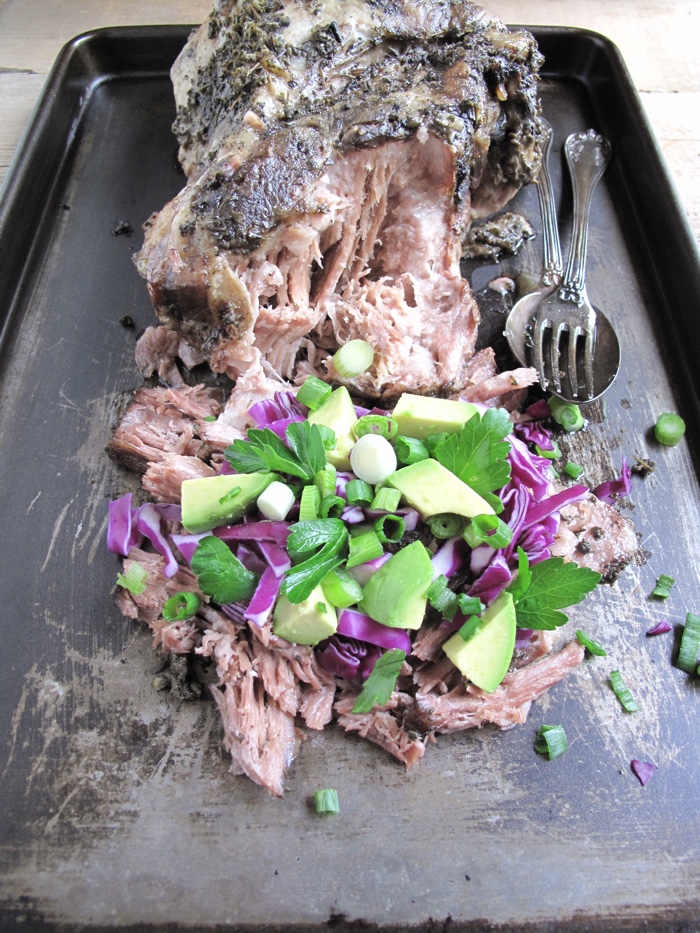 AIP / Paleo Sage Pulled Pork - Slow Cooker Recipe
This recipe is 100% autoimmune protocol (AIP) compliant.
Cuisine:
Paleo Autoimmune Protocol
Ingredients
1 pork shoulder (approx. 4 lbs)
1 can full fat coconut milk (13.5 fl oz - 398 ml), unsweetened
1/2 onion, roughly chopped
1/3 cup dried crushed sage
2 TSP fine sea salt, or more to taste
Instructions
Add all the ingredients in your slow cooker, in the following order: coconut milk, pork, onions, sage, and salt.
Cook on low heat for 10 hours, or until you can pull the meat apart easily with a fork.
Serve hot with your favorite side dish and some sauce left at the bottom of the slow cooker.
Bon appétit!
---
This sage pulled pork recipe has been shared on the following blog carnivals: Fat Tuesday – Paleo AIP Recipe Roundtable –
This post contains affiliate links.  Click here to see what it means.