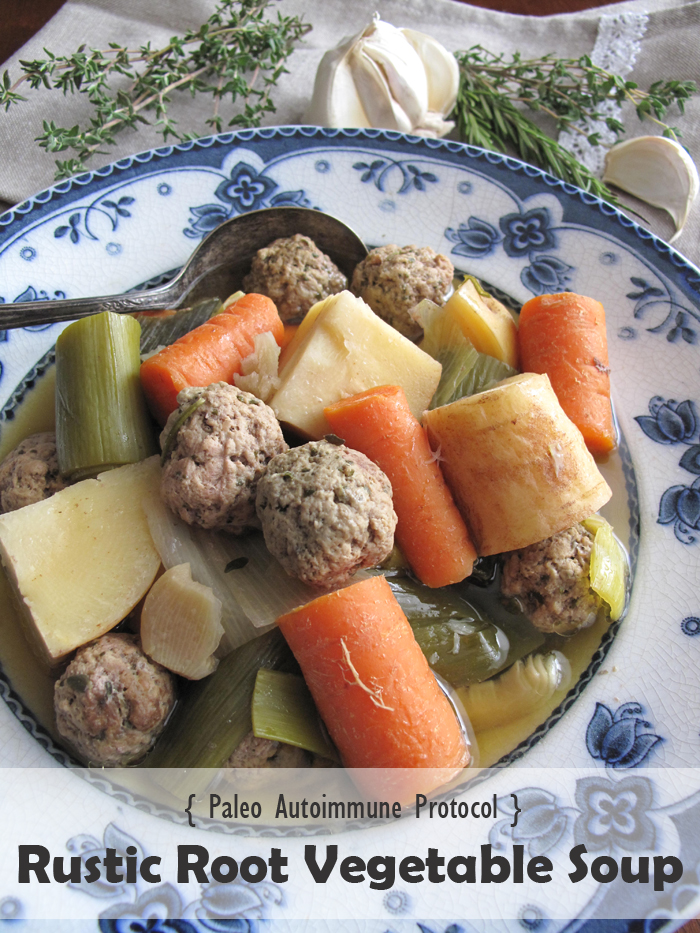 It wasn't until we moved to Colorado from Belgium in 2000 that I purchased my first crock pot.  Now, I can't imagine my life without it!  Even tough I work from home, some days are so packed with appointments and various activities that I don't have the time to prepare a good meal for the family.  Despite the fact that I have a busy life, one of my top priorities is to stay on track with our paleo diet and put a wholesome, nutrient-dense meal on the table.  That's when I take my crock pot out of the big hutch and put it to good use!  It's easy to throw a few ingredients together and let them simmer all day long until dinner time.
The recipe I am sharing with you today is inspired by the country style cooking of my grandmother's kitchen.  It represents the epitome of comfort food for me. An easy, one-dish meal with big pieces of cooked vegetables, hearty homemade meatballs, and the wonderful flavor of fresh herbs and spices!  This rustic soup has it all.
To serve, ladle a generous portion of vegetables and meatballs onto the plate and then pour the broth over it.  This root vegetable soup will keep for several days in the refrigerator and is great for leftovers.  I used ground beef but you can certainly use any other kind of ground meat, like bison or elk!
AIP / Paleo Rustic Root Vegetable Soup with Meatballs - Slow Cooker Recipe
This recipe is 100% compliant with the Paleo Autoimmune Protocol.
Author:
Sophie Van Tiggelen
Cuisine:
Paleo Autoimmune Protocol
Ingredients
Soup ingredients:


2 cups carrots, chopped
2 cups golden beets, chopped
2 cups turnips, chopped
2 cups parsnips, chopped
1 ½ cups leeks (white and green parts), chopped
5 cloves garlic, chopped
2 quarts chicken broth
2 teaspoons fine sea salt
1 sprig fresh rosemary
3 sprigs fresh thyme


For the meatballs:


1 pound ground beef
1 teaspoon fine sea salt
1 tablespoon dried cilantro


Special equipment needed: 6-quart slow cooker
Instructions
Add all the soup ingredients in a slow cooker.
To prepare the meatballs, combine ground beef, sea salt, and cilantro in a large bowl. Mix well with your fingers.
Measure out 1 tablespoon of meat mixture and roll into a small ball. Repeat until you have used all the meat.
Place the meatballs on top of the vegetables in the slow cooker.
Cover and cook until the vegetables are tender, about 8 to 10 hours.
Discard sprigs of rosemary and thyme before serving.
Bon appétit!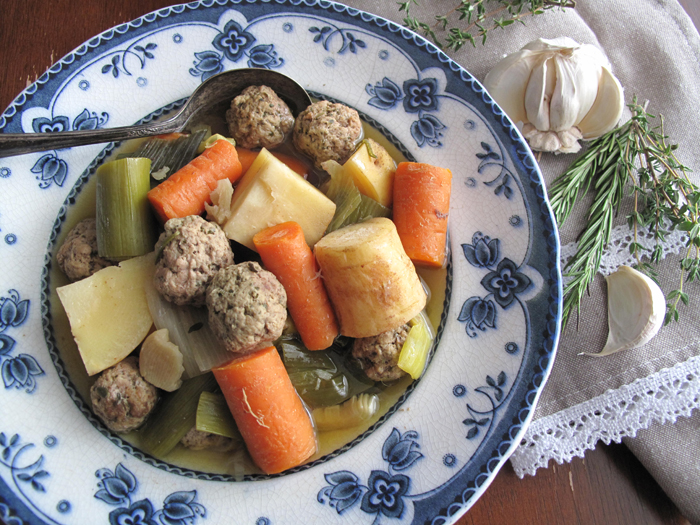 This recipe was originally posted on The Paleo Mom blog!
---
This post contains affiliate links.  Click here to read what it means.