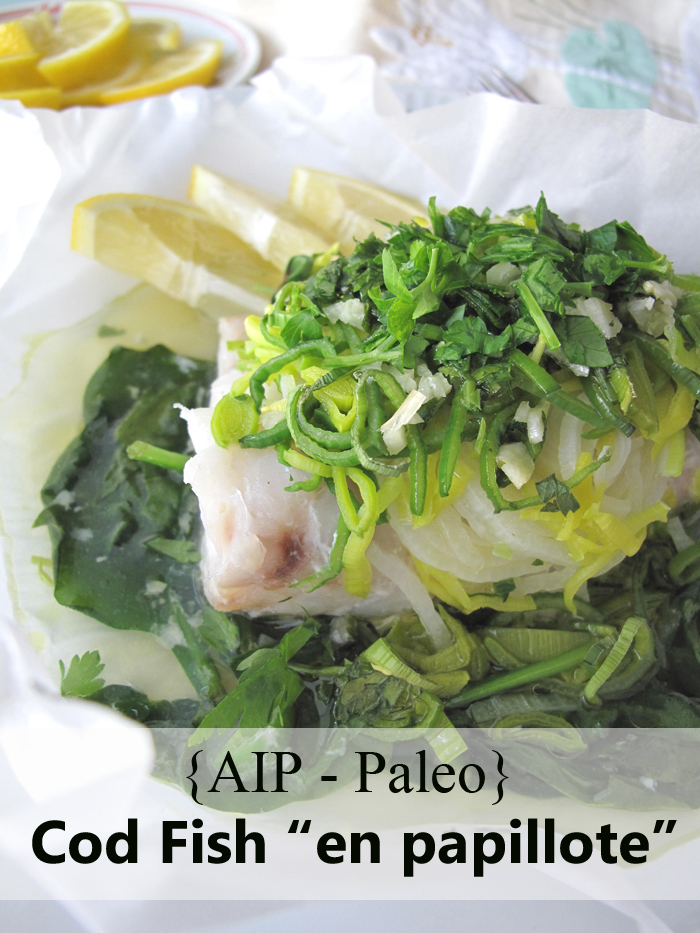 Pretty, delicious, and healthy, this oven baked cod fish "en papillote" is a feast for the eyes!  Yet another example that you can eat like a gourmet on the paleo autoimmune protocol!  I am particularly pleased with this new fish recipe; I had a great time preparing the dish and it was so much fun opening the little packages on our plates to discover the final result.
Cooking "en papillote" is a French cooking technique in which the food is wrapped up and sealed in parchment paper, allowing the ingredients to steam in their own flavorful liquids.  The final result is a delicate and aromatic dish with incredible savor.
AIP and Paleo
Oven Baked Cod Fish

En Papillote
with Spinach & Leeks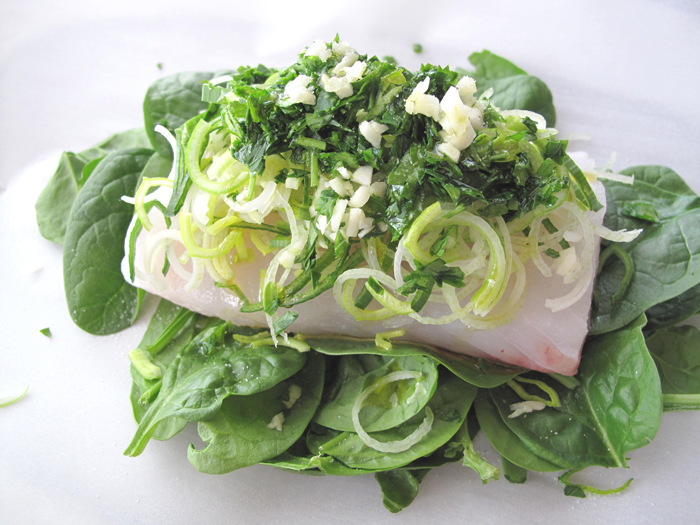 How to create a papillote? This video explains quite well the traditional technique to fold your parchment paper.  If, like me, you are not very skilled at origami and other paper folding techniques, you might want to adopt a simpler, no-nonsense approach.
Start by placing all your ingredients in the middle of a sheet of parchment paper.  Arrange everything in a pretty fashion, season, then gather up all sides of the paper to form a little package that you will close with some kitchen twine.  Voilà!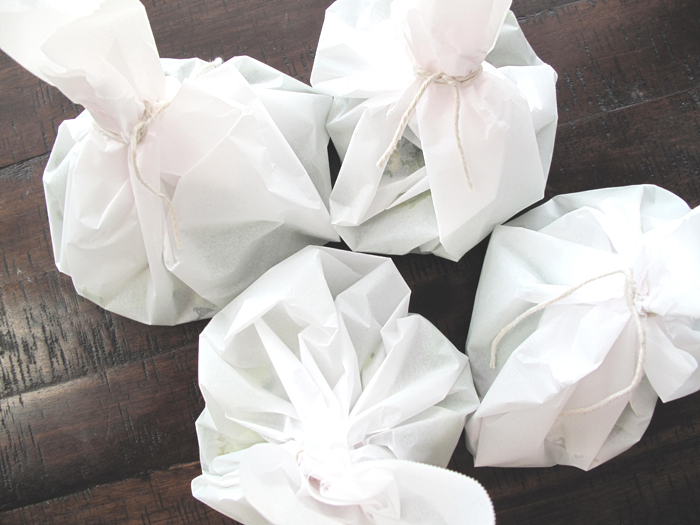 Substitutions? I was lucky to find some wild caught cod fish at Costco.  I only eat fish that has been wild caught, not farmed.  I have had several bad flare ups in the past when eating farmed fish; it has to do with the nature and quality of the feed they use.  Every time, I react badly.  But that's my personal experience and you might not react the same way I do.  That being said, you can swap the cod for any kind of fish really: salmon, tilapia, trout, red snapper, mahi-mahi, …  You can't go wrong and your dish will taste as good!

AIP / Paleo Oven Baked Cod Fish "En Papillote" with Spinash and Leeks
This recipe is 100% autoimmune protocol compliant.
Cuisine:
Paleo Autoimmune Protocol
Ingredients
4 fresh cod fish fillets (approx. 200 g or 0.45 lb per person)
4 cups baby spinach
2 cups finely sliced leeks (white and green parts)
4 TBSP finely chopped Italian parsley
2 TSP finely chopped garlic
4 TSP extra-virgin olive oil
Fine sea salt, to taste
Lemon wedges for garnish.
Instructions
Warm up the oven to 350 degree F.
Cut out 4 pieces of parchment paper of approximately 15 x 20 inches.
In the center of each piece of paper, lay down in this order 1 cup of baby spinach, 1 piece of cod fish, a pinch of salt, 1/2 cup leeks, 1 TBSP parsley, 1/2 TSP garlic, 1 TSP of olive oil, and another pinch of salt.
Gather up all sides of the parchment paper to form a package with the food inside. Tie a piece of kitchen twine around the neck of the package, as low as you can. Trim the excess of paper to 1 inch over the twine.
Place in the oven on the middle rack (or lower) making sure the parchment paper doesn't touch the heating element of the oven.
Bake for 30 minutes.
Remove the papillotes from the oven and place directly on a dinner plate. Open at the table and consume with a drizzle of lemon juice.
Bon appétit!
This AIP / Paleo Oven Baked Cod Fish "En Papillote" with Spinach and Leeks recipe has been shared on the following carnivals:
Fat Tuesday
–
Real Food Wednesday
–
Allergy Free Wednesday
–
Phoenix Helix AIP Recipe Roundtable
–
Natural Family Friday
–
Awesome Life Friday
---
This post contains affiliate links.  Click here to read what it means.