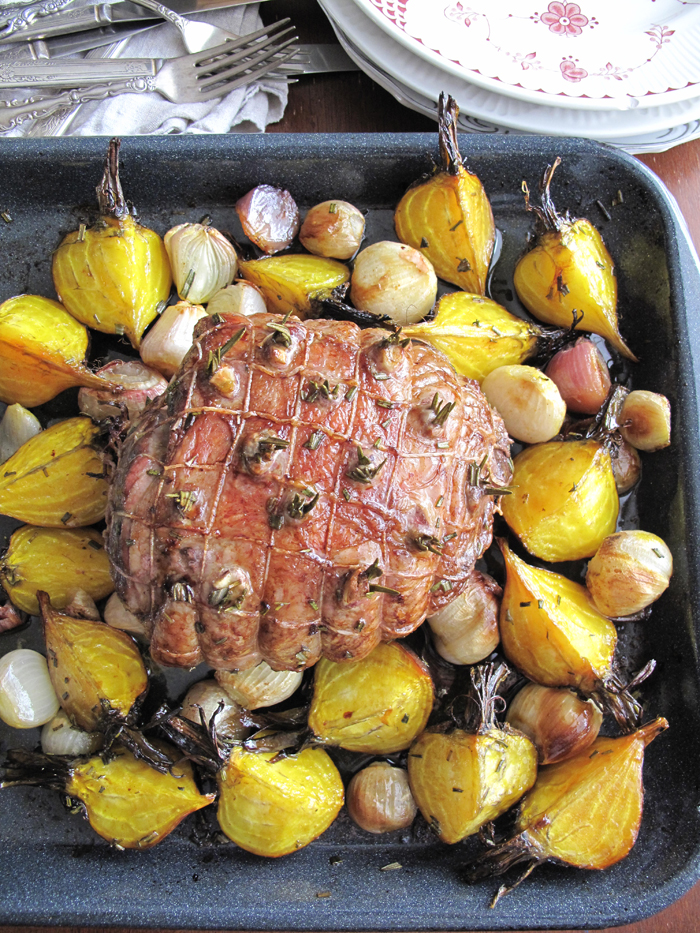 In just a few steps, you will have this succulent paleo lamb roast tucked in the oven, all dressed up with garlic and fragrant fresh rosemary.  In fact, you will be surprised at how easy it is to make this recipe!  I used to be intimidated by a big piece of meat, like a leg of lamb, a buffalo roast, or even a steak!
Bigger pieces of red meat tend to be more pricey than chicken legs or ground turkey!  I definitely can't afford to buy expensive cuts on a regular basis, but it is something I will splurge on for the holidays or a special celebration.
For a long time, I had no idea how to prepare and cook such big pieces of meat.  More often than not, I used to overcook everything!  The meat would be super dry and unpalatable.  Ask my family!  Now those days are over.  I have perfected my technique through trial and error, and I am glad to share my experience with you today.
TRY THIS PALEO LAMB ROAST WITH GOLDEN BEETS & SHALLOTS
FOR YOUR NEXT HOLIDAY CELEBRATION!
Substitutions.  I purposely chose golden beets and shallots to accompany my paleo lamb roast because they are tasty root vegetables, they are packed with nutrients we all need to heal our bodies, and they look so pretty!
I have tried red beets instead of golden beets.  Red beets are also super healthy but they tend to color all the other ingredients with an unnatural blood red tint.  Not very appetizing in my opinion, but you can certainly try it!
I also chose shallots instead of regular onions because they are easier to digest, and they have a milder, more subtle taste than onions.  However you can definitely use regular onions (yellow, white, or red) instead of shallots.  Once again, this dish is a little bit more festive and you might want to go the extra mile and use shallots, even if they are more expensive than onions.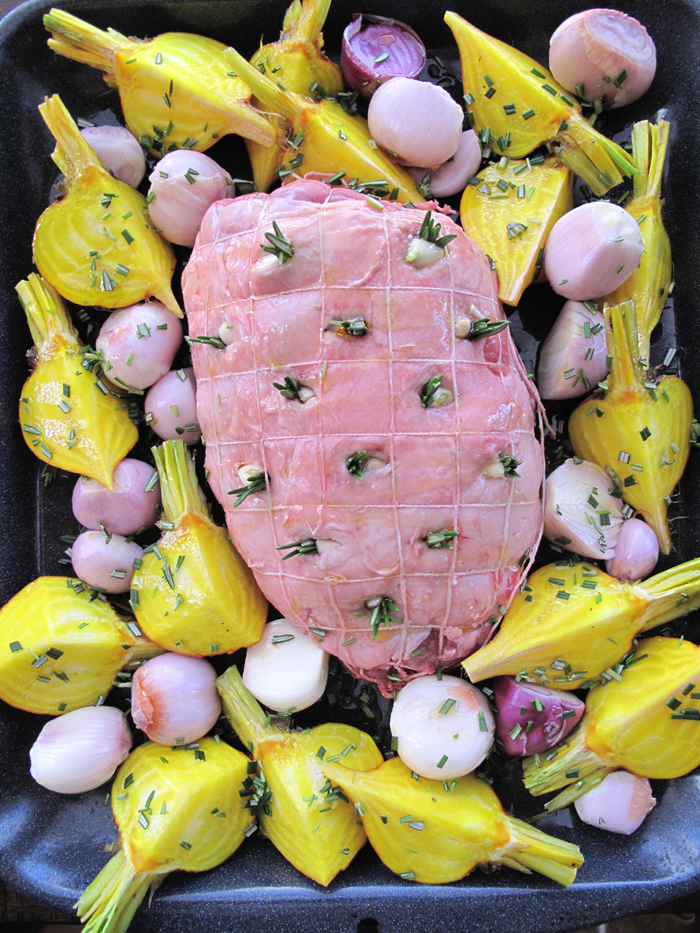 Cooking time. Ah, cooking time.  This is where you can make it or brake it!  I am going to ask you to trust me on this: for a moist, tender, and juicy lamb roast, you MUST cook the meat for a longer time BUT at a lower temperature, no higher than 350 degrees F.  Turn up the heat in the oven to 400 degrees F and you are sure the meat will come out dry and way too hard.  Yes, it takes a little bit more time and some planning ahead, but the results are really worth the effort.
How long you should cook the lamb depends entirely on the weight of the meat.  In this recipe, I used a boneless leg of lamb of 2.40 lbs and the perfect cooking time was 75 minutes.  I placed the dish on the middle rack.  If your roast is bigger or smaller, you will need to adjust the cooking time accordingly.  Here is a great timetable for roasting meats.

AIP / Paleo Lamb Roast with Golden Beets and Shallots
This recipe is 100% autoimmune protocol compliant.
Cuisine:
Paleo Autoimmune Protocol
Ingredients
Boneless leg of lamb (2 to 2 1/2 lbs.)
3 TBSP extra virgin olive oil, divided
4 cloves of garlic, each clove cut lengthwise into 3 pieces
3 sprigs of fresh rosemary (12 one-inch long sections for the openings in the meat, the rest chopped)
4 big golden beets, quartered
3/4 lb. shallots
1 TSP of sea salt (or more to taste)
Instructions
Preheat the oven to 350 degrees F.
Drizzle 2 TBSP of olive on a broiler pan (or any other baking dish).
Place the lamb in the center. With a sharp pairing knife, cut one dozen small openings all over the meat.
Insert 1 piece of garlic and 1 piece of rosemary into each opening.
Arrange the beets and shallots around the meat.
Season the meat and vegetables with another TBSP of olive oil, salt, and chopped rosemary.
Cook in the oven for 75 minutes, basting the meat and vegetables occasionally.
Adjust the cooking time according to the weight of the lamb roast.
Bon appétit!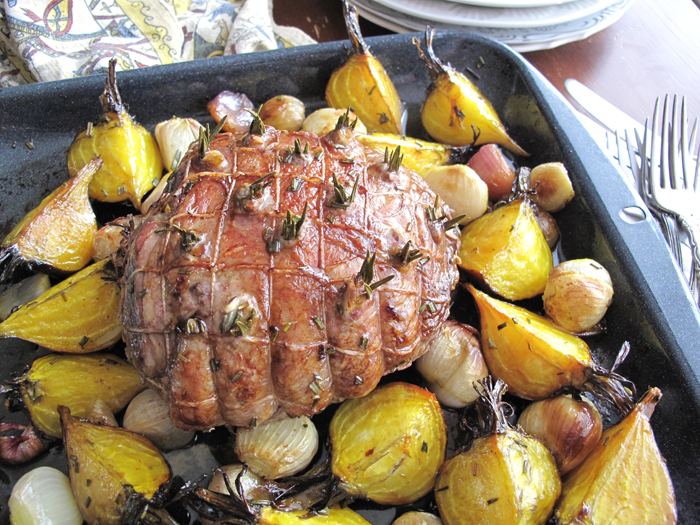 This paleo lamb roast recipe has been shared on the following link parties:
Fat Tuesday
–
Real Food Wednesday
–
Phoenix Helix AIP Recipe Roundtable
–
Awesome Life Friday
–
Natural Family Friday
–
---