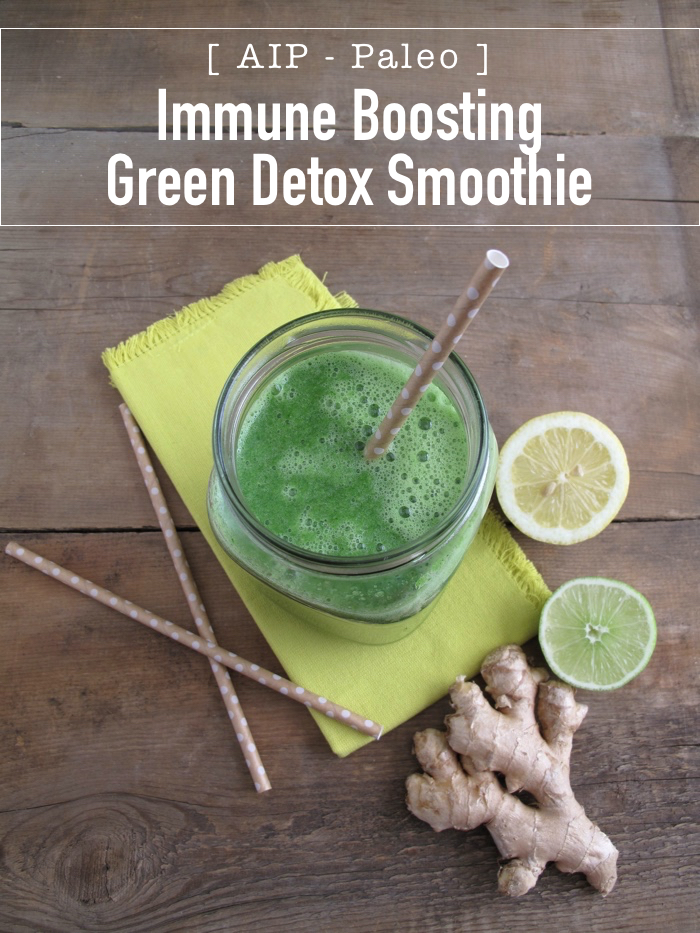 Get ready to have your socks knocked off with this immune boosting green detox smoothie! Packed with flavor and nutrients, this powerhouse drink is pure energy!
I got the inspiration to create this particular recipe from a recent trip in Europe.  More precisely, I was in London, walking on Piccadily Street.  It was early afternoon and I hadn't had my lunch yet so I was running low on energy.  I was desperately looking for something healthy to eat (traveling on AIP can be tricky!) when I spotted this food stall ahead of me on the sidewalk.  They were selling freshly squeezed juices and my mouth started watering.  I ordered some kind of green juice and watched closely while this young guy was dropping pieces of this and that in the juicer.  What came out of the machine was a.ma.zing!  It was bursting with flavors and raw goodness!
I recreated the recipe today with a few alterations for your personal enjoyment!  Let me know what you think in the comments; isn't this the best smoothie you have had in a long time?
Substitutions: if you don't like kale, you can replace it with another leafy green, like chard, or even arugula salad!
Tip: you can wash, peel, and chop your ingredients in advance and store them in small individual containers or plastic bags in the bottom drawer of your refrigerator.
* * * * *
AIP / Paleo
Immune Boosting Green Detox Smoothie
So Refreshing!
This smoothie will knock your socks off!
* * * * *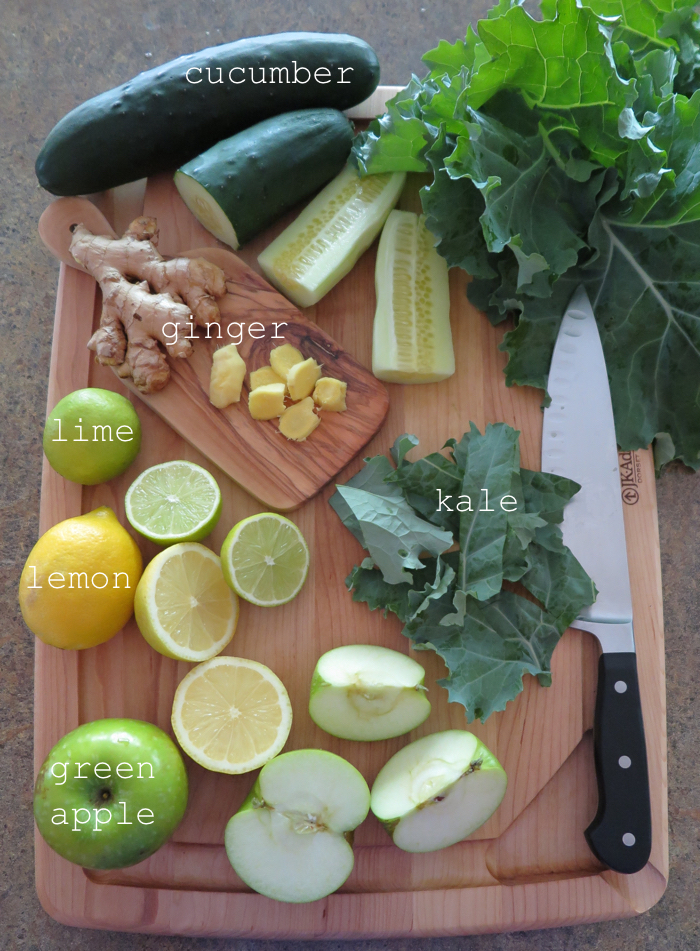 AIP / Paleo Immune Boosting Green Detox Smoothie
This recipe is 100% autoimmune protocol compliant.
Cuisine:
Paleo Autoimmune Protocol
Ingredients
1 medium green apple (Granny Smith), seeded
1/2 cucumber, peeled (approx. 1 cup or 145 g or 5 oz)
Juice of 1/2 lime
Juice of 1/2 lemon
1 TBSP fresh ginger, chopped (approx. 7 - 8 g)
1 cup kale, chopped and packed (approx. 18 g or 7 oz)
1 cup coconut water
1 TBSP unflavored gelatin powder (optional)
Instructions
Place all the ingredients in a high speed blender and mix on high for 20 seconds, until all the ingredients are well blended.
Serve and drink immediately with a cute straw!
Bon appétit!
Notes
If you are like me and enjoy your smoothie really cold, keep all the ingredients in the refrigerator!
---
The recipe for this Immune Boosting Green Detox Smoothie has been shared on: Fat Tuesday – Phoenix Helix Paleo AIP Recipe Roundtable – Allergy Free Wednesdays