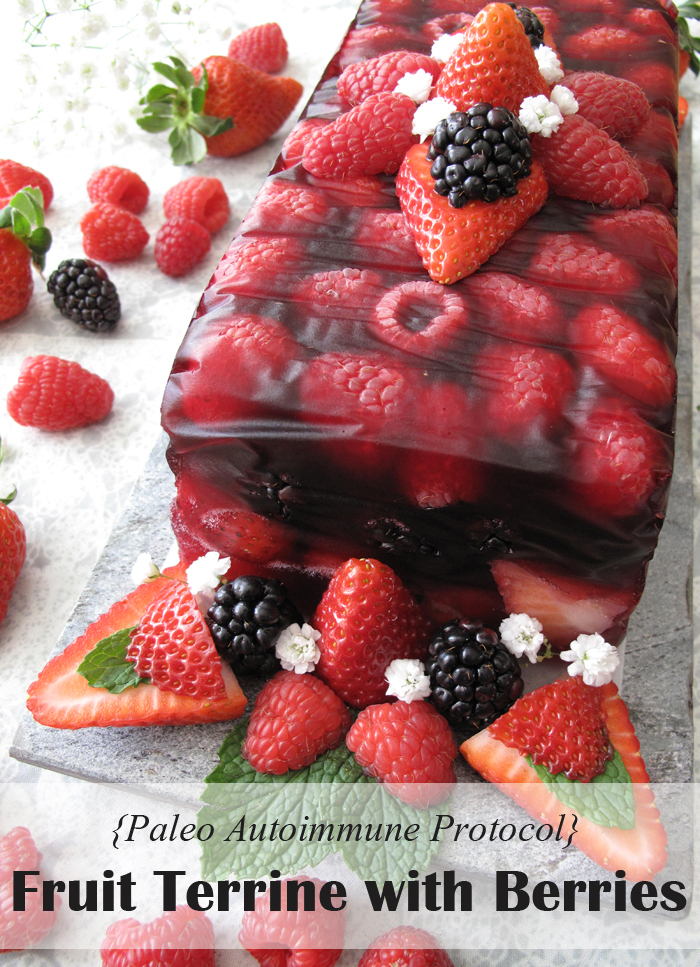 This colorful and healthy no-bake fruit terrine is my go-to "cake" for birthdays, celebrations, and tea time parties!  I absolutely love preparing paleo desserts with fresh fruits.  Why? First, I am not much of a baker in the kitchen. I don't have the special sense that pastry chefs seem to possess, this understanding of how the flour and baking ingredients mix together to form a light and tasty baked treat.  The task is even more difficult with the autoimmune protocol because we can't use traditional wheat flour, yeast, or eggs!
Second, I simply love to use fruits to create delicious treats!  I feel much more aligned with the essence of paleo cooking when I eat a fruit-based dessert.  This doesn't mean that I never eat cake!  But I try to keep my consumption of baked sweets to a minimum.  I don't do very well if I eat too many sugary baked goods, even if they are prepared with AIP approved ingredients!
This fruit terrine is really quick and easy to prepare (under 20 minutes prep time) and there is no baking involved!
AIP – PALEO
FRUIT TERRINE WITH MIXED BERRIES
NO-BAKE
GLUTEN-FREE / DAIRY-FREE / NUT-FREE / EGG-FREE
UNDER 20 MINUTES PREP TIME!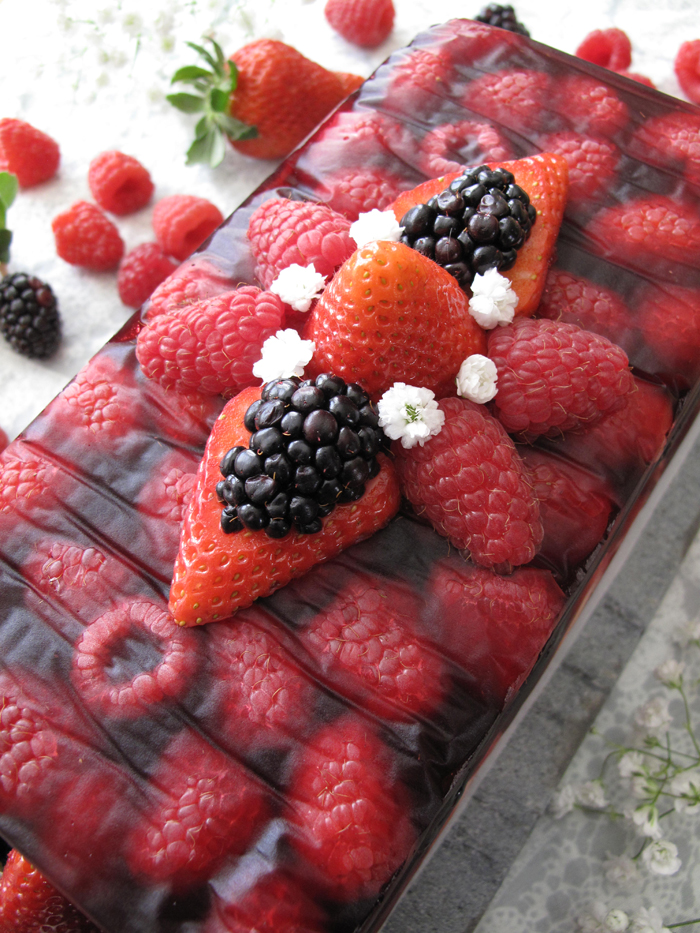 Use fresh fruits again to decorate the terrine.  I used strawberries, raspberries, and blackberries cut in half for easy positioning.  Add a few leaves of fresh green mint and some flowers for a little festive touch!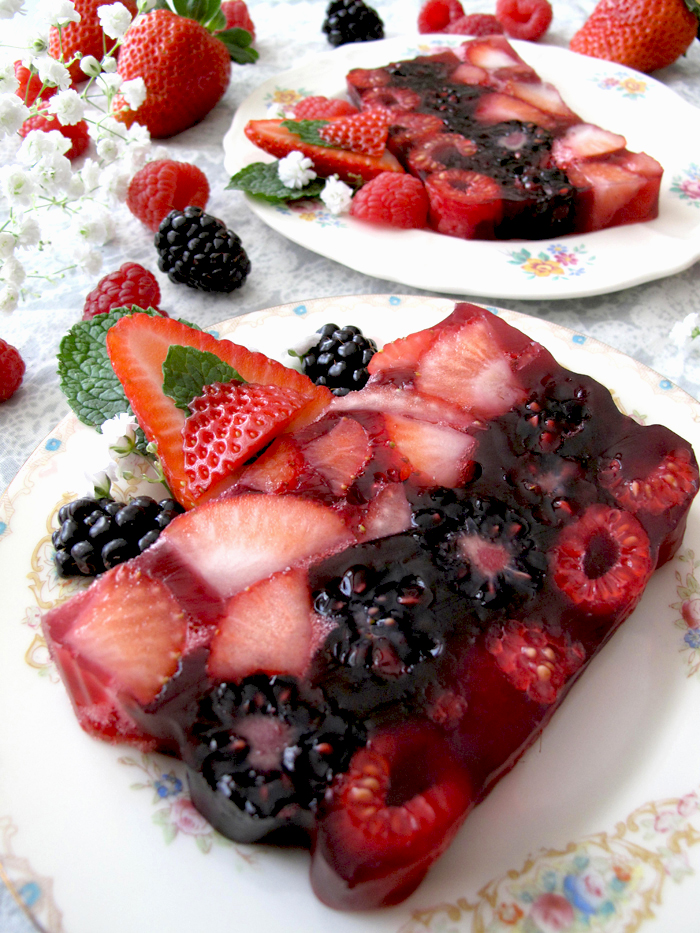 How to serve?  Serve chilled directly out of the fridge.  With a sharp kitchen knife, cut thin slices and serve on a pretty plate with a little garnish.  Enjoy!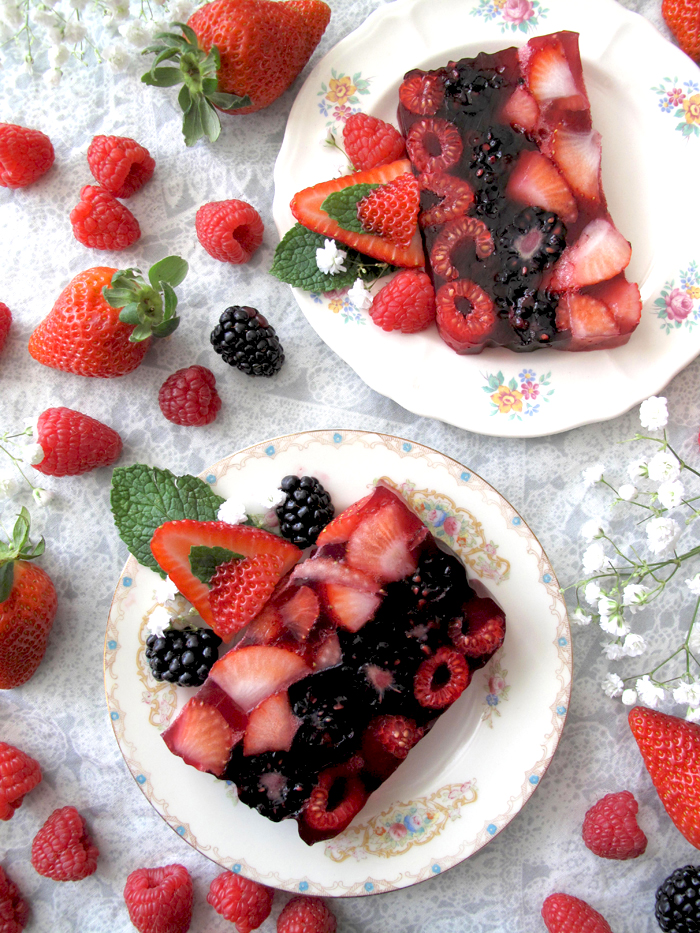 AIP / Paleo Fruit Terrine with Berries - No Bake Valentine Dessert
This recipe is 100% autoimmune protocol compliant.
Cuisine:
Paleo Autoimmune Protocol
Instructions
Line bottom and sides of loaf pan with parchment paper, leaving an extra 1/2 inch hanging over the sides for easy lifting at the end.
Fill up the lined pan with fruits in this order: one layer of raspberries, one layer of blackberries, one final layer of strawberries. Set aside.
Prepare the gelatin mixture by boiling 2 1/2 cups of water in a small pot.
Remove from the heat and add hibiscus flowers. Cover and infuse for 5 minutes.
Drain the flowers with a small strainer and return the liquid to the pot.
Add honey, lemon juice (or ginger juice), and mix well with a whisk.
Sprinkle the gelatin over the liquid's surface and wait for the gelatin to soften and dissolve. After a few minutes, mix with a whisk, making sure that the gelatin is well dissolved without any clumps.
Pour the liquid over the fruits until they are completely covered.
Refrigerate for at least 6 hours. Overnight is better.
To unmold the terrine, gently pull on the parchment paper to "unglue" the gelatin from the sides and lift up gently.
Place the terrine up-side down on a rectangular serving platter, strawberries at the bottom.
Decorate with fresh fruits, mint leaves and a few flowers.
Bon appétit!
This AIP / Paleo Fruit Terrine with Mixed Berries recipe has been shared on the following link parties:
Fat Tuesday
–
Allergy Free Wednesday
–
Real Food Wednesday
–
Phoenix Helix AIP Recipe Roundtable
–
Awesome Life Friday
–
Natural Family Friday
.
---
This post contains affiliate links.  Click here to read what it means.