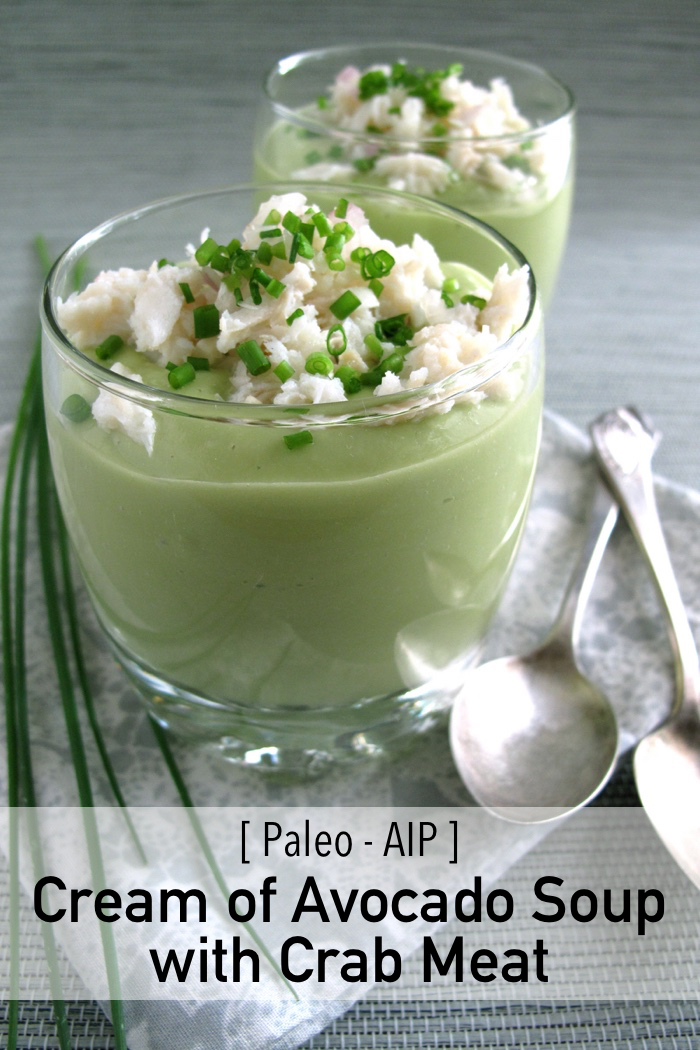 Avocados have become an important part of my diet since I started the autoimmune protocol.  I used to think that they would make me fat!  Of course I didn't know much about nutrient-density, healthy fats, and eating right.  Did you know that avocado is a fruit, not a vegetable?
Avocados are incredibly nutritious and contain a wide variety of nutrients, vitamins, and minerals. They also contain a lot of monounsaturated fatty acids (good for your heart), and are loaded with fibers.  In addition to being a superfood, avocados are delicious and go well with all sorts of food. They have a rich, creamy texture that blends well with various other ingredients.  I took advantage of their creaminess in this delicious recipe.
You can prepare this cream of avocado soup in a snap.  There is no cooking required and all the ingredients are easy to find in every grocery store.  Drop all the ingredients (except the crab meat) in a high speed blender and whizz a few times.  Chill the cream of avocado for at least an hour in the refrigerator before serving.  The soup will keep well in the fridge for a couple of days.
Substitutions? You can use shallots or red onions indiscriminately, and replace crab meat with cooked shrimps.
This recipe has been originally posted on the blog Autoimmune Paleo.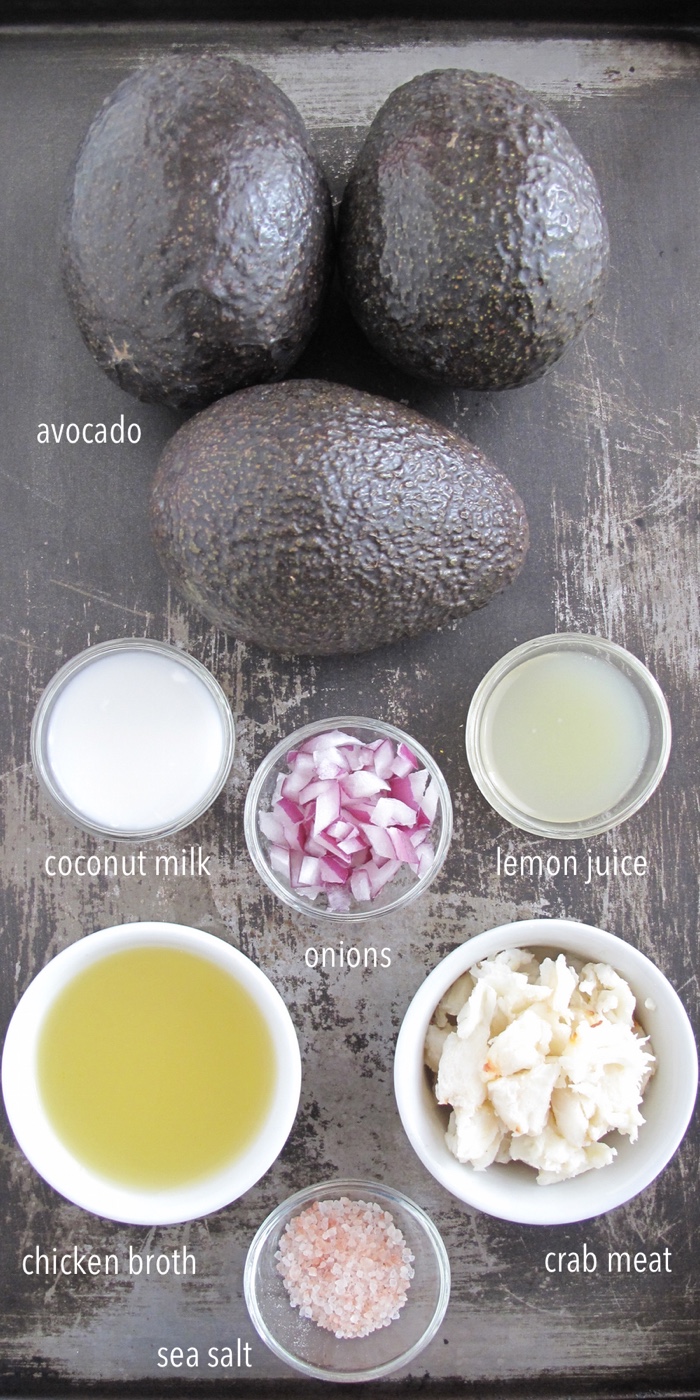 AIP / Paleo Cream of Avocado Soup with Crab Meat
This recipe is 100% compliant with the strict elimination phase of the Paleo Autoimmune Protocol (AIP).
Author:
Sophie Van Tiggelen
Cuisine:
Paleo Autoimmune Protocol
Ingredients
3 ripe avocados
2 tablespoons minced shallots or red onions
1½ tablespoons lemon juice
2 tablespoons full fat coconut cream (from a refrigerated can of coconut milk)
1½ cups chicken bone broth
¼ teaspoon sea salt, or more to taste
1 can crab meat (6 oz/170 g), drained
1 tablespoon minced chives for garnish
Instructions
In a high speed blender, put the avocado pulp, shallots, lemon juice, coconut cream, chicken broth, and sea salt.
Mix on high for 30 seconds, until the mixture becomes smooth and creamy.
Chill for at least 1 hour in the refrigerator.
Serve the cream of avocado chilled with a portion of crab meat on top and some chives for the garnish.
Bon appétit!