Have you met Tara Perillo from the blog Paleo Cajun Lady?  I met Tara last year at Paleo FX and she is a sweet lady in a spitfire costume! Her new cookbook, AIP Paleo Cajun, is just like her, too! A delightful blend of sweetness and spice. Up until now, I was unfamiliar with traditional cajun food. Sure, I went to New Orleans with my husband  years ago and we had some café au lait at Café du Monde.  This was way before I started the autoimmune protocol.  Her cookbook allowed me to widen my culinary horizon!
Who is Tara, the Cajun Lady?  Tara was diagnosed with lupus and plaque psoriasis at the end of 2013.  After a brief stint with a gluten free diet, she dove into the autoimmune protocol when Sarah Ballantyne published her book The paleo Approach.  With the autoimmune protocol,  Tara says, she was able to "knock chronic inflammation on it's butt!" Even better, Tara has achieved remission and recently blogged about it!  She had a hard time though, with the thought that she would never be able to enjoy her favorite Cajun foods from her childhood, ever again.  That is why she created this cookbook featuring AIP recipes with a taste from her home, Louisiana.
If you are looking for something different and tasty at the same time, I would definitely recommend Tara's new cookbook,  AIP Paleo Cajun.  With authentic bayou cuisine recipes like shrimp and okra gumbo, creamy beef mushroom sauce, chicken fricassee, shrimp boil, crabmeat stuffed mushroom casserole, crawfish étouffée, and cajun dirty rice, there is enough in this cookbook to wake up your taste buds!
Because fall is upon us, I was in the mood for something hearty and sweet.  I selected the perfect dish: sweet potato coconut crisp.  Heaven!  It is supposed to be a side dish, but it tasted more like a dessert to me!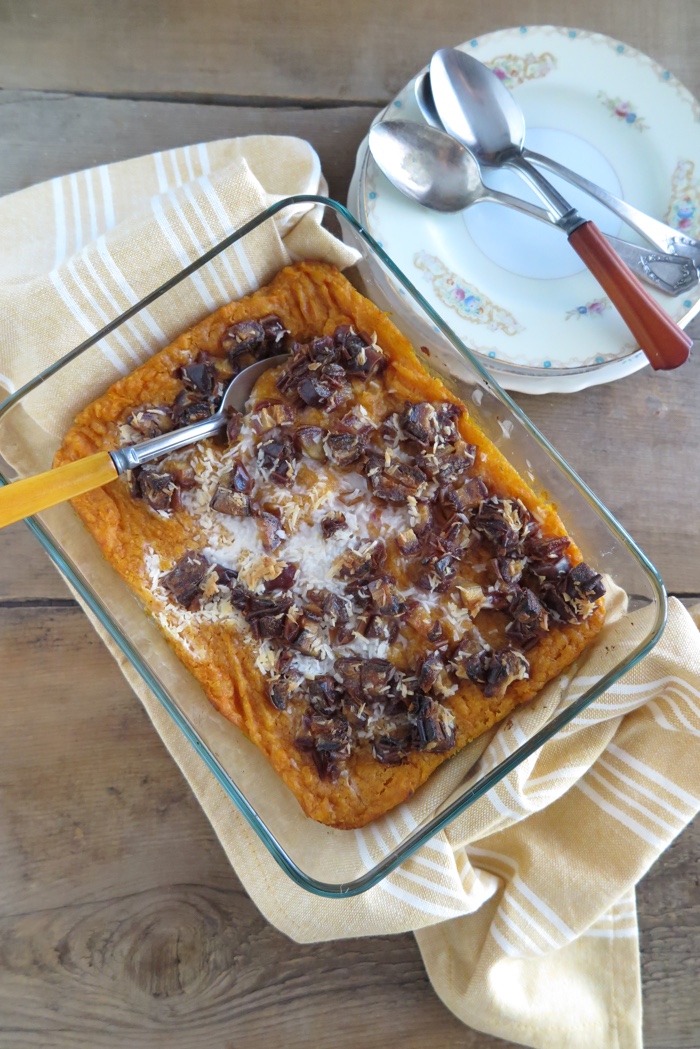 I also made made the red onion and lime chicken.  The flavors were fantastic and the dish was so refreshing!  Definitely a big hit at home with the family.
5 fun facts about Tara!
She used to be a pageant girl. One of the titles she held was "Little Miss Cajun Queen". 

Tara spent one year as a college professor, before deciding it was not the career for her!

She studied various forms of martial arts and combat training for many years.
Tara has been in the health and fitness field for 30 years!
She is a certified herbalist, homeopath and acupuncturist.
Tara's #1 tip for AIP beginners!
Just stick with it.




Healing is not going to happen overnight.




But, it does get easier the longer you're on it.




And, when you start to feel better,


you'll be happy you stuck with it.
Giveaway is over.  The winner is comment #21: Eva!  Congratulations 🙂
It will be very easy for you to enter this giveaway!  Subscribe to my newsletter and leave a comment down below that you have done so.  And if you have the time, let me know if you liked this cookbook review!  That's it!  The winner will be chosen randomly and will be announced on Tuesday, October 6, 2015.  The winner will receive a digital copy of the AIP Paleo Cajun cookbook by Tara Perillo.  Contest open worldwide.  Good luck everyone!
Disclaimer: I was given a review copy of this book as well as a copy to give away, with no obligation. I'm 100% honest in my opinions. If I didn't love it, I wouldn't have written the review, nor hosted the giveaway.