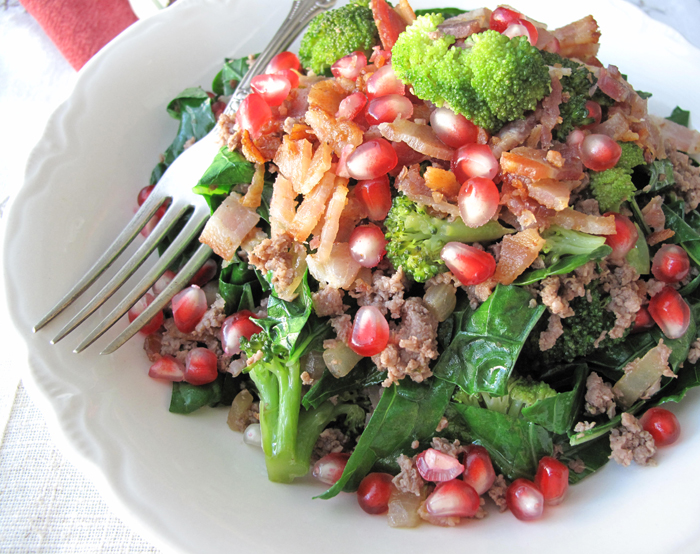 This bison and bacon breakfast skillet with pomegranate seeds is a delight for the eyes and the perfect paleo breakfast to fuel up for the day ahead of you.  I find that changing the way you eat breakfast is one of the biggest challenge of the paleo diet.  No more processed, sugary foods like bagels, waffles and cereals!  And if you are following the autoimmune protocol, no more eggs and nuts!  That is why you need to have a game plan in place for when you wake up in the morning to make sure you won't revert to your old habits.  My 2 no-fail strategies for success are:
plan your recipe ahead
have all your ingredients ready
The day before, I will run a quick check in the fridge to see what is available and plan my breakfast ahead of time.  This simple step takes the thinking out of the cooking in the morning!
Here is a quick look at the ingredients you will need for this recipe, in addition to the ground bison.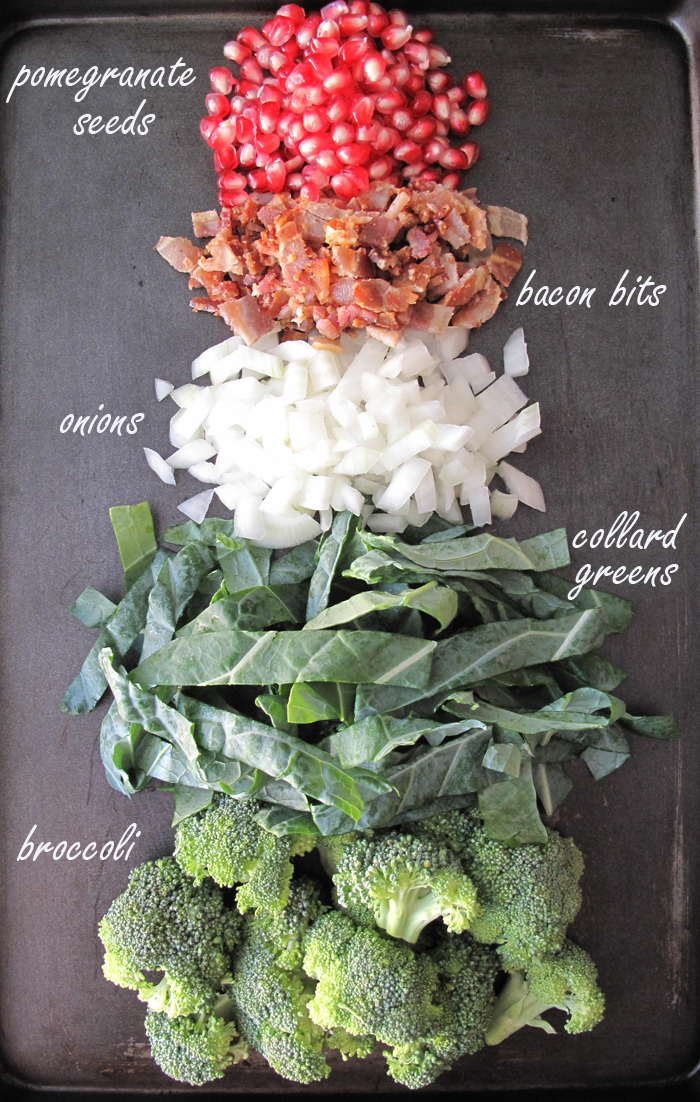 If you want to be super efficient and serve this breakfast skillet in a record time on Monday morning, I would recommend that you prepare all of these ingredients in advance during the week-end.
At the beginning of the week, my fridge is always loaded up with ziploc bags full of chopped vegetables like chard, collard greens, lettuce, broccoli, onions, yams, and sweet potatoes.  I also have small glass containers with bacon bits, chopped fresh herbs from our garden, shredded carrots, olives. Chopped vegetables, herbs and bacon will easily stay fresh in your fridge for 4-5 days.
This is my secret weapon to stay on track and eat an awesome paleo breakfast every single day of the week.  Skillets are incredibly versatile and the combinations are endless.  Check out this post from Mickey Trescott for some additional inspiration.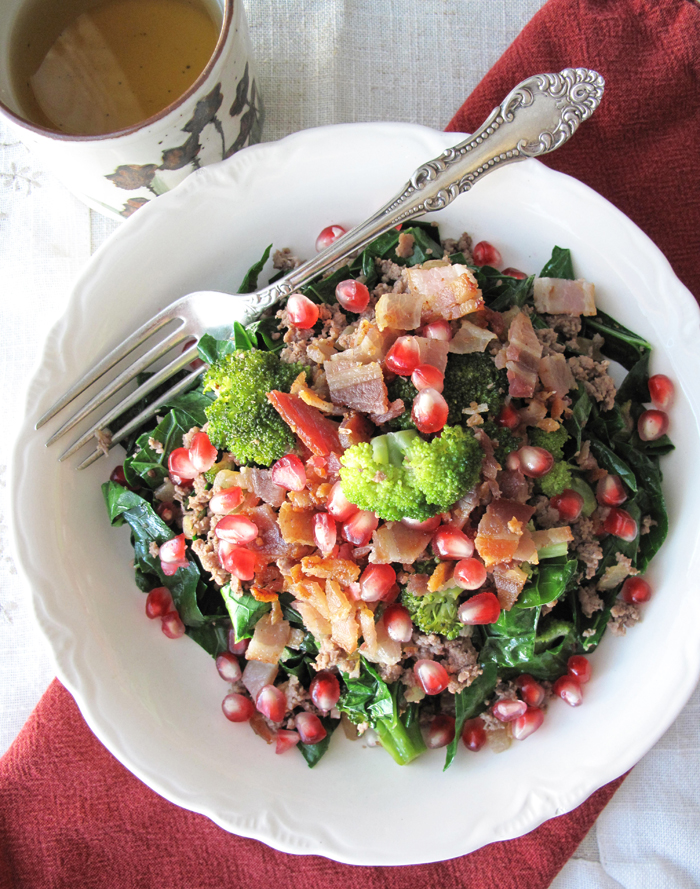 This particular breakfast skillet earned the seal of approval from my teenage girls.  It is quite an accomplishment and a guarantee that this dish is seriously delicious!  I think that they particularly liked the burst of flavor from the pomegranate seeds.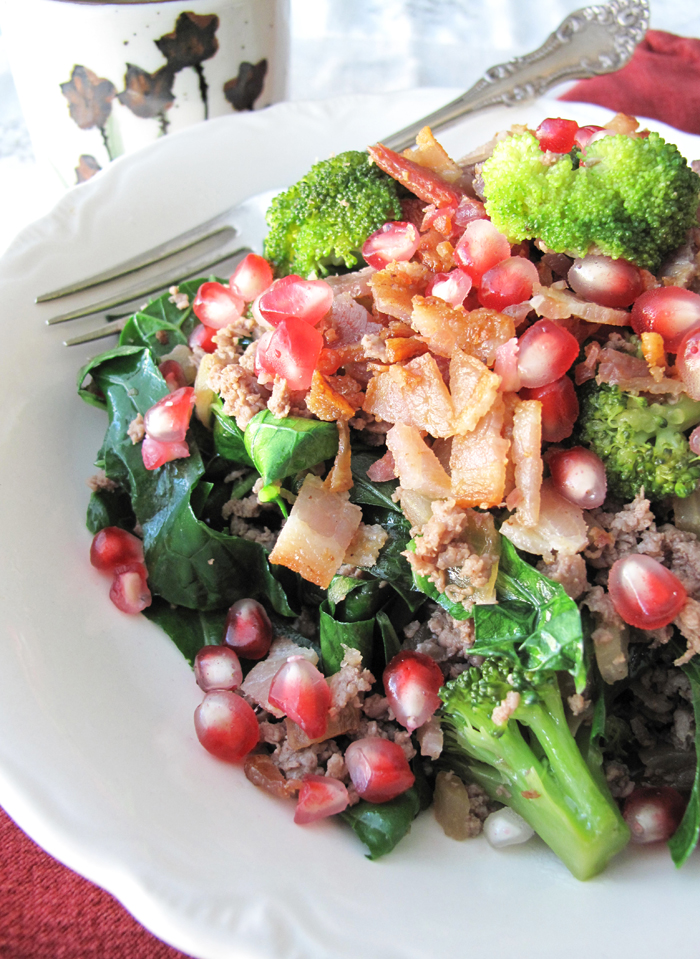 Tips & Tricks
Before I let you go, here is a little trick for you!  The recipe will give you 5 servings.  If you decide to reheat this dish later, add some coconut milk in the pan to bring back a little bit of moisture to the mix (a dish that is reheated always tends to be a little bit more dry).  I am using coconut milk in cans for cooking, unsweetened and undiluted.

AIP / Bison Breakfast Skillet with Bacon, Broccoli, Collard Greens & Pomegranate Seeds
End of the summer breakfast skillet with a burst of flavor!
Cuisine:
Autoimmune Protocol - AIP
Ingredients
12" diameter skillet or any frying pan
1 lb ground bison
1 generous cup of chopped yellow onions
4 cups bite size broccoli florets
4 cups (tightly packed) sliced collard greens
2 TBSP coconut oil
1 TSP salt
For the garnish: 5 TBSP bacon bits & 5 TBSP pomegranate seeds
Instructions
Cook your meat thoroughly on medium heat with 1 TBSP of coconut oil. Salt to taste. Put aside.
Add another TBSP of coconut oil to cook the onions until they turn golden (3-4 minutes).
Add the broccoli florets with 1/2 cup of water.
Cover and simmer for about 7-10 minutes, stirring occasionally, until the broccoli is al dente (cooked but still firm).
Make sure the vegetables are still moist and don't stick to the pan. Add more water if needed.
Throw the meat back into the skillet with the collard greens on top.
Mix all the ingredients, cover, and simmer for another 3 minutes.
Serve the preparation in bowls with the garnish (1 TBSP bacon bits and 1 TBSP pomegranate seeds for each plate).
Bon appétit!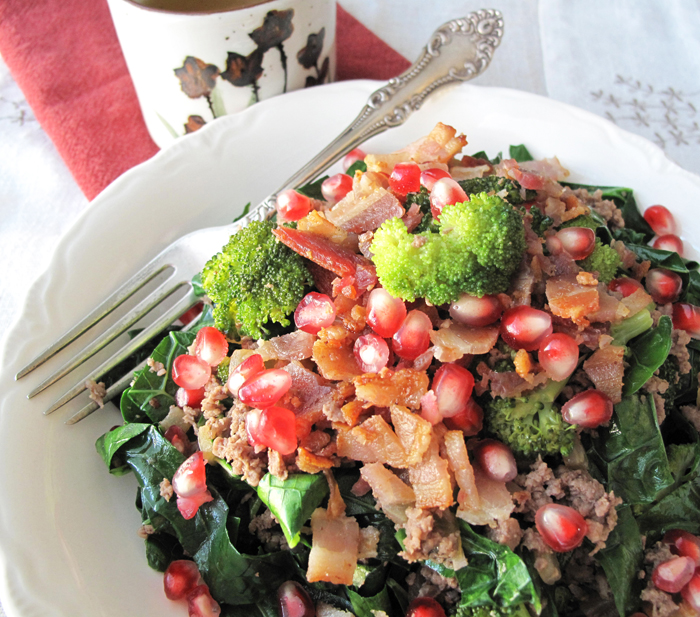 This post has been featured on
Real Food Wednesday
and
Phoenix Helix AIP roundtable
.  Check them out for other delicious AIP recipes!