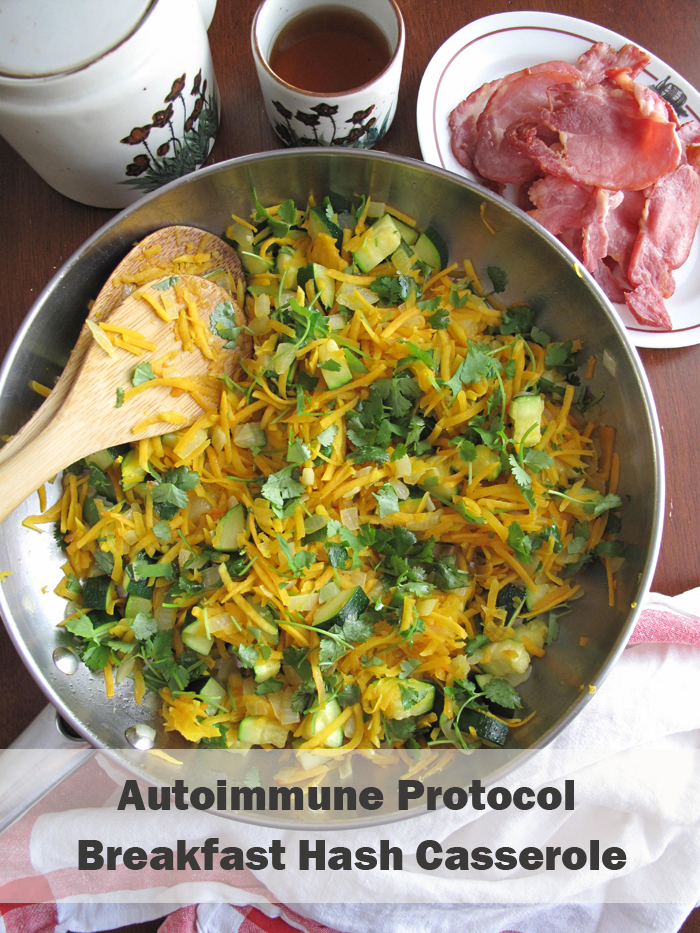 This is a quick and easy paleo breakfast hash casserole for those mornings when you don't have much time to cook!  The first rule for a pleasant and uneventful weekday breakfast is to have some food ready in advance!  Some people will spend their Sunday "batch cooking" large quantities of food that they can take out of the fridge during the week and reheat as needed.  The meal is already prepared and you only have to warm it up. That is one way to do it.
Another option is to prepare large quantities of "fresh ingredients" and quickly put them together to cook a fresh meal in a record time.  I prefer this second option.
A typical food prep of ingredients would look like this for me:
butternut squash, shredded (I have a neat tutorial on how to cut and peel butternut squash!) or a couple of big sweet potatoes, shredded as well
chopped kale, collard greens, or chard
chopped red cabbage
cauliflower, cut into smaller pieces
broccoli, cut into smaller pieces
chopped onions
diced zucchini and yellow squash
chopped fresh herbs (parsley, cilantro, chives)
chopped green onions
I keep all these vegetables ready in big resealable plastic bags
in the bottom drawer of my refrigerator.  They will stay fresh up to 4-5 days without any problem.
During the week, I tap into this reserve of fresh vegetables and herbs to prepare my meals more quickly and more efficiently.  I created this AIP breakfast hash casserole one morning by mixing random vegetables together, and I really liked the way it turned out!  I love the vibrant colors and it feels like a burst of sunshine and spring green on my plate.
With only 3 ingredients (that you will have prepared in advance), this recipe is really quick, easy, and un-involved
AUTOIMMUNE PROTOCOL FRIENDLY
PALEO BREAKFAST HASH CASSEROLE
ONLY 3 INGREDIENTS
QUICK AND EASY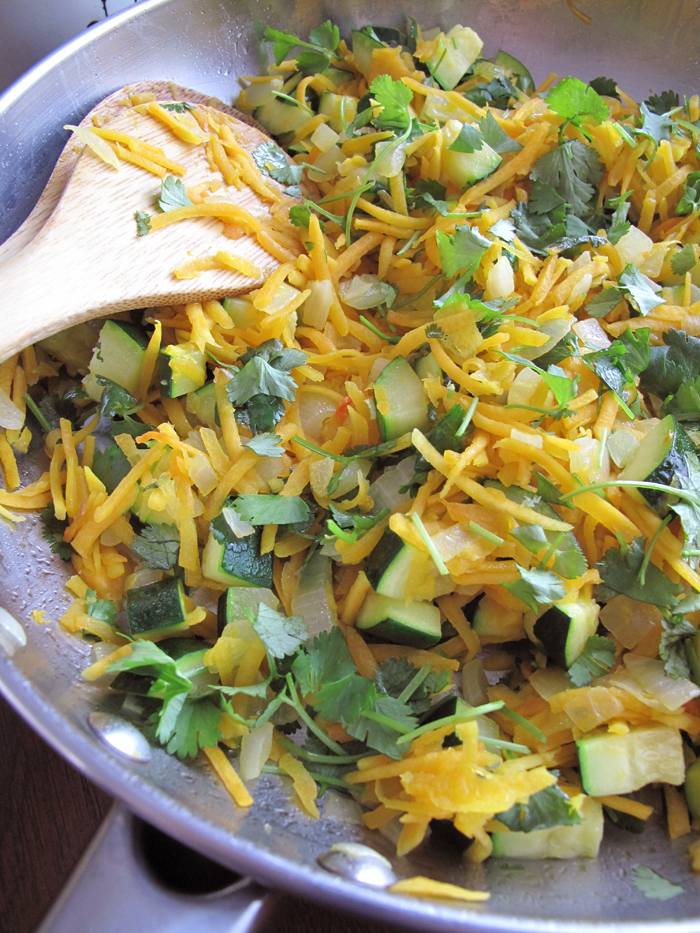 Here are a few other articles of interest from AIP bloggers about batch cooking and saving time in the kitchen!
♥  How To Spend Less Time in the Kitchen (An AIP Batch Cooking Guide)  by Samantha at Sweet Potatoes and Social Change.
♥ Autoimmune-Paleo Batch-Cook Session on YouTube by Mickey Trescott.
♥ Paleo Batch Cooking: How I Make 12+ Meals in 2 Hours by Lauren at Empowered Sustenance.

AIP / Paleo Breakfast Hash Casserole with Butternut Squash & Cilantro
This recipe is 100% autoimmune protocol compliant. This recipe will take a minimum of time to prepare if you have all the ingredients ready in advance!
Cuisine:
Paleo Autoimmune Protocol
Ingredients
2 TBSP extra-virgin olive oil
1 onion, chopped (approx. 1 1/2 cup)
1 zucchini, diced (approx. 2 cups)
3 cups butternut squash, shredded
2 TSP fine sea salt, or more to taste
1 handful of fresh cilantro, roughly chopped, for garnish
Instructions
On medium heat, warm up the olive oil in a large skillet.
Add the onions and cook until translucent (about 10 minutes), stirring frequently.
Reduce the heat to medium-low, add zucchini, butternut squash, and salt. Mix all the ingredients together, cover, and simmer for 10 more minutes.
Adjust salt to taste if needed.
Add the fresh cilantro right before serving.
Serve with the protein of your choice.
Bon appétit!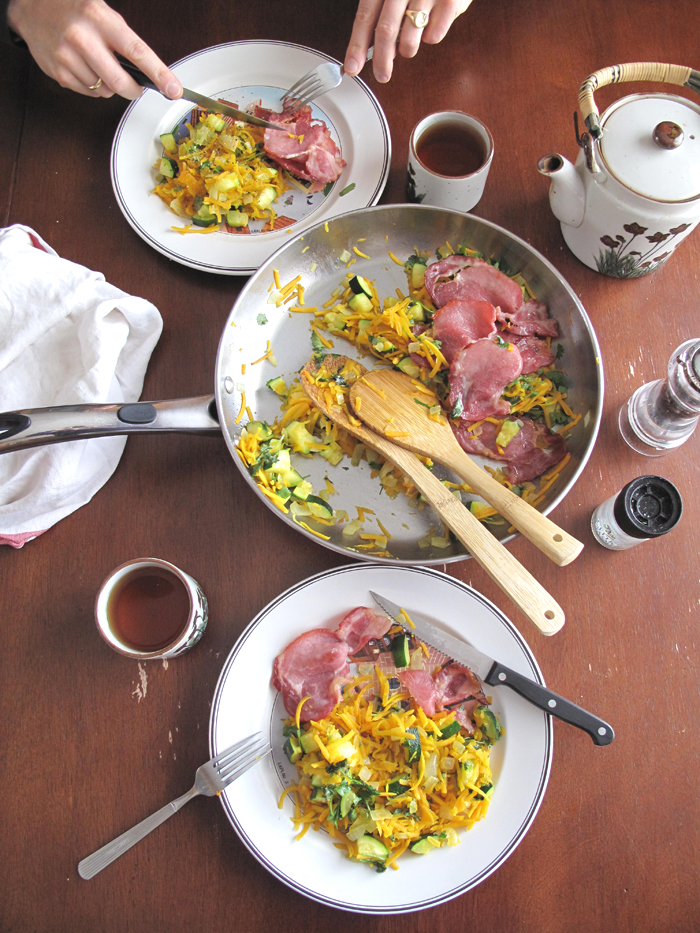 This recipe for a Paleo Breakfast Hash Casserole has been shared on these link parties: Fat Tuesday – Real Food Wednesday – Paleo AIP Recipe Roundtable – Allergy Free Wednesday – Natural Family Friday – Awesome Life Friday
---
This post contains affiliate links.  Click here to read what it means.