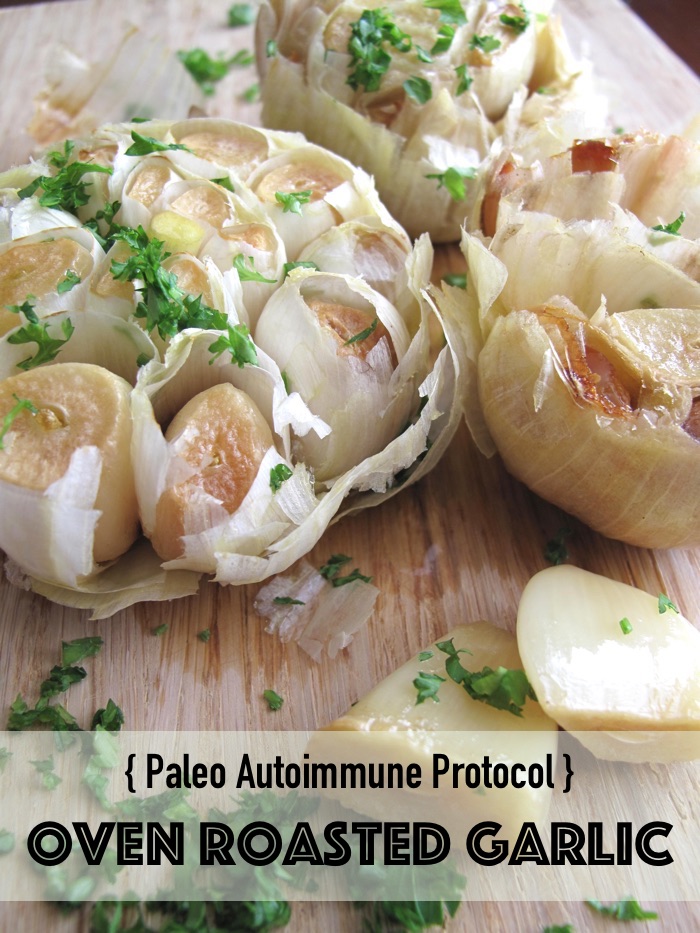 I recently read this article about natural and powerful antibiotics that do not require a prescription.  Garlic was number one on the list, along with colloidal silver, oregano oil, echinacea, and manuka honey.  It is a well known fact that overuse of antibiotics leads to digestive disfunction and ultimately an impaired immune system.  If there is a way to prevent or get rid of an infection naturally, I am all for it!
It is really easy to include garlic and oregano in your AIP healing diet. I use fresh chopped oregano directly on my salads, cooked vegetables, and meat.  Garlic is a little bit more tricky because of its pungent smell and strong taste.  Eat a little tiny piece of raw garlic and you will have a garlicky breath for hours!  But did you know that if you cook garlic, it will become almost sweet and buttery, and much easier to digest?  You can even use it as a spread.
I love to roast whole heads of garlic in the oven.  It is so easy with almost no preparation time at all! Cut off the top, drizzle some olive oil, bake, sprinkle some fresh herbs, and you've got a delicious and super healthy side dish that you can serve with any meal.  And it is kind of fun to pop the cloves of garlic out of their little pockets!
AIP / Paleo Oven Roasted Heads of Garlic with Olive Oil
This recipe is 100% autoimmune protocol compliant.
Cuisine:
Paleo Autoimmune Protocol
Instructions
Preheat the oven to 350 degrees F.
Using a sharp knife, cut of the top of each bulb (approx. 1/4 inch), exposing each cloves of garlic.
Place the heads of garlic in a small dish, cut side facing up.
Drizzle each head of garlic with 1/2 TBSP of olive oil.
Cover with aluminum foil and bake for 30 minutes.
Remove the aluminum foil and bake for another 15 minutes, or until the garlic is lightly brown and tender.
Serve hot with your regular meal.
Bon appétit!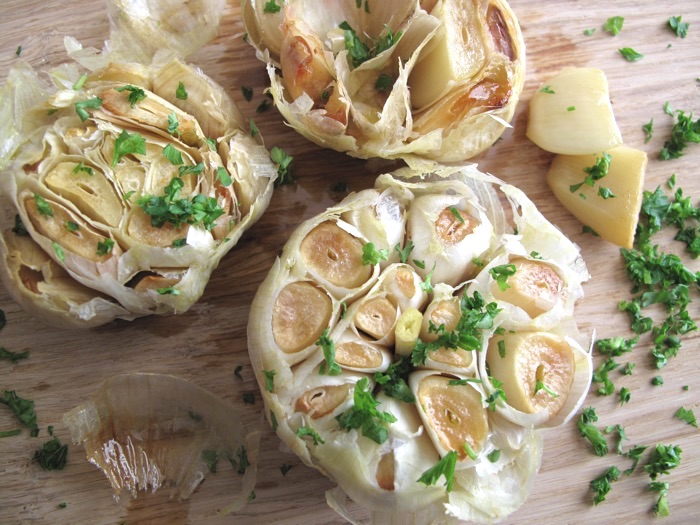 This recipe for
oven roasted garlic
has been shared on the following blog carnivals:
Fat Tuesday
–
Allergy Free Wednesday
–
Paleo AIP Recipe Roundtable
–
---
This post contains affiliate links.  Click here to read what it means.