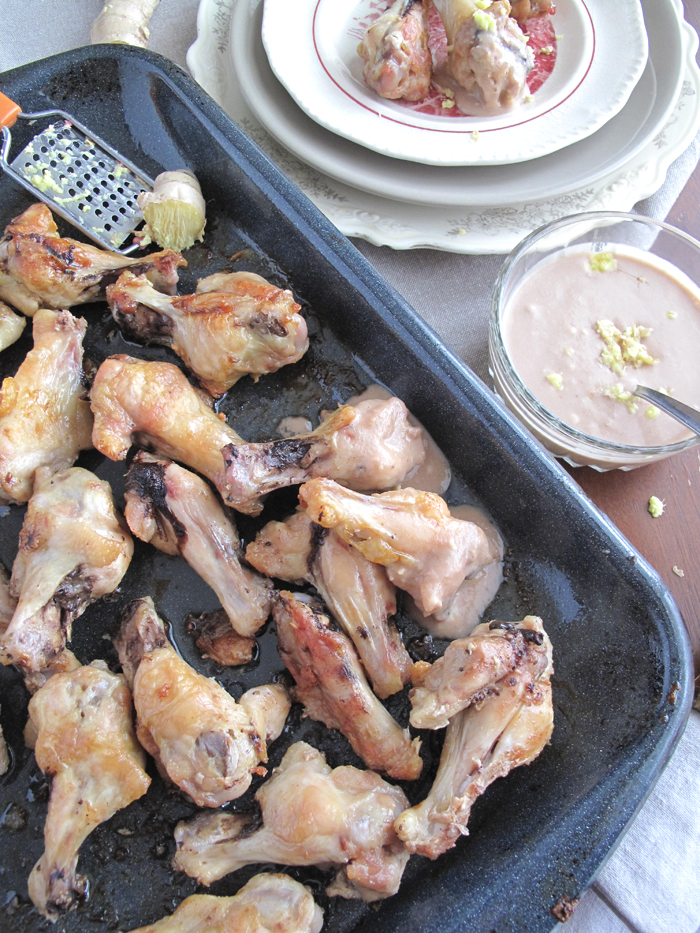 I like my oven roasted chicken wings and drumettes crispy on the outside and juicy on the inside.  I find that it is not so much what I add to the meat that will make a big difference, but the way I cook them.  For the longest time, I only used glass baking dishes and the results were not finger-licking great.  Until I tried to roast the chicken wings directly in the bottom tray of my oven broiler pan.  Shazam!  They came out of the oven exactly the way I like them: nicely browned and crunchy all over with a tender meat.  Yum!
Oven roasted chicken wings
with ginger sauce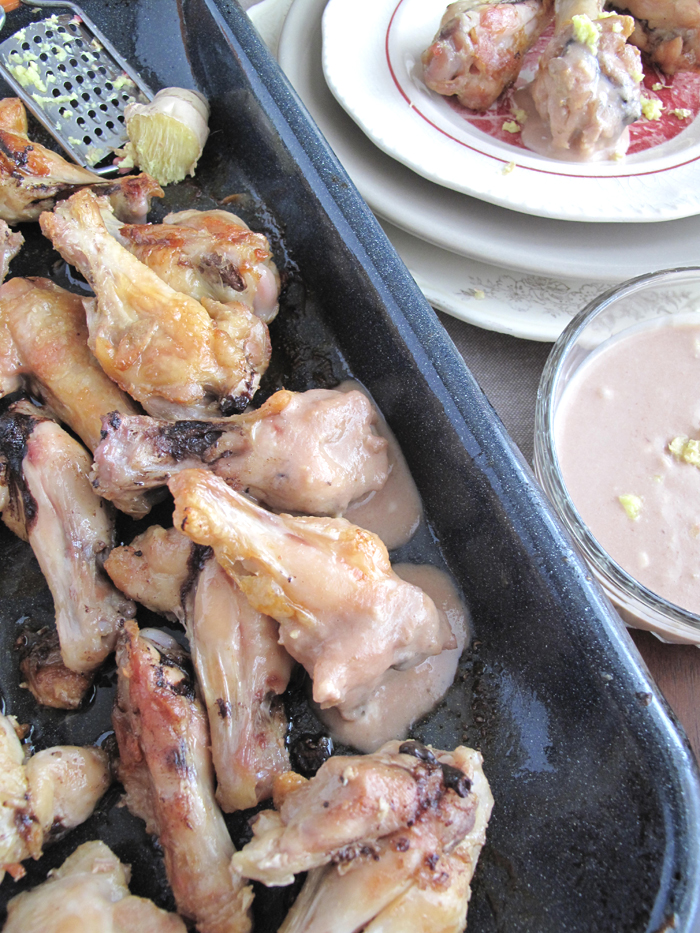 Make sure you spread a good amount of coconut oil all over the tray (1 to 2 TBSP) using a rubber spatula or food scraper.  Season with your favorite herbs and spices.  If you are following a strict autoimmune protocol like me, be careful to use AIP compliant seasoning!  If you are unsure of what you can use, Eileen from Phoenix Helix has compiled a list of all AIP herbs and spices.  For this recipe though, I only sprinkled some celtic sea salt on the meat because I am using an apple-ginger dipping sauce on the side.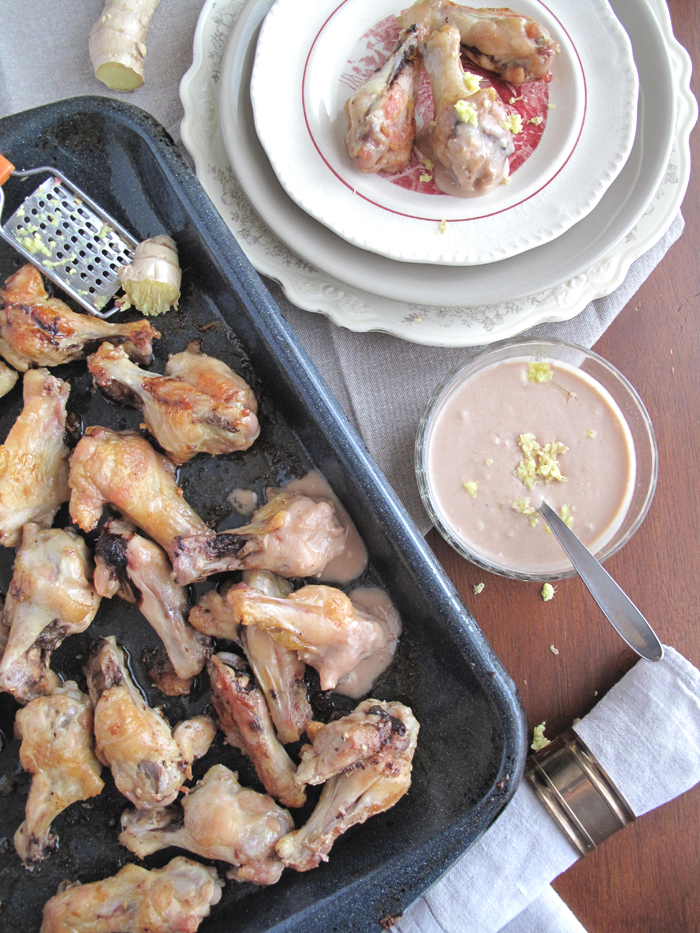 You will need some fresh ginger juice for the dipping sauce; I buy mine at our local Vitamin Cottage – Natural Grocers.  I also use the same ginger juice to flavor these yummy sweet n' sour gelatin gummies!  You can double the batch of apple-ginger sauce and spread half of it over the chicken before roasting.

AIP / Oven Roasted Chicken Wings with Ginger Sauce
This recipe is 100% AIP compliant.
Cuisine:
Paleo Autoimmune Protocol
Instructions
In a big ziploc plastic bag, place the chicken wings and drumettes with sea salt, fresh ginger juice, and coconut aminos. Close the bag and massage the chicken for a minute. Make sure all the chicken is well coated in marinade.
Marinate for at least 1 hour in the fridge.
Spread coconut oil on the bottom tray of your oven broiler pan and arrange the chicken in a single layer.
Bake in the oven at 400F for 50 minutes, occasionally flipping the chicken over with a big turner spatula (or any other kitchen tool that might do the job!).
While the chicken is in the oven, prepare your dipping sauce.
In a bowl mix together coconut milk, apple butter, fresh ginger juice, coconut aminos, and sea salt.
Garnish with some grated ginger.
Once you take the wings out of the oven, let them cool down a little bit and serve warm with dipping sauce.
The sauce will keep for a couple of days in the refrigerator.
Bon appétit!
This chicken wings recipe has been shared on
Fat Tuesday
–
Phoenix Helix AIP Recipe Roundtable
–
Real Food Wednesday
–