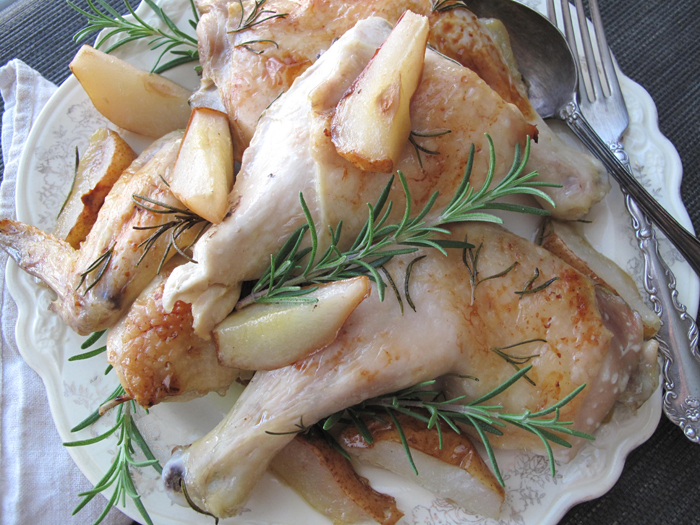 Your family will love this tender and juicy chicken, roasted in the oven with Bartlett pears and fresh rosemary.  But don't be fooled by the luxurious appearance of this roasted chicken!  It is the perfect meal for a weekday night dinner when you don't have much time to cook.  You can throw all the ingredients together, slide the dish in the oven and forget about it.  Perfect!  Serve the roasted chicken with a big salad; I particularly like red lettuce and arugula paired with the sweet taste of the fruits.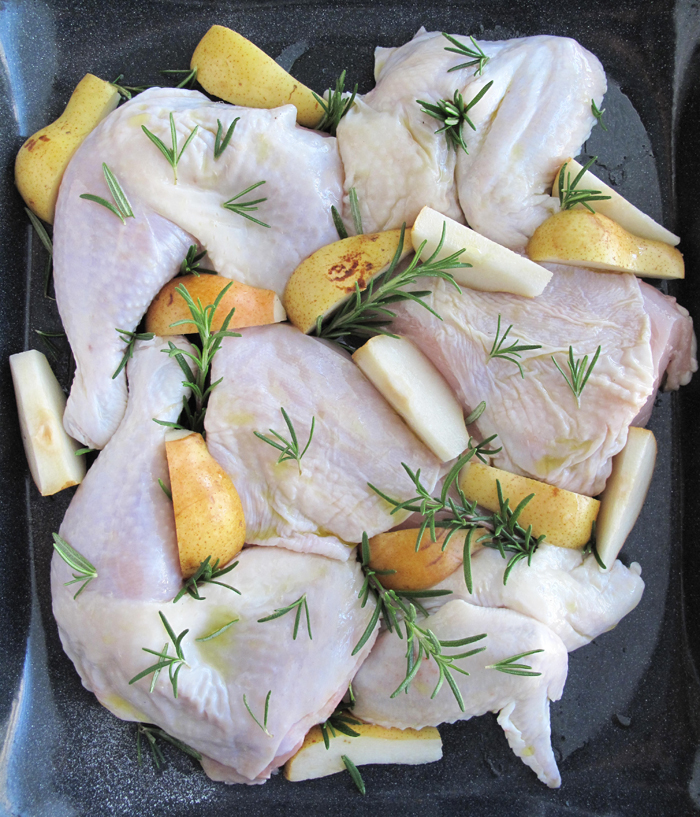 I am not sure if it is a side-effect of the paleo lifestyle or if we are simply meat lovers, but we tend to eat a lot of meat in our family .  So when I cook I need to make sure it will feed the entire family plus leftovers for breakfast or lunch the next day.  That's why I prefer to roast an entire chicken rather than smaller cuts.  Plus it is more budget friendly as the less it is processed, the less expensive it is.  If you are not confident you can tackle this beast on your own, check out this nifty step-by-step tutorial on how to cut up a whole chicken yourself.  The most important is to have a sharp chef's knife!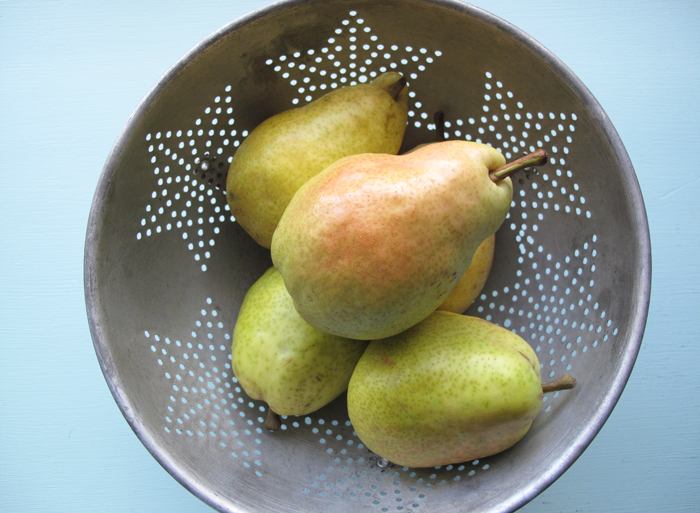 Since we eat a lot of chicken, I try to come up with creative ways to pair it with other vegetables, fruits, and herbs.  For this recipe, I am using Bartlett pears and rosemary.  You don't want to use over-ripe pears as they will soften significantly during their time in the oven.  Choose them firm and a little bit on the pale green side.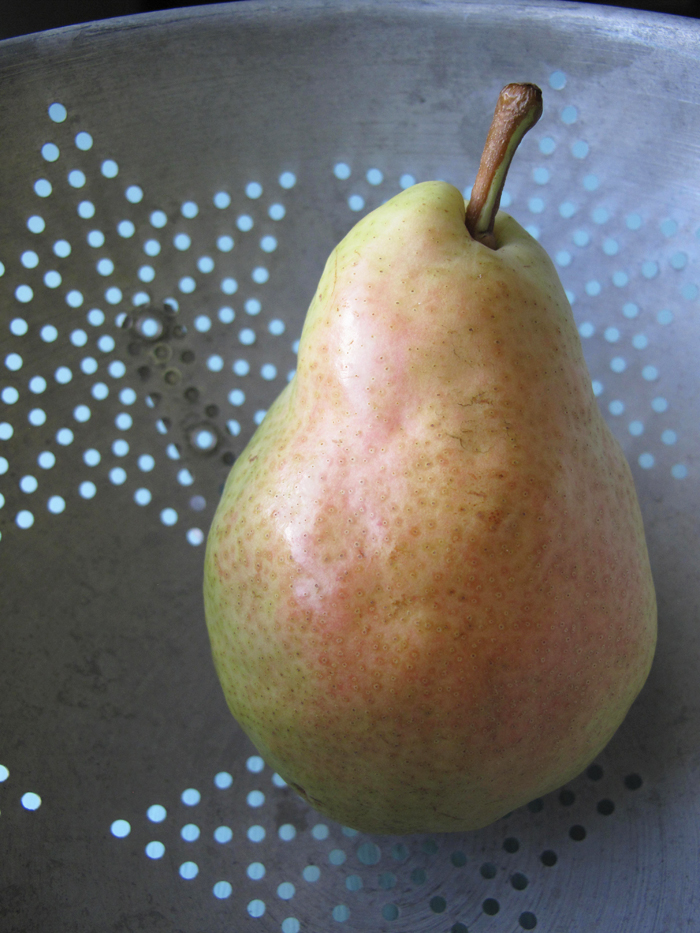 This pear was perfect!  Beautiful curves and a slight blush.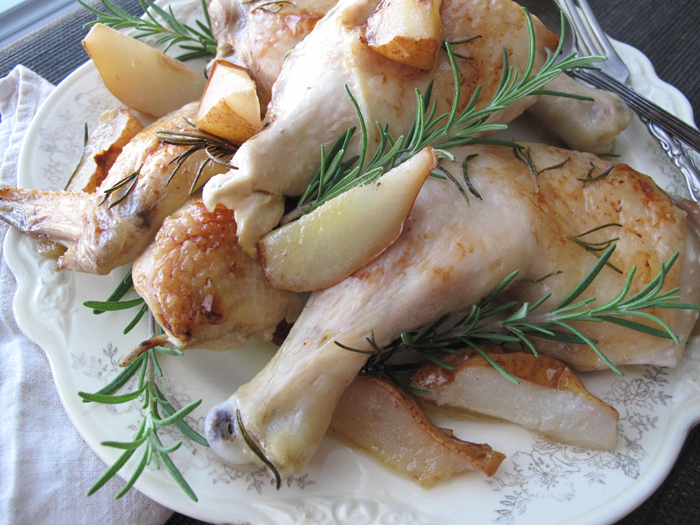 When it is time to serve, decorate your dish with baked pears and some fresh rosemary.

AIP / Oven Roasted Rosemary and Pears Chicken
Tender and juicy chicken, roasted in the oven with Bartlett pears and fresh rosemary.
Cuisine:
Autoimmune Protocol - AIP
Ingredients
1 whole chicken, cut up in pieces
3 Bartlett pears
3 sprigs of fresh rosemary
1 TSP of salt or more to taste (I am using pink Himalayan salt)
Olive oil to grease the dish
1 TBSP olive oil for the chicken
Cook in the oven to 350 degrees F for 1 hour
Instructions
Preheat the oven to 350 degrees F.
Grease an oven safe cooking dish with olive oil.
Cut up your chicken in pieces and arrange them in your dish so they don't overlap. (see link in the post for a tutorial on how to cut up your chicken)
Sprinkle with salt.
Cut up your pears in 4 pieces, remove the seeds, and dispose them around the meat.
Add little bits of fresh rosemary all over the meat.
Drizzle your chicken with olive oil.
Cook in the oven for 1 hour.
I recommend to take the meat twice out of the oven to baste the chicken with the cooking juices.
Bon appétit!
Notes
I always cook my meats in the oven at 350F maximum. It takes a little bit more time to cook but it does a better job at preserving the cooking juices and the meat comes out of the oven moist and tender.
If you would prefer to cook at 400F, the ingredients and steps to follow for this recipe are the same.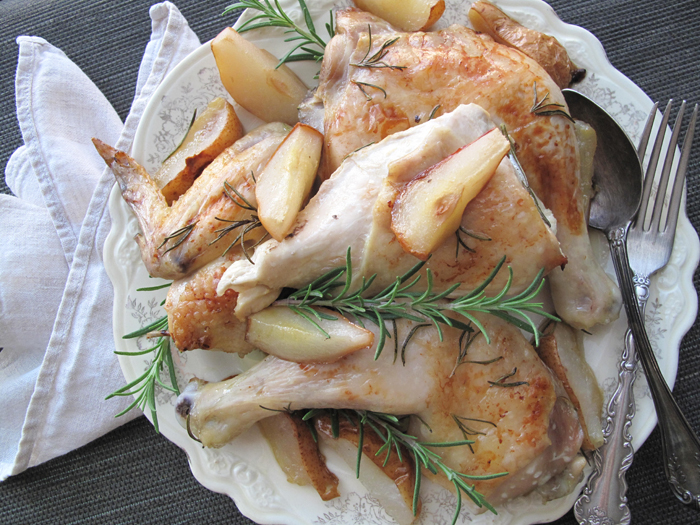 This post has been shared on
Real Food Wednesday
.  You can also find this post and other autoimmune recipes over at
Phoenix Helix AIP roundtable
!