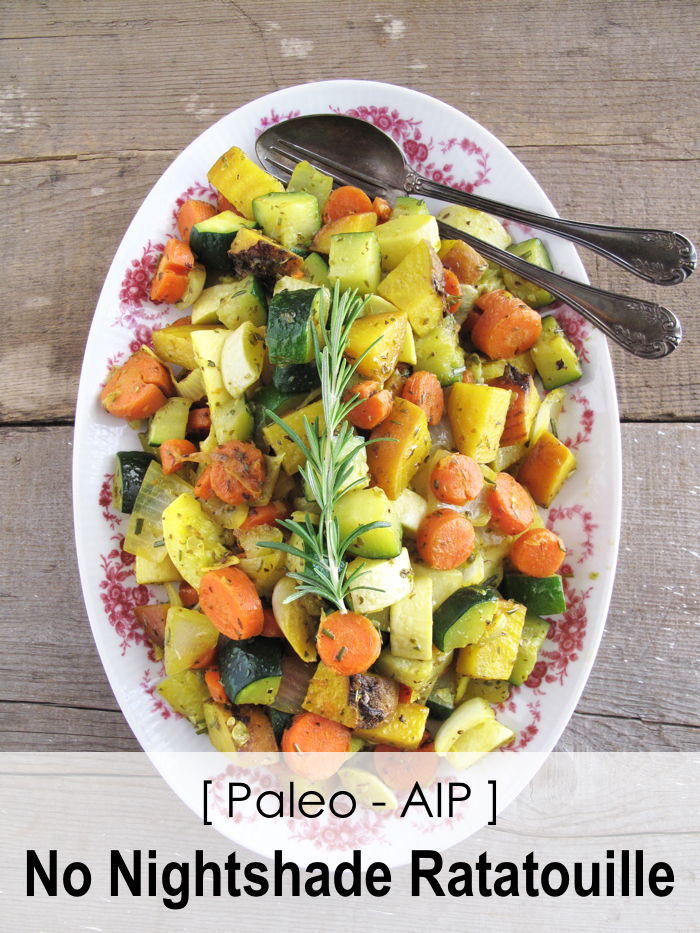 This colorful and delicious No Nightshade Ratatouille is one of the numerous recipes from my new cookbook Simple French Paleo : Flavorful Allergen-Free Recipes for the Autoimmune Protocol.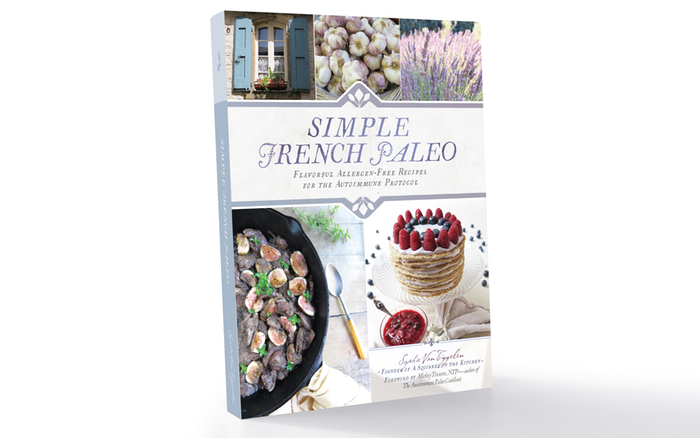 Ratatouille is a traditional French Provençal stewed vegetable dish, originating in Nice. Ratatouille is popular among the entire Mediterranean coast as an easy summer dish, although it can be prepared all year long. It is typically prepared with tomatoes and eggplant, but I made some modifications to the original recipe to make it compliant with the elimination phase of the Paleo Autoimmune Protocol (also referred to as AIP). Nevertheless, this version is equally good and wonderfully fragrant thanks to the garlic and herbs. It can be served as a side dish, or eaten as a meal on its own (accompanied by cauliflower rice for example).
As you will undoubtedly want leftovers, it is always a good idea to prepare ratatouille in large quantities. The flavors meld and improve after a couple of days making it even more delicious. Ratatouille can be served chilled as a refreshing summer lunch or hot with grilled or roast lamb, pork, or poultry.
AIP No Nightshade Ratatouille from Simple French Paleo
This recipe is 100% AIP compliant.
Author:
Sophie Van Tiggelen
Cuisine:
Paleo Autoimmune Protocol
Ingredients
1⁄4 cup extra-virgin olive oil
2 medium golden beets (about 1⁄2 pound), peeled and roughly chopped
3 medium carrots (about 1⁄2 pound), peeled and roughly chopped
4 cloves garlic, minced
1 large yellow onion (about 3⁄4 pound), peeled and roughly chopped
1 medium yellow summer squash (about 1⁄2 pound), chopped
1 medium zucchini (about 1⁄2 pound), chopped
1 tablespoon dried oregano
1 tablespoon minced fresh rosemary
1 teaspoon fine sea salt
Instructions
In a large saucepan, heat olive oil over medium–low heat. Add beets, carrots, and garlic. Cover and cook for 20 minutes, stirring occasionally.
Add onion, yellow squash, zucchini, oregano, rosemary, and sea salt. Continue cooking, covered, until vegetables are tender, about 20 minutes.
Check seasoning and adjust salt to taste. Serve hot or cold.
Bon appétit!
Notes
Add 10–15 minutes to the cooking time if you prefer your ratatouille well-done over crisp-tender.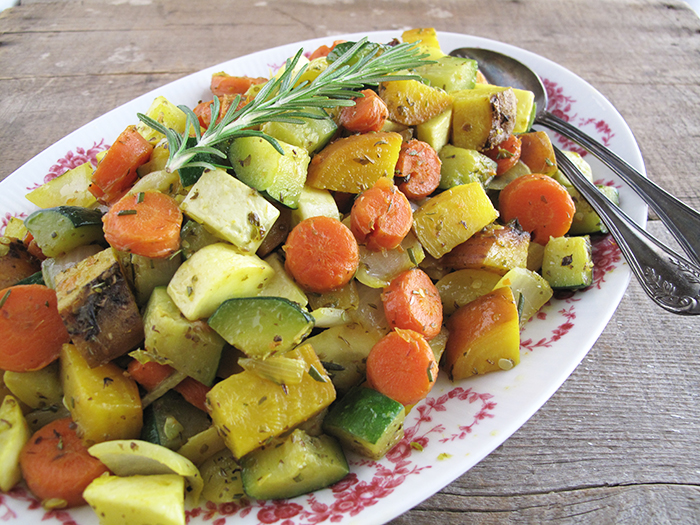 The recipe for this No Nightshade Ratatouille has been shared on: Paleo AIP Recipe Roundtable
---
This post contains affiliate links. Click here to read what it means.