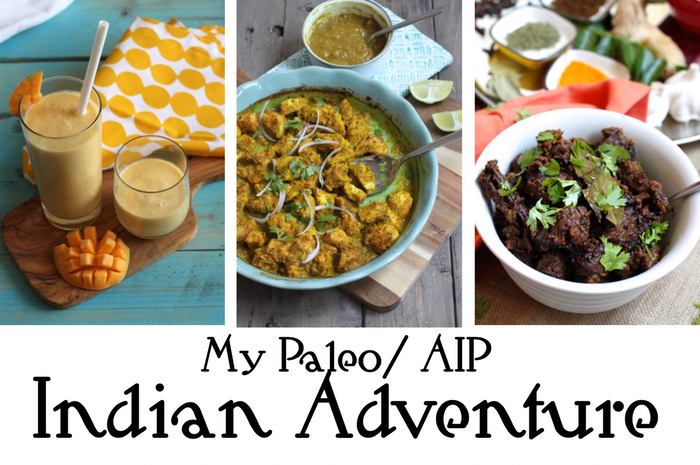 Are you guilty of thinking that the Autoimmune Protocol would be boring and bland? Well, think again! In her new cookbook, My Paleo / AIP Indian Adventure, Bethany Darwin works hard to adapt the traditional flavors of Indian cuisine to the AIP template. I am happy to confirm that she has succeeded brilliantly! With Bethany's book, you can now enjoy simple, home-style Indian dishes – full of rich, deep flavor – to your heart's content.


A Little Bit about Bethany
Bethany Darwin is the blogger behind Adventures in Partaking. Like so many of us, she uses the Autoimmune Protocol to keep her autoimmune conditions in check. For Bethany, it's spondylarthritis and uveitis. She wrote My Paleo / AIP Indian Adventure first and foremost to share her unconditional love of Indian cuisine. Pre-diagnosis, she enjoyed hot and spicy foods, but as I am sure you can related to, her food choices had to change once she began her healing journey. Nightshades and non-AIP spices were the hardest to give up. She describes it as her "Spice Grief Journey." One day she decided to bring back the heat and depth of flavor she was missing and My Paleo / AIP Indian Adventure was born.

Living in Abu Dhabi, UAE with her husband, Joseph, Bethany shares her amazing AIP-friendly recipes from around the world through her blog and her cookbooks (you might know her from her popular cookbook AIP Safari). Her recipes are quick, delicious, and simple enough for any home cook and the new cookbook is full of them! I don't know about you, but I am very excited about this new addition to my AIP library!

Included in the eBook
60+ traditional Indian recipes including breads and basics – snacks and appetizers – lamb dishes – chicken dishes – seafood ishes – sides and veggie dishes – desserts and drinks
Printable charts with AIP herbs and spices
Guide to substitute non-AIP spices with AIP-compliant ones
Shopping List for your AIP Indian pantry
Coconut free recipes and substitutions
Reintroduction Notes with helpful tips
My Paleo/ AIP Indian Adventure represents a journey into the food culture of India through an AIP lens. It's 60+ recipes of your favorite traditional Indian dishes along with some Indian-inspired dishes all recreated to be free of grains, dairy, eggs, nuts, seeds, and nightshades so you can enjoy Indian food once again! Some of your favorites that you'll find in this book are:
• Lamb Rogan Josh
• Goan Mango Curry
• Chicken Reshmi Kebabs Onion Bhajis
• Garlic Coriander Roti
• Prawn Masala
• Chicken Tikka Masala
• Gulab Jamun
And many, many more!
Giveaway is closed
Bethany has graciously agreed to give away one digital copy of her new ebook My Paleo / AIP Indian Adventure! To enter, leave a comment below telling me where you are from and why you would enjoy winning this cookbook. The contest is open worldwide and will run until Friday January 19th, 2018. The winner will be randomly chosen and contacted directly by email. You have 48 hours to claim your prize. If I don't hear back from you within that timeframe, another winner will be randomly chosen. Good luck everyone!
---
Subscribe to my newsletter 
---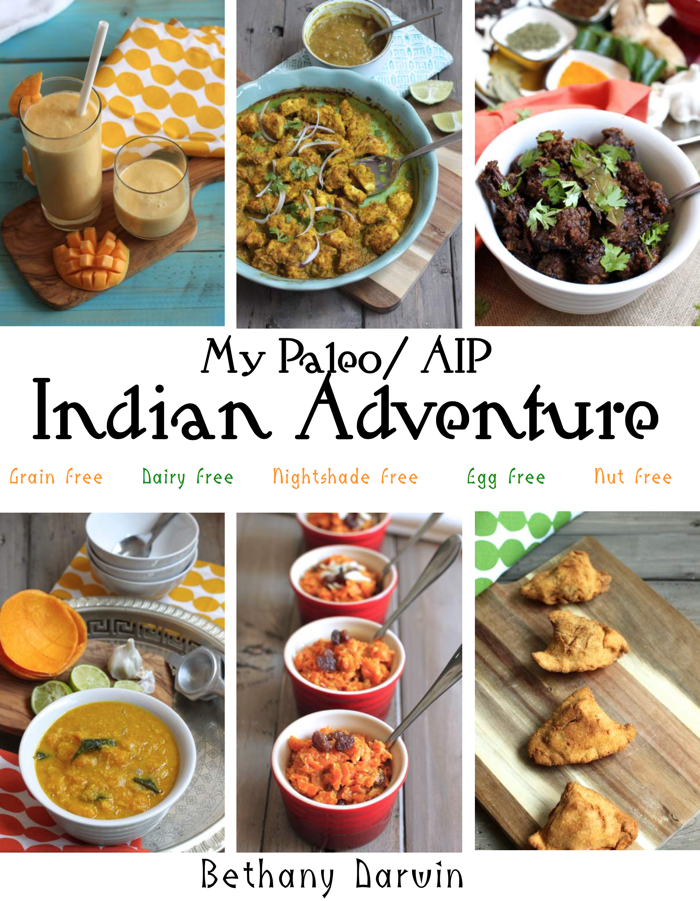 ---