Do you love Vietnamese cuisine? Try this nutritious Chicken Pho! This allergen-free version is packed with flavor and beneficial nutrients!
I didn't have to look far from home for inspiration with this delicious Chicken Pho; my daughter Caroline, blogger at The Minimalist Mouse, has recently posted a vegan version of this traditional Vietnamese dish. It was so good that I immediately wanted to create my own AIP-compliant version to share with you all.
It wasn't really hard to adapt the recipe to make it AIP-compliant. I replaced the traditional rice noodles with zucchini noodles. You can also use any other AIP-approved noodles, such as sweet potato noodles or kelp noodles. In my opinion, zucchini noodles are healthier and are so easy to make yourself with a vegetable spiralizer.
I also played around a bit with AIP-friendly condiments (such as fresh ginger, coconut aminos, and fish sauce) to make sure this Chicken Pho still delivered a maximum of flavor.
Fun fact: do you know how to pronounce the word "pho"? Click here to hear it!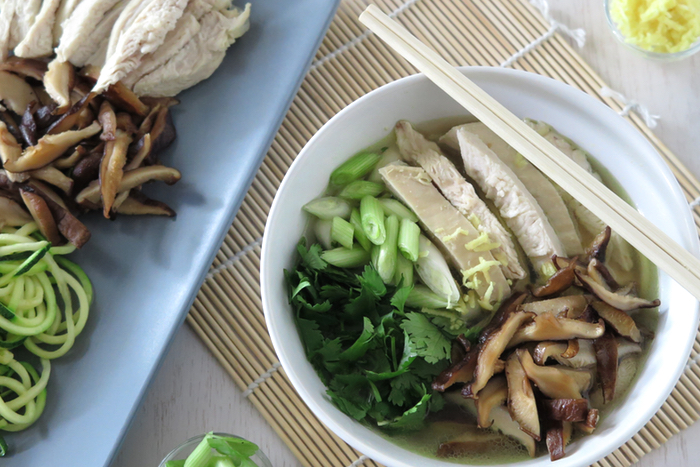 Chicken Pho [Paleo-AIP-Gluten-Free]
This recipe is 100% compliant with the strict elimination phase of the Autoimmune Protocol (AIP).
Author:
Sophie Van Tiggelen
Ingredients
1 ounce dehydrated shiitake mushrooms
5 tablespoons coconut oil, divided
1 yellow or white onion (about 3/4 pound), thinly sliced
2 1/2-inch knob fresh ginger (plus some extra for garnish), peeled and grated
48 ounces chicken broth (equal to 1 quart + 2 cups)
2 tablespoons coconut aminos
1 tablespoon fish sauce
1 1/2 pounds skinless boneless chicken breasts
1 pound raw zucchini noodles
Chopped cilantro, for garnish
Chopped scallions, for garnish
Fine sea salt, to taste
Instructions
Soak shiitake mushrooms in hot water for 30 minutes. When done, drain and thinly slice into 1/4-inch strips. Set aside.
While mushrooms are soaking, start on the soup base. Melt 2 tablespoons coconut oil in a stock pot over medium heat. Add onions and ginger and sauté for 10 minutes, stirring frequently.
Add chicken broth, coconut aminos, fish sauce, and chicken. Bring to a boil over high heat, then reduce to medium and cook until chicken is cooked through, about 15 minutes.
When chicken is cooked, transfer to a cutting board with a slotted spatula. Allow chicken to cool down before slicing it into 1/4-inch strips. Set aside and keep warm.
In a large skillet, melt 2 tablespoons coconut oil over medium heat. Add mushrooms and sauté, stirring occasionally, until golden on all sides, about 10 minutes. Transfer to a plate and keep warm.
In the same skillet, melt remaining tablespoon coconut oil over medium heat. Add zucchini noodles and sauté until tender (but not mushy), about 5 to 10 minutes.
To serve: Divide zucchini noodles equally between 4 large bowls. Ladle broth over, then add chicken and mushrooms. Garnish with chopped cilantro, chopped scallions, and more grated ginger. Salt to taste.
Bon appétit!
Click it to pin it!