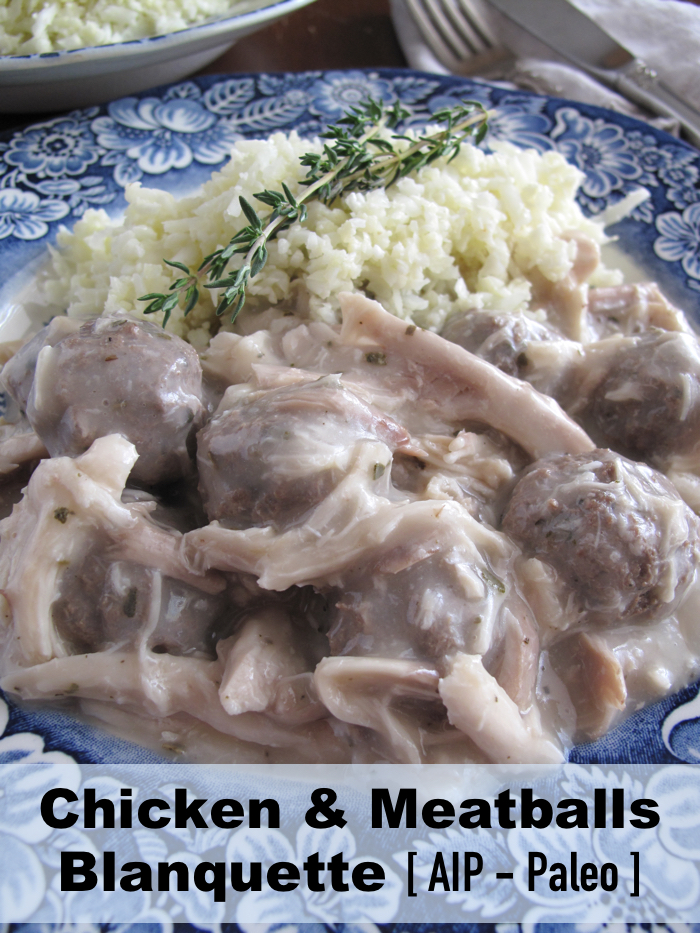 This chicken and meatballs blanquette is the ultimate French paleo comfort food for me.  The recipe comes directly from the kitchen of my paternal grand-mother, back in Belgium.  When I was a little girl, my grand-mother used to gather the entire family at her farm house a couple of times a year.  There were so many of us that she had to put up tables in different rooms.  Usually the younger generation would stick together because we thought the conversation of the older folks was so boring!  Little did I know that I would grow up to cherish those moments.
Chicken and Meatballs Blanquette
French Paleo Recipe
Comfort Food
Great For leftovers!
The best way to serve this delicious chicken and meatballs blanquette is with a side of cauliflower rice.  You can prepare both in advance and warm-up smaller portions as needed.  For the ground meat, you can pretty much choose any type of meat you like.  I would recommend beef, though, as it will pair well with the chicken meat and the sauce.
Warning: it is very important that you closely follow the steps to make the white sauce, or the preparation will not thicken and you will have a runny white broth on your hands instead of a delicious and thick white sauce!  Wait for the liquid to come to a boil before incorporating the arrowroot.  Don't worry if you don't understand what I mean, just follow the steps, I explain in details below in the recipe!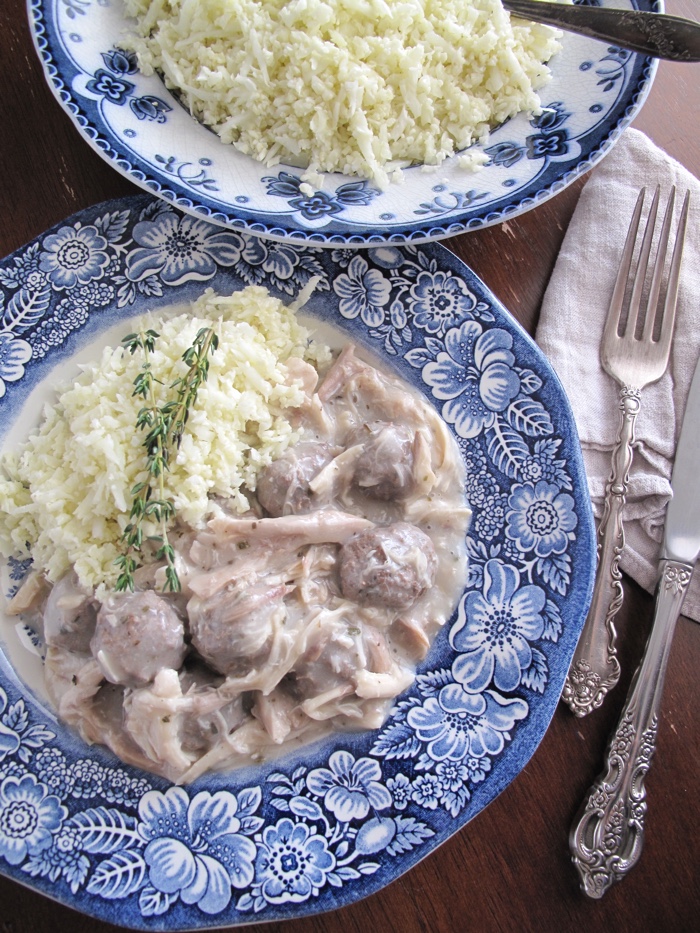 AIP / Chicken and Meatballs Blanquette - French Paleo Recipe
This recipe is 100% autoimmune protocol compliant.
Cuisine:
Paleo Autoimmune Protocol
Ingredients
4 cups of shredded cooked chicken


Meatballs:
2 pounds ground meat (preferably beef)
2 TSP fine sea salt
1 TBSP crushed dried sage
1/2 TBSP chopped fresh rosemary


Sauce
1 can full fat coconut milk (13.5 fl oz)
2 cups bone broth or chicken broth, divided
1 1/2 TSP sea salt
1 TBSP coconut aminos
1 TBSP crushed dried sage
5 TBSP arrowroot flour
Instructions
To prepare the meatballs, mix together in a large bowl ground meat, salt, sage, and rosemary.
Scoop out a small portion of meat ( about 1 inch) and roll into a ball with your hands. Repeat until you have gone through the entire meat. You will have approx. 60 meatballs.
Transfer meatballs to a large pot, cover with water and bring to a boil. Cook until meat is cooked through, about 20 minutes.
Drain the water.
Now let's make the sauce. In a small cup, whisk together 1 cup of bone broth (at room temperature) and arrowroot flour, making sure there is no clump. Set aside.
In a medium pot, combine coconut milk with remaining cup bone broth, salt, coconut aminos, and sage. Mix well and bring to a boil.
When the liquid is boiling, turn off the heat and pour the arrowroot mixture into the boiling coconut milk.
Mix well with a whisk until the sauce thickens, about 30 seconds.
Add chicken meat to the meatballs and pour the white sauce all over.
Stir a few times, making sure all the meat is well coated with the sauce.
Warm-up the dish for about 10 minutes on medium-low heat. Do not boil again at this stage or the sauce will liquefy.
Serve hot with a side of cauliflower rice.
Bon appétit!
The recipe for this Chicken and Meatballs Blanquette has been shared on the following blog carnivals:
Paleo AIP Recipe Roundtable
–
---
This post contains affiliate links. Click here to see what it means.