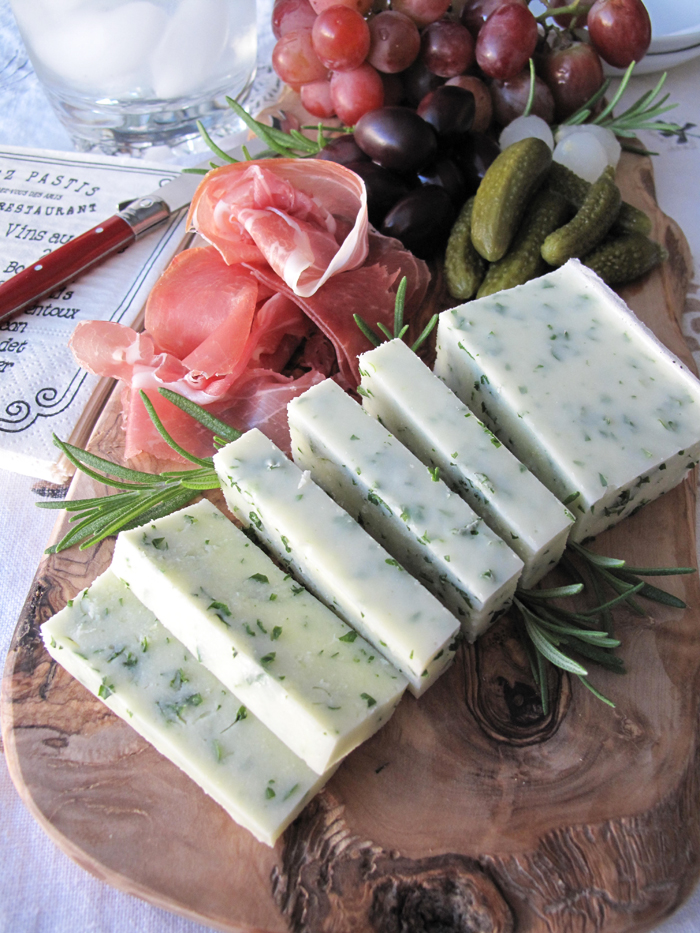 This AIP cheese is amazing and so easy to make.  There is no special equipment required and it is done in less than 15 minutes!  The original recipe comes from Hayley at I Eat real Food.  The recipe became very popular on Instagram and everybody started making zucchini cheese, adding little variations here and there. I have seen it marbled and made with cauliflower instead of zucchini, but I personally love to add fresh herbs as it adds texture, taste and makes the cheese visually pleasing.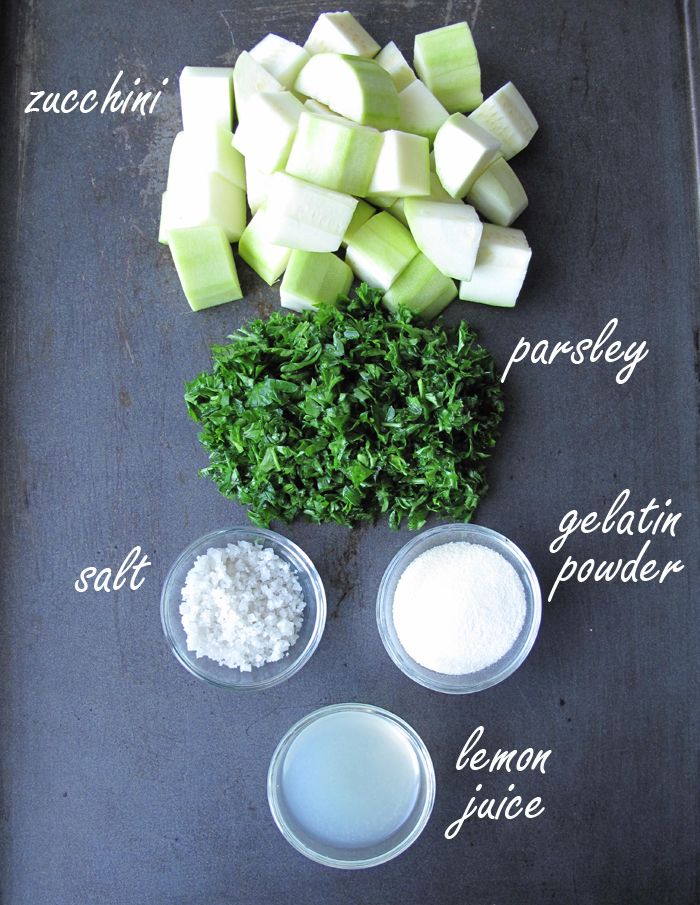 As you can see, the list of ingredients is minimal; I love to use fresh parsley but you could easily swap it for any other herb you like.  I have tried the combo of chives and sage and it is equally delicious. Parsley is just much easier to find in the fresh produce aisle of your grocery store.
Yes! AIP Cheese!
If you are not familiar with gelatin powder
, here is the scoop.  Gelatin
is used as a binder replacement; it works brilliantly as an egg substitute for custards, cakes and muffins.  Dissolve 1 Tbsp of gelatin into 3 Tbsp of warm water and substitute this for 1 egg in your recipes.  For more information, check out this article by the Grass Fed Girl explaining the numerous health benefits of gelatin.  Mainly, gelatin has the ability to heal the gut lining and dramatically improves rheumatoid arthritis as well as other degenerative joint conditions.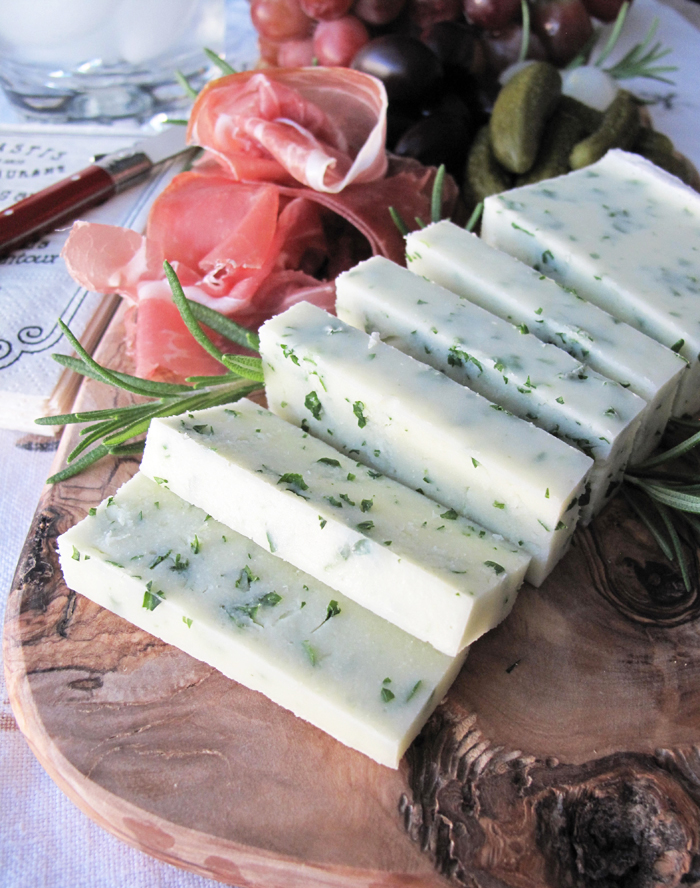 Pair your AIP cheese with some nightshade-free cured meat (I used prosciutto
in the picture), grapes, olives, gherkins, and pickled onions for a festive cheese and charcuterie platter!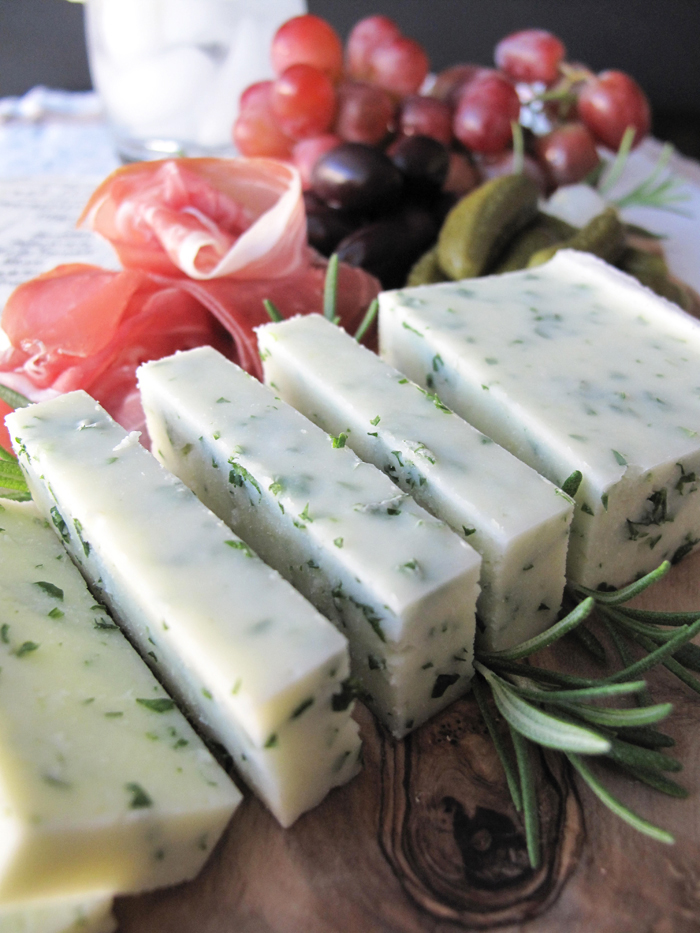 AIP Cheese with Fresh Parsley
The recipe will yield 2 mini loaves of AIP cheese. I am using 2 small reusable aluminum foil loaf pans for this.
Cuisine:
Autoimmune Protocol - AIP
Ingredients
2 cups zucchini, peeled and cut up into small cubes
1/2 cup water
2 TBSP coconut oil, melted
4 TBSP gelatin (I use the brand Great Lakes / red)
2 TSP lemon juice
2/3 TSP of fine sea salt or more to taste
2 TBSP nutritional yeast (optional)
1/2 cup fresh parsley, chopped
Instructions
Steam the zucchini for 5 minutes, until tender.
Drain the zucchini.
In a high speed blender, blend the zucchini with water, coconut oil, lemon juice, and salt for 30 seconds or until smooth.
Add the gelatin and the nutritional yeast. Blend for another 15 seconds.
Pour the mixture in a bowl, add the parsley and mix well with a spoon.
Pour the preparation in a foil loaf pan and refrigerate until set (at least 4 hours).
Bon appétit!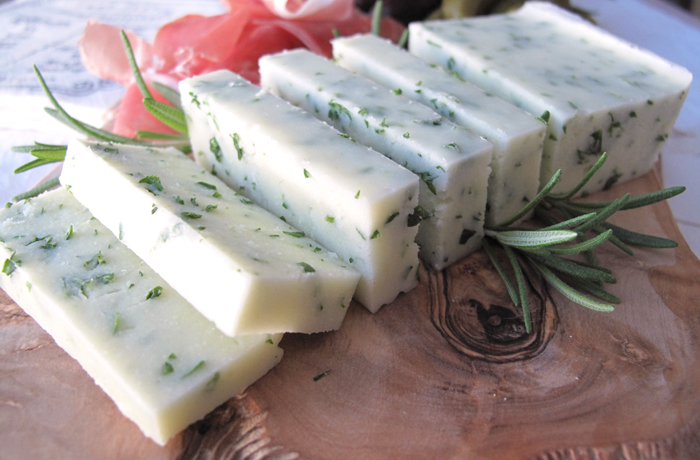 The recipe for this AIP cheese has been shared on
Fat Tuesday
 ,
Phoenix Helix AIP recipe roundtable
, and
Real Food Wednesday
.