This post contains affiliate links.  Click here to see what that means.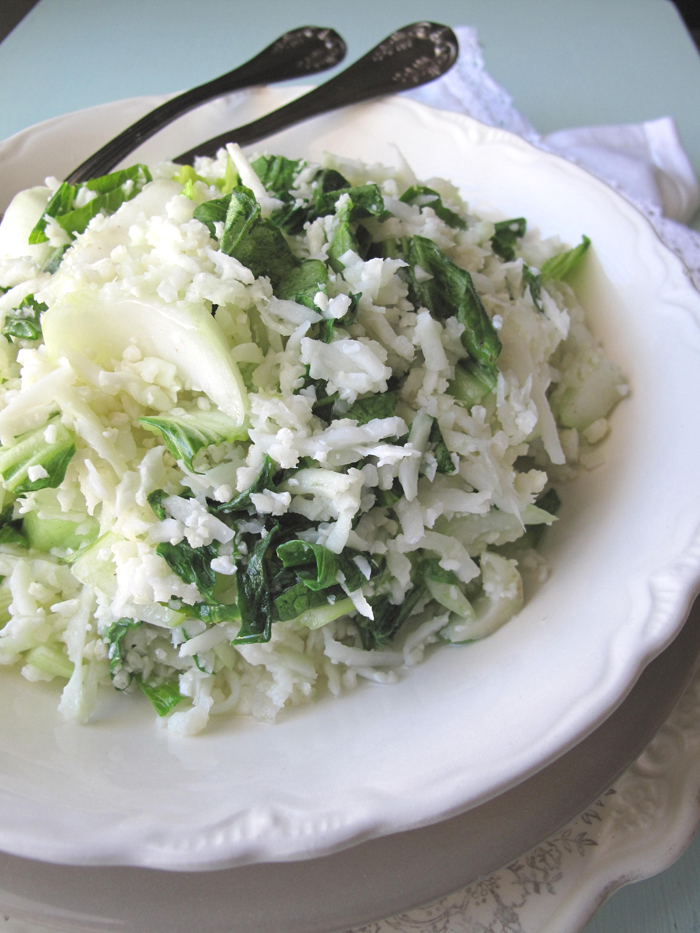 Easy paleo cauliflower rice with bok choy; this recipe is autoimmune protocol friendly and ready in 5 minutes.  Cauliflower rice is one of the first recipes I experimented with at the beginning of my paleo journey because it was a healthy alternative to white rice, which I ate in large amounts.  This recipe also has the added benefit of making you eat more veggies!  You can prepare and season your cauliflower rice in many ways, but our family particularly love this version with bok choy.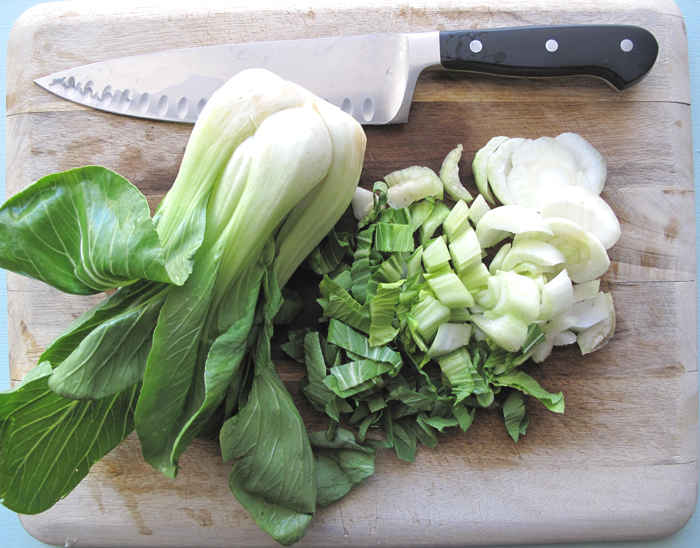 Did you know that bok choy is one of the highest nutritionally ranked vegetables and is packed with vitamins, omega 3's, and antioxidants?  In short, it is good stuff!  Cauliflower and bok choy are both cruciferous vegetables.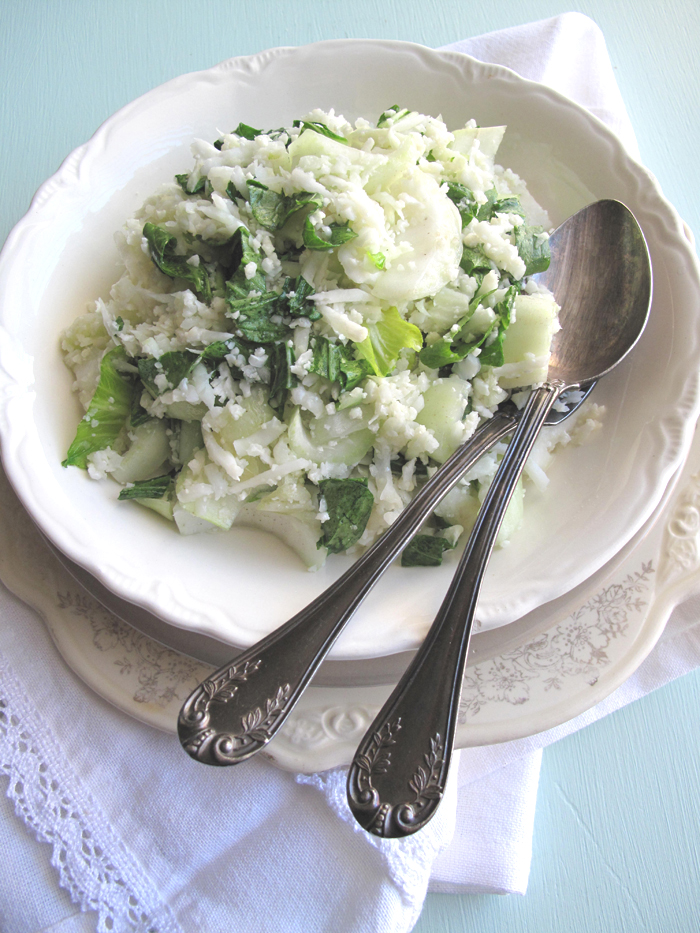 Are cruciferous vegetables bad for you if you suffer from a thyroid disorder like Hashimoto's thyroiditis or Grave's disease?  
First, here is a complete list of all cruciferous vegetables for your information.
According to the Paleo Mom, avoiding cruciferous vegetables, based on the ground that they might impair thyroid functions, is not well justified.  For a complete scientific explanation, check out this article by Sarah Ballantyne (aka the paleo Mom).  In fact, she recommends that we eat more, not less, cruciferous vegetables (as long as you are not deficient in iodine and selenium) for these following reasons (The Paleo Approach, pp.209-210):
Cruciferous vegetables interfere with thyroid functions only if you have a severe iodine or selenium deficiency.
Cooking cruciferous vegetables reduces greatly their goitrogenic effect.
They boost the body's antioxidant defense mechanism.
They prevent cancer.
Chris Kresser also talks about the effects of goitrogenic vegetables on the thyroid in this podcast.  In his opinion, it is perfectly fine to consume cruciferous vegetables several times per week, especially if you steam or boil them.  It has the potential to become a problem for your thyroid only if you eat these vegetables raw and on a daily basis.  For example, a green smoothie with kale and collard greens every morning might be problematic if you already struggle with hypothyroidism.  He also mentions that not everybody will react the same way; you might be less susceptible to the effects of cruciferous vegetables or you might notice an increase in your thyroid symptoms.  Pay attention to what is happening and take it from there.
So go ahead, enjoy in moderation all the wonderful vegetables from the cruciferous family, from arugula, bok choy, and broccoli, to Brussels sprouts, collard greens, and turnips.  Their health benefits are too great to miss out on!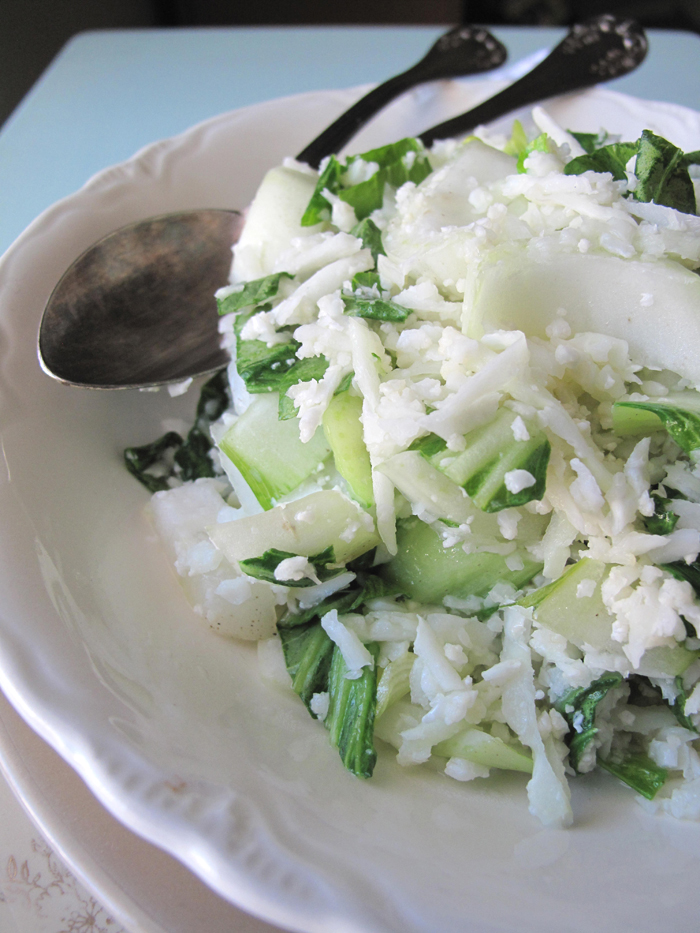 If you don't have bok choy available, you can use chard or kale instead.  This recipe will keep well several days in the refrigerator.

AIP / Bok Choy Cauliflower Rice
This recipe is 100% autoimmune protocol compliant.
Cuisine:
Autoimmune Protocol - AIP
Ingredients
1 small head of cauliflower (yielding 4 cups of shredded cauliflower)
2 baby bok choy (yielding 4 cups of chopped bok choy)
2 TBSP coconut oil
2 TSP of sea salt or more to taste
Instructions
Cut and shred the cauliflower (hopefully with a food processor!)
Thinly chop the baby bok choy.
In a large skillet or saute pan, on medium heat, add coconut oil, cauliflower, bok choy, and salt.
Stir frequently.
Cook for 5 minutes for a crunchy texture, and 8-10 minutes for a softer texture.
This recipe will keep well for a few days in the refrigerator.
Bon appétit!
This recipe has been shared on
Fat Tuesday
–
Real Food Wednesday
–
Phoenix Helix AIP Recipe Roundtable