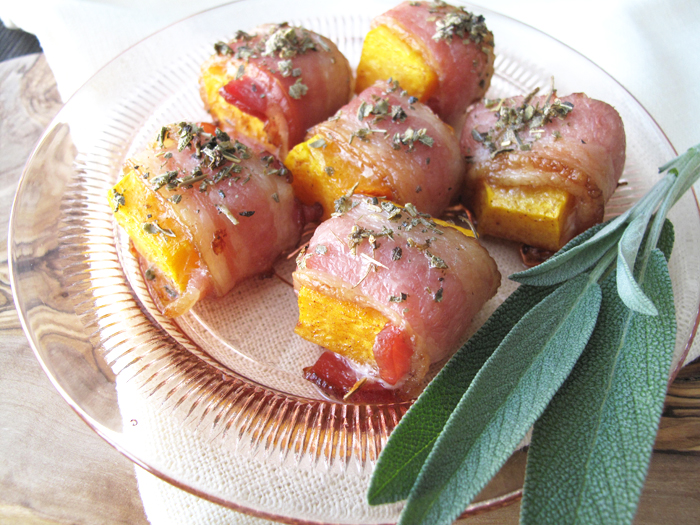 We have a little tradition in our family: we love tea times!  The whole set up with beautiful china and delicious finger food.  This tradition started several years ago when we had an English afternoon tea at the Brown Palace in Denver; they served gluten free scones, tea pastries and tea sandwiches while we enjoyed the soothing sounds of a harpist!  We loved it so much that we started having tea times for special occasions, holidays and birthdays at home.  Of course, I developed a menu of appetizers and finger food that was autoimmune paleo compliant; these little bacon wrapped butternut squash bites are part of it.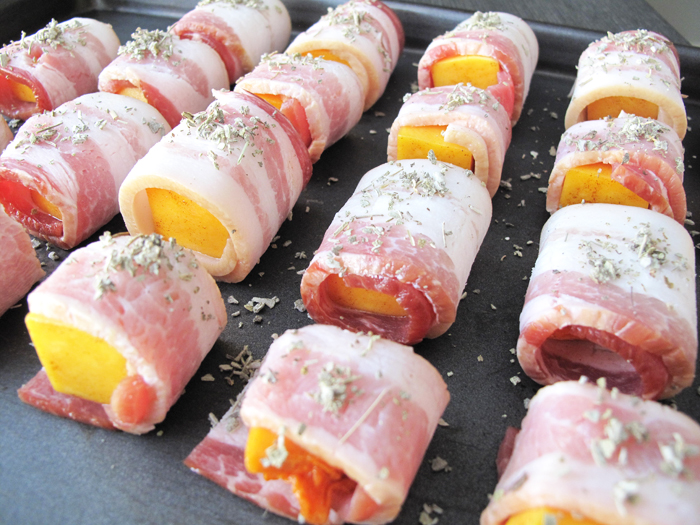 The practice of afternoon tea originated in England during the early nineteenth century.  At the time, people ate only two main meals; breakfast and dinner at around 8pm.  The Duchess of Bedford, who was understandably hungry during the afternoon, started requesting a pot of tea and a light snack to be served in her boudoir.  As she invited her friends to come and share this light collation in her company, the idea spread around and soon the fashionable society was sipping tea and nibbling sandwiches in the middle of the afternoon!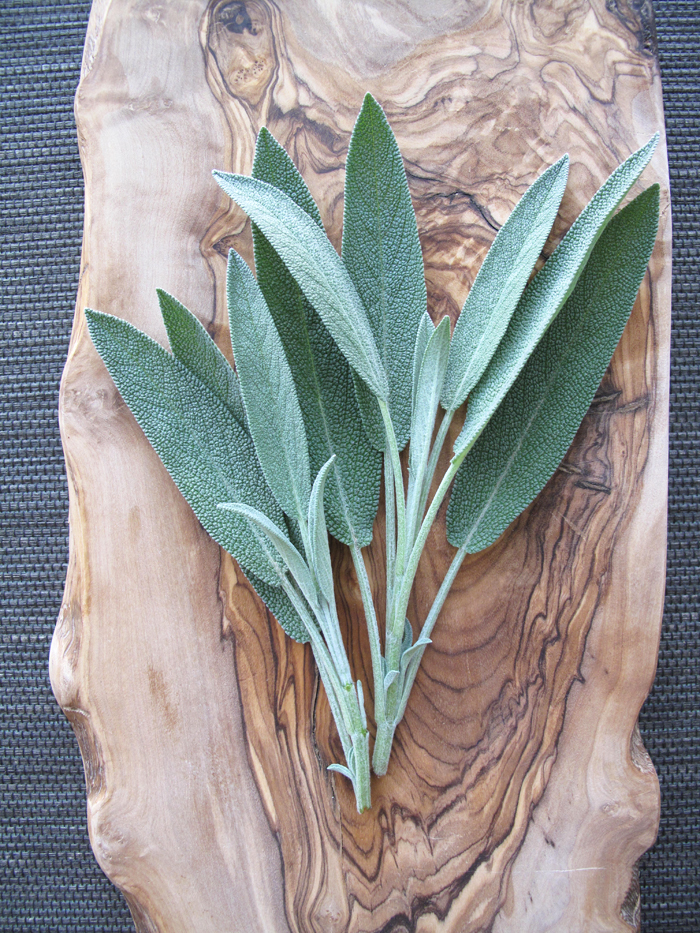 It takes a little bit of preparation in advance but the sweet and salty combination of the butternut squash and the bacon is truly delectable!  Worth the time you will spend preparing these little bites.  I like to use sage as a garnish for these.  If you don't have fresh sage on hand, dried sage will work perfectly well.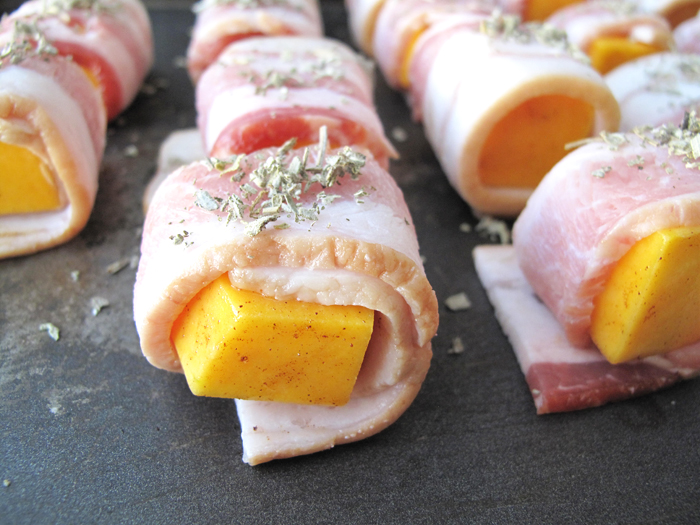 You will need to cut up your butternut squash in little 1″ cubes for this recipe.  The best way to tackle your squash is first to cut off both ends with a serrated knife (or a bread knife).  Using a vegetable peeler, peel away the thick skin until you reach the deeper orange flesh of the squash.  Next, slice your squash down the middle lengthwise and scoop away the seeds and pulp with a spoon.  Lay both sides down on a cutting board and  cut the squash into long strips.  Then cut the lengthwise strips crosswise to create 1″ cubes.  Here is a nifty step-by-step guide with pictures if you feel confused by my explanations!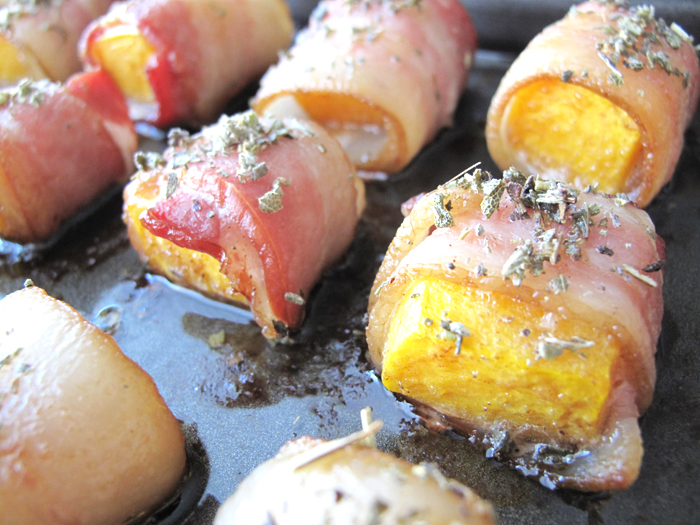 AIP / Bacon Wrapped Butternut Squash Bites
Impress your guest with these delectable bacon wrapped butternut squash bites!
Cuisine:
Autoimmune Protocol - AIP
Ingredients
2 1/2 cups diced butternut squash (1" cubes)
1 pack of bacon (340gr or 11 slices)
For the marinade: 1 TBSP olive oil, 1/2 TSP salt, 1 TSP cinnamon
1 TBSP of chopped fresh sage or crushed dried sage for the garnish
Bake in the oven at 350F for 30 minutes.
Yields 22 appetizers.
Instructions
Mix the cubes of butternut squash in a big bowl with olive oil, salt and cinnamon.
Place in the fridge for 1 hour.
Prepare your bacon while the squash is marinating.
Cut your bacon slices in half (NOT length wise but across in the middle).
Take your butternut squash out of the fridge.
Have your baking sheet ready, no need to oil.
Wrap each little dice of butternut squash in a piece of bacon.
Repeat until you are out of bacon and place the rolls on your baking sheet.
Sprinkle your sage on top for the garnish.
Bake in the oven at 350F for 30 minutes or until the bacon becomes brown and crispy.
Bon appétit!
Notes
Make sure you place the bacon roll with the end of the bacon facing down on the baking sheet. It will keep the roll in place while roasting in the oven.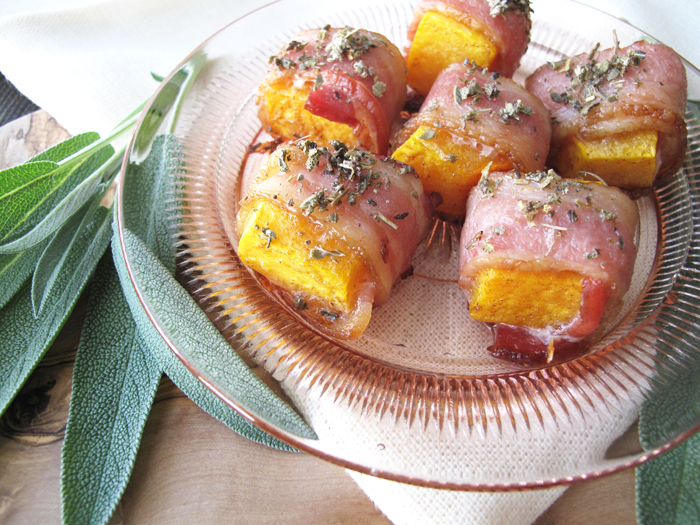 This post has been shared over at
Phoenix Helix's AIP round table
. Check out all the other AIP recipes! You are sure to find something that will tempt you!  It has also been shared on
Real Food Wednesday
.