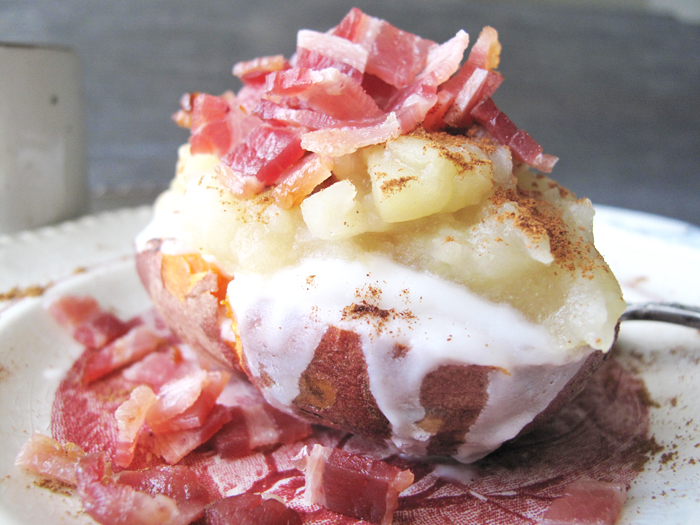 The combination of apples and bacon brings out nostalgic memories from my childhood.  They transport me back in my mother's kitchen in Belgium and the delicious aromas coming from the pans in which she cooked the bacon and apples.  You had to cook the bacon and apples separately but simultaneously you see as they needed to be ready at exactly the same time.  A good timing was critical!  We would then cut thick slices of bread,  lather them with some creamy butter, spread the bacon / apples mixture on top, and finish off the masterpiece with a load of cassonade, which translates to brown sugar.  Haaaa … heaven!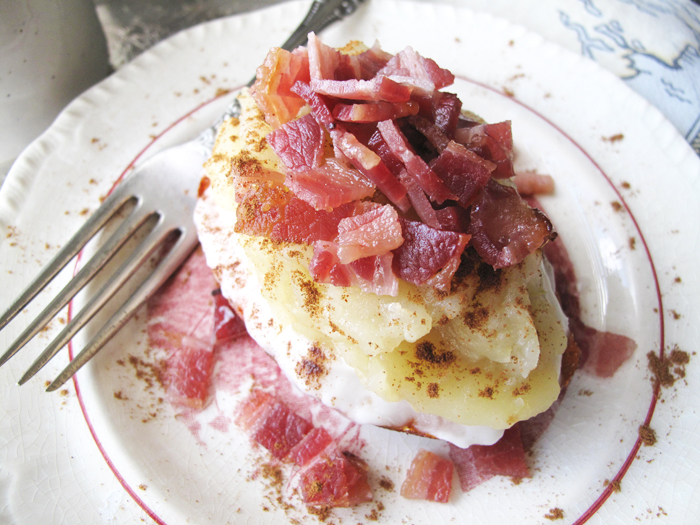 In my search for a comforting and nutritious egg-free breakfast alternative, I immediately thought about my childhood favorite.  But I needed to replace the bread with another healthy and autoimmune compliant option; hence the sweet potatoes.  Sweet potatoes are an excellent source of complex carbohydrates and are great to include in your nutrient-dense diet.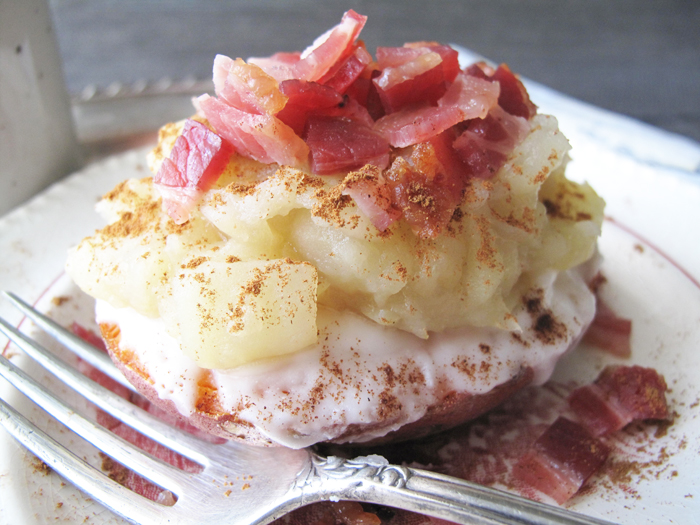 Now if you have your ingredients prepared in advance, you can put this breakfast together in a snap.   I bake the sweet potatoes while doing something else around the house (bake in the oven at 400F for 40 minutes).  I like to use homemade applesauce whenever I can but store bought is fine too.  Just buy the chunky kind for a more rustic look!  Having some bacon on hand is proving to be more challenging as it tends to disappear behind my back.  If you can manage to hide pre-cooked bacon in your fridge, you totally deserve the praises you will get when you present this amazingly good, sweet smelling creation on the breakfast table!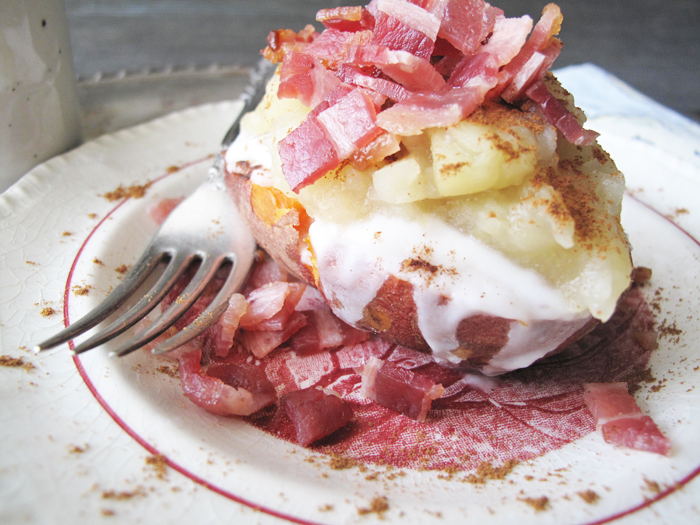 AIP / Breakfast Loaded Sweet Potato (Coconut Butter - Applesauce - Bacon - Cinnamon)
Egg-free breakfast alternative to fuel your day!
Cuisine:
Autoimmune Protocol - AIP
Ingredients
1/2 small pre-baked sweet potato or yams
2 TSP coconut butter
1/3 cup homemade applesauce (if store bought, choose the chunky sort)
2 TBSP bacon bits
cinnamon to sprinkle
Bake on high in the microwave for 50 sec to 1 min
Instructions
If you have prepared your ingredients in advance, this won't take more than 5 minutes.
Place 1/2 small baked sweet potato on your favorite plate.
Spread a layer of coconut butter.
Lay on the applesauce.
Sprinkle with cinnamon.
And the final touch, garnish with bacon bits.
Warm up the edifice in your microwave oven or regular oven.
I usually reheat mine in the microwave on high for 50 sec to 1 min.
All the measures in this recipe are subject to change without prior notice! You may or may not want more coconut butter or bacon. It is totally up to you!
Bon appétit!
Notes
If you find yourself out of pre-baked sweet potatoes, here is a quick fix.
Place a small sweet potato, covered with a moist paper towel, on a plate.
Bake in the microwave on high for 4-5 minutes.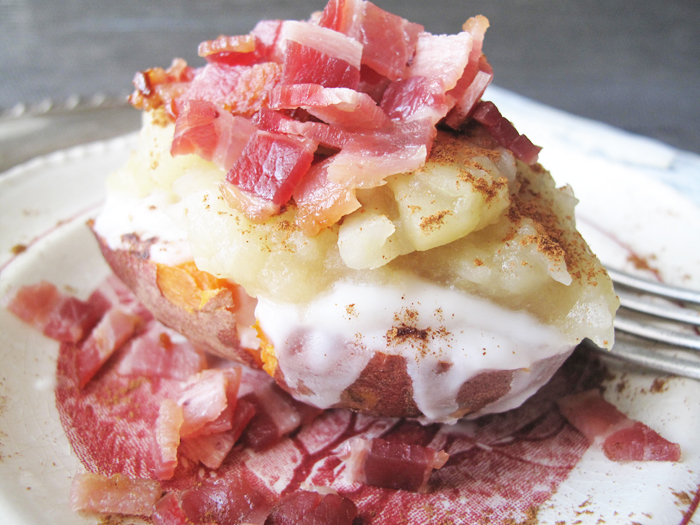 ---
This post has been shared over at Phoenix Helix's AIP round table.  Check out all the other AIP recipes! You are sure to find something that will tempt you!